A help desk serves as a single point of contact for customers to contact you, as well as a hub for managers to handle customer communication and queries. In addition to email, it provides customers with a contact window through which they can submit questions or complaints. It also gives managers a centralised source of information and management, allowing them to organise customer communication, resolve queries, and manage the support team.
In other words, a help desk enables businesses to provide dependable support services to customers, resulting in the best possible customer experience. To handle internal and external support services, businesses typically use comprehensive helpdesk software. As previously stated, it serves as a centralised digital source of customer insights as well as an efficient method of managing the support team.
What is HelpDesk Software?
A service desk software, also called a helpdesk software solution, enables businesses to manage support services much more quickly and effectively. They offer automation features to speed up time-consuming, repetitive tasks like acknowledging customer inquiries and enhancing the effectiveness of inquiries being resolved with a productive ticketing system. Enhancing customer experience and fostering positive word-of-mouth, which is still one of the best ways to boost brand reputation, can be accomplished by expediting the entire customer support process.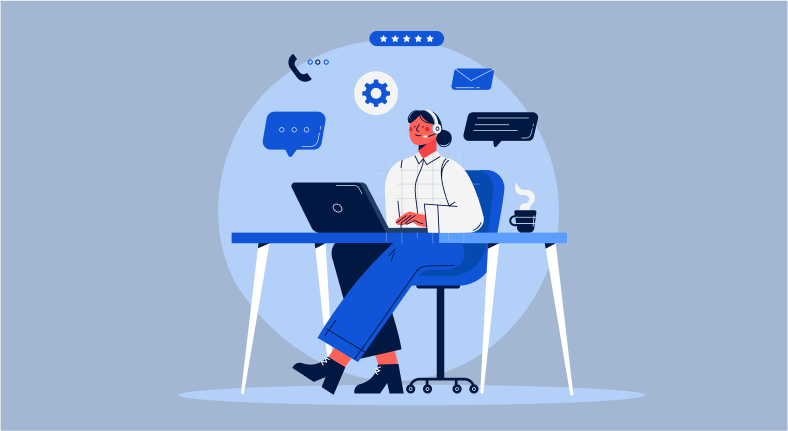 A Brief History
Looking back at the history of help desks in business, we can see that they were first used in 1960. At that time, businesses created call centres as a means for customers to submit grievances and inquiries for prompt resolution. However, there was no effective way to handle the order of the incoming questions. Later in 1991, the idea of a ticketing system was developed, which greatly improved the organisation of support processes.
When smartphones began to gain popularity in 2014, mobile integrated support services started to become the new standard. Today, right in the middle of a generation that is becoming more and more digital, multi-channel customer support is the name of the game. The ideal example of a complete helpdesk software system is Support.cc, which not only provides an omnichannel presence with phone, chat, email, and social media integrations, but also includes a number of appealing features like a dependable ticket system and a substantial knowledge base for both customers and the support team to draw knowledge from.
Why Do You Need Helpdesk Software?
We are all aware that a company's customers are its most valuable asset. No matter how many products or services a company offers, it cannot expand without content and happy customers. Every company should strive to provide the best customer experience and cultivate enduring relationships with their clients. To keep up a positive relationship with customers, promptly respond to their questions and complaints. Your company can gain from helpdesk software by managing customer support effeciently.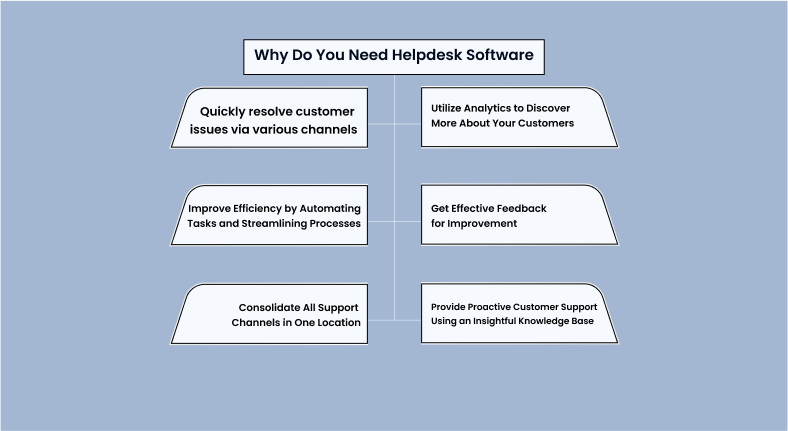 1. Quickly resolve customer issues via various channels
Customers can submit questions or complaints through multiple channels of communication provided by the help desk software system. Customers who place orders on your website, for example, can ask questions about the same order via your Instagram page, phone, or SMS. All of these inquiries will be integrated into the help desk ticketing system and resolved as soon as possible. Support.cc includes an omnichannel support integration as well as a prompt ticketing tool, which aids in the integration of questions from multiple channels and provides faster resolutions to customer issues via a ticketing tool.
2. Improve Efficiency by Automating Tasks and Streamlining Processes
Task automation can help you automate and speed up repetitive, redundant tasks on your help desk, allowing you to focus on more important tasks. The automation features of Support.cc allow you to create and prioritise tasks, receive quick responses to queries, and manage your workload more efficiently.
3. Consolidate All Support Channels in One Location
Helpdesk software systems enable managers to manage multiple support channels from a single location. Queries and complaints received from any channel are reflected in the dashboard and action can be taken quickly with proper data integration and syncing.
4. Utilize Analytics to Discover More About Your Customers
By generating analytics about your customers' behaviour, help desk software can assist you in long-term customer relationship building. You can find out from this information what kinds of goods and services they prefer, don't prefer, and more. You can then use this information to tailor your marketing campaigns to each individual customer.
5. Get Effective Feedback for Improvement
The most complete helpdesk software solutions enable in-the-moment customer feedback on customer service, knowledge base content, etc. This enables you to quickly determine what they like and make improvements. Support.cc enables team members and customers to provide real-time feedback on the products and services you provide. Once more, it enables you to more thoroughly research your clients and coworkers and fosters initiative on your part.
"Instead of focusing on the competition, focus on the customer." – Scott Cook
6. Provide Proactive Customer Support Using an Insightful Knowledge Base
The customer service ticketing software system includes a sizable knowledge base of materials that are beneficial to team members and customers alike. Frequently Asked Questions, educational articles, guidelines, and other insights are examples of this content. Everyone using the system can access the knowledge base, which serves as a library of data. The system also has tools for adding contributors, author tagging, adding HTML tags, and receiving content analytics. This enables you to assess the effectiveness of the content and how it is being used.
7. Integrate Multiple Support Channels for Broadest Reach
You can increase your customer base with the aid of helpdesk software and omnichannel customer experience. If a customer has a problem and can't easily get in touch with you about it, they may decide not to contact you and simply stop doing business with you altogether. To a large extent, well-integrated helpdesk systems can help prevent such problems.
Who Can Use Helpdesk Software?
Any type of business in any industry that needs to be accessible for customer inquiries can use helpdesk software.
In Terms of Size
Helpdesk software can be of great assistance to small businesses that are trying to maximise their limited resources. To keep your customers satisfied, you can build a knowledge base of useful information and provide round-the-clock support. The management of this can be greatly aided by automated ticketing systems. High-end help desk systems that offer integrations with other departments, like product development and marketing, are available for enterprise businesses. This can enable you to receive professional assistance when handling complex customer issues.
In Terms of Customer Segment
The most from omnichannel support will be found in B2B businesses. For quality control, this kind of support incorporates phone calls with other channels. To send the customer to the appropriate person, for instance, businesses can use automated features like escalations.
B2C businesses require a ticketing system to monitor client inquiries and grievances. Customer inquiries can be cut back on by automation. A knowledge base can be useful for pointing customers in the direction of solutions to their problems.
Important Factors to Consider When Looking for Helpdesk Software
Here are some crucial things to think about if you're thinking about buying helpdesk software for your company.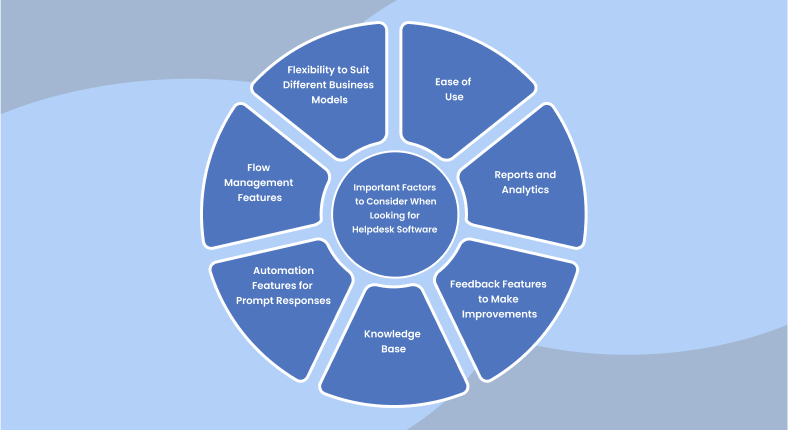 1. Flexibility to Suit Different Business Models
Your helpdesk system needs to be adaptable to your business model and organisational structure, regardless of whether you are in B2B or B2C or what industry you work in. It must be adaptable, allowing you to add or remove extra features to meet your unique needs.
2. Flow Management Features
To help distribute the workload among your team and complete tasks on time, along with prompt notifications for the same, your help desk system must have flow management features.
3. Automation Features for Prompt Responses
In order to increase productivity and efficiency, it is crucial that your helpdesk software solution has automation features. Automation can speed up the query resolution process and assist with handling small redundant tasks. For instance, Support.cc has powerful automation features, such as the ability to build pre-written answers to frequent questions and requests.
4. Knowledge Base
Systems for managing help desks provide a wealth of information to team members and customers alike. It assists in handling less complex customer inquiries and also enables the team to self-serve rather than escalate the problem to a superior.
5. Feedback Features to Make Improvements
When it comes to helpdesk software systems, feedback features are once again a requirement because they enable you to make real-time improvements and provide the highest possible level of customer service. Real-time feedback features on Support.cc let you gather feedback, filter it using pertinent criteria, and make improvements.
6. Reports and Analytics
Analytics are the quantifiable figures you can use to evaluate your performance and make adjustments. It is the best method for evaluating your performance in relation to the company's objectives and for taking appropriate corrective action when necessary.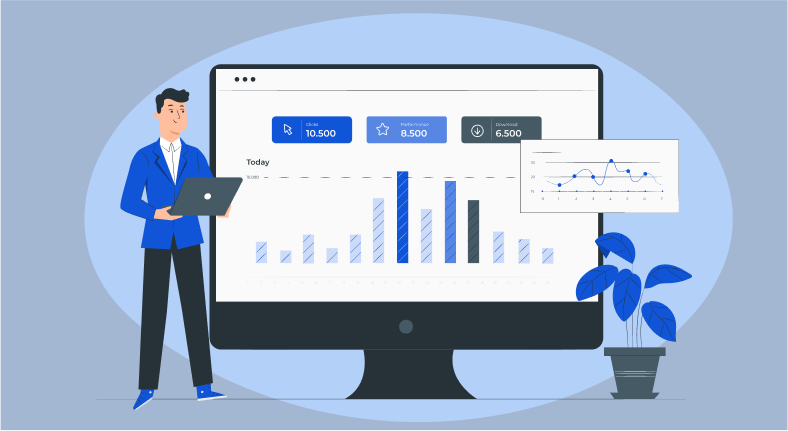 7. Ease of Use
Not least of all, you need to make sure that your helpdesk software system is simple to set up and use in your workplace. Installing cloud-based helpdesk software is frequently not an issue. However, your team needs a user-friendly interface and a dashboard that is crystal clear.
Conclusion
Helpdesk software invariably assists in streamlining the entire customer support process, which in turn promotes more beneficial customer relationships. It enables you to better manage your current clients and guarantees the maintenance of their interest and loyalty. In summary, 500apps' Support.cc will assist you in establishing enduring bonds with your clients, which unquestionably provide a solid base for your company.