What is PBX System?
Business phone system that allows employees to speak with one another within the corporation.
A PBX system is an integrated business phone system that businesses use to communicate with each other in the organization and with an outside audience. Private Branch Exchange, or PBX, is a generic term for systems that regulate inbound and outgoing call flows using Voice over Internet Protocol (VoIP) technology.
The term Private Branch Exchange derives from the original call switchboards, when call switching on the relevant line and extension was done manually by operators. As technology advanced, switchboards were replaced by machines, but the idea remained the same.
Due to its cutting-edge capabilities and versatility, PBX is becoming more and more well-liked. Modern PBX phone systems implement reliable hardware that can be readily replaced and is more affordable than competing products, in contrast to the previous PBX system, which used open standards.
Businesses may deliver enterprise-grade services and increase customer satisfaction and retention rates by using PBX systems.
Call forwarding, voicemail, interactive voice response (IVR), call routing, call queuing, and other excellent extra services are also included with PBX phone solutions. It is advantageous for corporate representatives to offer services that can boost client experience due to these added characteristics.
Reasons to Use a PBX Phone System
Businesses would profit from switching to PBX because of all the advantages it provides. Now that we are clear on what PBX is, let's explore the benefits of switching businesses to PBX.
Cost-Effective
Having a PBX phone system allows you to avoid all of the external expenditures associated with maintaining and analyzing your corporate communication equipment.
Using cloud-based services PBX technology automatically updates your phone communication environment and assists you in resolving issues.
Remote Team Support
In today's highly linked society, the workforce remains remote. To match this demand, your PBX phone system must be well-connected to your organization and available from anywhere in the world.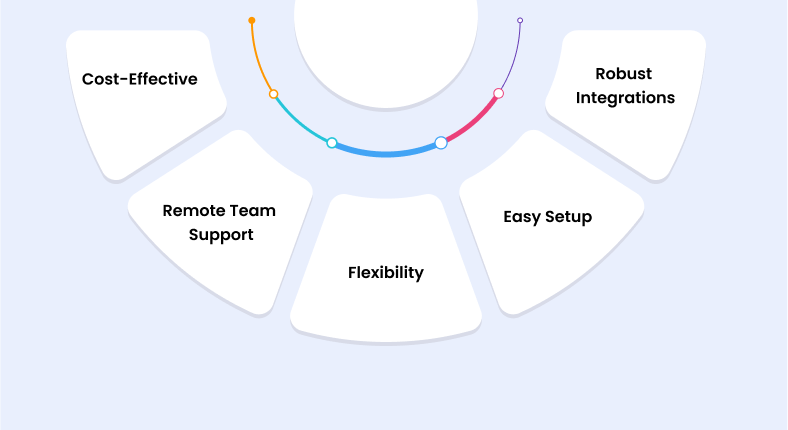 Cloud-based PBX solutions allow you to make your PBX software available to everyone. Essentially, it can convert any computer into a PBX-friendly environment, allowing your representatives to make and receive calls from anywhere in the world. This enables the employees to enhance their production, which in turn helps you expand your company.
Flexibility
Any machine can be converted into a full-fledged PBX using the Virtual PBX Software, making it the ideal solution for quick corporate expansion.
Furthermore, the entire system may be managed from a single workstation. As a result, any maintenance may be completed instantly, hence eliminating all costs.
Easy Setup
PBX systems are simple to set up and require no expert onboarding, making them highly straightforward to adopt. Simply connect your primary PC to the internet, and you're done. All that remains is to configure your call flows. It's really that simple.
Robust Integrations
Most PBX phone systems are linked with third-party software and services such as Salesforce, Google Suite, and others, making them even more powerful and adaptable in carrying out essential functions. Some providers may also give API access, allowing you to develop custom solutions and integrate them into your business operations.
Conclusion
A PBX system is a private branch exchange system that is used in business settings. This system allows businesses to have their own internal telephone system that is separate from the public telephone network. PBX systems are typically used by businesses as a business phone system, as they can provide a more efficient way for employees to communicate.