Best Form Builders for Marketers & Businesses
To help you create the most effective forms for your marketing campaigns and business, we've compiled a list of the best form builders.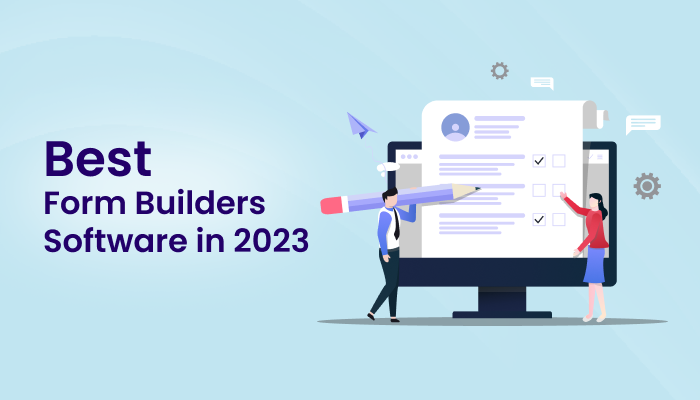 There's no question that forms are an essential part of doing business online. Whether you're collecting leads, gathering customer feedback, or taking payments, forms are a necessary part of the equation.
But not all forms are created equal. In fact, some form builders are better suited for certain tasks than others. That's why it's important to choose the right form builder for your needs.
To help you out, we've put together a list of the form builders for marketers and businesses. Whether you're looking for If you're looking for an easy way to create forms for your marketing or business needs, you should check out form builders. Form builders are online tools that allow you to create custom forms with no programming required.
There are many different form builders available, so it's important to choose one that meets your specific needs. Some form builders are designed for general use, while others are geared towards specific industry verticals. form builders can be used to create contact forms, surveys, order forms, and more.
One of the great things about using a form builder is that you can easily add, remove, or edit fields as needed. This makes it easy to keep your forms up-to-date, without having to start from scratch each time.
If you're looking for a form builder, be sure to check out our list of the form builders for businesses. simple solution or something with more advanced features, you're sure to find a form builder that fits the bill. So without further ado, here are the form builders for marketers and businesses: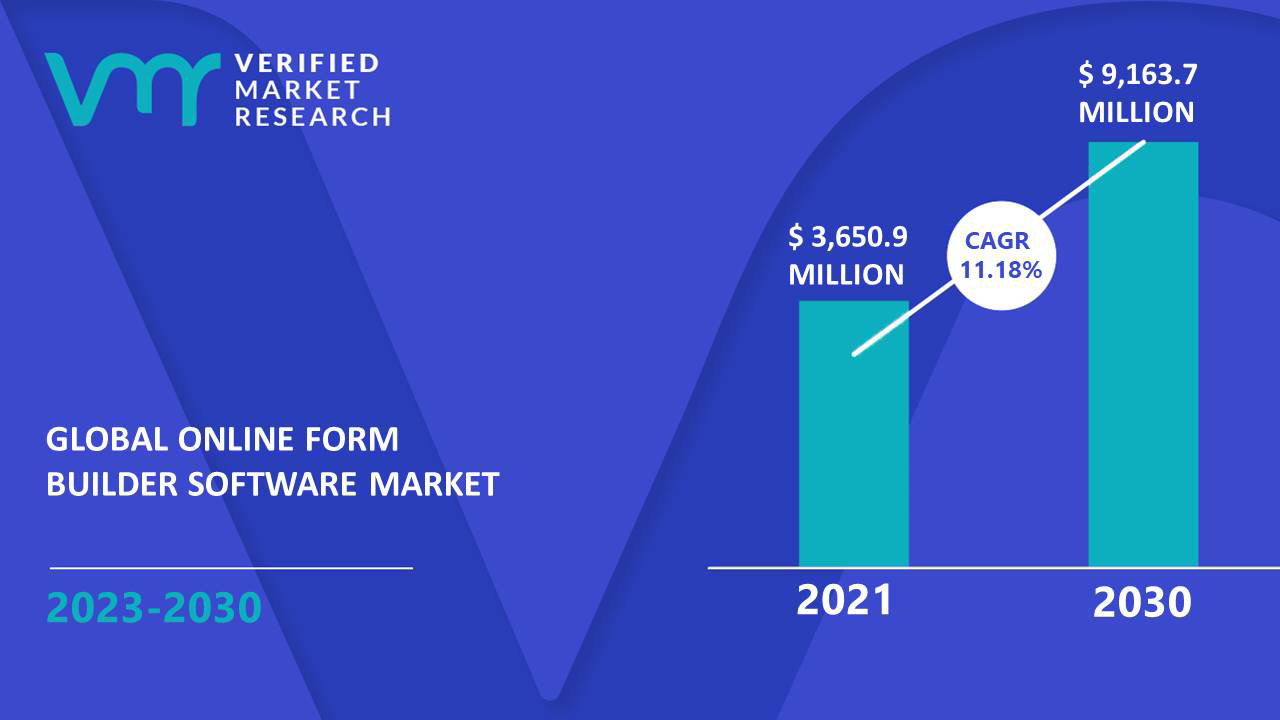 Advantages
A form builder can be the best option if you're trying to simplify the process of developing forms. A variety of benefits are provided by form builders, such as the simplicity with which complicated forms may be created, the ease with which they can be integrated with other programs, and the capacity to share forms with others. A form builder may help you save time and effort whether you're trying to develop a form for a survey, an event, or something else completely. With a form builder, you can just drag and drop the parts you need, and the form builder will take care of the rest so you don't have to bother about coding or creating your form.
Additionally, form builders may interface with other programs, which might simplify your life. For instance, if you use a CRM system, you can probably interface your form builder with it so that form replies are sent to your CRM automatically. Since you won't need to manually export and import data, this may save you a lot of time. Additionally, form builders make it simple to distribute forms to others. If you need to share a form with a coworker or customer, you may do so by sending them a link; this way, they can complete the form without having to register or log in. A form builder is absolutely something to think about if you're searching for a technique to make the process of developing forms simpler. You can save time and effort and guarantee that your forms are always accurate and current by using a form builder.
List of 15 Form Builders for Marketers & Businesses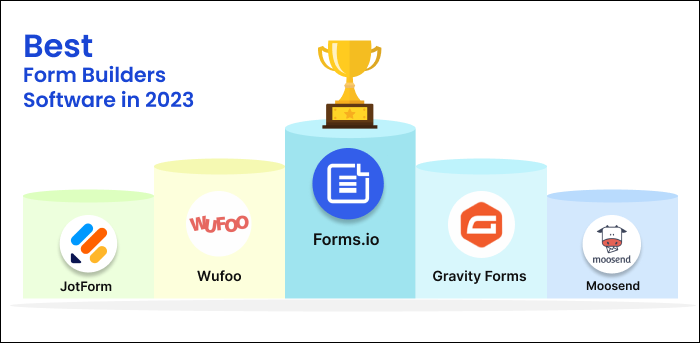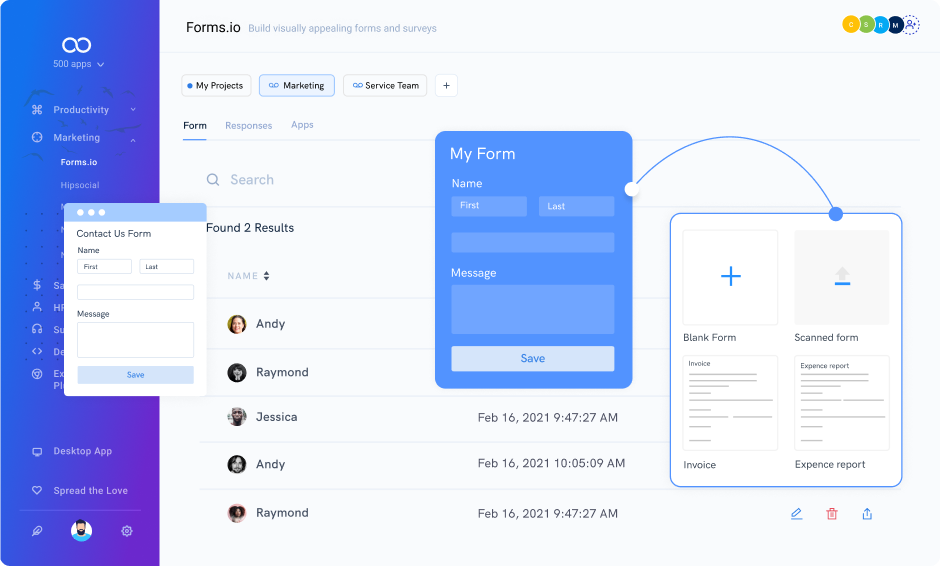 Forms.io, created by 500apps, is now available and integrates with any CRM or software environment you use. Thanks to its pre-built templates, customizable features, user-friendly interfaces, and integration possibilities with all the forms mentioned above, Forms.io by 500apps makes creating single-step or multi-step forms quicker and simpler. In order to build the forms on your website, you can also combine the code snippets into your pages. Businesses may create ideal and customized forms for their customers thanks to forms.io's vast features, which include payment options, checkout processing, and many other things.
With our forms' drag-and-drop features and sophisticated UI designer, you can record the responses and create a form that is aesthetically pleasing and will entice people to your website. Our form-building software has a wide range of possibilities. and incorporates into all further third-party programs.
Features
Drag and Drop:- Create forms that users want to fill out by using a drag-and-drop editor that has all the required elements.

eSign:- Your online forms can easily include a signature field. Just pick the element and drag it onto your form to sign. You don't need any additional steps or products.

Contacts:- Automatically receive the data from the form along with the contacts of respondents.

Payments:- Easily create online transaction forms and connect them to a well-known online payment processor to streamline payment collection.

CRM integration:- With just a few clicks, push the data from your forms.io forms to your preferred CRM software, streamlining your lead generation process.
Wufoo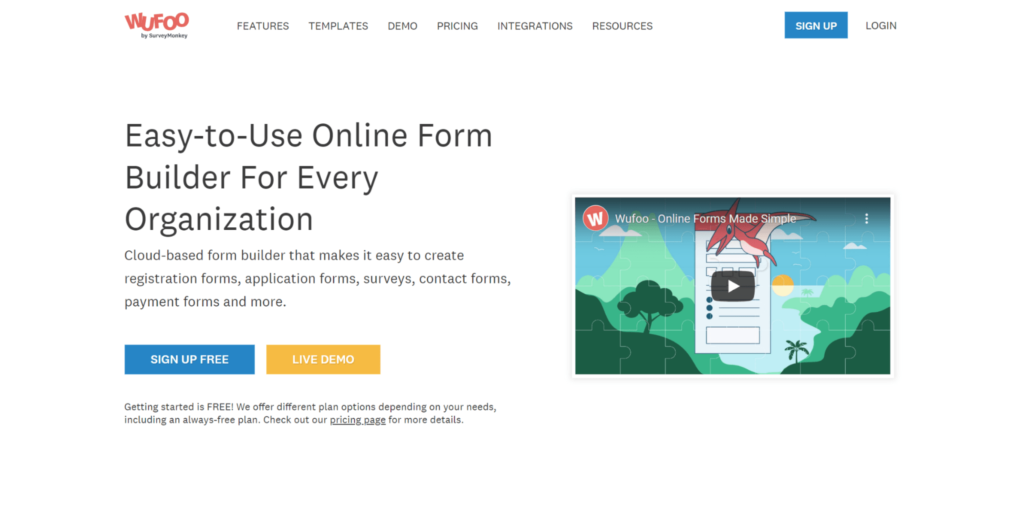 Wufoo, a well-known form builder, is recognized for its ease of use. Wufoo allows you to create simple forms quickly and easily without any coding or design knowledge. Wufoo also offers a vast array of features, including the capacity to track form submissions, communicate with well-known email marketing platforms, and process payments. With over 500 layouts available, it's simply simple to choose one that meets your demands.
Features
Form Builder:- Form Builder is easy to use, so you can focus on the stuff that really matters getting more leads from your customers.

Theme Designer:- built-in theme designer lets you create a beautiful, branded landing page in just minutes.

Custom Branding:- You can create custom logos and colors for your company and use them throughout your site or social network pages.
Gravity Forms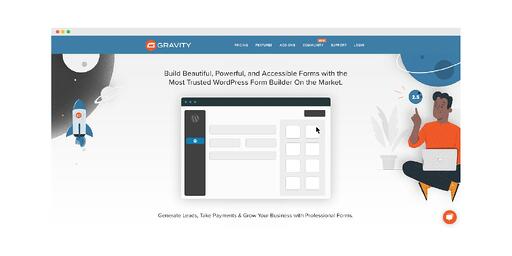 Gravity Forms is a high-end form creator with a variety of features for businesses and marketers. The drag-and-drop form builder in Gravity Forms makes it simple to create intricate forms.
Gravity Forms also has conditional logic, which enables you to show or hide forms based on user input. A powerful tool for businesses of all kinds, Gravity Forms integrates with platforms like WordPress, MailChimp, and Salesforce.
Features
Drag-and-Drop Builder:- Utilize our user-friendly drag-and-drop building tools to quickly design and create your WordPress forms.

Multi-Column Layouts:- Drag fields within the builder to add a new column, select the number of columns you require, and alter the width.

Custom Form CSS:- The best website designs frequently require a little something extra. For a seamless experience, you can quickly apply custom CSS to your forms.
JotForm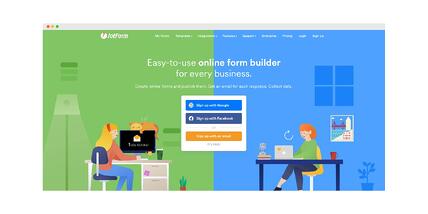 JotForm is another favoured form builder that is famous for its convenience. Using JotForm, you can easily construct simple forms even if you have no prior coding or design knowledge. JotForm also offers a wide range of features, including the ability to track form submissions, make payments, and communicate with well-known email marketing platforms. Additionally, choosing a pre-built form that meets your needs is straightforward with more than 1,000 templates accessible.
Features
Form Templates:- Use the drag-and-drop functionality of Jotform to create your own template from one of the formTemplateCount+ premade form templates.

E-signatures:- With Jotform, you can sign documents that have legal effect from any device. Forms for agreements, waivers, contracts & other documents can be created for free with electronic signatures.

Drag and Drop:- Drag-and-drop Form Builder lets you customize a template without writing any code from among the formTemplateCount premade form templates.
Moosend
Without any programming knowledge, create an endless number of subscription forms with Moosend's great online form builder. You may improve your list-building efforts by creating a call-to-action on your website using a drag-and-drop form builder.
Features
Modal popup – middle-of-the-page form for lead generation

Inline form – can be embedded on your page as a discrete popup

Floating bar – displays at the top or bottom of the page in a discreet manner

Floating box – keeps your visitor on your page as they scroll

Full page form – covers the entire page of a visitor
Formstack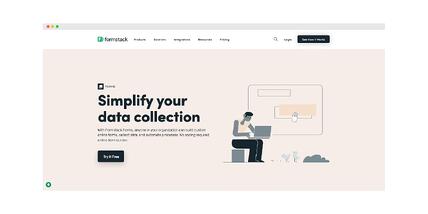 Formstack is a powerful form builder with a wide range of features for businesses and marketers. The drag-and-drop form builder in Formstack makes creating complex forms simple. Another feature of Formstack is conditional logic, which enables you to reveal or hide fields in response to user input. Additionally, it combines tools like Salesforce, WordPress, and MailChimp.
Features
Drag and Drop:- With a simple drag-and-drop builder, create online forms without any coding in a matter of minutes.

Electronic Signatures:- Electronic signatures can be easily captured from any device. Get signatures for agreements, payments, releases, and other documents as soon as possible.

Themes and CSS:- Use a straightforward Theme Editor to easily style your forms with professional branding, or use CSS tools for more complex styling.
Hubspot Forms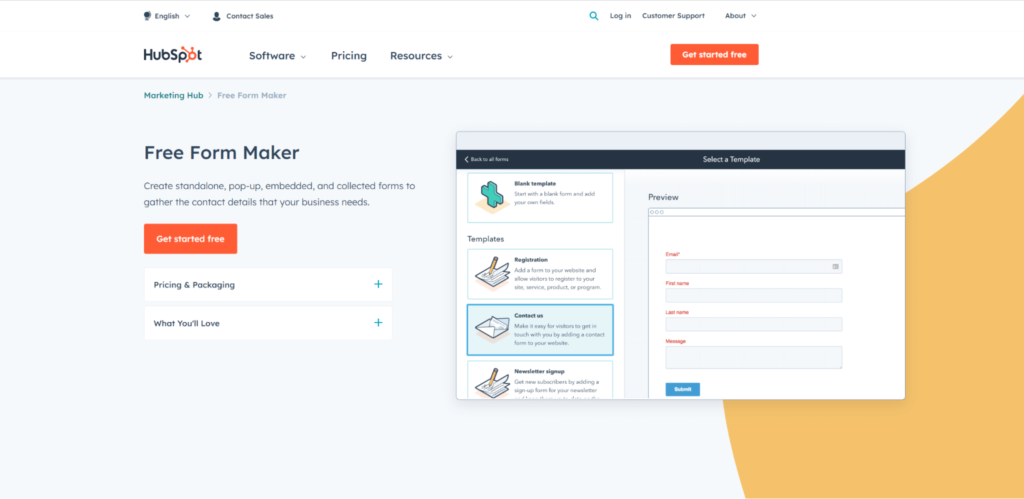 HubSpot offers one of the best form builders on the market. When you put up your form in the system, it will automatically fill in all of the fields with data so you can rapidly finish your forms and send them to the general public. You may create forms using a drag-and-drop interface.
We appreciate their basic yet really effective form builder since it makes creating forms quick and easy! With HubSpot Forms, an endless number of simple forms can be rapidly and easily created.
Features
Prebuild Templates:- Simply copy and paste the installation code into your website. You'll be up and running with a new web form in no time.

Customizable Form:- With web forms' hundreds of fields that are customizable and their numerous field kinds, including checkboxes, dropdowns, and more, you may gather any kind of data you require.

CRM Integration:- All form responses are automatically forwarded to your HubSpot CRM database. The connection may then be developed further by sending tailored emails and making follow-up calls.
Formsite

When it comes to security, Formsite is among the best solutions. The platform enables you to protect your form data by encrypting the data in specific form fields. No one will be able to see them without your consent in this way. It is also possible to directly capture credit card or ACH data using fields that are encrypted.
Features
Custom logos:- A excellent method to convey fundamental brand characteristics and establish the tone of your form is by using logos and graphics.

Multi-page forms:- In many circumstances when a single page would be too long, multi-page forms are helpful. Visitors could feel more at ease answering a few questions at a time as opposed to the entire form all at once.

CAPTCHA:- You may easily set up reCAPTCHA so that it is always necessary, or you can let its sophisticated algorithms take care of it for you.
Cognito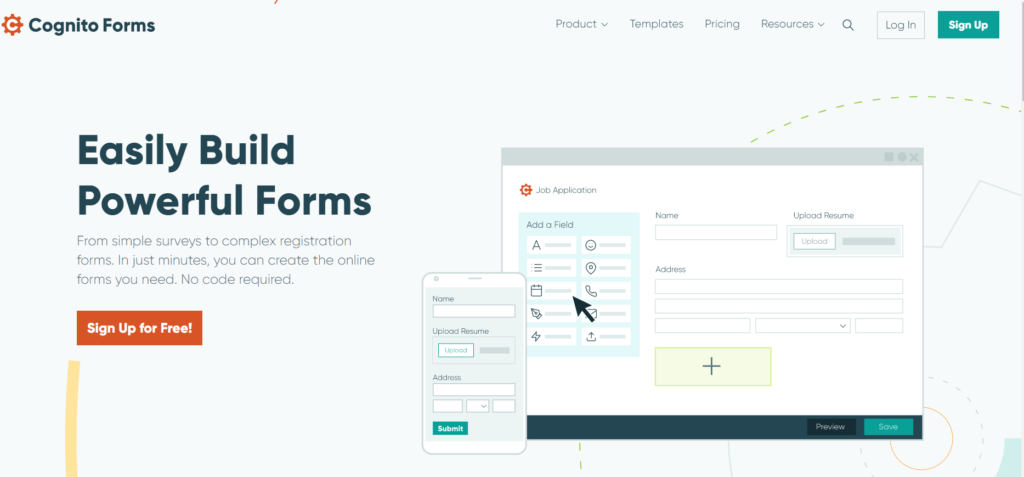 One of the best form builders for creating complex forms on a tight budget is Cognito Forms. Cognito Forms offers a variety of strong form templates in addition to the option of building your form from scratch.
Features
ONLINE PAYMENT:- Conduct secure online transactions through your choice of payment partners.

SECURITY & COMPLIANCE:- Stay compliant with HIPAA, GDPR, CCPA and other privacy regulations.

INTEGRATIONS:- Expand functionality through native apps and third-party integrations.
Typeform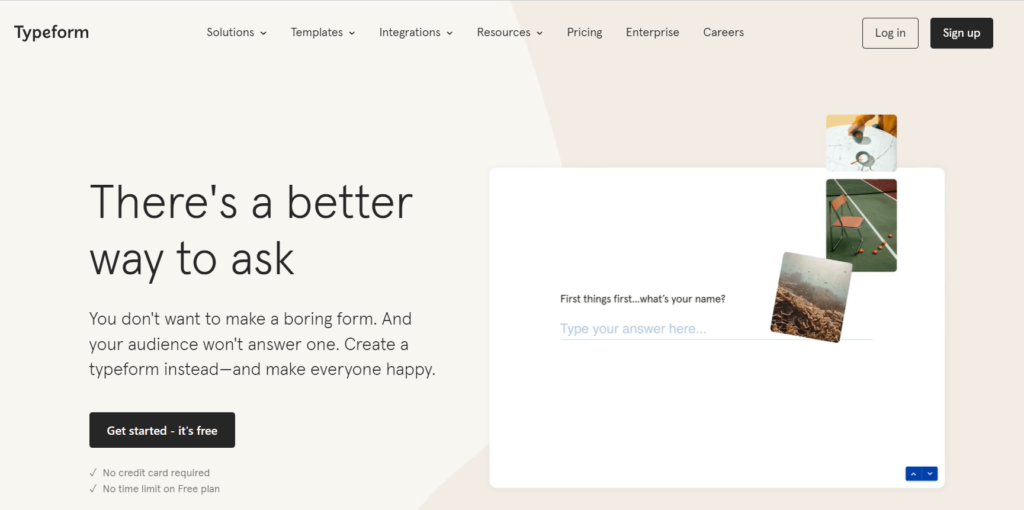 Use the well-liked online form creator Typeform for businesses with a youthful audience or a relaxed atmosphere. You may design a wide variety of forms with the builder, including lead-generation and payment forms, and it has a pleasing visual aesthetic.
Features
Mobile-friendly forms:- Create mobile-friendly forms and integrations that work great on your website, in apps, and on tablets as well.

Integrations:- You can integrate your forms with many other apps and services to create an even more powerful shopping experience for your customers.

Add Media:- Add custom media uploads to any product page in your forms.
Paperform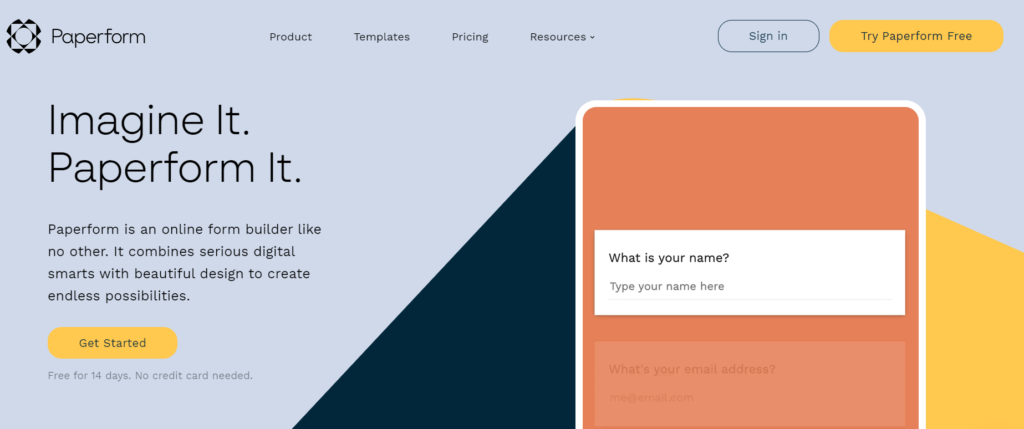 Paperform is a great tool for generating beautiful forms that represent your company. For the user, things are rather straightforward here.
Features
Flexible: Paperform is a paper-based cloud storage solution, available on all your devices.

Secure: Paperform encrypts your data with an AES 256-bit encryption standard. This means that even if someone gets access to your device or network, it's impossible for them to access the data stored on paperform.

Simple: Paperform is easy to use and supports all the major operating systems.
Convertful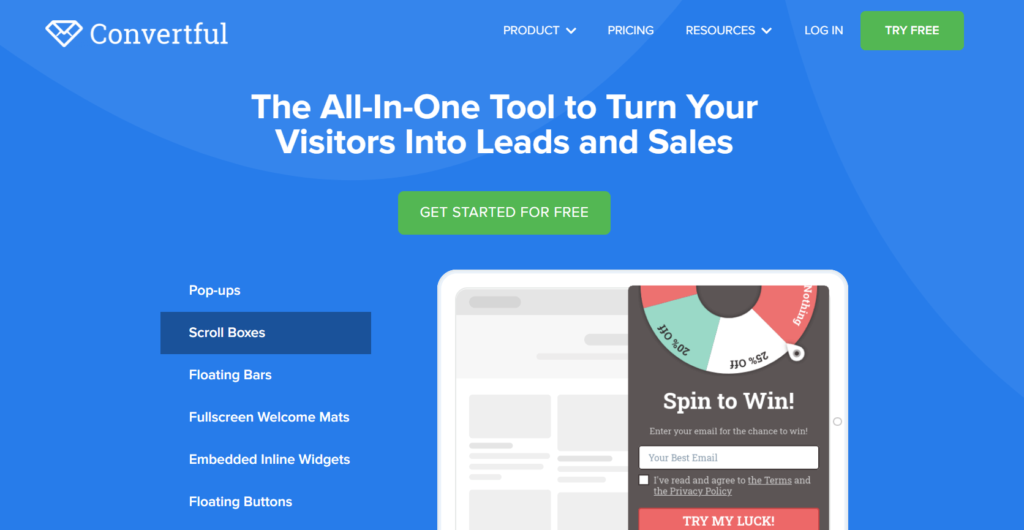 Strong form creator Convertful offers excellent on-site conversion rate solutions. The straightforward WordPress plugin from the builder is ideal for quickly expanding your company.
Features
Drag-n-Drop Editor:- The drag-n-drop editor is a powerful tool that allows you to create any type of layout in minutes. It allows you to add, move and delete layers with ease, while keeping a watchful eye on your project.

Mobile-Friendly:- The editor is fully responsive. So you can use it on any device. You can also drag and drop elements from different screens.

Unlimited Screens:- You can create as many screens as you need. The editor will be able to handle them all.
Google Forms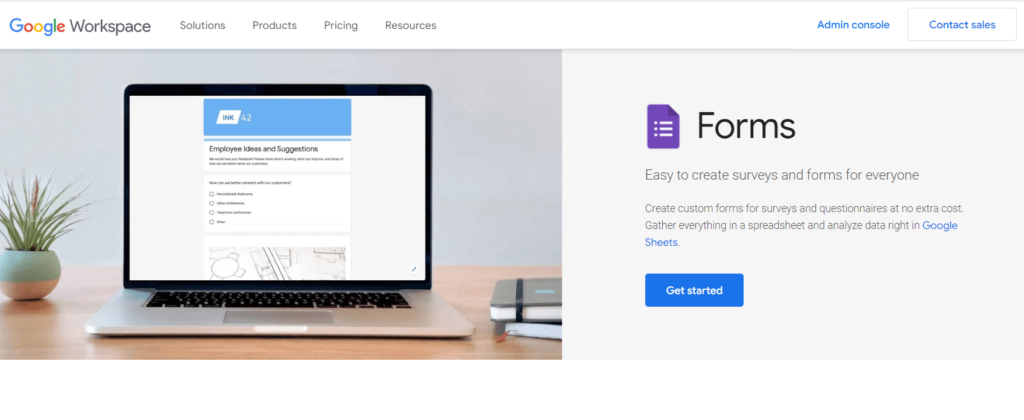 By using a simple web form builder, Google Forms provides you with a quick and simple method to create and distribute subscription forms. Customer feedback or event registration forms are just two examples of the many templates that can be quickly modified or created from scratch using the online form builder.
Features
Analyze Responses:- View graphs that dynamically update with response information. For further in-depth research or automation, you may also open the raw data in Google Sheets.

Online Form:- Drag and drop to reorder questions, choose from a variety of question formats, and quickly change values by pasting a list.

Google Sheets Integration:- The spreadsheet can be downloaded and saved to the local device or accessed online.
Ninja Forms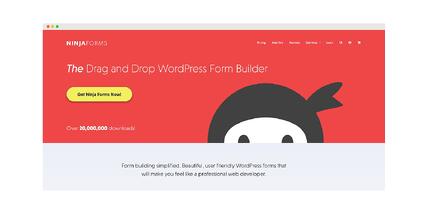 Ninja Forms is an additional WordPress plugin that allows you to create effective online forms, much like Gravity Forms does. Your entries may be sent and exported as PDFs, Excel files, or even Google Sheets. This makes sharing each form submission straightforward.
Features
Drag-and-drop Form Builder:- Ninja Forms is a drag-and-drop form builder that lets you create beautiful, responsive forms in seconds.

Forms Match:- The forms are visually appealing, and the matching options allow you to create unique forms for each project.

Export Options:- You can export your forms as PDFs, images, or plain text.
Giosg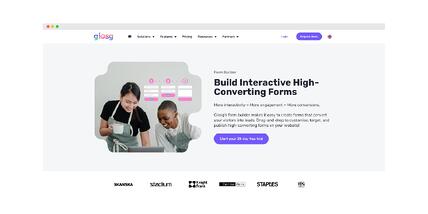 Giosg is one of the best and most approachable online form builders, in our view. Giosg form generation has made lengthy forms less tedious. Utilizing multi-step forms is the key to efficiently dividing lengthy forms into several sections.
Features
Form Templates:- Utilize our form templates to get started immediately. We provide all the tools you want, such as lead generating and contact forms.

Pop-up Forms: By presenting your forms at the optimal time, you may increase conversions. More than 30 different triggers enable you to connect with visitors in a targeted manner while reducing form friction.

Drag-and-drop: Using our convenient import and export tools, you may quickly create new forms or backup your existing ones.
What's Next?
To explore somewhat uncharted territory, companies should be encouraged to employ sales tools like form-builder software. It must be convenient and easy to use for users to generate effective marketing strategy.
Choosing the best software to satisfy your particular needs is essential. To help you choose the finest software for your business, consult online reviews like the one described above. There are already numerous possibilities on the market, however when compared to similar products, these 15 form-builder software solutions provide much more features.
Conclusion
It is crucial to take into account your unique requirements and needs while selecting form-builder software. All form-builder software alternatives differ in their features and capabilities. Some are easier to use than others. And some could cost less than others. In the end, forms.io by 500apps, which engages website visitors, is the best form-builder application for you. Visit 500apps right away to discover more about our 50-app All-in-One CRM Software, which is available for just $14.99 per user.
Why Choose 500apps?
#1
All-in-One Suite with more than 50 apps
#2
Everything you need today and in the future for all departments
#3
Unbelievable value - the lowest pricing you will ever find
#4
Hosted in 6 locations for compliance and blazing speeds
#5
24/5 Support - FREE chat, email and phone
#6
Uncapped features - limits you will never reach humanly
#7
Managed and maintained everyday by a dedicated team
#8
No downtime - comes with a 99.9% uptime guarantee
#9
Supports a number of international languages
#10
We've everything covered - 90k+ trust us with their business
Join the SaaS Revolution
All-in-One Suite of 50 apps

Unbelievable pricing - $14.99/user

24/5 Chat, Phone and Email Support