Best Business Phone Systems in 2023
Phones are essential to every business, and choosing the right one can give your employees more freedom, be more cost-effective, and save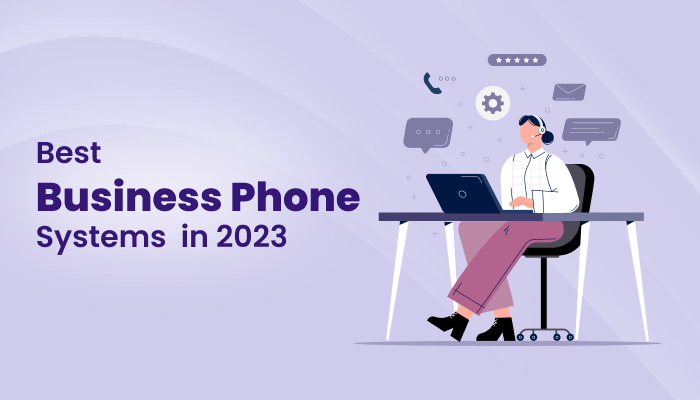 Over the years, there has been a tremendous evolution in the business phone system market. Traditionally, businesses relied on landline-based telephone systems, which necessitated the installation of intricate and pricey infrastructure, such as PBX (Private Branch Exchange) systems.
However, the market for corporate phone systems has evolved toward more adaptable and scalable solutions as a result of the development of new technologies like VoIP (Voice over Internet Protocol). VoIP-based phone systems enable companies to place and receive calls over the internet rather than through conventional phone lines. This not only lowers costs but also gives companies access to a variety of cutting-edge capabilities including voicemail, call forwarding, and virtual meetings.
There are many solutions available to suit a variety of purposes and price ranges in the current highly competitive market for business phone systems. While some firms may choose to install their own on-premises VoIP system, others may choose to use a hosted VoIP solution that is maintained by a third-party operator.
There are numerous other options on the market in addition to conventional phone systems and VoIP-based solutions, including unified communications platforms and mobile-based corporate phone systems. These products make it possible for companies to combine their phone systems with other communication channels including email, chat, and video conferencing.
In general, the business phone system industry has changed dramatically in recent years, giving companies a variety of solutions to meet their objectives and financial constraints. Future markets are anticipated to continue to develop and provide progressively more sophisticated and adaptable solutions as technology develops.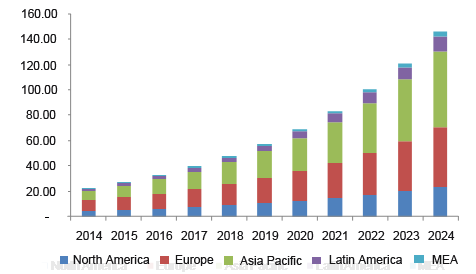 Advantages of business phone systems
Business phone systems offer a number of advantages over traditional landline phone systems. Some of the key advantages include increased flexibility, improved communication, and lower costs.
Flexibility: Compared to conventional phone systems, business phone systems are frequently more adaptable. They frequently permit staff members to access the system and place calls using their personal devices, such as cell phones. Employees can work remotely and remain approachable via the office phone system as a result.
Improved communication: Business phone systems frequently come with capabilities like call forwarding, conferencing, and voicemail that can enhance internal communication. Efficiency and productivity may both benefit from this.
Lower costs: Business phone systems can frequently be more affordable than regular phone systems, especially for companies with numerous locations or a large workforce. This is due to the fact that they frequently demand lower hardware and infrastructure investments and can be readily scaled up or down as the business's needs change.
List of Top 11 Business Phone Systems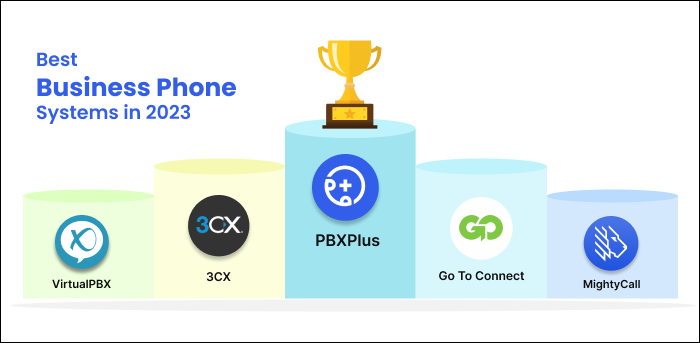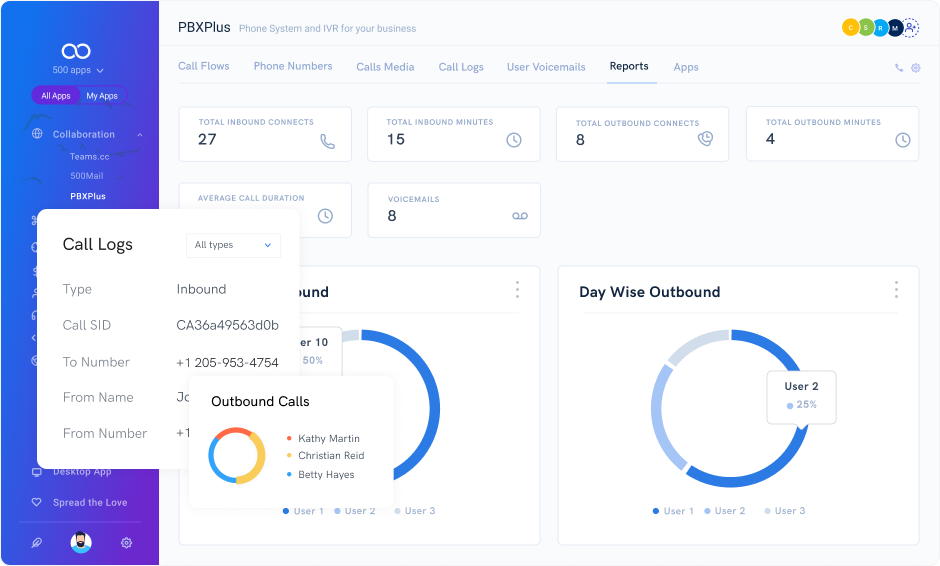 With features like limitless extensions, automatic call forwarding, and CRM integration, PBXPlus virtual PBX software from 500 apps can increase your team's productivity. You may track your call flows, automate your call processes using drag-and-drop call flow design, integrate specific carriers, and increase your revenue-generating call processes and menu options.
Features
Unlimited Minutes:- Get access to unlimited minutes for the continuous customer service that is necessary for the expansion of your organization. No matter the time, location, or device, you can make or receive calls.

Multi-tier Menus:- Give clients the assistance they need by providing a well-organized menu that is categorized to allow customers to select their desired questions quickly.

Voicemail:- When there is no agent accessible, let clients leave voicemails with their questions. Listen to and download all voicemails before emailing them to the appropriate agent or department.

Outbound Dialer:- Make immediate outgoing calls by dialing a number automatically. Your agents' efficiency and productivity will increase as they can reach more consumers more quickly.

Call Forwarding:- To ensure that no consumer is left unattended, transfer incoming calls from one number or device to another. Organize the forwarding plans in accordance with the agents' availability and working hours.

Call Whisper:- Even before answering a call, verify the caller's details. To improve communication, agents might research the call's objective and consumer data.
3CX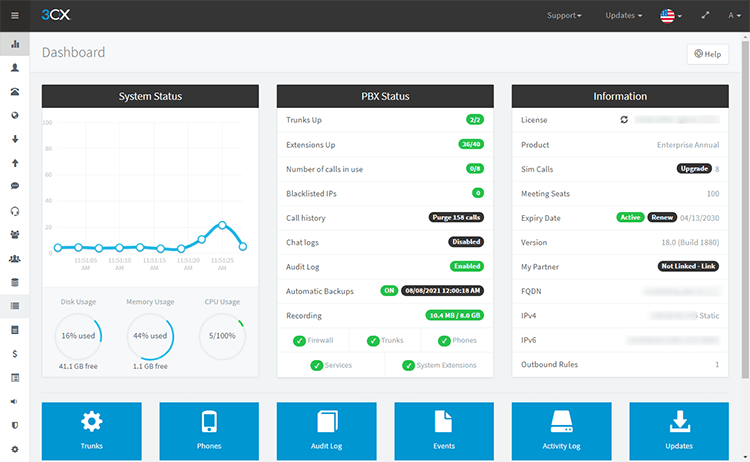 Web conferencing, CRM integration, live chat, instant messaging, and native mobile apps are all features of 3CX, a software-based PBX solution with a cloud-hosted option. By allowing users to make and receive calls through their computers, 3CX's softphone for Windows eliminates the need for phone hardware and enables working from home or other locations.
Features
Users can call the office for free and receive calls without having to reveal their personal phone numbers using native iOS and Android apps.

Users may see which coworkers are available and who shouldn't be disturbed thanks to statuses that can be customized.

Users don't need any additional software or plugins when using integrated web conferencing to start and join video sessions.

Users who integrate their CRM software can make calls with just one click, have call pop-ups for client information appear instantly, and track inbound calls.

Visitor interaction via live chat. quickly change to a call or video.
GoTo Connect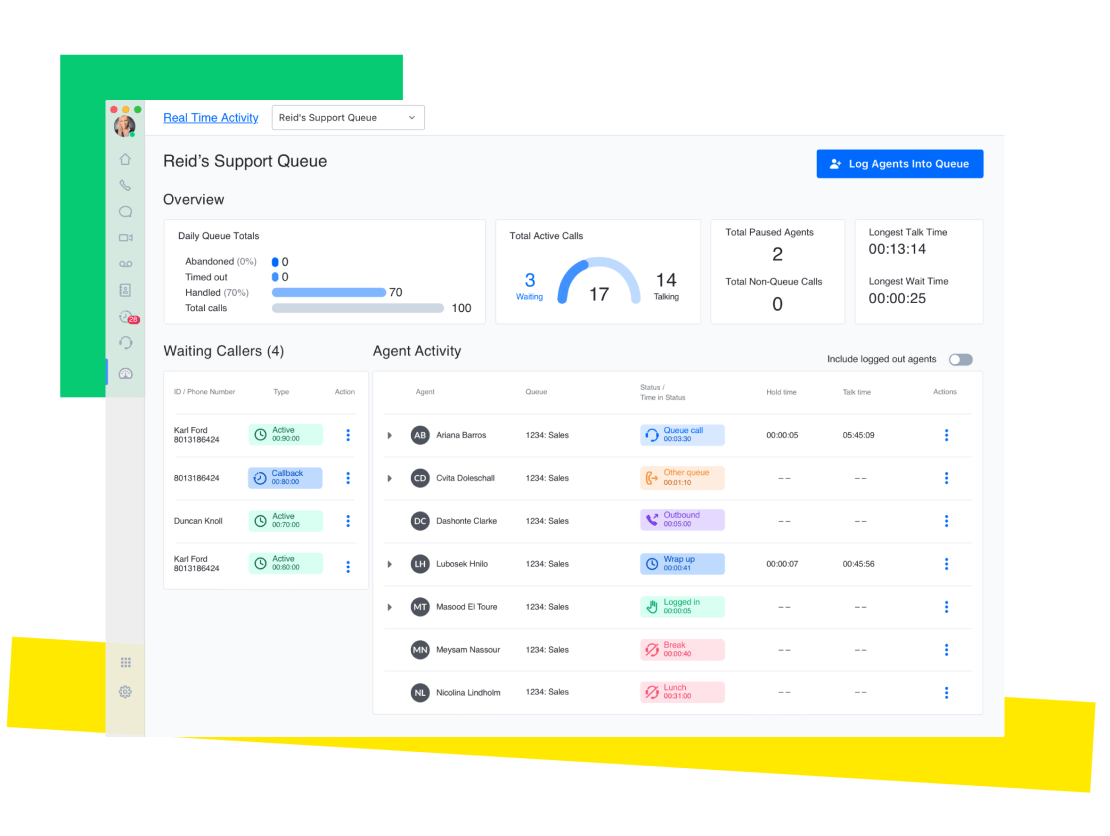 The strength and dependability of Jive's cloud VoIP phone systems are combined with the web, audio, and video capabilities of GoToMeeting in GoToConnect to create a straightforward, dependable, and adaptable solution. Secure video conferencing, screen sharing, virtual voicemail, and call forwarding are just a few of the capabilities that users may meet, communicate, and work together without any difficulty using a web browser, desktop application, or desk phone.
Features
Over 100 functions for web, audio, and video conferencing as well as cloud VoIP are included in GoToConnect. All were created with the goal of enhancing user productivity while giving IT a single point of control over their whole UCC solution.

Custom Call Routing: Using our user-friendly visual dial plan editor, you can instantly update and change your cloud-based phone system.

Find Me, Follow Me: Never ignore a call. To forward incoming calls to your devices, use time-based routing and geolocation.

Team-based call distribution: Use call queues, ring groups, and automated call distribution to assist control the number of incoming calls.

Share your entire computer screen or just a certain application while using screen sharing.
VirtualPBX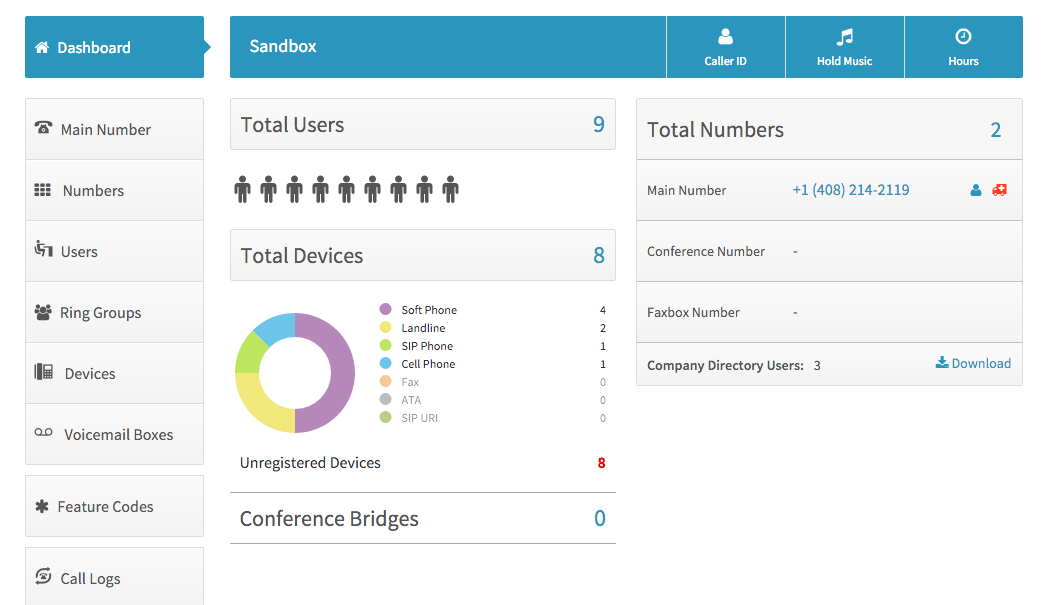 Small businesses like yours may take advantage of the best voice, text, and video features available with VirtualPBX VoIP services, which were created with their needs in mind. We also offer round-the-clock assistance for these business phone plans, so you can move your call center to the cloud whether you're a multinational company call center or a solopreneur ready to launch the next big idea.
Features
Voicemail and call transcription converts calls and voicemails into text using AI-powered natural language technology (NLT), and then sends the text transcription to the user along with the audio recording via email or voicemail.

Plans for virtual PBX service give users access to desktop and mobile apps that combine all messages, notifications, settings, and channels of communication (phone, messaging, video, and chat) into one user experience.

To route, a call to the proper agent, department, voice mailbox, ring group, or sub-menu, call center IVR systems automatically analyze customer speech or DTMF input. These systems use pre-recorded call menu selections and messages.

You can preserve hundreds of call recordings per account using virtual PBX VoIP companies' automatic and on-demand call recording features. These recordings can be downloaded by users for months later or they can set them to destroy themselves after a predetermined amount of time.
MightyCall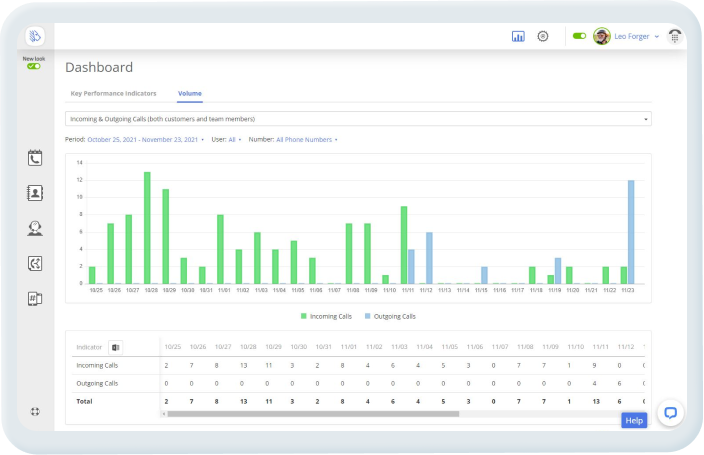 A VoIP and PBX service provider for small enterprises, MightyCall was designed from the ground up to interact with CRM platforms. It allows smooth call flows with personalized greetings, auto-attendant, interactive voice response, call forwarding, call recording, limitless texting, and call-back requests and is accessible on browsers, desktops, and mobile devices.
Features
Toll-Free and Local Numbers: Separate your personal life from your professional life, and monitor all of your tasks. Create an online presence as soon as possible in places without offices. Employees who don't have an office should be given business numbers.

Caller ID and CNAM: Make sure that the business name is highlighted on the Caller ID and CNAM for every call so that customers know who is calling them. Separate personal and commercial calls to ease the heavy workload and prevent confusion. Enable CNAM to alert callers that they are a reputable company and not just a random caller. Eliminate the embarrassment brought on by initiating a business call without asking.

Custom Greeting: Choose from a variety of custom greetings and adjust them based on the caller's profile and the time of day. To increase effectiveness, set up a professional menu. When business phones are busy, select music to play for callers who are on hold.

After-Hours Call Routing: Differentiate how calls from business and non-business numbers are handled. Implement different after-hours strategies, including IVR (auto-attendant) menus, phone forwarding to staff, and other welcome messages.
Phone.com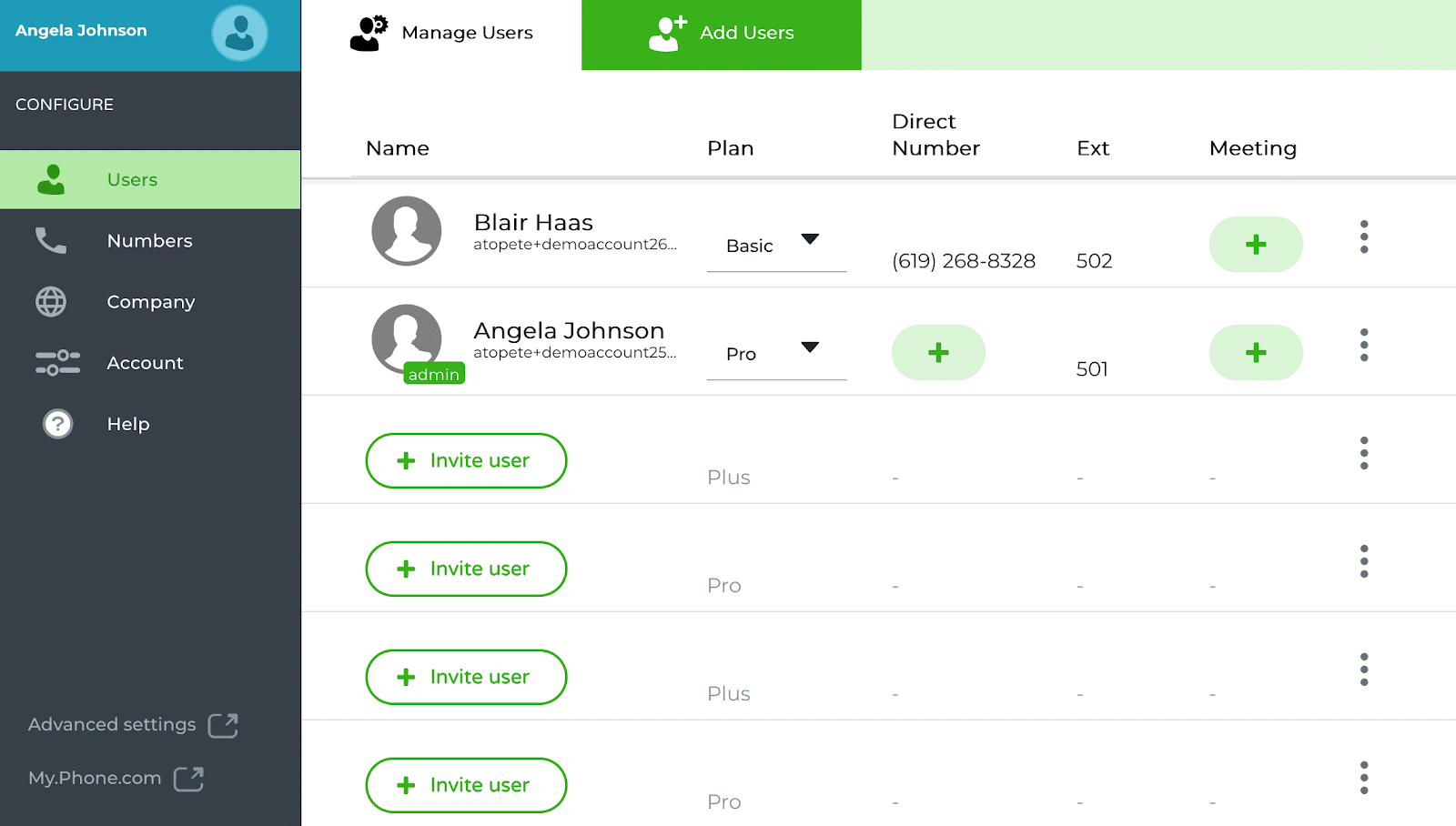 The top provider of cloud-based phones, Phone.com is geared at serving the demands of startups and small enterprises. In addition to providing a selection of cutting-edge, adaptable, and affordable communications solutions.
Features
You can easily configure and control more than 50 Phone.com features thanks to our user-friendly interface.

You may call or send SMS messages straight from your Phone.com account by syncing your contacts with the address book on the service. In addition to being able to be grouped, contacts can be synchronized across all of your devices and used as a reference in call handling rules in your Phone.com account.

You can use your analog phones with the VoIP service from Phone.com. Using our Analog Telephone Adapter, you can easily connect any conventional analog phone to Phone.com (ATA). These network-connected ATAs offer analog input for an old desk phone with an RJ11 port.
Intulse
With the aid of phone solutions, Intulse is a cloud-based VoIP system created to assist businesses in streamlining procedures for both inbound and outbound conversations. The administration of call queues, conference calling, voicemail, number portability, and reporting are some of the key features.
Features
Software Dashboard With our special software, you can provide your company with real-time, unprecedented, simple control over your phone system.

Integrated CRM For exceptional call reporting, our cloud-based phone system may integrate with well-known CRM programs.

Time-Based Routing Calls are automatically routed using time-based routing to various locations, making it simpler for callers to reach you.

Virtual Receptionist No longer any busy signals. With the use of customized recordings, Virtual Receptionist enables prompt and reliable phone answering.

IVR Menus To greet and direct your callers to the appropriate location, IVR menus work with a Virtual Receptionist.

Call Recording Call recording enables you to store your calls for later use, whether you record calls for legal or training purposes. You have the option of using on-demand call recording or recording every call that passes through your system.
CloudTalk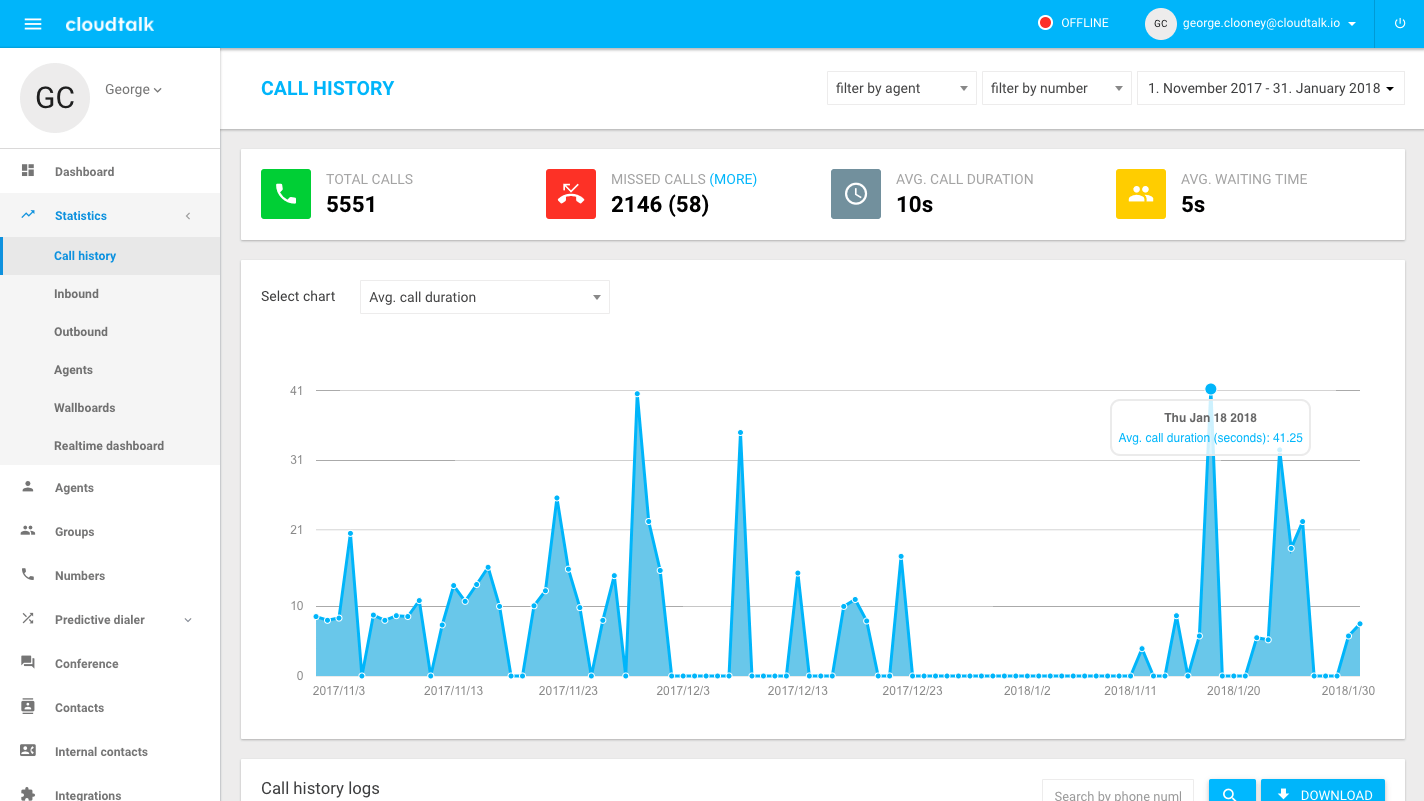 With more than 70 cutting-edge calling capabilities, CloudTalk is a clever, user-friendly phone system. Customer service and sales teams working in start-ups, SMEs, or e-commerce typically use our VoIP suite.
Features
In order to keep an eye on the progress of the team, listen in on calls or record them for later use.

Simplify customer communication by connecting your phone system to well-known CRM, e-commerce, or helpdesk platforms like Pipedrive, Helpscout, or Shopify.

Utilize the call center dashboard function to monitor the development of your staff. It provides a thorough overview of all of the crucial call center data you need.

Enable agents to adapt their approach and cater to the needs of certain callers by establishing custom fields to record the most pertinent data and information.

CloudTalk gives users the option to give their contacts personalized tags so they may be more readily sorted and saved.
Ooma Office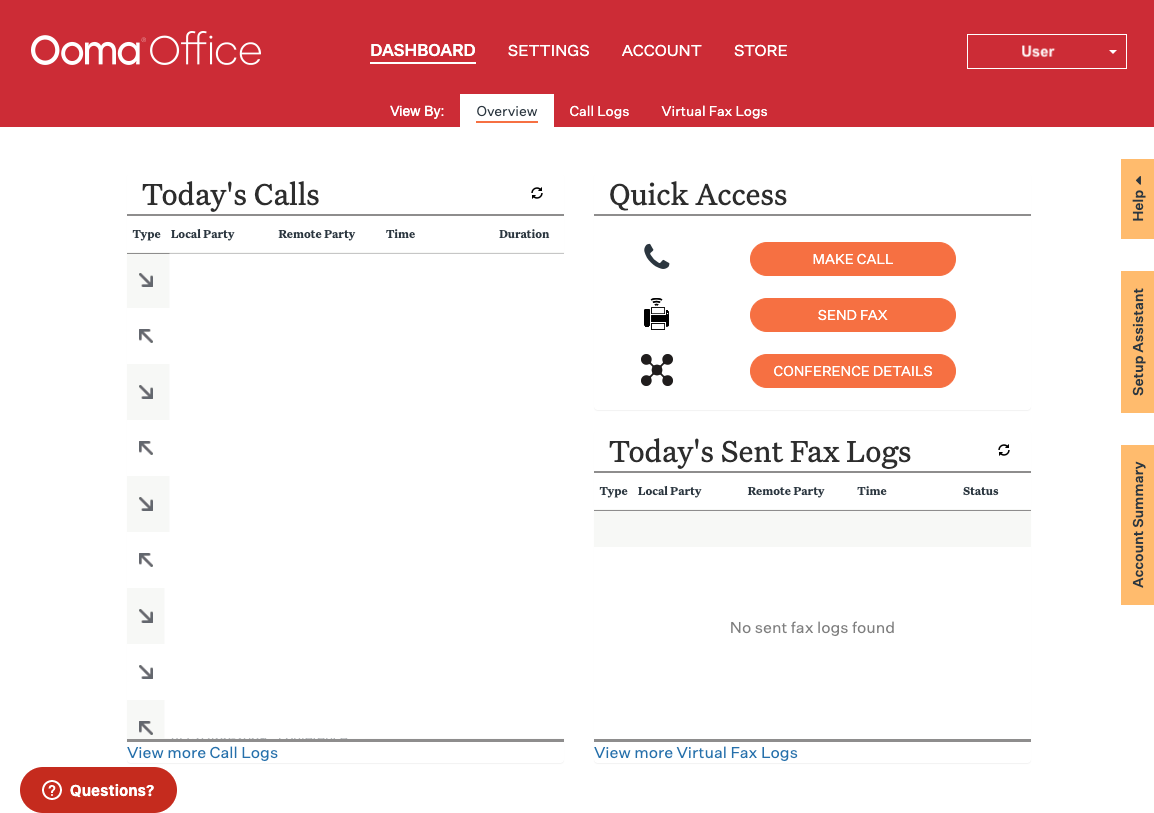 Ooma Office offers you the utmost flexibility to work from anywhere with video meetings, desktop, and mobile apps thanks to a platform created to help your team increase collaboration and productivity.
Features
Users can block all incoming calls that do not give Caller ID information with Ooma Office's anonymous call rejection (ACR) feature.

By using extension modules, administrators and receptionists can manage and route calls to a variety of users while showing whether lines are open or busy.

The call park feature of Ooma Office allows customers to put up to five calls on hold at once and wait for available agents or extensions to pick them up.

The ring groups module enables incoming calls to ring extensions of a handful of or all users within the sales or customer service departments, thereby lowering the amount of missed calls.
OnSIP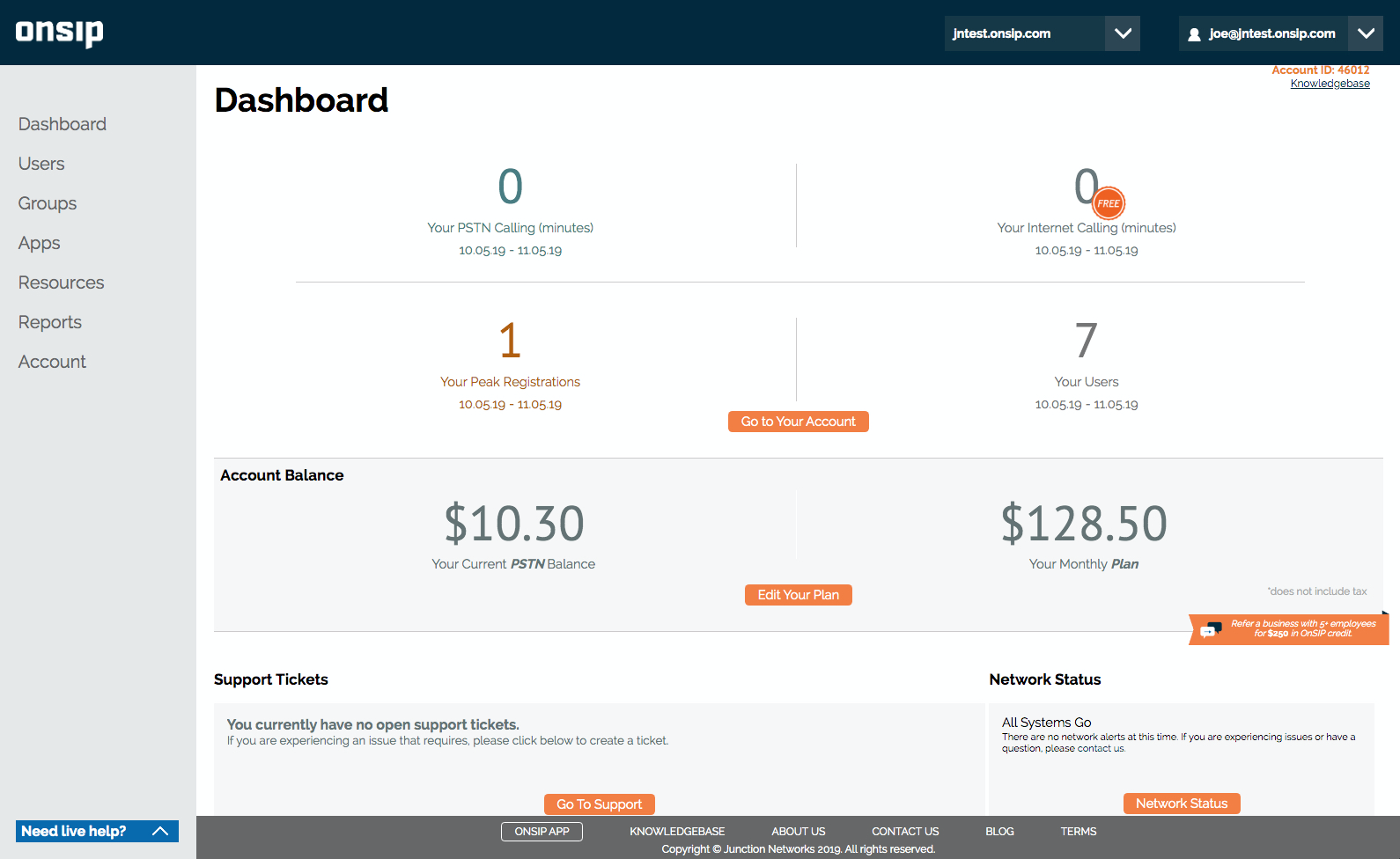 OnSIP is a softphone and private branch exchange (PBX) solution that aids businesses in streamlining processes connected to call recording, transfers, monitoring, reporting, and more. It enables businesses to manage voicemails and conduct HD video or audio conferences using a desktop or mobile applications.
Features
Multiple plans are available. The platform offers minute-based options with a fixed monthly price.

Plans that are identical to those offered by other VoIP providers in terms of unlimited and metered calling.

All of your calls are automatically routed through a robust Public Switched Telephone Network (PSTN) to the hosted VoIP PBX system.
Zadarma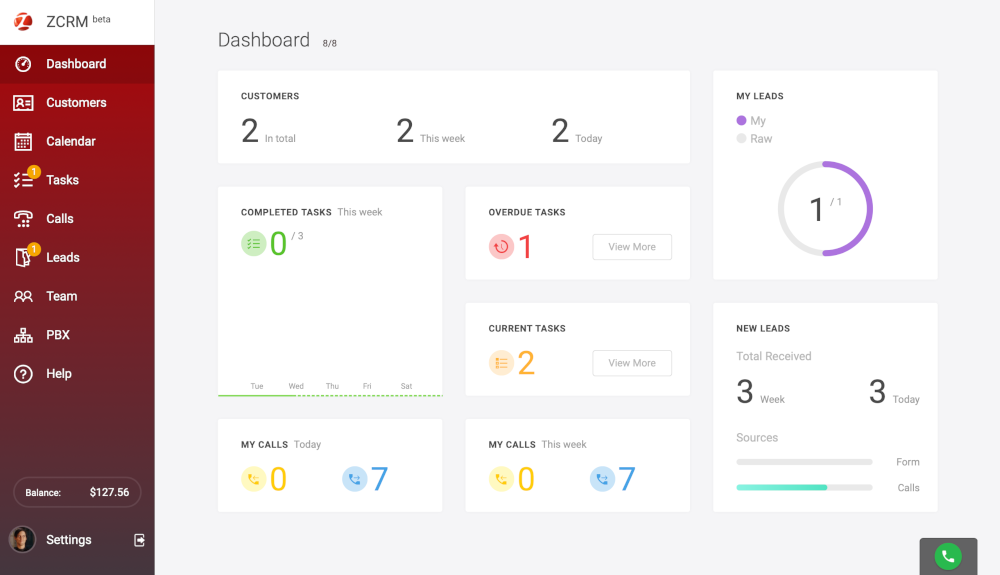 With Zadarma, small and medium-sized businesses (SMBs) can access a fully cloud-based office phone system without having to install bulky gear and wiring. The cloud PBX from Zadarma has a software wizard to facilitate quick, successful settings and may be tailored to match individual or corporate deployment.
Features
With 30,000 multi-channel virtual phone numbers, including toll-free numbers, available in 100 nations worldwide, Zadarma is a cloud-based provider of telephony services for SMBs.

In addition to voice menu (IVR) support, call pickup, call transfer, conditional/unconditional call forwarding, call recording, call waiting, statistics, scheduled answering machines, automated fax receiving, and an API interface for deeper integration, customized cloud PBX features also include scheduled answering machines.

Supports third-party integration with popular CRM and messaging programs like Slack, Facebook Messenger, Slack, Salesforce, Zendesk, AmoCRM, Retail CRM, Bitrix 24, HubSpot, Salesforce, Zendesk, and Zoho.

The main features of Zadarma's own API interface, which supports client development of custom applications, include SIP account and PBX settings display and change, statistics and/or balance display, calling and SMS, as well as external server notifications for incoming calls and call routing, among other things.
What's Next?
If different collaboration apps were combined into a suite, businesses could manage to superior teamwork and assistance in one place more easily. This would make it simpler to keep track of the development and results as well as the overall success of the collaboration campaign. Use 500apps to ensure that your business is running as effectively and productively as possible by having a range of business suites, such as those for sales, human resources, customer service, marketing, and other departments.
Conclusion
It is crucial to take into account your unique needs and requirements while selecting Business Phone System software. Different Business Phone System software alternatives come with different features and functionalities. Some are easier to use than others. And some might cost less than others. In the end, PBXPlus from 500apps, which engages visitors to your website, is the best Business Phone System program for you. Visit 500apps right away to discover more about our 50-app All-in-One CRM Software, which is available for just $14.99 per user.
Why Choose 500apps?
#1
All-in-One Suite with more than 50 apps
#2
Everything you need today and in the future for all departments
#3
Unbelievable value - the lowest pricing you will ever find
#4
Hosted in 6 locations for compliance and blazing speeds
#5
24/5 Support - FREE chat, email and phone
#6
Uncapped features - limits you will never reach humanly
#7
Managed and maintained everyday by a dedicated team
#8
No downtime - comes with a 99.9% uptime guarantee
#9
Supports a number of international languages
#10
We've everything covered - 90k+ trust us with their business
Join the SaaS Revolution
All-in-One Suite of 50 apps

Unbelievable pricing - $14.99/user

24/5 Chat, Phone and Email Support