10 Tips for Choosing The Right E-Learning Platform for You
Choosing the right e-Learning platform is essential to ensure your learning experience is as effective and efficient as possible. With so many different platforms available, it can take time to determine which will best meet your needs. To help you make a more informed decision, here are 10 tips for choosing the right e-Learning platform.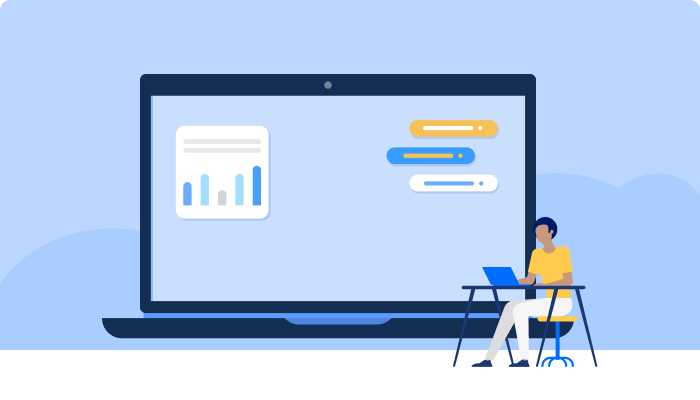 Do you want a platform with an intuitive user interface? Are you looking for something that offers extensive multimedia support or one that focuses on interactivity? You may need a platform that allows collaboration between multiple users in real-time. Whatever features matter most to your organization, there's sure to be an e-learning platform that fits the bill.
We all have unique requirements when selecting the perfect e-Learning Platform; however, understanding some key considerations before making a choice can save precious time and effort. Read on for valuable insights into what makes up an ideal e-Learning Platform and how to choose the one tailored specifically to your needs!
What Is an E-Learning Platform?
E-learning platforms are digital systems that facilitate online learning. They serve as a hub for instructors to create and share educational content with their students, such as presentations, videos, documents, etc. Through these platforms, teachers can monitor student progress and provide feedback on assignments.
When selecting an e-learning platform, it's important to consider several factors, such as cost, user experience (UX), ease of use, security features, and mobile compatibility. Online learning platforms vary in capabilities and pricing plans; some may offer more robust features than others but at a higher price. It's essential to research the various options available and decide which ones have the functions you need most. Additionally, look into customer reviews or ask colleagues for recommendations when choosing an e-learning platform that best fits your needs.
Why Are E-Learning Platforms Important?
E-learning platforms are becoming increasingly important in today's digital world. They provide organizations with the tools they need to manage employee training while also offering a user experience that is intuitive and easy to use. With an eLearning LMS platform like LMS Ninja, businesses can easily access all their content from one centralized location and make sure employees have everything they need for successful learning.
These platforms offer convenience and help improve the security of sensitive data by providing users with secure login information and encrypted communication protocols. On top of this, many e-learning platforms have built-in course authoring capabilities so companies can create custom courses from scratch without needing expensive software or outside help. This makes it easier than ever before for businesses to train their employees on a wide variety of topics quickly and efficiently.
When choosing an e-learning platform for your organization, you should consider several factors, including cost, scalability, customer service, flexibility and customization options. By researching ahead of time and finding the right platform that meets both your budget needs and those of your learners, you will be able to maximize your return on investment and ensure success for years to come!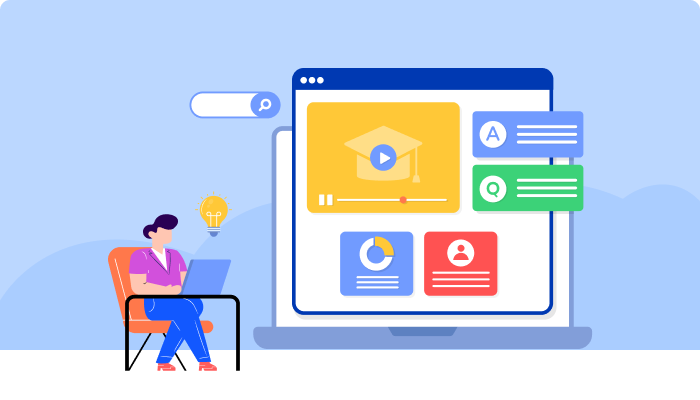 10 Tips for Choosing the Right E-learning Platform for You
Choosing the right e-learning platform can be an overwhelming task. With so many options, how do you know which is best for your needs? Here are 10 tips to help you make an informed decision when selecting an e-learning platform for business:
Assess Your Needs
Before choosing the best e-learning platform for your needs, it's important to assess those needs. Here are a few points to consider when evaluating potential platforms:
Course Management: What features does the platform offer in terms of course management? Can you easily manage student enrollment, track progress and generate reports?
User Interface: Is the user interface intuitive and easy to navigate? Does it provide a good learning experience for students?
Mobile Accessibility: Will learners be able to access courses from their mobile devices? How responsive is the system on different devices?
Platform Support: Do they have a helpful support staff if you run into any issues or need help with something specific?
It's also worth mentioning that LMS Ninja provides detailed reviews of some of the most popular e-learning platforms. It's invaluable when researching which one might work best for you. Taking time to evaluate all aspects of each platform before making a decision will ensure successful implementation and allow users to take full advantage of its capabilities.
Research Different Platforms
Once you've assessed your needs, it's time to research different platforms. With the advent of technology, many best online learning platforms are available for e-learning. Knowing which is right for your organization or team can be hard. We recommend using LMS Ninja – an all-in-one platform that helps you find and compare multiple solutions based on price, features and user reviews.
By leveraging our intuitive solution comparison tool, you can easily browse through various options in just a few clicks, allowing you to identify the ideal e-learning software for your unique requirements quickly. Plus, with its detailed rating system, you can rest assured knowing that you're making an informed decision about the best solution for your project. So don't wait - start searching for the perfect e-learning platform today by giving LMSNinja a try!
Check for Compatibility
Before you decide on any e-learning platform, it's important to check for compatibility. Many platforms may be free of cost, but they can also lack the necessary features or services needed to fit your specific learning objectives. Consider a trial period before committing to a larger purchase.
LMS Ninja is an excellent example of this, offering a free 14-day trial so that users can test out their service and see if it meets their needs. It has various integrations with popular applications such as Dropbox and Zoom. It offers additional tools like reporting dashboards and task management capabilities, which make it easy for organizations to track progress and administer courses effectively. Moreover, its scalability allows businesses of all sizes to benefit from its features without investing in expensive upgrades when more students need access.
Consider the Learning Curve
When choosing the right e-learning platform, considering the learning curve is essential. The time and effort required to learn how to use a particular tool should be considered. For instance, if you're looking for an easy-to-use solution like LMSNinja, this could be beneficial in reducing the learning curve. However, there may be a steeper learning curve if you're looking for something more complex with additional features and capabilities.
Overall, when selecting an e-learning platform, make sure that you carefully consider its usability and overall complexity to ensure that your users can become proficient quickly without too much frustration. This way, you will have peace of mind knowing that your chosen platform has been fit for purpose and that no one's time or energy is wasted on unnecessary complications during the onboarding process.
Analyze Security Features
Security features are an important factor to consider when choosing the right e-learning platform for you. Platforms like LMSNinja offer secure solutions that keep your data safe and ensure that only authorized users can access it. Their advanced encryption technology guarantees privacy, ensuring no one can access sensitive information without permission.
At the same time, platforms like LMSNinja also allow you to customize security settings according to your needs. You can set up two-factor authentication or choose from various options to protect your content in the best way possible. With these customizations, you don't have to worry about compromising confidential information or having unauthorized access. All this ensures that all learners get a secure and enjoyable learning experience while using the platform.
Get started with the leading E-learning platforms today! Sign Up 14 Day Trial
Compare Prices
When considering an e-learning platform, the cost is a key factor. The number of users can determine the price, features offered, and other services. It's essential to compare prices between different providers so that you can choose one that meets your budget needs.
LMSNinja offers great value for money, with their plans starting from just $14.99/month per user. This package gives you access to all the core features and advanced security measures, such as two-factor authentication and single sign-on (SSO). You also get 24/7 customer support in case any issues arise during usage. All these benefits make LMSNinja an attractive option for the right e-learning platform.
Evaluate Technical Support
When choosing an e-learning platform, technical support is a key factor to consider. It's important to make sure that the platform you select will be able to provide adequate assistance in case of any potential issues. This could include providing tutorials for setting up and using the system and ongoing maintenance or troubleshooting help when needed.
One way to evaluate technical support options is by looking at user reviews for platforms such as LMSNinja. Reviews can give you insight into how helpful their customer service staff are and what resources they have available. You should also look into any additional features that come with your subscription plan, such as access to advanced analytics or reporting tools which may prove beneficial down the line.
Think About Flexibility
When selecting an e-learning platform, it's important to consider flexibility. This will help ensure that the platform you choose can meet your organization's needs both now and in the future. It's also essential to look for a system with customization options, scalability, intuitive navigation and easy integration capabilities. For example:
LMSNinja offers customizable templates and versatile technology stacks to create courses quickly and efficiently.
Their cloud hosting ensures your course is always up-to-date and accessible in multiple languages.
Flexibility is key when picking out an e-learning platform, as it could be the difference between success and failure.
Test Drive the Platform
When looking for the right e-learning platform, it's important to test-drive each one. This will give you a better understanding of how the system works and if it meets your needs. At LMS Ninja, we provide a demo version that allows learners and admins to try out our online course software before making any commitments.
Trying out different platforms helps identify which features are essential and which ones you don't need. It's easy to get overwhelmed by all the bells and whistles some platforms offer, but having an idea of what type of functionality is required helps narrow down your choices quickly. For example, do you need advanced reporting? Or automated enrollment processes? With LMSNinja you can easily find these options in the admin panel settings.
No matter what platform you choose, consider its flexibility and ability to meet your learning goals. Test-driving each option gives you hands-on experience so that when it comes time to decide on one specific e-learning solution, you'll have plenty of insight into what makes the best fit for your organization or school.
Read Reviews
When it comes to finding the right e-learning platform for you, reviews can be incredibly helpful. Reading what others have said about a product or service is often the best way to get an idea of how it will work in your unique situation. That said, check out reviews for LMS Ninja. After all, this could become your go-to solution when creating and managing online courses.
Reading through these customer experiences provides valuable insight into the features they offer and any potential drawbacks or issues that may arise depending on your individual needs. It's important to remember that no two businesses are alike, so take the time to read through each review carefully before making up your mind. In addition, ask around amongst colleagues who may already use LMS Ninja, their first-hand experience of using the platform might prove invaluable!
Conclusion
Choosing the right e-learning platform is an important decision for any organization. A good e-learning platform can help improve engagement, increase productivity and streamline learning content delivery. By considering your specific needs and researching different platforms, you can find a cost-effective solution that meets your requirements.
LMSNinja provides an innovative approach to e-learning by offering more than just a traditional learning management system. It enables users to easily create custom courses with interactive elements, track progress and gather real-time data on learner performance. With its intuitive interface and user-friendly features, LMSNinja easily manages online training activities quickly and efficiently.
Why Choose 500apps?
#1
All-in-One Suite with more than 50 apps
#2
Everything you need today and in the future for all departments
#3
Unbelievable value - the lowest pricing you will ever find
#4
Hosted in 6 locations for compliance and blazing speeds
#5
24/5 Support - FREE chat, email and phone
#6
Uncapped features - limits you will never reach humanly
#7
Managed and maintained everyday by a dedicated team
#8
No downtime - comes with a 99.9% uptime guarantee
#9
Supports a number of international languages
#10
We've everything covered - 90k+ trust us with their business
Join the SaaS Revolution
All-in-One Suite of 50 apps

Unbelievable pricing - $14.99/user

24/5 Chat, Phone and Email Support