Top 11 HRMS Software for Enterprises in 2023
Today, human resource management is critical for enterprises of all sizes. Core HRMS and Payroll HRMS are important in helping businesses manage their staff efficiently. So, what are the top 11 HRMS software for enterprises in 2023? Let's take a look at some of the best options available.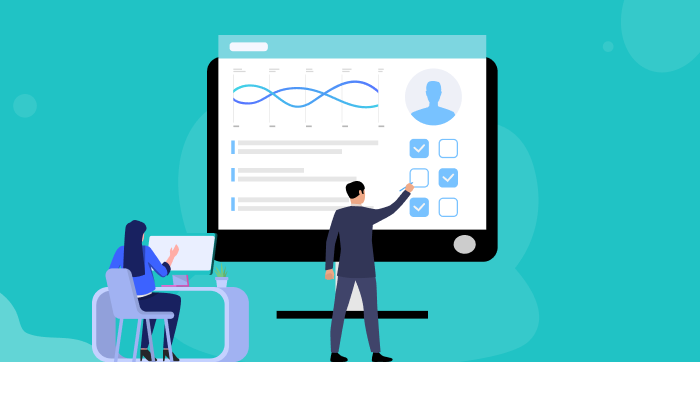 In light of these powerful HRMS software available in 2023, it's clear why they remain highly sought after by enterprises looking to maximize efficiency while minimizing costs associated with personnel management. With their ability to handle complex tasks quickly yet accurately - plus providing invaluable insights about key metrics - there's no doubt these solutions will continue being indispensable assets well beyond 2023, too!
5 Key Benefits of Implementing an HRMS
HRMS (Human Resource Management System) can be a powerful tool for enterprises, providing them with many benefits. Here are five key benefits of implementing an HRMS:
Automation: HRMS systems can automate many of the manual processes that HR departments must manually complete.

Improved accuracy: HRMS systems can help ensure that data is more accurate. It can improve employee and customer experience and reduce potential data entry errors.

Accessibility: An HRMS can make data accessible from anywhere, allowing employees and managers to access data whenever and wherever they need it.

Security: HRMS provides an added level of security for sensitive employee data, ensuring that only authorized personnel have access to sensitive information.

Better communication and collaboration: An HRMS allows HR professionals, managers, and employees to communicate and collaborate more effectively, improving the overall HR function.
The Role of AI and Machine Learning in HRM
The role of AI and machine learning in HRM is becoming increasingly important. By utilizing technologies such as these, businesses can streamline processes like payroll, recruitment, attendance tracking, etc. This can help organizations optimize efficiency while allowing them to focus on other areas of their operations.
AI and ML can automate manual tasks that normally require significant time and resources from an organization's human resource department. For example, they can detect resumes with the right skill sets for a specific job opening or detect risky behaviors by employees related to safety regulations or company policies. Additionally, they have the capability to offer personalized employee engagement strategies based on individual needs.
Overall, AI and machine learning hold great potential in optimizing how companies manage their workforce. Implementing these tools into existing HR systems will enable businesses to develop smarter solutions for addressing their unique challenges regarding personnel management. As this technology continues to evolve over time, it may revolutionize how we manage our most valuable asset—our people!
Top 11 HRMS Software for Enterprises in 2023
As the demand for HRMS software continues to grow, there is an increasing need for robust, cloud-based solutions to help organizations manage their HR processes. With the advancement of technology, a wide range of HRMS solutions are available today that can automate and streamline HR processes. This article will look at the top 11 HRMS software for enterprises in 2023. These solutions are among the best available on the market today, from comprehensive solutions with comprehensive features to those that focus on specific HR processes. We'll discuss each solution's features, benefits and pricing to help you make an informed decision.
SAP SuccessFactors
SAP SuccessFactors is an end-to-end HR software solution designed to help enterprises optimize their HR processes. Its cloud-based platform is highly customizable and integrates with other SAP products. SAP SuccessFactors provides comprehensive employee onboarding and performance management tools, including real-time feedback and goal setting. It also offers a range of analytics capabilities for workforce planning, analytics and engagement, and seamless integration with other HR software systems. With its AI-driven insights, cloud-native architecture, and robust security framework, SAP Success Factors will be a powerful and reliable HRMS solution for enterprises in 2023.
Oracle HCM Cloud
Oracle HCM Cloud is a human resources management system designed to help enterprises operationalize and manage their human capital. This cloud-based solution streamlines HR processes and system management and provides relevant insights for decision-making. Oracle HCM Cloud provides a unified platform to manage core HR functions, including onboarding, recruiting, learning, and performance management.
Additionally, it features extensive integration with other Oracle products, such as Oracle ERP Cloud and Oracle Talent Acquisition Cloud. Using Oracle HCM Cloud, enterprises can centralize their HR operations, access employee data from anywhere, and easily build robust analytics from HR data.
BambooHR
BambooHR is a cloud-based HR software solution that provides organizations with an easy-to-use, intuitive platform to help manage employee information and streamline HR processes. This software offers powerful tools to track and analyze employee performance, maximize engagement and improve communication. Additionally, it provides a suite of employee self-service and reporting features that help employers make data-driven decisions. With its integration capabilities, BambooHR can seamlessly connect with other popular business applications, such as Paychex and QuickBooks, to provide a comprehensive system for managing employee data.
Paychex HR Solutions
Paychex HR Solutions are an all-inclusive Human Resources Management System (HRMS) designed to help businesses of all sizes manage their employees better. This cloud-based program offers tools and features to help streamline HR processes, from onboarding and offboarding to payroll, benefits, and compliance. With a focus on providing easy-to-use tools, Paychex HR Solutions allow businesses to manage their HR tasks better, saving time and money while improving overall efficiency.
Zenefits
Zenefits is an all-in-one HRMS software for enterprises that streamlines the entire employee lifecycle from onboarding to retirement. The software helps to automate routine HR tasks, minimize manual paperwork, and reduce the need for manual data entry. It also provides a comprehensive dashboard that includes all the necessary information about employee benefits and payroll. With its complete suite of features, Zenefits can help you manage employee data and records, track time off, and manage company policies in one easy-to-navigate platform. With its intuitive, user-friendly interface, you can easily set up, collect, and customize your HRMS.
ADP Workforce Now
ADP Workforce Now is an HRMS software that helps enterprises manage their workforce online. It provides all the key HR functions such as payroll, benefits, time and attendance management, tax filing, and compliance management. It also offers reporting, analytics, and communication management tools to help enterprises stay on top of their people's data. It integrates seamlessly with hundreds of third-party applications and can customize the system to meet the needs of any organization.
PeopleMatter
PeopleMatter is a leading HRMS software designed for large enterprises. It is a comprehensive, cloud-based HR solution that helps streamline the entire HR process and is used to manage and track employee performance, attendance, and payroll. PeopleMatter helps organizations to create custom reports and track employee performance. It also includes powerful payroll and benefits management features. The software makes it easy to automate manual tasks, create and manage employee records, and ensure regulatory compliance.
TriNet
TriNet is a cloud-based Human Resource Management System (HRMS) for enterprises. It is designed to save businesses time and money by automating the HR function and simplifying payroll, benefits administration and human resource management. TriNet provides an integrated payroll and HR package that eliminates manual data entry and provides accurate payroll processing in just a few clicks. It offers a comprehensive suite of features to help businesses manage and analyze employee data, such as recruiting, onboarding, training, performance management, and compensation.
Breezy HR
Breezy HR is a modern HRMS software designed to help enterprises streamline their recruitment and HR processes. It is a cloud-based system that offers users automated job postings, applicant tracking, onboarding, performance management, and reporting capabilities. Its easy-to-use interface and intuitive design make it easy for users to take action and find the information they need quickly. Furthermore, it can integrate with other systems, such as payroll and existing HR applications, to provide a seamless, unified experience.
Namely
Namely is a top-rated enterprise HRMS software that allows businesses to manage their entire human resources operations from one central system. It is an all-in-one HR platform that includes payroll, time tracking, benefits administration, performance management, and recruiting tools. Thanks to its intuitive and user-friendly interface, Namely make it easy for HR teams to manage their routine administrative duties. It also assists with compliance by providing a comprehensive library of federal, state, and local employment laws and regulations. With Namely, businesses can save time and money by streamlining their HR processes.
HRSprout
HRSprout is a powerful HRMS software designed to help enterprises streamline and optimize their HR processes. With its user-friendly interface and powerful features, HRSprout easily organizes employee information, tracks employee engagement, manages onboarding and payroll, and more. It also gives users access to analytics and insights to gain deeper insights into the performance of their teams. With its intuitive user interface, HRSprout simplifies HR management, helping businesses run more efficiently and productively. Its scalability and affordability make it an ideal choice for businesses of all sizes.
Get started with the leading Human Resource Management System today! Sign Up 14 Day Trial
Conclusion
HRMS software has become increasingly important for businesses of all sizes to manage their human resources. Investing in the right system can create greater efficiency and productivity while providing a streamlined experience for employees and employers. By exploring the five key benefits of implementing an HRMS, understanding the role of AI and machine learning, and looking at the 11 best solutions available in 2023, organizations have access to powerful tools tailored to suit their specific needs. With so many options, companies now have more opportunities to select solutions that will help them stay competitive and maximize employee engagement. Choosing the right HRMS can be daunting, but with research and careful consideration, it's possible to find one that meets the company's goals, fits within budget constraints, is easy to use, provides data security protections and offers excellent customer support.
One of the top options is HRSprout, a simple, user-friendly software that is constantly updated with the latest features. It is also very affordable, and it is part of the 500apps Infinity suite at $14.99, which includes 50+ apps for growing businesses to grow like fortune 500. With HRSprout, you can be sure that you have a reliable tool to manage your human resources effectively and efficiently. It's a great option to consider when looking for an HRMS solution.
Why Choose 500apps?
#1
All-in-One Suite with more than 50 apps
#2
Everything you need today and in the future for all departments
#3
Unbelievable value - the lowest pricing you will ever find
#4
Hosted in 6 locations for compliance and blazing speeds
#5
24/5 Support - FREE chat, email and phone
#6
Uncapped features - limits you will never reach humanly
#7
Managed and maintained everyday by a dedicated team
#8
No downtime - comes with a 99.9% uptime guarantee
#9
Supports a number of international languages
#10
We've everything covered - 90k+ trust us with their business
Join the SaaS Revolution
All-in-One Suite of 50 apps

Unbelievable pricing - $14.99/user

24/5 Chat, Phone and Email Support