6 Different Types of Key Performance Indicators and When to Use Them
Let's look at the 6 different types of key performance indicators (KPIs) and when to use them. Learn how to choose the right KPI for your business goals and how to use it to measure performance.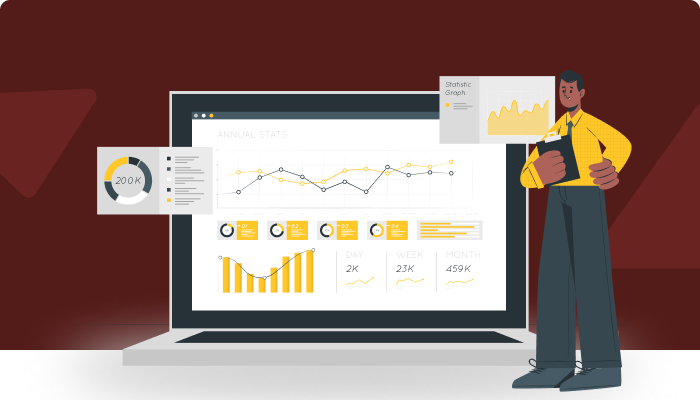 When measuring performance, having the right set of key performance indicators (KPIs) is essential for ensuring that your business reaches its goals. It can be tricky to know which KPIs are most relevant and when to use them. However, by taking the time to understand the different types available, you'll have a better chance at success.Let's discuss 6 different types of KPIs and when they should be used to measure performance effectively.
Selecting the right set of KPIs is essential for achieving desired results, improving customer service, reducing costs or streamlining processes. Companies must evaluate their current situation and decide which indicators best fit their needs before implementing them into their business strategy. With the proper use of KPI performance management tools, organizations can fully understand and maximize their growth potential.
Key Performance Indicators
Key Performance Indicators (KPIs) are metrics used to measure an organization's or individual's success. They provide a way for organizations to track their progress towards meeting objectives and goals and identify areas needing improvement. By assessing employee performance indicators, KPIs can be used in performance management practices to review team members' effectiveness and ensure they are working toward the same end goal.
Organizations must consider strategic and operational factors when choosing which KPIs should be tracked. Strategic KPIs focus on long-term goals, such as increasing customer satisfaction, while operational KPIs measure shorter-term activities, such as how many customers have made purchases within a certain timeframe. The right combination of KPIs will help companies achieve their organizational goals more effectively.
Importance of KPIs for Businesses
KPIs are essential for businesses, as they measure progress towards the company's goals. Understanding why KPIs are important and how to use them is key to successful OKR management. Here are four reasons why:
KPIs help you track performance against objectives. By monitoring your progress, you can identify areas that need improvement and take action accordingly.
They allow for quick decision-making based on data-driven insights, helping businesses stay ahead of their competitors in an ever-changing market landscape.
Key performance indicators enable companies to measure success more accurately than traditional customer surveys or focus groups.
With real-time feedback from KPIs, businesses can quickly adjust strategies and make adjustments when needed without wasting time or resources trying out multiple solutions simultaneously.
KPIs offer immense value in understanding business performance and making informed decisions. With clear objectives, these metrics become even more powerful tools for achieving organizational goals efficiently and effectively. It's no wonder many organizations today rely on key performance indicators as part of their regular OKR management processes!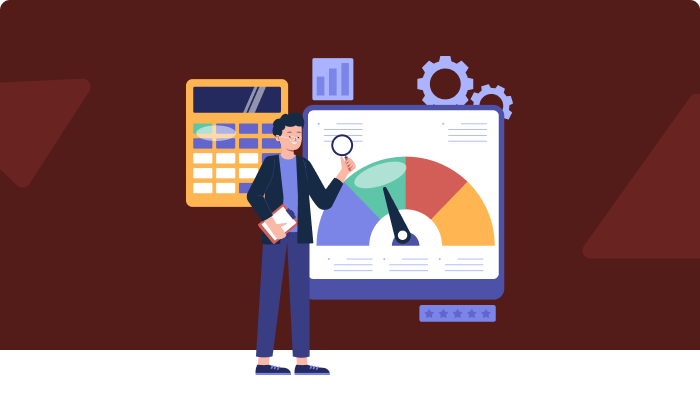 6 Different Types of KPIs
KPIs, or Key Performance Indicators, are essential metrics businesses use to measure progress and success. But not all KPIs are the same. There are many different types of KPIs. Each is used for a specific purpose. Let's look at 6 of the most commonly used KPIs and when they should be employed.
Financial KPIs: Return on Investment (ROI), Net Profit Margin, Cost per Lead, Customer Lifetime Value (CLV).
Process-oriented KPIs: Cycle Times, Completion Rates, Wait Times, Quality Assurance Tests Passed/Failed Rates, etc.
Customer-focused KPIs: Net Promoter Score (NPS) surveys, Customer Churn Rate, Social Media Sentiment Tracking Score, etc.
Employee-related KPIs: Engagement Scores from Employee Surveys, Recognition Programs Participation Numbers, Incentives Uptake Percentages, etc.
Learning & Growth-oriented KPIs: Team Training Course Completion Rates, Skill Acquisition Evaluation Results from Interviewing New Hires, etc.
Future Development Goals: Assessments, Team Training Course Completion Rates, Skill Acquisition Evaluation Results, etc.
Overall it's important for businesses large and small alike to understand the various types of available Key Performance Indicators so that they can utilize them strategically toward achieving targeted organizational milestones effectively and efficiently no matter what phase their venture is currently at!
How to Develop Effective KPIs?
Developing effective key performance indicators (KPIs) is the cornerstone of any successful employee review and assessment. To ensure that KPIs accurately reflect an individual's performance, employers need to assess each indicator's relevance and effectiveness in measuring progress towards a goal. This requires careful consideration of various factors such as organizational objectives, data availability, and communication strategies.
When creating KPIs for employees, it's important to be specific about their expected outcomes. For example, if you want your team members to increase their sales by 10%, set that target as one of your KPIs. Additionally, consider incorporating other performance indicators, such as customer satisfaction ratings or website traffic metrics, to measure success against goals further. Having clear and measurable expectations can help motivate employees to meet high standards while providing feedback on how they're doing relative to those targets.
To develop effective KPIs, organizations must also have access to reliable data sources to track progress over time. Companies need to invest in accurate tracking systems and analytics tools to have visibility into the performance of their teams and individuals within them. By collecting this data regularly, businesses will gain valuable insights into areas where improvements can be made more quickly than relying solely on manual reviews or surveys. With up-to-date information at their fingertips, employers can identify trends better and create action plans accordingly.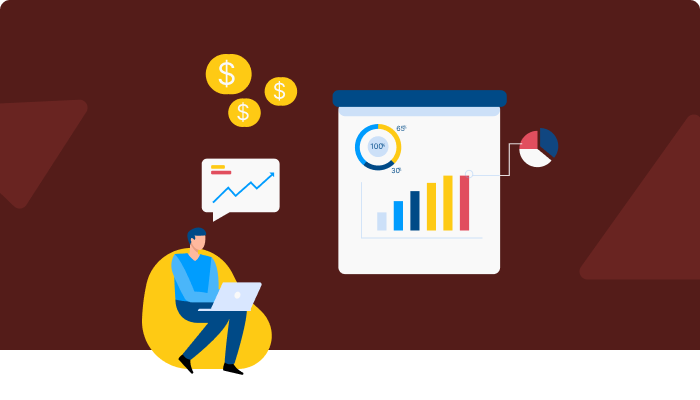 7 Best Practices for Using KPIs
When it comes to effectively utilizing key performance indicators (KPIs), there are several best practices that all companies should follow. A performance management system can be used to track and measure the success of an organization, but only if KPIs are applied correctly. To ensure your business uses KPIs efficiently, here are seven essential tips for making the most out of your management performance indicators.
1. Align KPIs to Business Strategies
Aligning KPIs to business strategies can be tricky, but it is essential for successful performance management. With unlimited projects and goals, using the right KPI in the right circumstances is necessary. PerformanceUP helps businesses develop their custom KPI framework that fits their objectives. This allows organizations to create specific benchmarks and track progress towards them over time.
PerformanceUP also offers an easy-to-use dashboard that provides comprehensive analytics about how your KPIs are doing against your set targets. It helps you keep tabs on performance success or failure and gives insight into what areas need improvement or should be left alone. With this data, managers can easily make informed decisions regarding setting future goals and allocating resources accordingly.
2. Establish Clear Definitions
Establishing clear definitions for key performance indicators (KPIs) is important, as it allows organizations to measure their progress toward achieving business objectives. Businesses can accurately assess their success or failure in meeting goals and targets with clearly defined KPIs. To ensure proper tracking of performance data, KPIs should be given a specific definition that focuses on the desired outcome and results. This will help to ensure that all stakeholders understand what constitutes success.
Organizations can use PerformanceUp's KPI builder to create detailed metrics tailored to their business needs efficiently. The platform makes it easy to track multiple variables over time and compare them against one another. Additionally, with its comprehensive reporting capabilities, users can quickly identify areas of improvement while recognizing successes across different departments or divisions within the organization. By using PerformanceUp's KPI builder and reporting tools, teams have the necessary resources to make informed decisions about strategic planning initiatives.
3. Set Realistic Targets
When setting up key performance indicators, it's important to set realistic targets. It can help organizations stay focused on the goals they have in place and ensure that everyone is working towards a common goal. PerformanceUp can help companies define their objectives more clearly and develop benchmarks for measuring progress against them. They also provide tools to track KPIs over time, so companies can assess whether or not they are achieving desired results.
Performanceup makes it easy to establish well-defined targets with quantifiable metrics that make success easier to measure. The system allows users to create custom reports based on various factors, such as actual vs target performance, historical trends, customer feedback and user activity data. Companies can view how well they're doing in various areas by tracking changes in numbers over time and adjusting accordingly if needed. This information lets businesses identify opportunities for improvement and determine which strategies are most effective at reaching their overall goals.
4. Monitor Regularly
Monitoring key performance indicators (KPIs) is essential for the success of any business. It's an ongoing process that should be used in conjunction with setting realistic goals and targets. Doing so provides a comprehensive view of how well a company performs against its objectives over time, helping to identify potential issues before they become problems.
Companies should ensure their KPIs align with their overall strategy and vision. Different types of KPIs can be used depending on the needs and goals of the organization. For example, financial KPIs like revenue or cost-savings may help monitor profitability. At the same time, customer service-related KPIs such as response times or satisfaction ratings can provide insight into customer experience levels. PerformanceUp software allows organizations to set up customized KPI dashboards which collect data from multiple sources in real-time, giving them an instant snapshot of where they stand at any given moment. This tool helps businesses stay ahead by quickly identifying areas for improvement across all operations.
5. Track Progress
Tracking progress is a critical part of any business. It allows you to measure your performance and uncover areas for improvement. Performance indicators are an effective way to track progress, as they provide insight into how well the organization performs against its objectives.
KPIs (Key Performance Indicators) come in many different forms and should be tailored to fit each business's needs. For example, some KPIs might focus on customer satisfaction or sales numbers, while others may look at employee engagement or financial metrics. Regardless of your chosen KPIs, tracking them consistently to monitor your progress over time is important. A tool like PerformanceUp can help make this process easier, enabling you to quickly access real-time data about your KPIs and identify growth opportunities.
6. Analyze and Take Action
Analyzing and taking action based on key performance indicators (KPIs) is essential to ensure businesses reach their goals. By tracking progress with KPIs, managers can identify areas of improvement or success, guiding them in making informed decisions about strategies and tactics. Different types of KPIs exist for different purposes; when used correctly, they offer valuable insight into an organization's performance.
For example, customer-oriented KPIs focus on the satisfaction of customers and provide information regarding customer retention rates and loyalty. On the other hand, financial KPIs measure revenue growth, profit margins, budgeting accuracy, and return on investment. Additionally, operational KPIs reveal how efficiently a business runs internally - such as employee productivity and resource utilization while highlighting potential bottlenecks.
No matter what type of KPI is being tracked, it's important to use tools like PerformanceUP to compare data over time and make sense of trends or patterns within your results. This could help you better understand where inefficiencies may be occurring so you can take corrective action accordingly. Ultimately, regularly monitoring KPI metrics allows organizations to assess their performance against their goals, enabling them to adjust course if necessary.
7. Communicate Results
Communicating the results of key performance indicators (KPIs) is essential to any successful business. It's important to inform stakeholders and other decision-makers about the progress towards achieving organizational goals and provide guidance for future action. To effectively communicate KPI results, one should use PerformanceUp, a comprehensive reporting platform that allows users to create visual dashboards with up-to-date metrics from multiple sources in real-time. This enables organizations to quickly get visibility into their KPIs, assess their performance and recognize areas where improvements can be made.
Get started with the leading OKR Tool today! Sign Up 14 Day Trial
Conclusion
KPIs are an important tool for businesses to measure their performance. The right KPIs can help a business evaluate the effectiveness of its strategies and identify areas that need improvement. With 6 different types of KPIs, it is important to choose appropriate ones for each business and situation. Developing effective KPIs requires careful thought and planning and implementing 7 best practices to get the most out of them. It is also essential to track progress regularly using tools like PerformanceUp to analyze data and take action when necessary.
In conclusion, understanding and applying key performance indicators can benefit any company looking to increase efficiency and success. While many types of KPIs are available, choosing those suitable to a particular business or industry should be done with care and consideration. Utilizing tools such as PerformanceUp allows companies to monitor progress on these indicators over time which will assist in taking action where required. By implementing these principles into your strategy, you can achieve long-term growth and positive results from your KPIs.
Why Choose 500apps?
#1
All-in-One Suite with more than 50 apps
#2
Everything you need today and in the future for all departments
#3
Unbelievable value - the lowest pricing you will ever find
#4
Hosted in 6 locations for compliance and blazing speeds
#5
24/5 Support - FREE chat, email and phone
#6
Uncapped features - limits you will never reach humanly
#7
Managed and maintained everyday by a dedicated team
#8
No downtime - comes with a 99.9% uptime guarantee
#9
Supports a number of international languages
#10
We've everything covered - 90k+ trust us with their business
Join the SaaS Revolution
All-in-One Suite of 50 apps

Unbelievable pricing - $14.99/user

24/5 Chat, Phone and Email Support