10 Benefits of Choosing Virtual Interview Software for Your Recruiting Needs
Are you looking for ways to make the recruitment process more efficient? Virtual interview software is quickly gaining popularity as an effective way of streamlining the hiring process. With virtual interviewing, recruiters can save time and money while getting a thorough idea of each candidate's qualifications. This article will explore the 10 benefits of choosing virtual interview software for your recruiting needs.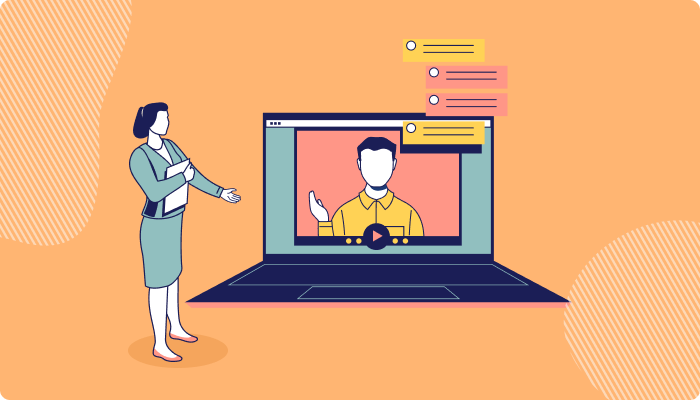 Virtual interviews allow candidates to be interviewed from any location at any time. All they need is a computer or mobile device with internet access. This saves valuable travel costs, especially when considering global recruitment campaigns.
About Virtual Interview Software
Virtual interview software is increasingly becoming popular for recruiters looking to streamline their hiring process and connect with candidates. It allows employers to conduct interviews remotely over the internet via virtual video technology. This can provide several advantages compared to traditional in-person interviewing techniques.
With virtual interviews, recruiters have access to a larger pool of potential candidates who may not be able or willing to travel for an in-person meeting. They also save time by eliminating scheduling challenges by arranging onsite meetings between multiple parties. Finally, virtual interviews are conducted through computers or mobile devices instead of needing costly equipment like cameras and microphones, making it more cost-effective than most other interviewing methods. All this makes choosing virtual interview software an ideal solution for many recruiting needs.
Importance of Virtual Interview Software
Virtual interview software has become increasingly important in the recruiting process. It can streamline the hiring process, reduce operational costs, and foster connection between candidates and employers. With virtual interview software like NinjaInterview, recruiters benefit from a platform designed to make remote interviewing easier than ever before.
The scalability of this type of technology also makes it an ideal choice for businesses of all sizes. For example, you can easily customize your recruitment strategies to fit specific goals or niches. Automated interviews allow recruiters to assess multiple applicants at once - saving valuable time quickly and money spent conducting countless face-to-face meetings. Additionally, many virtual interview platforms offer access to data analytics which can give recruiters insight into how their recruitment processes are performing over time.
Choosing virtual interview software is one-way companies can stay ahead of the curve in modernizing their recruitment practices. Not only does it provide convenience and cost savings, but it also puts organizations at the forefront of utilizing cutting-edge technologies that enable them to attract top talent faster than ever before.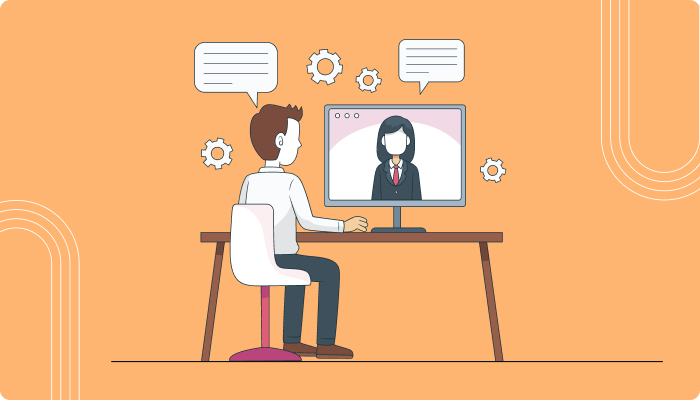 10 Benefits of Using Virtual Interview Software
Video interviewing has become popular for businesses looking to recruit new staff. It offers many advantages over traditional face-to-face interviews, and these 10 benefits of using virtual interview software make it an ideal choice when considering your recruiting needs.
Save Time
Choosing virtual interview software for your recruiting needs is a great way to save time. NinjaInterview offers an efficient employee assessment test with its virtual online interview feature that streamlines the process.
Here are just four of the many benefits you can experience by using this type of technology:
Streamlined candidate selection: Easily filter and shortlist applicants more quickly than traditional methods, thanks to automated scoring and video analysis.
Time savings: Spend less time interviewing candidates, as all interactions take place in one place and can be replayed at any point during the recruitment process.
Faster onboarding: Quickly get new hires up-to-speed without having to wait around or send them onsite training courses due to comprehensive pre-interview assessments.
Improved quality of hire: Ensure only top talent makes it through to the final rounds of interviews by taking advantage of cutting-edge technologies like facial recognition and emotion detection tools.
By leveraging modern advances in technology such as these, recruiters can easily manage large numbers of applicants while getting useful insights into each individual's skill set, ensuring they make the right decision every time. Virtual interview software provides an effective way to optimize existing hiring processes and significantly reduce recruitment costs.
Improved Accessibility
Improved accessibility is one of the major benefits of using virtual interview software such as NinjaInterview. Not only can recruiters access candidates from anywhere in the world, but automated grading and coding assessments make it easier to compare applicants quickly and accurately. Here are just some of the ways that NinjaInterview boosts accessibility:
Automatic scheduling for both parties, no more back-and-forth emails or missed calls
Automated testing and assessment tools measure skillset with accuracy
Audio/video recording capabilities, review interviews when convenient
Live code editor for real-time feedback on programming tasks, improve coding skills during an interview
Multi-language support to ensure a smooth experience for all users regardless of language barriers
NinjaInterview ensures recruiting processes are accessible to everyone involved, so you always get the most out of your recruitment efforts without sacrificing quality. With its enhanced features, this virtual interviewing platform provides an easy way to connect with talented individuals while ensuring fair hiring practices.
Cost Savings
One of the best benefits of choosing virtual interview software for your recruiting needs is cost savings. Instead of having to pay travel expenses, cover accommodation costs and incur other overhead fees related to traditional in-person interviews, companies can save considerable amounts of money by opting for a remote virtual interview solution like NinjaInterview. Not only do you not have any geographical restrictions when hiring talent, but you also don't need to worry about extra costs associated with onsite visits.
An online platform such as NinjaInterview allows employers to give candidates a comprehensive introduction to their company while saving time and money; they can even invite multiple candidates without worrying about scheduling conflicts or expensive venue rentals. Additionally, this type of technology lets recruiters compares candidate responses side-by-side so that every person gets equal consideration regardless of physical location. This ensures fairness and transparency during the recruitment process.
NinjaInterview's cutting-edge virtual interviewing capabilities make it one of the best solutions for businesses looking for cost-efficient ways to hire top talent remotely. It eliminates obstacles posed by geographic distance, enabling companies across industries and geographies to access high-quality applicants quickly and easily from anywhere worldwide, all while reducing overall recruitment costs significantly.
Increased Security
When it comes to choosing the right recruitment software, security is a major factor. That's why NinjaInterview offers enhanced virtual interview security for your recruiting needs. With this software, you can rest assured that your sensitive information stays safe from cyber threats and other malicious activities.
NinjaInterview also allows you to customize the levels of security for each user or company, giving you complete control over who has access to what information. It even uses two-factor authentication to verify users before they are granted access. All in all, NinjaInterview effectively keeps your data secure while allowing recruiters and employers to find the best candidates for their organization.
With its robust features and comprehensive security measures, NinjaInterview makes it easy to ensure that all your recruitment processes are completely secure and private.
Improved Candidate Experience
Virtual interview software, such as NinjaInterview, offers an improved candidate experience. By eliminating the need for in-person meetings, candidates can save time and effort while they still get to know their potential employers. Virtual interviews also provide a more comfortable environment since applicants don't have to worry about transportation or to dress up for the meeting. They can connect from anywhere with just a few clicks.
The streamlined process of using virtual interview software is another benefit. Applicants are asked pre-defined questions that recruiters set during the setup process, which helps ensure consistency throughout the recruitment process. Additionally, candidates no longer have to wait days after submitting their resumes before hearing back from employers; instead, they can participate in video interviews within minutes! This gives them a better understanding of what it's like working at the company and if it matches their expectations and career goals. Recruiters can find out quickly if a certain applicant fits the job requirements without spending much time on phone calls or conducting one-on-one meetings.
With these advantages in mind, it's clear why many organizations are turning to virtual interviewing through software like NinjaInterview when recruiting new employees. It provides both sides with an efficient way to vet candidates while offering convenience and comfort at every step, leading to successful hiring decisions!
Automated Interviews
When it comes to virtual interviewing, automated interviews are an innovative way to streamline the recruitment process. Automated interviews (like NinjaInterview) allow employers and recruiters to save time by pre-recording questions or using templates for various job roles. Here's why they're so great:
They provide consistency: The same questions are presented to every candidate, giving you accurate results each time.
They can be personalized: Questions tailored to specific job roles ensure that candidates get asked the right questions.
They save time: Automating parts of the interview process eliminates manual scheduling and allows more people to apply without wasting your team's valuable time.
They reduce bias: Automated interviewing removes any potential unconscious bias from the hiring decision, reducing discrepancies in selection criteria between applicants.
They offer convenience: Candidates don't have to go through multiple rounds of interviews because all their answers are recorded in one place for easy access later on.
In short, automated interviews present several advantages over traditional methods, making them a great tool for companies looking to optimize their recruitment strategy. Not only do they improve efficiency, but they also help create a better experience for both employers and candidates alike.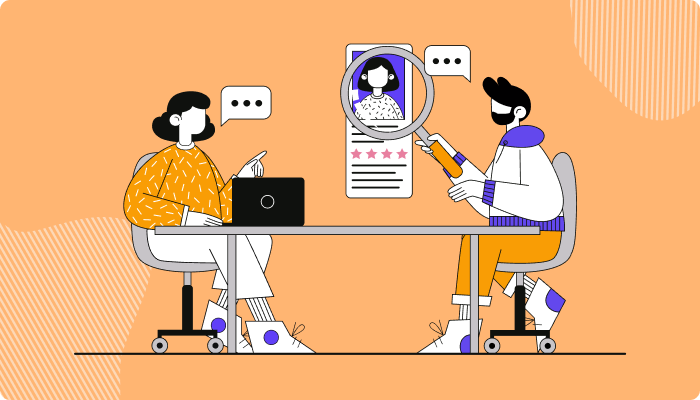 Improved Communication
Communication is key when it comes to recruiting. Virtual interview software like NinjaInterview can help streamline the process and improve communication between parties. Not only does this make things easier for recruiters, but it also ensures that candidates have a great experience throughout their interviewing journey.
NinjaInterview offers several features that facilitate better communication:
Automated Interviews: Candidates don't need to wait around while scheduling an interview or waiting for feedback from the recruiter. With automated interviews, everything is done in real-time, and all paperwork is handled digitally, eliminating potential delays in the process.
Video Chat: This feature allows recruiters and candidates to connect face-to-face during interviews. Through video chat, recruiters get a chance to read the candidate's nonverbal cues and assess their technical skills if needed. Additionally, video chat makes it easier for both sides to ask more relevant questions, which helps them make informed decisions about whether someone is right for the job.
Collaborative Note-Taking: NinjaInterview's collaborative note-taking feature allows multiple users to take notes on each other's conversations simultaneously without worrying about miscommunications or confusion later. It also provides visibility into who said what so everyone involved could access clear information regarding the conversation.
Virtual interview software such as NinjaInterview brings many advantages in improving communication during recruitment processes - allowing employers and applicants alike to benefit from faster response times and better decision-making capabilities.
Flexibility
Flexibility is important when choosing virtual interview software for your recruiting needs. With NinjaInterview, you can interview multiple candidates at any time, no matter where they are located. This means recruitment teams can meet more potential hires and make decisions faster than ever. Here's why flexibility matters:
You don't need to worry about coordinating availability between different people in different locations;
Scheduling becomes easier and faster as you won't need to wait for someone or something else;
Interviews stay organized, efficient, and secure due to automated processes like reminders;
And with integrated video recording tools, it's easy to go back and review details from past conversations.
Having flexible options available through a tool like NinjaInterview makes finding top talent quicker and simpler. It eliminates roadblocks associated with traditional hiring models - allowing recruiters to focus on what matters: finding the best person for the job!


Get started with the leading Virtual Interview Software today!
Sign Up 14 Day Trial
Customization
Customization is an important factor to consider when looking for virtual interview software. Not only can you adjust the settings and features of the platform, but you can also customize the candidate experience with branding elements like logos and colours. NinjaInterview offers a variety of options that allow recruiters to tailor the look and feel of their setup. This way, employers can ensure they present a professional image to prospective candidates.
The customization capabilities don't end there; with NinjaInterview's advanced tools, recruiters can set up automated notifications and messages to streamline communication between them and applicants. They can even create custom questions tailored specifically to each role or job type to get detailed insights into potential hires' skillsets and experiences. What's more, these features are incredibly easy to use - no technical background is required!
These customizable features give recruiters greater control over their virtual interviews, allowing them to stay organized while providing a personalized experience for applicants. As such, investing in this kind of technology could be highly beneficial for any organization that wants its recruitment process to run smoothly and effectively.
Scalability
When it comes to scalability for your recruiting needs, NinjaInterview is an excellent choice. This virtual interview software offers the flexibility to easily adjust and scale with any size of hiring team or organization. From small businesses just starting to larger organizations that need a more complex recruitment process, NinjaInterview can bring efficiency and cost savings along with powerful features.
The scalability options offered by this platform make it easy to customize use cases based on industry requirements and company-specific objectives:
Create unlimited job templates tailored to specific roles
Access interviews available in over 30 different languages
Customize automated workflows for each role type
Integrate existing tools like ATS & HRIS into the platform
These features help streamline recruitment while maintaining compliance standards across all locations and teams. Through its intuitive user interface, recruiters can quickly select candidates based on their skillset, language proficiency, and other criteria relevant to their position. Furthermore, NinjaInterview allows users to store candidate data securely within the cloud so they can be accessed anytime from anywhere.
Conclusion
In conclusion, virtual interview software is an important tool for recruiting. It allows organizations to save time and money and provide more accessibility, flexibility, scalability and customization options than traditional interviewing methods. This makes it easier for businesses to find the best candidates without investing heavily in travel costs or face-to-face meetings. In addition, platforms such as NinjaInterview offer users a range of features that allow them to customize their interviews, set up automated reminders and instantly access candidate feedback. These advantages make virtual interview software the perfect choice for companies looking to streamline their recruitment process while also getting great results.
Why Choose 500apps?
#1
All-in-One Suite with more than 50 apps
#2
Everything you need today and in the future for all departments
#3
Unbelievable value - the lowest pricing you will ever find
#4
Hosted in 6 locations for compliance and blazing speeds
#5
24/5 Support - FREE chat, email and phone
#6
Uncapped features - limits you will never reach humanly
#7
Managed and maintained everyday by a dedicated team
#8
No downtime - comes with a 99.9% uptime guarantee
#9
Supports a number of international languages
#10
We've everything covered - 90k+ trust us with their business
Join the SaaS Revolution
All-in-One Suite of 50 apps

Unbelievable pricing - $14.99/user

24/5 Chat, Phone and Email Support