Best Appointment Scheduling Tools in 2023
Find the best appointment scheduling software for your business in our comprehensive list. Read compare features to find the perfect fit for your company.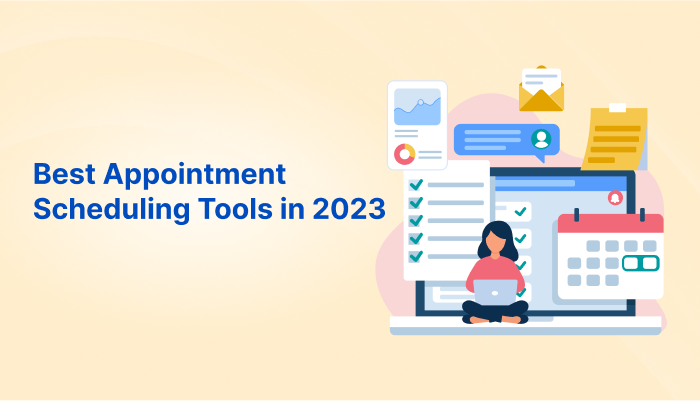 Clients can book, reschedule, and cancel appointments using an online interface with appointment schedulers, which are business tools. Customers can schedule an appointment by going to your company's website, Facebook page, or any other location where the booking software is supported, and selecting an available date and time.
According to Technavio's most recent industry analysis, the appointment scheduling software market is projected to grow by USD 633.47 million between 2020 and 2025 at a CAGR of 19%. North America will account for 39% of the market's growth over the forecasted timeframe. In North America, the US is the primary market for appointment scheduling software. The market in this region will grow more slowly than the markets in Europe, Asia, and South America. Over the projection period, the appointment scheduling software market will increase in North America due to the high concentration of providers, the accessibility of internal IT solutions, and cloud infrastructure.
Appointment scheduling is a vital component of your day. One of the most crucial things you can do as an entrepreneur, regardless of whether you're the CEO of a small business or spend your whole working day in an office, is schedule appointments. But there are lots of tools out there that can make this process simpler than ever. In this article, we'll examine the top 15 appointment-making apps for 2023.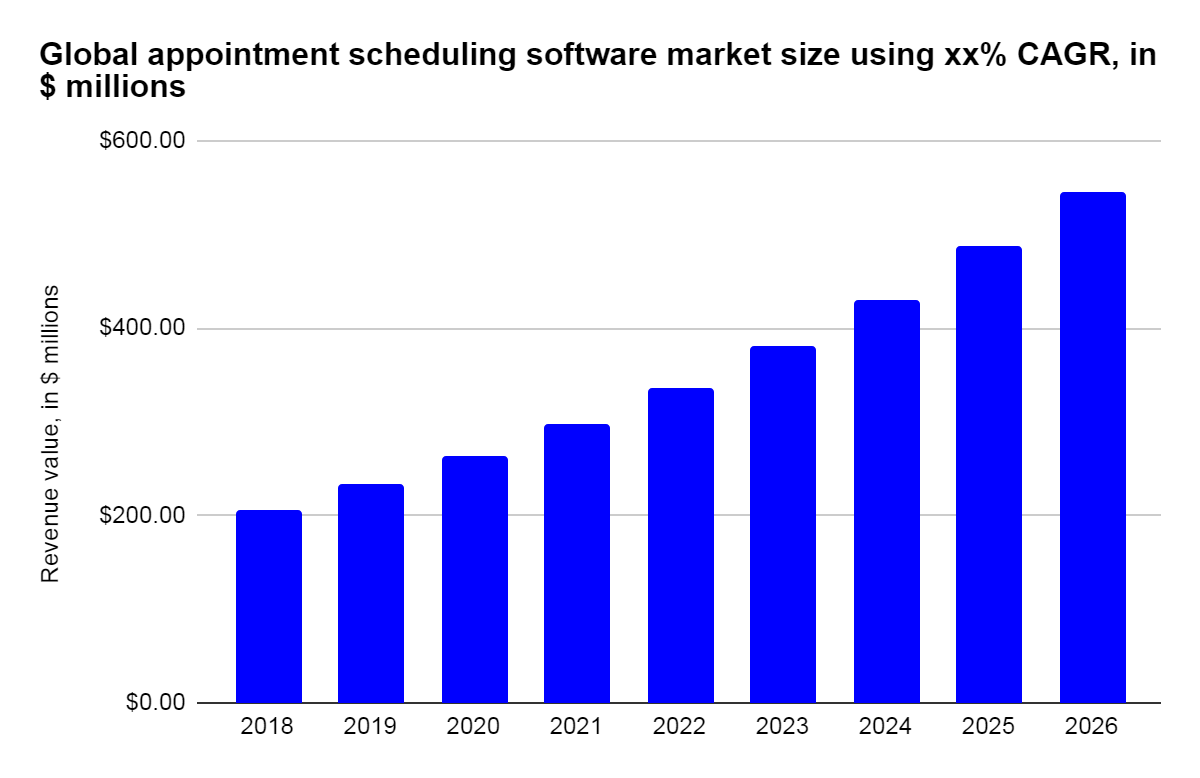 The Benefits of an Appointment Scheduling System
If you're looking for a solution to increase the effectiveness of your company, you might want to think about implementing an appointment scheduling system. Numerous appointment scheduling and management duties can be automated with the use of a system like this. It can also offer a number of additional advantages, such as:
Enhanced Effectiveness A method for scheduling appointments can improve your company's overall effectiveness. Your team may focus on other duties by allowing them to schedule and manage appointments automatically.

Enhanced Client Services A method for scheduling appointments can also aid in raising your quality of client service. Customers can make appointments on their own through your website, giving them a handy method to do so.

Lower Costs A method for scheduling appointments can aid in lowering your company's overhead expenses. You can reduce labour costs by automating the appointment scheduling and management process.

Higher Revenue A system for scheduling appointments can also aid in boosting your company's overall revenue. You can boost the number of appointments you can plan by letting clients make their own online appointments.

Enhanced Company Image A method for arranging appointments can also help to enhance your company's reputation. You may make your firm appear more professional by giving consumers a handy option to make appointments. C

Best Appointment Scheduling Tools in 2023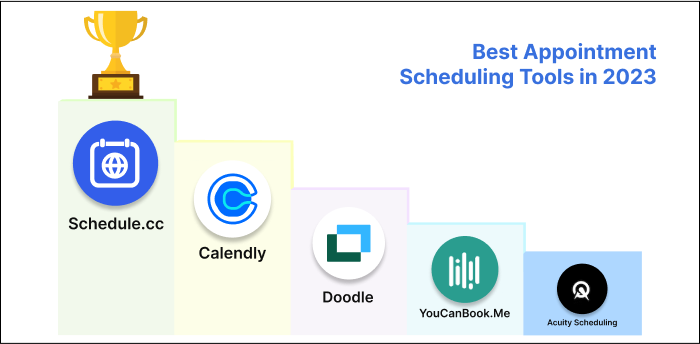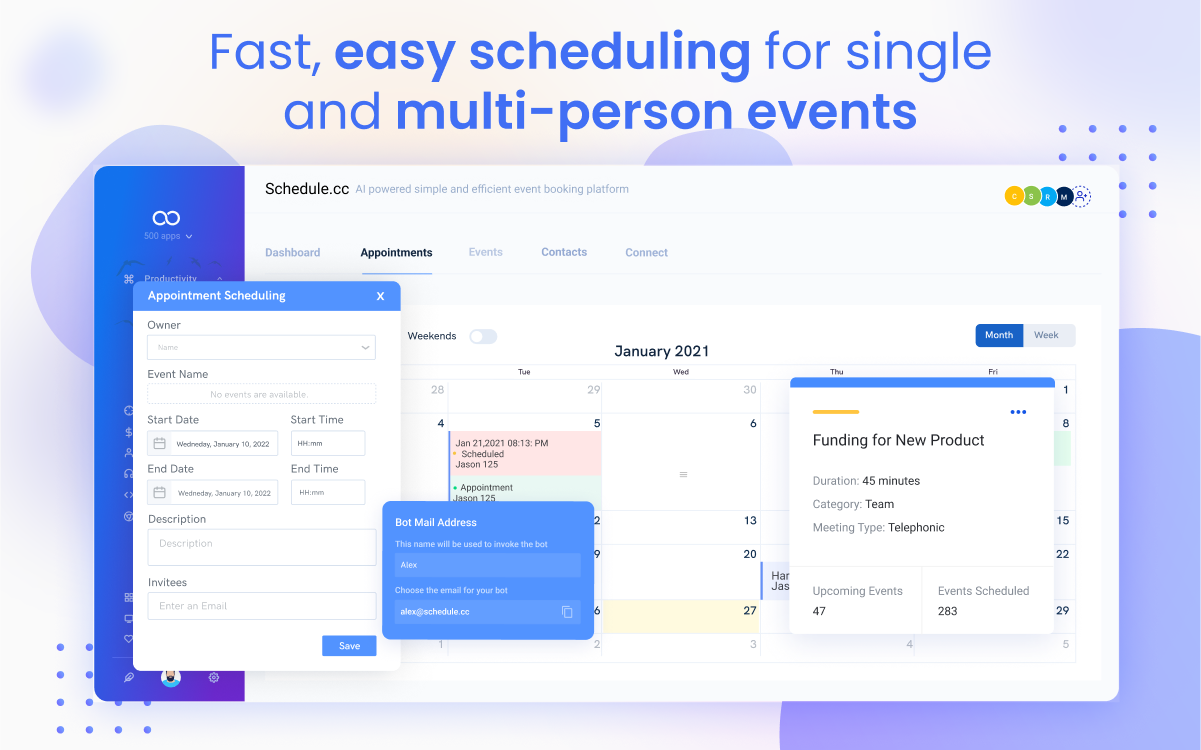 Using Schedule.cc, businesses can quickly list and manage meetings, events, and other appointments. Software with AI integration makes it possible for businesses to schedule, modify, track, and organize their appointments with just one click.
Features
Event Scheduling Software:- By giving your clients access to your event booking links, you can quickly plan and organize your events.

Calendar Integrations:- With just one click, schedule.cc calendars can be synced with those of other apps, making collaboration easier and preventing double bookings.

Notifications and Reminders:- Automate online booking reminders, confirmation emails, and updates on any modifications to keep clients informed

Website and Email Embeds:- By pasting the script code or distributing it via emails, you may embed your calendar on your website or in emails.

Buffer Time:- Choose the intervals you want, and let Schedule.cc handle the time in between meetings.

Reports:- Find all the information in a visual report format, spend less time studying it, and manage your business more effectively as a result.
Calendly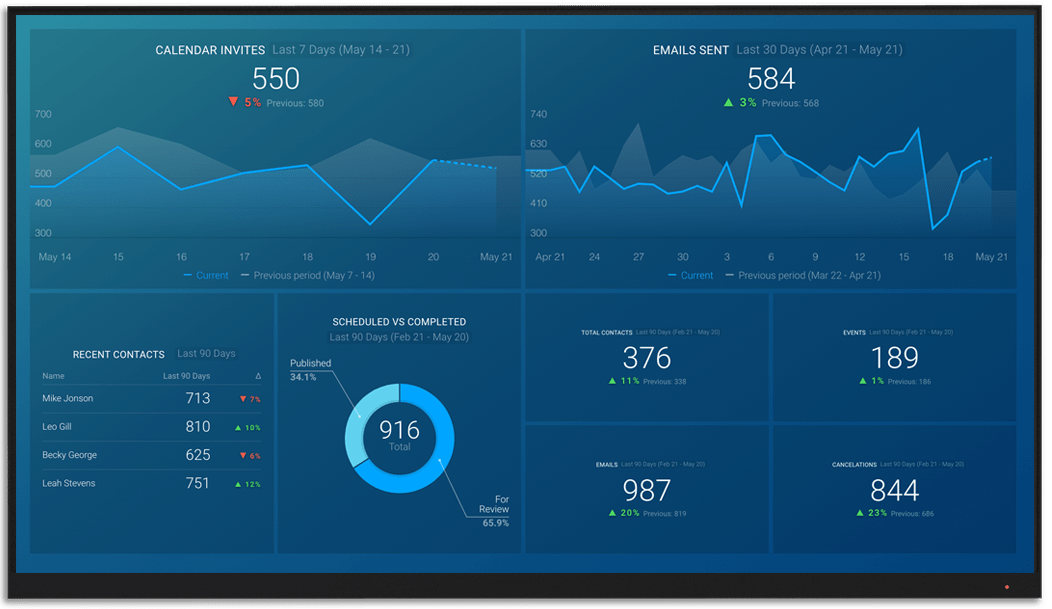 One of the greatest software programs for scheduling appointments, Calendly, allows you to make a reservation in just three simple steps: set availability, share links, and be booked. It is compatible with a wide range of other programs, like Zoom, Slack, Google Analytics, Zapier, Paypal, etc.
Features
Teams Scheduling:- You can automate scheduling with the people you love and with your team (multi-person meetings). With the help of the Calendly Team Pages, you may show a number of options alongside your appointment on a single page.

Workflows:- Calendly workflows let you automate communication leading up to and following meetings. To increase meeting attendance and outcomes, you can send out email or SMS notifications as event reminders and confirmations.

Website scheduling:- As I mentioned, Calendly can be added to your website to simplify scheduling. Calendly may therefore be a strong candidate if you're seeking for scheduling software for your company. Without creating a scheduling system, customers and prospects can book appointments on your website.

Calendar Connections:- You can connect up to six calendars per team member using Calendly's Calendar Connections function to see each person's current availability. Calendly integrates with iCloud, Microsoft Office, Google, Outlook, and Microsoft.
Acuity Scheduling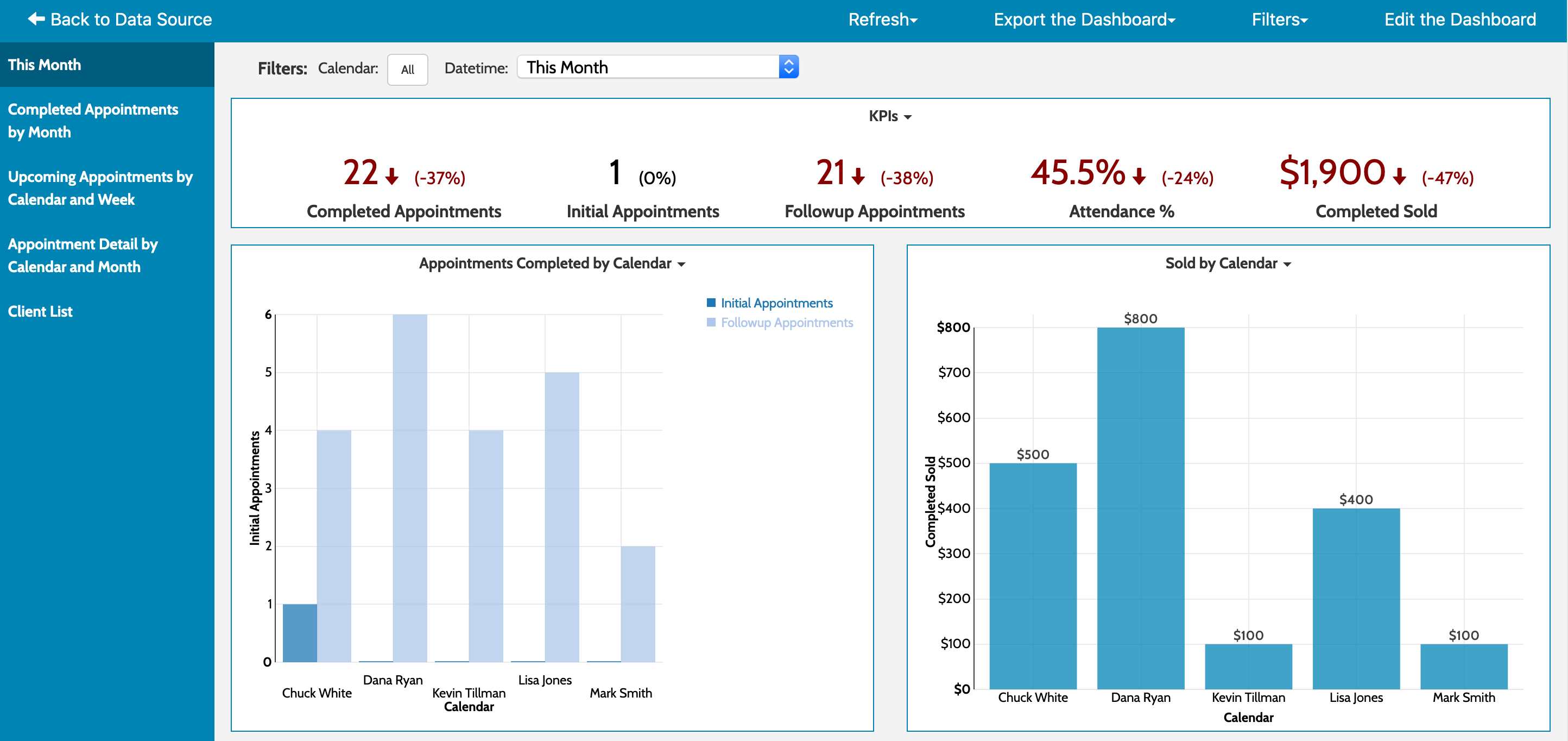 Acuity Scheduling acts as your on-call personal assistant. The interface for managing your schedules is highly user-friendly. In addition to appointments, it provides various other services, such as packages, group subscriptions, etc. By adding cancellations, reschedules, and new appointments to calendars, acuity scheduling keeps schedules organized. It allows clients to fill out intake forms, maintaining and organizing their information. You can also personalize the calendar and appointment page.
Features
Setting up and customizing Acuity Scheduling is quite simple.

There is a lot of useful documentation and a straightforward user interface.

If you're looking for a straightforward appointment scheduling solution, the free version is fantastic.

The reminder system is excellent for you as a small business owner because it works well and interacts with your Google calendar.

It connects with third-party programs like QuickBooks, FreshBooks, and MailChimp as a service scheduling tool and provides APIs.
Doodle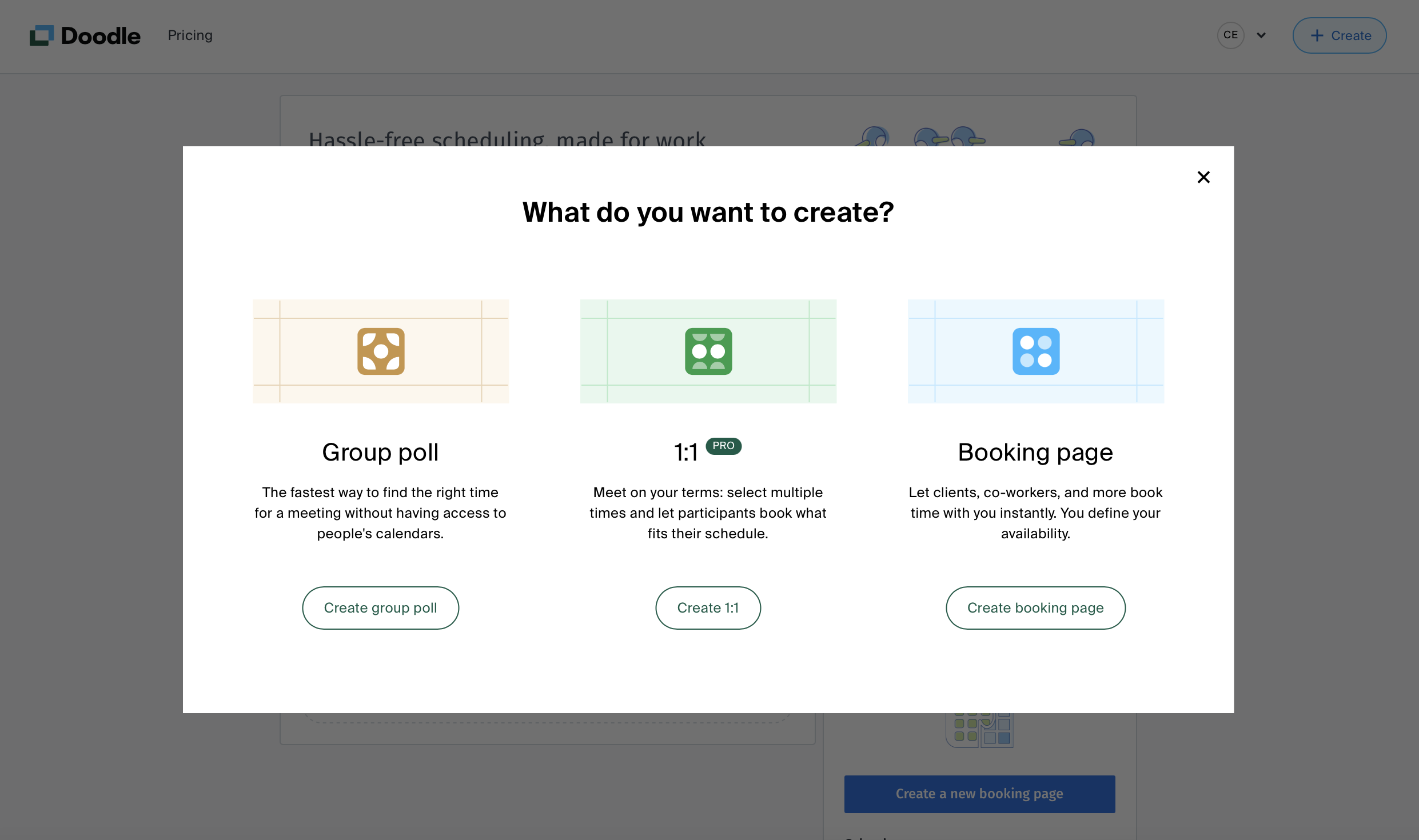 In order to connect individuals in the best way possible and put an end to back-and-forth emails and delays, Doodle is a platform for booking appointments. Booking pages are automated. The client can check your availability and quickly book appointments with you with just one click. You have the option to alter your SLAs, brand, and sync Doodle with Slack.
Features
Prevents misunderstandings and multiple bookings by integrating with other calendar platforms.

It streamlines scheduling and aids in determining the most convenient time for both parties.

Sending reminders and updating schedule changes.

Making appointments is made easier with its aid.

Due to the additional DDoS protection, it offers and the fact that it does not use the user's personal calendar information, it is a secure platform.
YouCanBook.Me

To set your availability, build a booking grid, and begin scheduling meetings, connect your Google or iCloud calendar. On your website, Facebook page, or in an email, post the booking grid. Utilize powerful features to manage your bookings, add custom styling, and use infinite fields.
Features
Customize your booking form to meet your needs.

Connect a number of calendars so that customers can look up an appointment with any of your staff members.

Display your booking form on Facebook and Twitter.

Create a custom URL that customers may use to make appointments with you.

Integrate your booking form with your website.

To your clients, send reminders
Setmore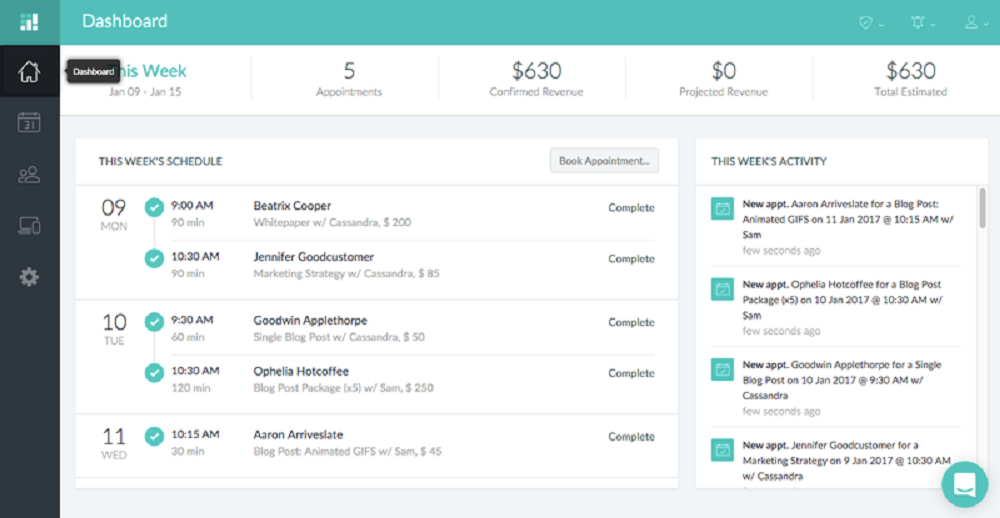 With Setmore, a free appointment scheduling tool, you can create a customizable schedule planner and share the URL of your appointment page with any chosen application. It has a 24/7 booking system and automatically generates reminders. Additionally, it offers capabilities like staff logins, calendar synchronization, and class reservations.
Features
All-in-one calendar:- From a desktop, mobile device, or tablet, use the integrated calendar to set up and manage appointments. Your all-encompassing online calendar app is superior than papers in every way.

Secure online payments:- Using Stripe, credit cards, or debit cards, you may accept online payments for appointments made through your calendar or booking page.

A customized booking page enables your customers to schedule their own appointments whenever they want.

Social media features:- You can link up accounts from other platforms. You could, for instance, add Facebook, Instagram, and so on.
Book Like a Boss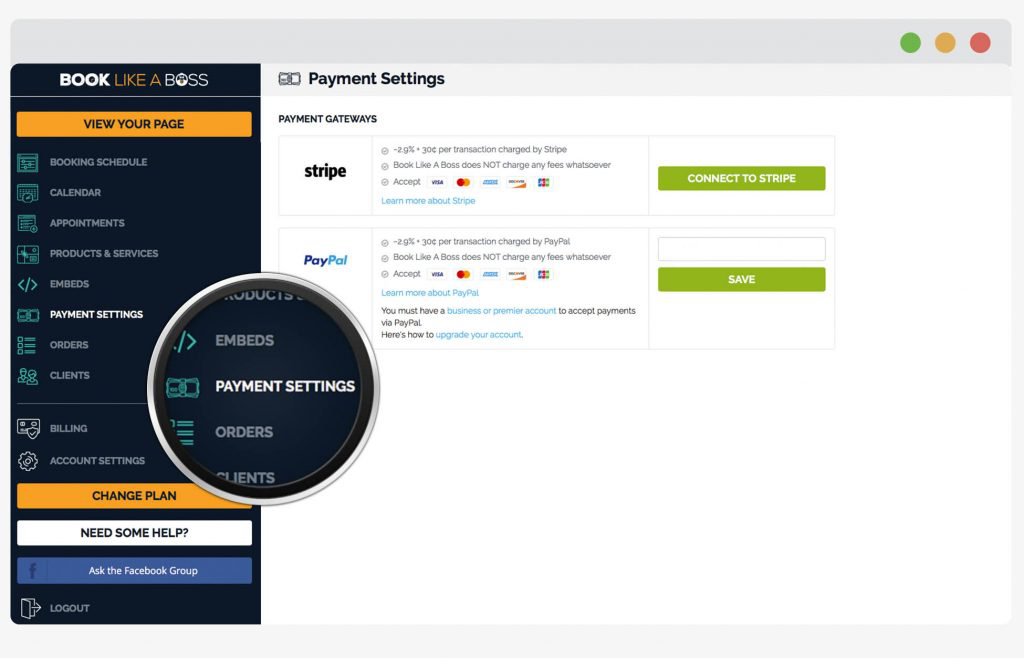 Book Like a Boss is an appointment-scheduling tool that allows you to create and manage your own appointments. The application has a simple interface, which makes it easy for anyone to use. This is ideal for small businesses or freelancers who don't have time to spend on complex scheduling tools.
Features
Create a unique landing page with unique forms for scheduling, and include videos, pictures, social media links, answers to frequently asked questions, references, and more.

To cut down on no-shows, send automated email and/or SMS reminders and let customers directly reschedule or cancel appointments.

Utilize the custom form builder tool to include questions throughout the booking process, provide clients with discount coupons for a set percentage or dollar amount, and set usage and expiration dates.

Connect the Book Like A Boss platform with already-used calendars, including Google and Outlook, as well as with MailChimp, Zoom, Stripe, Square, Zapier, and other services.
AppointmentPlus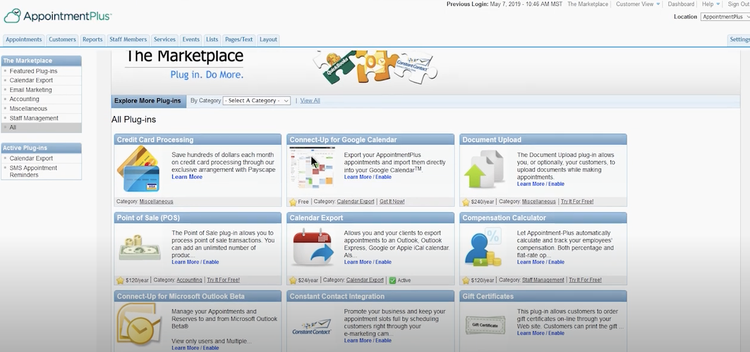 AppointmentPlus is a software solution for arranging appointments that offer your clients a 24/7 online booking self-service gateway. Allowing your customers to make appointments and pay for them whenever it's convenient for them, it encourages improved customer service. Through powerful reporting features, the application assists you in obtaining meaningful business data.
Features
Online scheduling:- A 24/7 online scheduling portal improves customer service by enabling your clients to make appointments at a time that works for them. They can use their computers or smartphones to make reservations and make payments online. In order to reduce expensive no-shows, the system will also automatically send them SMS and email reminders.

Reporting:- With comprehensive reporting features, the solution offers insights into system effectiveness. Metrics like client habits, shopping patterns, and no-show rates can all be monitored. It has several ready-to-use reporting templates, or you may write your own unique custom reports.

Calendar syncing:- The tool synchronizes numerous calendars across various platforms and divisions to encourage cogent organizing and minimize expensive duplicate work. In order to manage your calendars more consistently, you can also sync your external Google and Outlook calendars.

API support:- Support for application programming interfaces (APIs): AppointmentPlus has a strong API that enables you to create unique integrations with software products from other companies.
ScheduleOnce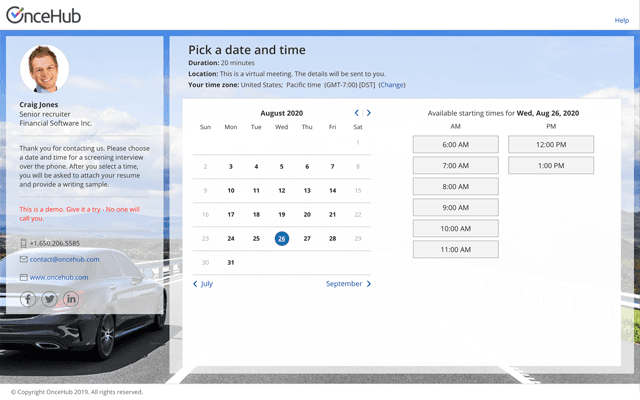 You can construct almost any scheduling scenario you can imagine with the comprehensive tool known as ScheduleOnce. ScheduleOnce allows users to schedule everything from group meetings to one-on-one calls to in-person events. ScheduleOnce can be linked directly to your website, email service, and payment processor.
Features
Upgrade your website with customer scheduling skills. Easily add booking pages to your website. Allow customers and potential clients to quickly schedule meetings.

Let potential customers and clients decide when to meet with your staff. To prevent scheduling delays, share your team's availability. Sync your calendars with G Suite, Office 365, Exchange, Outlook, or iCloud.

Invites to events can include links to safe videos. Automatic calendar invitations, secure video links, and more save time for Zoom, Microsoft Teams, Webex, Google Meet, and other platforms.

The concept of Scheduleonce is for teams. Show potential customers your team's overall availability. Allocate meetings to team members who have the necessary expertise. Distribute meetings evenly among your team members
vCita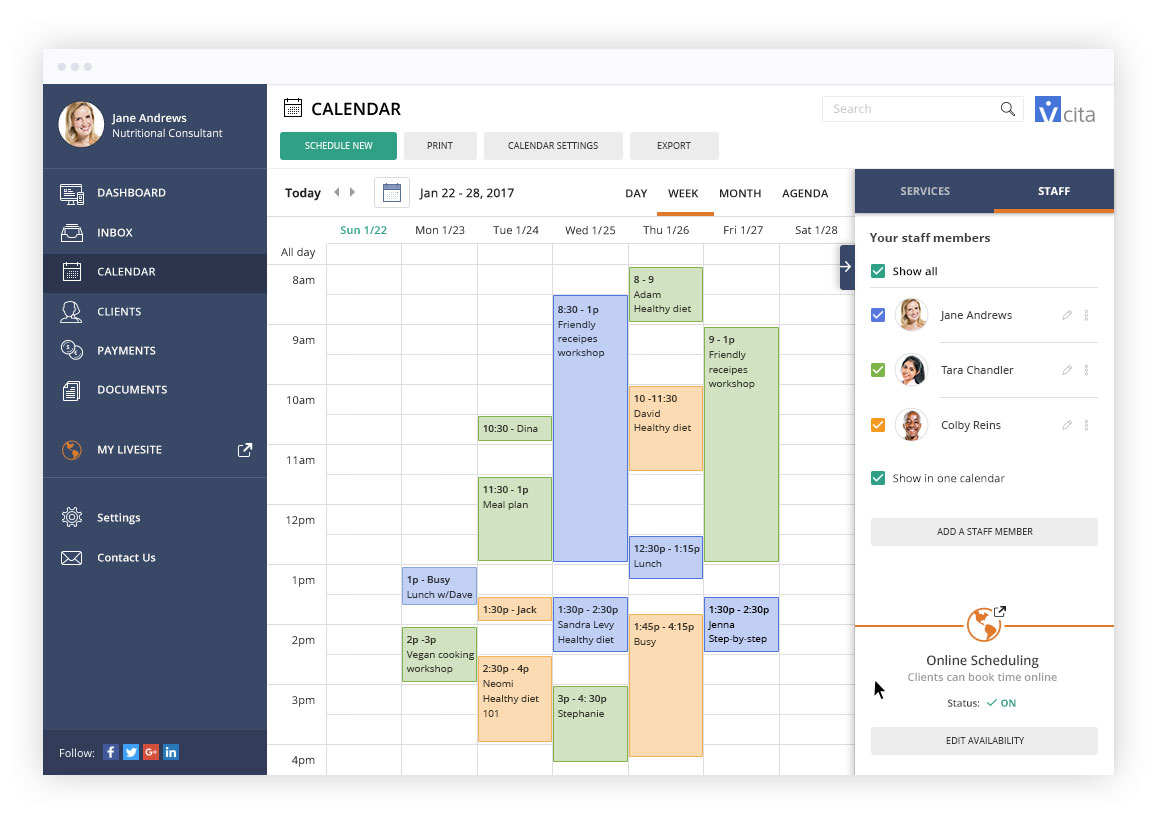 Your time can be used for other things thanks to vCita Online Scheduling's online scheduling features. You can still make appointments and manage them even while you're busy. This is so that users of the service portal can access the appointment scheduling software.
Features
Budget-Friendly Plan and Scalable Solutions:- With a free plan that may accommodate up to 300 clients, vCita Online Scheduling offers 4 affordable plans. Users can use the LiveSite portal and additional vCita business administration tools, including those for billing and invoicing, client management, processing papers, etc.

LiveSite Client Portal:- Business clients of vCita have access to the LiveSite Client Portal, which enables them to schedule, reserve, reset, or register for services from anywhere at any time using any device. The website also enables users to check their messages, schedule appointments, confirm forthcoming appointments, review bills, and other documents, and do a lot more.

Automated Notifications:- To receive notifications of forthcoming classes, activities, or meetings through text message or email, vCita Online Scheduling synchronizes your online calendar(s) with the device you are using, such as a smartphone.

Calendar Management:- The online calendar that comes with vCita enables your customers to schedule appointments at any time of day. Through a variety of online means, including your website, mobile application, social media page, or email, customers will be able to review their schedules and make any necessary changes.
SimplyBook Me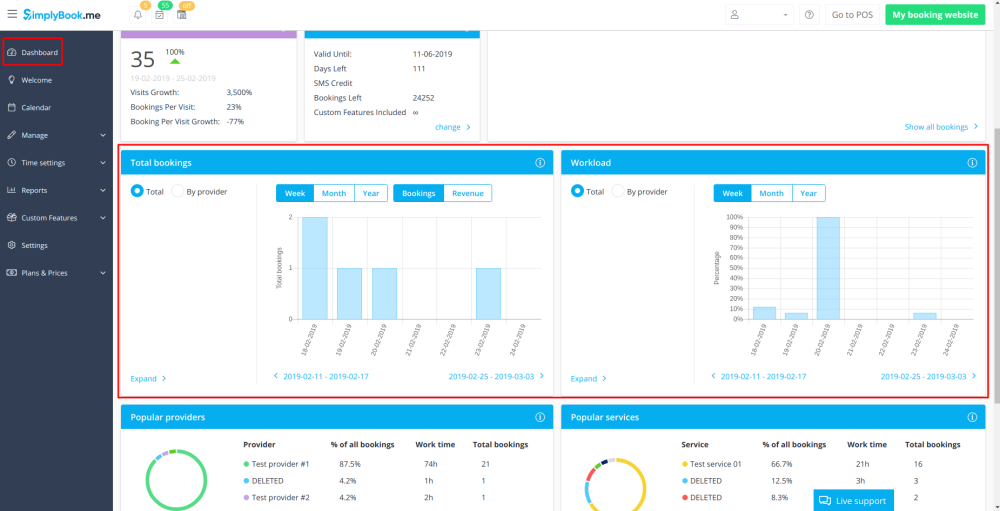 For businesses that provide services, SimplyBook.me offers free appointment scheduling tools. You can sign up for an account without cost. You can create a daily data backup on this safe platform.
Features
Online reservations:- If you have a website that is well-optimized, you can accept reservations through it in addition to Facebook, Instagram, Google, or your own custom client app.

Notifications Via Email/SMS:- Every time an appointment is made, canceled, or rescheduled, you may notify your staff and clients via email or SMS. If there are any new booking details available through the admin app, use the push alerts on your phone.

Accept Payments:- By using the payment option, you may accept online payments and deposits from customers using a variety of platforms, including PayPal, Stripe, and card payments on your website via the POS system.

Custom Features:- You may design aspects that can be changed to fit your brand. Examples of these features include coupons and gift cards, membership, classes, waitlists, loyalty programs, deposits, tickets, and more.
Appointy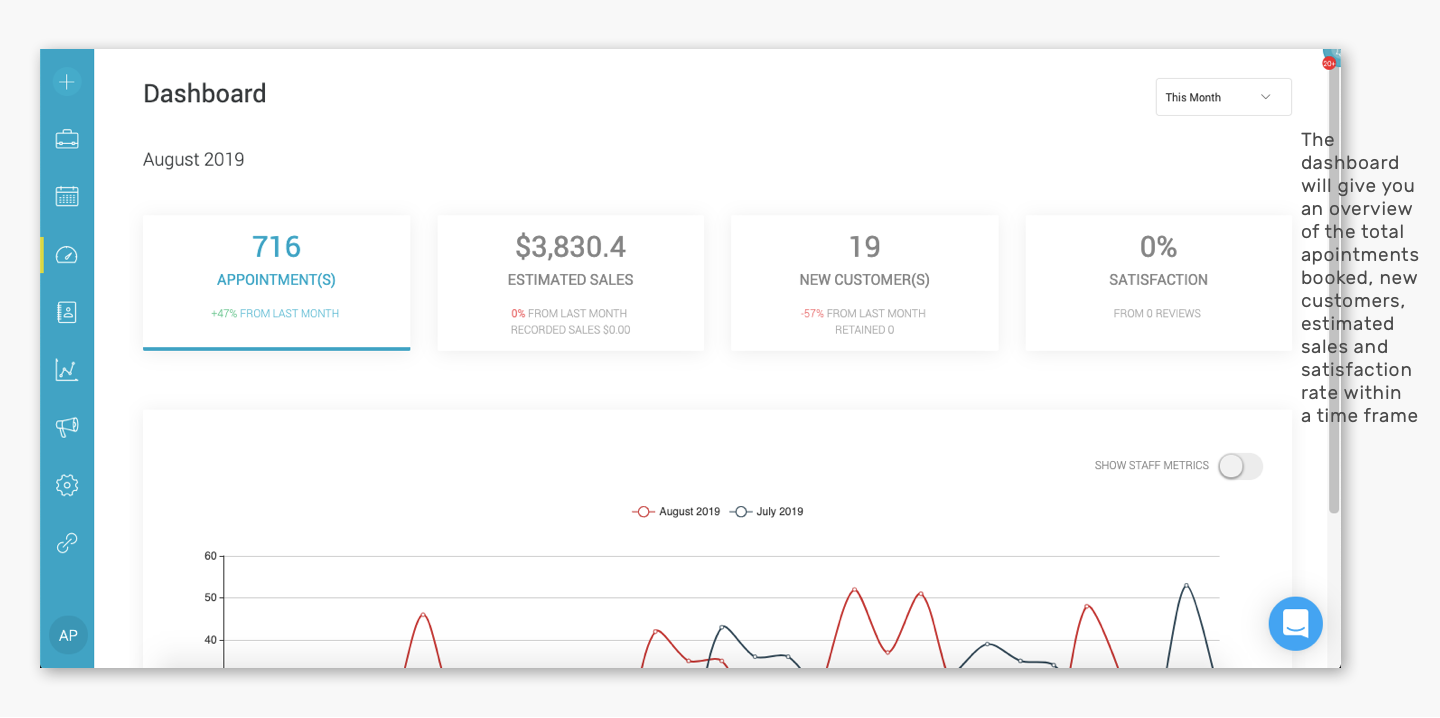 The simplest platform for business growth and scheduling automation is Appointy. It enables online scheduling, increases corporate productivity, and draws and keeps clients from Facebook and Instagram.
Features
It enables users to quickly and conveniently make appointments at any time and anywhere.

Aids in scheduling classes with many students and those with virtual sessions.

By managing visitor records and automating registrations, it enables you to arrange events and activities.

Integrates Square, Stripe, and PayPal to enable online payments.

Also, share appointment pages on Facebook and Instagram.

Offers a variety of specials and discounts to draw in clients.
Genbook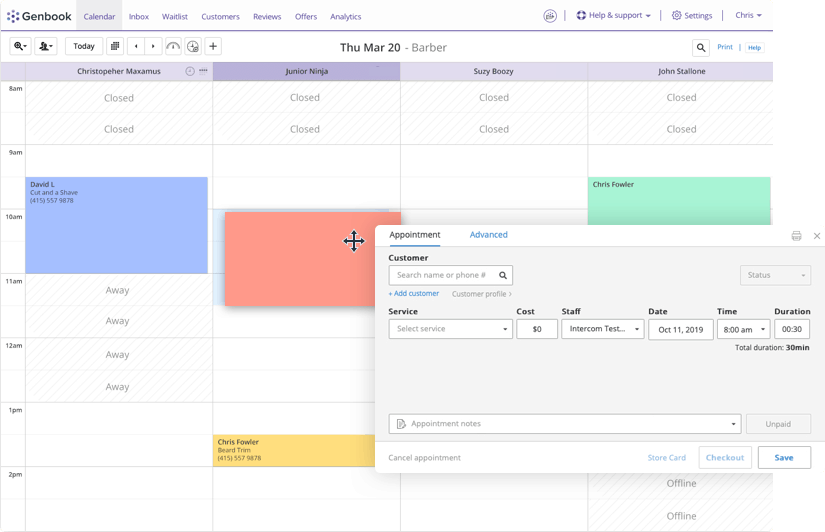 A better corporate experience can be created with the aid of Genbook, a straightforward and secure cloud-based online scheduling tool. It is more versatile than appointment scheduling software. It contributes to the client's memorable experience and keeps a good database of the client's information.
Features
Offers the ability to schedule appointments online using a smart calendar.

Gives customers a simple booking experience, which aids with client management.

The client may easily make appointments whenever they want, day or night, even via Facebook and Instagram.

It offers the company a fully customized, secure online booking platform with built-in payment tools.
10to8 Appointment Scheduling Software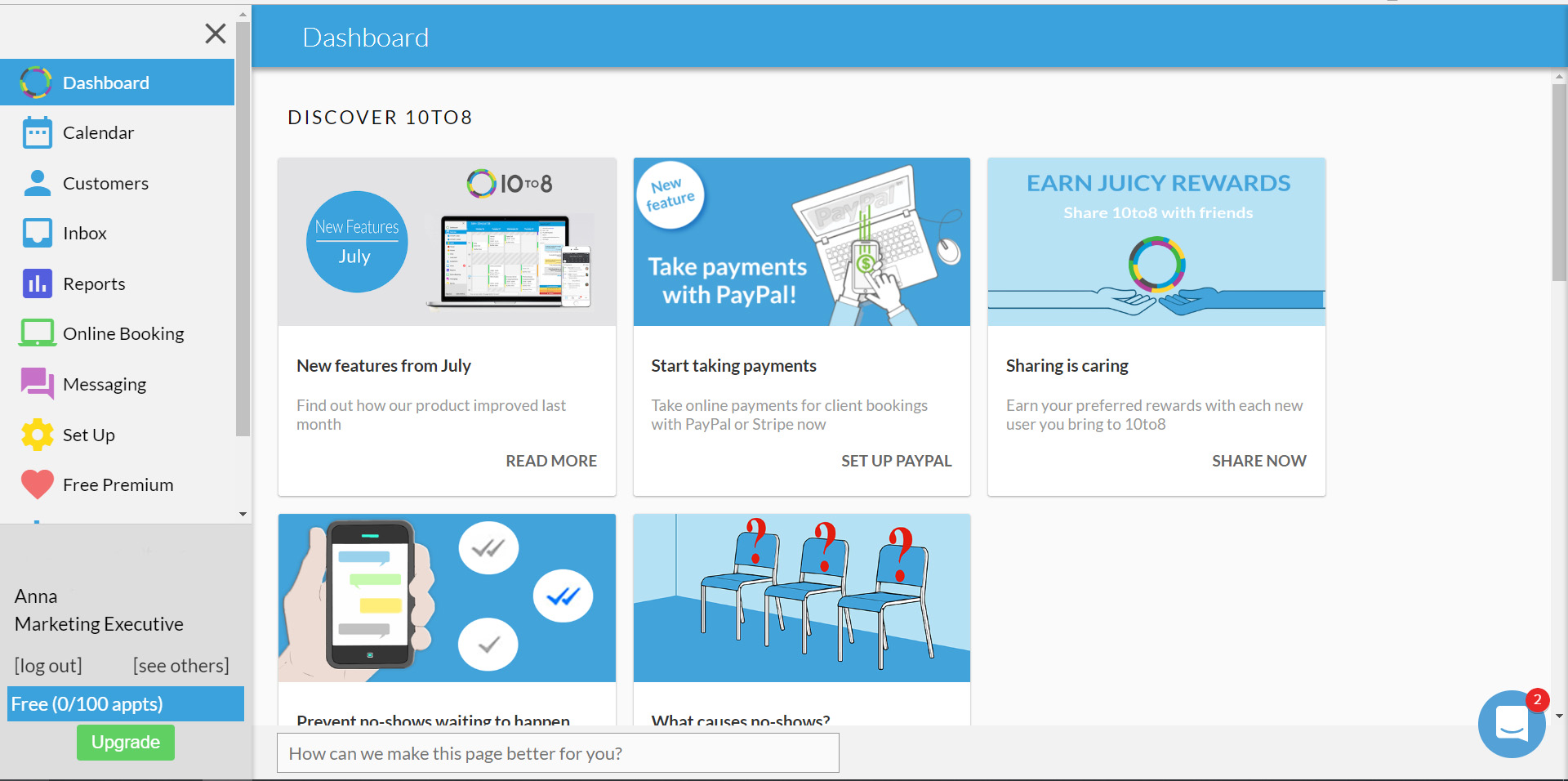 With the help of the cutting-edge appointment scheduling tool 10to8, users may communicate in a professional manner and make appointments quickly and effortlessly. It is designed for small businesses, retail stores, and service providers who need to manage their clientele's schedules on a daily basis.
Features
Automatically generates voice calls, emails, or SMS reminders.

Booking available slots and making payments using this program, as well as anything else related to appointments, may all be done online.

Maintains a record of client-related appointments, cancellations, or payments.

It is a safe, fully autonomous cloud-based platform that can be used from any location.

With the use of a live dashboard, it simplifies reporting on business performance and forecasts growth and plans.
Bookafy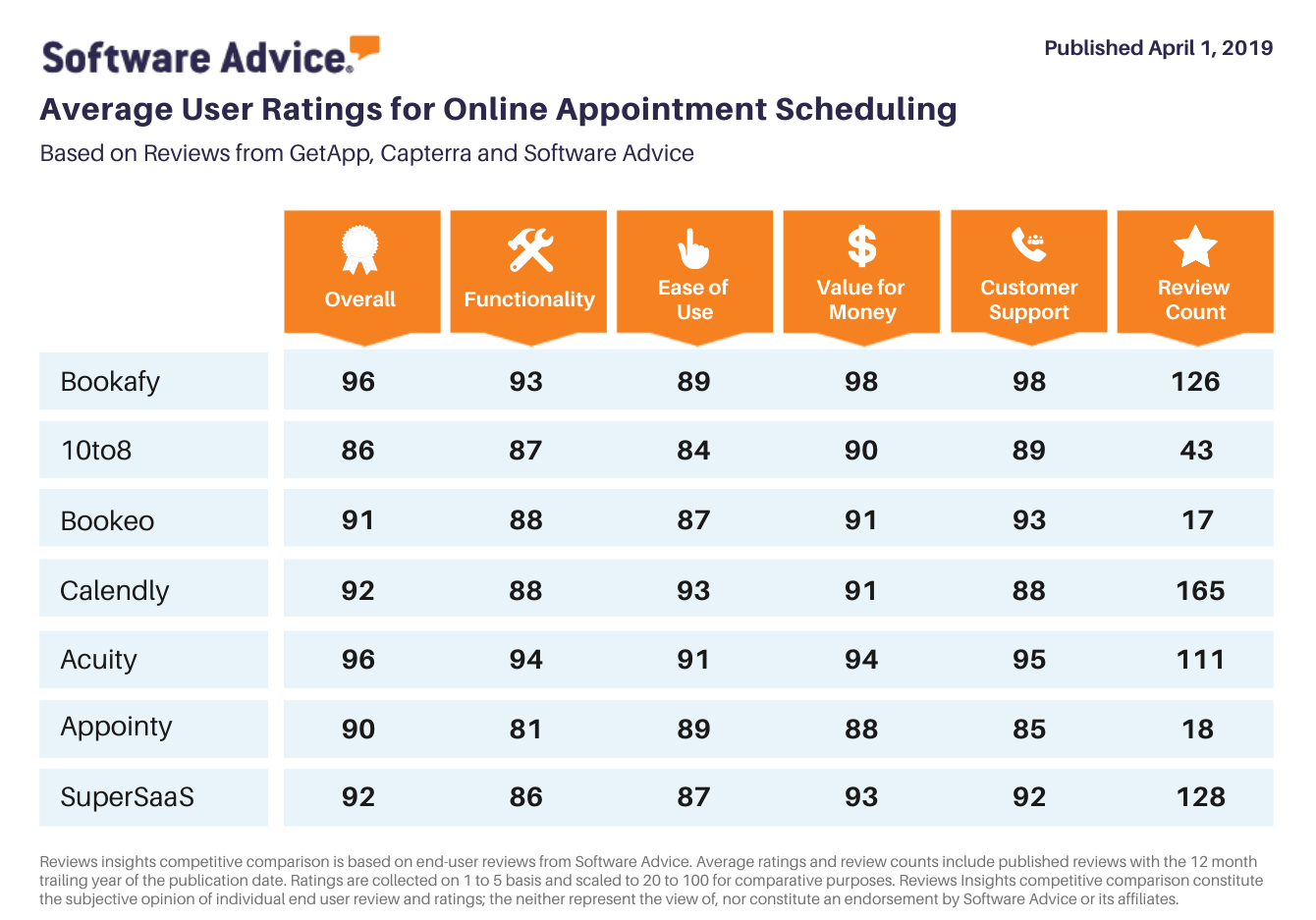 With real-time appointment booking, text reminders, and more, Bookafy is the ideal scheduling tool for your company. It also boasts one of the most complete feature sets on the market, supporting 32 languages in 180 countries out of the box and offering a full white-label version for resellers and enterprise clients.
Features
A stunning user experience that you can personalize with your brand's colors, fonts, design, etc.

One of the broadest feature sets on the market is both simple and robust.

For ad hoc scheduling, use one-off appointments.

There are options for GDPR and HIPAA compliance.
What's Next?
If several productivity apps were bundled into one suite, businesses could be able to manage their appointment booking process more efficiently. This would make it simpler to keep track of progress, results, and overall success.
You may maximize your technology investments and ensure that your organization is running as smoothly and efficiently as 500apps by utilizing a variety of business suites like Sales, Developers, Marketing, etc.
Conclusion
You have the ability to manage your schedule and appointments using the appointment scheduling software. It offers you a user-friendly interface with a straightforward layout for managing your schedule so you can understand what needs to be done and when. With the use of this software, it's simple to view your appointments and schedule all in one place, helping you to better manage your time.
The best and most well-liked applicant software examples for your business are scheduling apps like Schedule.cc from 500apps, which have fascinating capabilities.
Visit 500apps now to learn more about our 50-app All-in-One e CRM Software, which is available for just $14.99 per user.
Why Choose 500apps?
#1
All-in-One Suite with more than 50 apps
#2
Everything you need today and in the future for all departments
#3
Unbelievable value - the lowest pricing you will ever find
#4
Hosted in 6 locations for compliance and blazing speeds
#5
24/5 Support - FREE chat, email and phone
#6
Uncapped features - limits you will never reach humanly
#7
Managed and maintained everyday by a dedicated team
#8
No downtime - comes with a 99.9% uptime guarantee
#9
Supports a number of international languages
#10
We've everything covered - 90k+ trust us with their business
Join the SaaS Revolution
All-in-One Suite of 50 apps

Unbelievable pricing - $14.99/user

24/5 Chat, Phone and Email Support