Role of a Company Profile Writer in Crafting an Ideal Company Profile
As the business world evolves, so do the roles and responsibilities of company profile writers. Crafting an ideal company profile requires knowledge, experience, and creativity, all traits that a skilled writer can bring to bear on any task. From creating engaging content for social media channels to developing powerful marketing materials, a company profile writer plays an integral role in helping organizations tell their story effectively. In this article, we will explore the role of a company profile writer in crafting an ideal corporate identity and how they can help businesses reach their goals.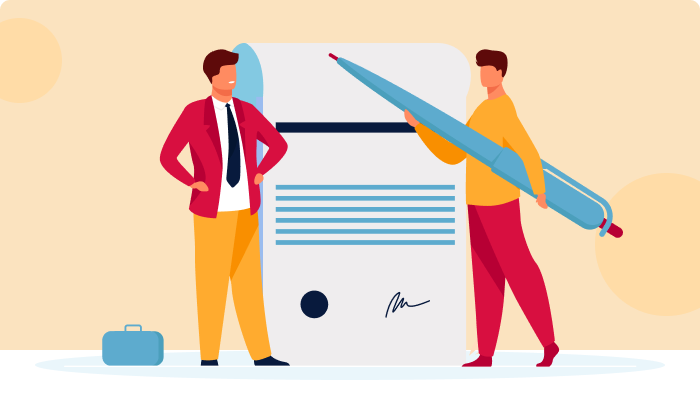 Many businesses often overlook the importance of having an effective company profile. A strong corporate narrative can build brand loyalty among customers while also boosting employee morale and productivity. By leveraging the skillset of a professional writer, companies can craft compelling profiles that make them stand out from competitors and convey key messages about their mission and offerings.
A successful company profile must be concise yet comprehensive. It should paint a vivid picture of who the organization is and what services or products it offers. It should also highlight unique elements such as customer reviews or awards won by the firm. With these considerations in mind, let's delve deeper into understanding how a skilled company profile writer can help create an optimal corporate identity for your business.
What a Company Profile Is?
A company profile is a document that provides an overview of a business, including information about its products, services, and history. The role of the company profile writer is to craft an ideal representation of the organization so that it appeals to potential customers or partners. As such, these writers must be skilled in both copywriting and AI copywriting techniques to create engaging content that accurately reflects the values and goals of the company.
When crafting a company profile, the writer should consider multiple angles to ensure accuracy. They need to research pertinent facts about the organization and find out how it's different from others in its industry. This can involve examining customer reviews, interviewing executives and employees, studying market trends, analyzing competitors' strategies and more.
Writing an Effective Company Profile Requires the Skilful Execution of Various Tasks:
Researching data points.
Understanding buyer motivations.
Distilling complex ideas into simple language.
Creating captivating visuals.
Leveraging technology for maximum impact.
Careful planning.
Strategic thinking by experienced writers.
Creating profiles that showcase a business's unique value proposition.
What Is the Use of a Company Profile Writer and Why Do You Need One?
A company profile writer is a professional who specializes in crafting the perfect representation of companies through digital media. They are often tasked with creating an email template, writing website content, and developing a LinkedIn profile for their clients. As such, they play a crucial role in helping businesses build their image effectively and efficiently.
The Job of a Company Profile Writer Includes Various Tasks Such As:
Writing compelling copy for websites.
Crafting professional emails to reach out to potential customers.
Designing engaging visuals that capture the essence of each business.
Developing well-structured social profiles on platforms like LinkedIn.
Creating marketing materials that accurately reflect the goals of each client.
Having someone specialize in these activities can significantly help any business establish strong relationships with its target market. Company profile writers understand how to use language and visuals to draw attention to products or services while highlighting key features that make them stand out from competitors. Their level of expertise makes them essential partners in building brand awareness across different channels, enabling companies to get noticed quickly and easily by their audience.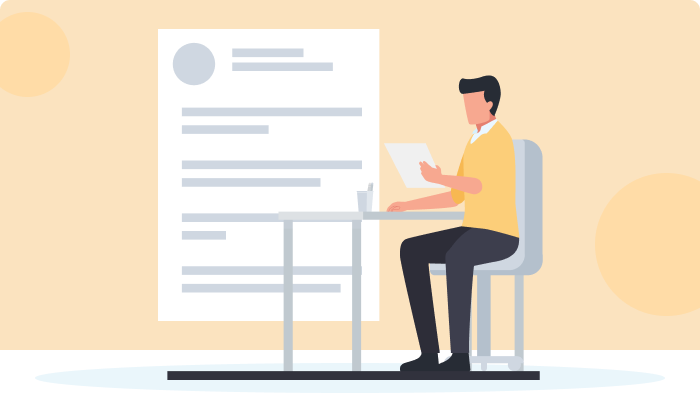 10 Steps to Crafting an Exceptional Company Profile
Crafting an exceptional company profile is a daunting task. It requires careful research and strategic writing to create a compelling story about the business or organization. A professional company profile writer can help you achieve this goal, ensuring that your message reaches its target audience in a meaningful way. Here are 10 steps for creating an outstanding company profile:
Develop a Mission and Vision Statement
When crafting an exceptional company profile, one of the most important steps is developing a mission and vision statement. This is best left in the hands of a certified LinkedIn Profile Writer who understands how to accurately describe what your organization wants to accomplish both short-term and long-term. OutreachWriter can be helpful when it comes to finding such a writer, as they have access to experienced professionals with the right profile writer description for this task.
The mission and vision statements should concisely explain what makes your business unique from its competitors while also conveying why customers should trust you. These two elements must be crafted carefully, so people understand why your brand exists and how you plan on achieving success.
Establish Your Company's Core Values
A company profile writer plays a vital role in helping to craft an ideal company profile. When establishing the core values of a business, they must write them with clarity and purpose. This may involve researching industry standards as well as asking questions of key stakeholders within the organization. Here are three ways a professional profile writer can help:
They provide guidance on which values should be emphasized and how to communicate them effectively.
They can recommend language that resonates with readers while reflecting the brand's mission and vision.
Profile writers for LinkedIn or other social platforms can also offer insights into industry trends and best practices regarding writing profiles.
The importance of articulating core values cannot be overstated, as these statements define your business's purpose and culture, the foundation for all future decisions. A dedicated profile writer description is essential for creating concise yet meaningful content that accurately reflects your company's identity.
Explain Your Company's History and Successes
A company profile writer is key in crafting an ideal company profile. Using their skill, expertise and writing tool provided by OutreachWriter, they can effectively explain the company's history, successes and core values to potential customers or partners.
To begin, a profile writer will create a convincing story of how the business was created, what inspired it and its journey. They should use descriptions that show off the best features of the business, from awards won to important milestones achieved since its inception. The strategic approach adopted by the company and accomplishments made over time is all essential elements that must be presented accurately for maximum impact.
Introduce Key Personnel
A company profile writer is integral in crafting the perfect introduction to any business. The position requires a deep understanding of who makes up the organization and how those individuals contribute to its success. Key personnel is essential for introducing potential partners or customers to the company's values, successes, and history.
At OutreachWriter, our AI writing generator ensures that each profile writer resume we create is tailor-made to fit the unique needs of our clients. Our experienced professionals have all been trained in researching and analyzing information about specific organizations so they can accurately portray them through their profiles. We use this research process to identify important stakeholders within each company's respective industry and craft comprehensive biographies on each person, highlighting their professional experience and individual strengths, making them ideal representatives for the firm.
Through carefully considering each aspect necessary for effective introductions, OutreachWriter provides exceptional services in creating impactful company profiles. Our customized approach has made us one of the leading providers in crafting top-notch corporate bios that engage audiences worldwide.
Highlight Services and Products
A company profile writer is key in crafting an ideal company profile by highlighting the services and products offered. This includes providing a detailed description of what the company offers, such as its product lines, services, mission statement, etc. The profile writer must also use their marketing skills to create a compelling language that will draw potential customers to the business.
The profile writer should be able to provide an engaging overview of each service or product that is being highlighted. They need to clearly explain how it works and how it can benefit the customer. They must understand the target market to craft content tailored specifically for them. Additionally, employing OutreachWriter in this process could ensure maximum reach with accurate information regarding these offerings.
Get started with the leading Profile Writer Tool today! Sign Up 14 Day Trial
Include Customer Testimonials
When crafting an ideal company profile, it's essential to include customer testimonials. They give potential customers a glimpse into how your services and products have helped existing clients. Reviews are one of the most effective ways to build trust in your brand because they come from reliable sources, real people who've used your service or product.
At OutreachWriter, we make it easy for you to collect reviews from satisfied customers and feature them on your company profile page. Our platform lets you quickly create forms for customers to fill out about their experiences with your business and give star ratings that will be displayed alongside their reviews. This helps display qualitative and quantitative information (reviews) and data (ratings). You can also choose which ones get featured on your page so only the best ones appear!
Explain Your Competitive Advantage
Explaining your competitive advantage is crucial to crafting an ideal company profile. This can help potential customers understand what sets them apart from the competition. It's important to clearly and succinctly explain why someone should choose your business over another.
OutreachWriter can be a great tool for explaining your unique value proposition. They offer features that allow you to research competitors quickly, pull in customer testimonials, and design compelling content that showcases exactly why you stand out from the rest. With their streamlined approach, you have all the resources needed to create a persuasive explanation of why customers should choose your company instead of another.
A clear understanding of demonstrating and communicating your competitive advantage will make all the difference when trying to win new customers or clients. Utilizing OutreachWriter's services can take much of the guesswork out of this process and ensure you craft an effective message about what makes you special.
Provide Contact Information
When crafting an ideal company profile, a company profile writer plays a pivotal role in providing contact information. In this step, they must ensure that all relevant details, such as email address and phone number, are included with each listing, so customers or potential partners can easily get in touch.
Moreover, given that outreach is key for businesses looking to build partnerships and relationships, it's important to include info on how best to reach out directly, through direct mail or other channels like LinkedIn or Twitter. Here at OutreachWriter, our team specializes in helping companies create tailored messages which will help them stand out when reaching out to prospects and partners. Our proven strategies provide insights into what works best when engaging with leads and nurturing meaningful relationships over time, giving your business an edge over competitors who don't use these approaches.
Include Images and Videos
Images and videos can be powerful tools for conveying a company's story. As such, the company profile writer needs to include them in their work. From showcasing products, services or processes to providing visual guides into the inner workings of an organization, visuals allow readers to gain a deeper understanding of what makes that particular entity unique from its peers.
Including imagery and video content within a company's profile can also add emotional appeal, which is key when trying to engage audiences with messaging. Here are 5 ways images and videos can help evoke emotion:
Showcase employee stories through interviews and behind-the-scenes footage.
Provide audio recordings of customer testimonials.
Incorporate interactive elements like polls, surveys or quizzes.
Use infographics to provide relevant data points.
Share dynamic multimedia experiences, such as virtual tours or 360-degree product views.
By leveraging visuals strategically and thoughtfully, OutreachWriters can create an engaging hub where people will want to learn more about your unique brand story!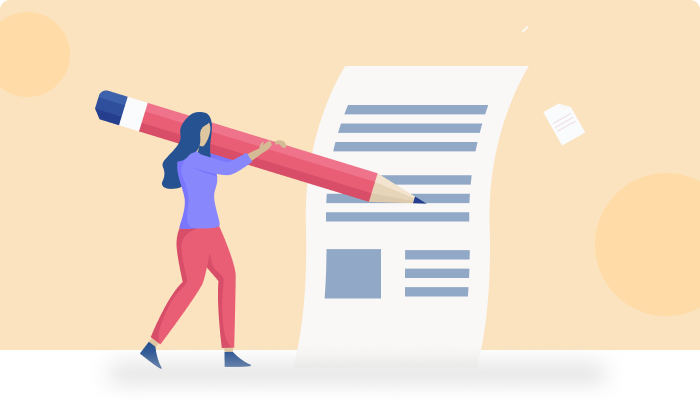 Proofread and Revise
A company profile writer plays an important role in crafting an ideal company profile. After the initial draft is completed, it's time for proofreading and revising. This includes checking for grammar and spelling mistakes, ensuring that there are no factual inaccuracies, and ensuring that all information included is relevant to the company profile being crafted. The content should be concise yet informative, as well as engaging enough to keep readers interested throughout. Additionally, a professional touch needs to be added through editing so that the overall writing style matches the target audience's expectations.
OutreachWriter can help make this process easier by providing its users with tools such as spellcheckers, plagiarism checkers, and automated feedback features, which allow writers to track their progress while also receiving tips on improving their work. It also offers other useful features like text enrichment options where writers can supplement their existing content with images and videos to enhance reader engagement. In short, OutreachWriter provides comprehensive support in perfecting a company profile before publishing it online or submitting it anywhere else!
Advantages of Engaging a Professional Profile Writer for Your Company Profile
Engaging a professional writer for your company profile has many advantages. Not only can professional profile writer create an accurate picture of the services and products your organization offers, but they can also craft content that is engaging and succinct. Additionally, with their knowledge and experience in writing on behalf of numerous businesses, they are well-equipped to write about all facets of a business - from its history to its goals for the future. Here are three key benefits associated with hiring a professional profile writer:
A professional profile writer will understand how best to showcase the business's unique value proposition.
Professional profile writers will be able to highlight what sets the business apart from competitors in a way that resonates with readers.
Professional profile writers will ensure accuracy by fact-checking information before publishing it publicly.
A tool like OutreachWriter will allow the organization to focus on other important tasks.
Conclusion
A company profile is an important part of any business. It outlines who you are, what services you offer, and how your customers can get in touch with you. A professional writer can ensure that all the essential information is included and presented in a way that resonates with potential clients or partners. Developing mission and vision statements, establishing core values, providing contact information, including images and videos, proofreading and revising content will help craft an exceptional company profile for your business. Engaging a professional profile writer to manage this process gives you the assurance that it will be done right the first time while freeing up valuable resources within your organization. OutreachWriter understands the importance of creating compelling company profiles; their experienced team have a wealth of knowledge in crafting effective copy that conveys key messages powerfully and succinctly. Let them handle the hard work so you can focus on other aspects of running your business more efficiently.
Why Choose 500apps?
#1
All-in-One Suite with more than 50 apps
#2
Everything you need today and in the future for all departments
#3
Unbelievable value - the lowest pricing you will ever find
#4
Hosted in 6 locations for compliance and blazing speeds
#5
24/5 Support - FREE chat, email and phone
#6
Uncapped features - limits you will never reach humanly
#7
Managed and maintained everyday by a dedicated team
#8
No downtime - comes with a 99.9% uptime guarantee
#9
Supports a number of international languages
#10
We've everything covered - 90k+ trust us with their business
Join the SaaS Revolution
All-in-One Suite of 50 apps

Unbelievable pricing - $14.99/user

24/5 Chat, Phone and Email Support