Best Call Centre Software for Your Business in 2023
Empower your team with the best call centre software. Automatically improve customer service and reduce costs with contact centre software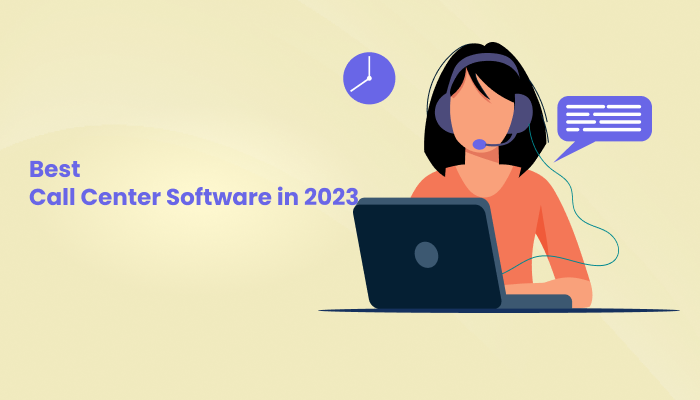 Call center software, also known as contact center software, is a type of software that enables businesses to manage customer interactions through various communication channels such as phone, email, and social media. The evolution of call center software has been driven by the increasing demand for customer service and the need for businesses to provide efficient and effective support to their customers.
The first call center software was developed in the 1980s and was primarily used to manage inbound calls. As technology advanced, call center software began to incorporate features such as automatic call distribution, interactive voice response, and call routing, which allowed businesses to handle a larger volume of calls and improve their efficiency.
The market for call center software has grown significantly over the years, with companies of all sizes adopting these solutions to improve their customer service operations. The market is expected to grow, driven by the increasing adoption of cloud-based solutions and the growing demand for omnichannel support.
Call center software has become essential for businesses looking to improve their customer service and support operations. These solutions enable businesses to handle a larger volume of customer interactions, provide more efficient support, and improve the overall customer experience.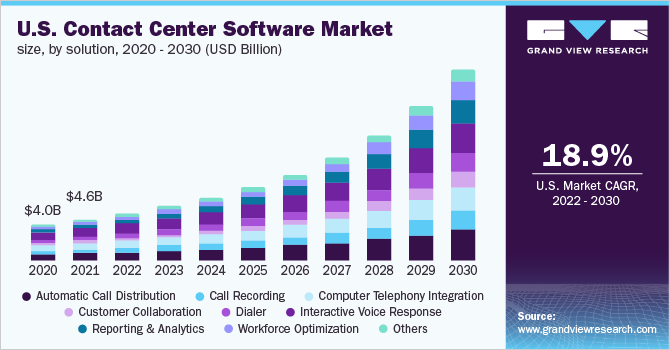 Advantages of Call Centre Software
Call center software, also known as contact center software, is a type of software that helps businesses manage and optimize their customer service operations. Some of the advantages of using call center software include:
Improved customer service: Call center software can help businesses provide better customer service by enabling agents to handle multiple calls at once, routing calls to the right agent based on the customer's needs, and providing tools for agents to access and share relevant information quickly and easily. This can help businesses respond to customer inquiries more efficiently and effectively, leading to increased customer satisfaction and loyalty.

Increased productivity: Call center software can help businesses increase the productivity of their customer service teams by automating certain tasks and providing tools for agents to manage their workloads more efficiently. For example, call center software can automatically route calls to the right agent based on their skills and availability, and provide agents with tools to quickly access and update customer information. This can help agents handle more calls in a given time period, leading to increased productivity and cost savings for the business.

Enhanced data management: Call center software can help businesses improve how they manage customer data by providing tools for agents to easily access and update customer information in real time. This can help businesses maintain accurate and up-to-date customer records, which can be used for a variety of purposes, such as tracking customer interactions and analyzing customer behavior.

Better collaboration: Call center software can help businesses improve collaboration among customer service teams by providing tools for agents to share information and work together on customer inquiries. This can help teams handle complex customer issues more effectively and provide a more seamless customer experience.
List of Top 16 Call Centre Software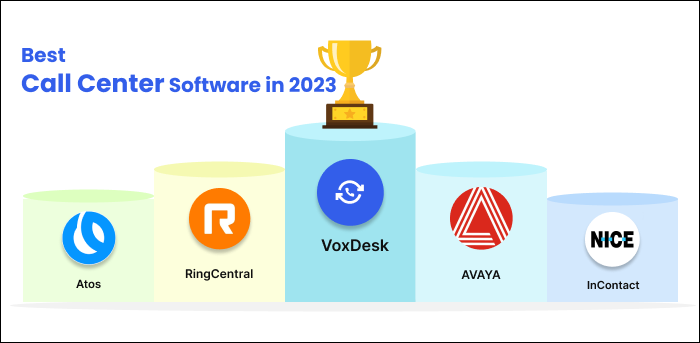 VoxDesk is a call center software solution that offers a range of features and tools to help businesses manage and optimize their inbound and outbound call center operations.
Features
Dialer: The VoxDesk dialer solution uses advanced algorithms and machine learning technology to identify and filter out answering machines, allowing agents to focus on live calls and improve their productivity. This can help businesses reduce their agent wait time and increase the number of successful connections they make with customers.

Call Recording: VoxDesk's call recording and transcription feature, businesses can easily and automatically record all incoming and outgoing calls and transcribe them into written text. This can provide businesses with valuable insights and feedback on their call center operations, allowing them to identify areas for improvement and optimize their call center operations.

Soundboards: Keep potential customers interested in using Soundboards. To keep clients interested, record the messages in many languages and play recorded audio files as needed.

Call Logging: VoxDesk's call logging feature can help businesses manage their call center operations more efficiently. For example, businesses can use call logging data to assign calls to the appropriate agents, prioritize calls based on importance, and track the performance of individual agents.

Call analytics: VoxDesk's call analytics feature provides businesses with detailed insights and reports on their call center operations, including information on call volume, average call duration, call outcomes, and more. This can help businesses identify areas for improvement and optimize their call center operations.

Call Dispositions: Businesses can create custom categories and labels for different types of calls, such as sales calls, customer service calls, and technical support calls. This can help businesses better understand the nature of each call and the actions that were taken during the call.
RingCentral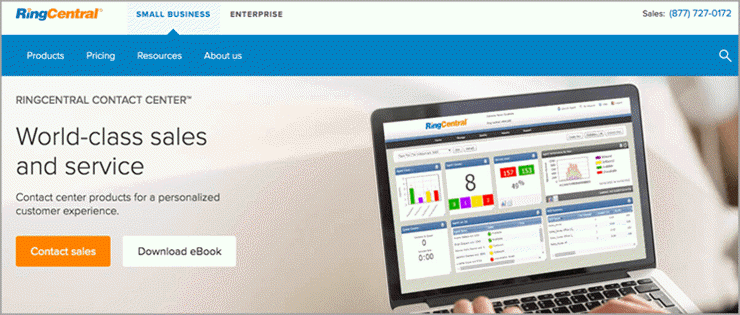 A cloud-based platform for business communications and collaboration called RingCentral provides a number of goods and services, such as messaging, video conferencing, and phone systems. RingCentral provides capabilities including phone and faxes over internet protocol (VoIP), virtual meetings, and team messaging in order to aid businesses in improving their communication and cooperation.
Features
The RingCentral MVP business phone solution allows employees to avoid carrying two phones: one for work and one for personal calls.

Instead of using a personal number, RingCentral MVP helps employees preserve their professional identity by using their official business number.

Users can access voicemail with the newest tools to receive messages in any chosen format, establish voicemail inboxes and greetings, and access voicemail.

By setting up a local phone number with RingCentral MVP, customers may make contact with clients from all over the world, giving their business a local presence.

Salesforce, Oracle, Dropbox, Zendesk, Desk, Google, Box, and Microsoft are just a few of the third-party programs that RingCentral MVP integrates with.
Avaya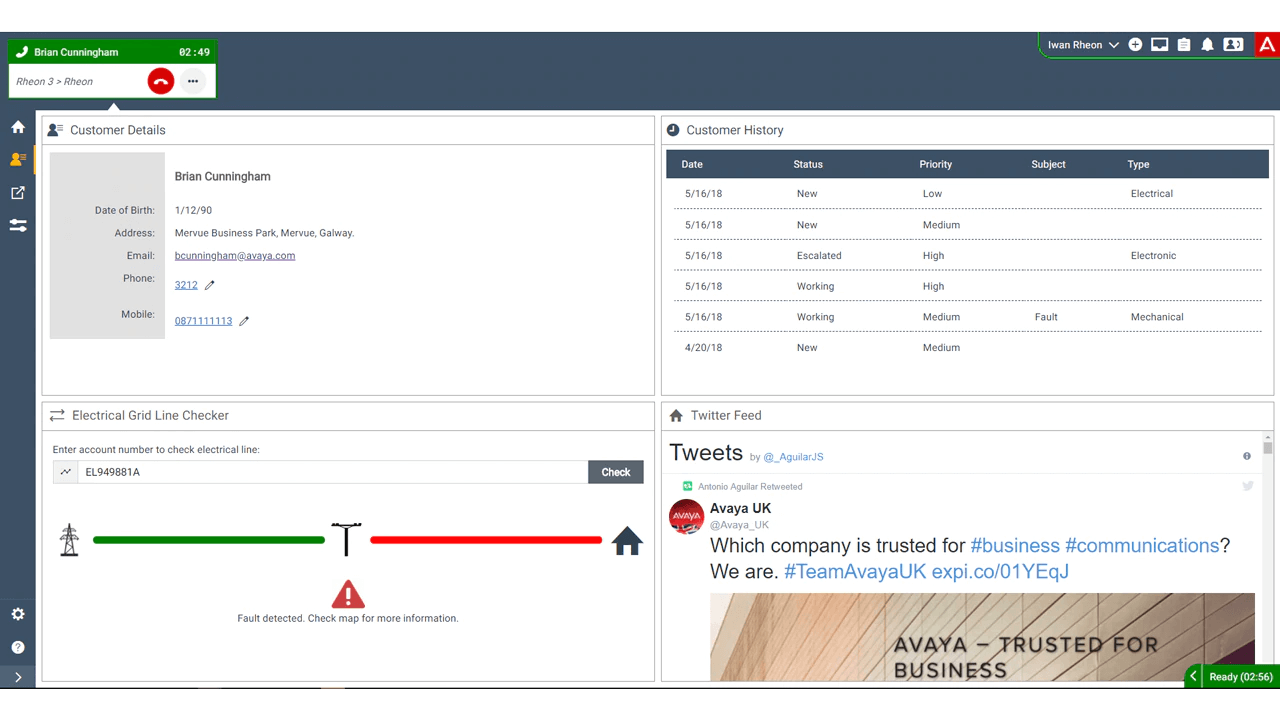 Avaya is a cloud-based business communication tool that helps teams collaborate more effectively by digitizing business interactions. Users can access it through several channels while on the road to ensure improvement.
Features
Centralized administration and management of all contact center software.

A thin client application interface that is extremely customizable, Web-based, and user-friendly.

For multi-tenant settings with roles-based access controls, full tenant partitioning is offered.

Non-technical workers may do administrative duties with ease thanks to an improved role-based permission engine.

Allows for a smooth transition for users of mixed environments that combine CC Elite with Avaya Aura Contact Centers.

A green option with minimal hardware needs is virtualization and cloud networking/processing.

Designing and managing call flows visually intuitively.

Complete single sign-on functionality with Microsoft Active Directory integration.
Atos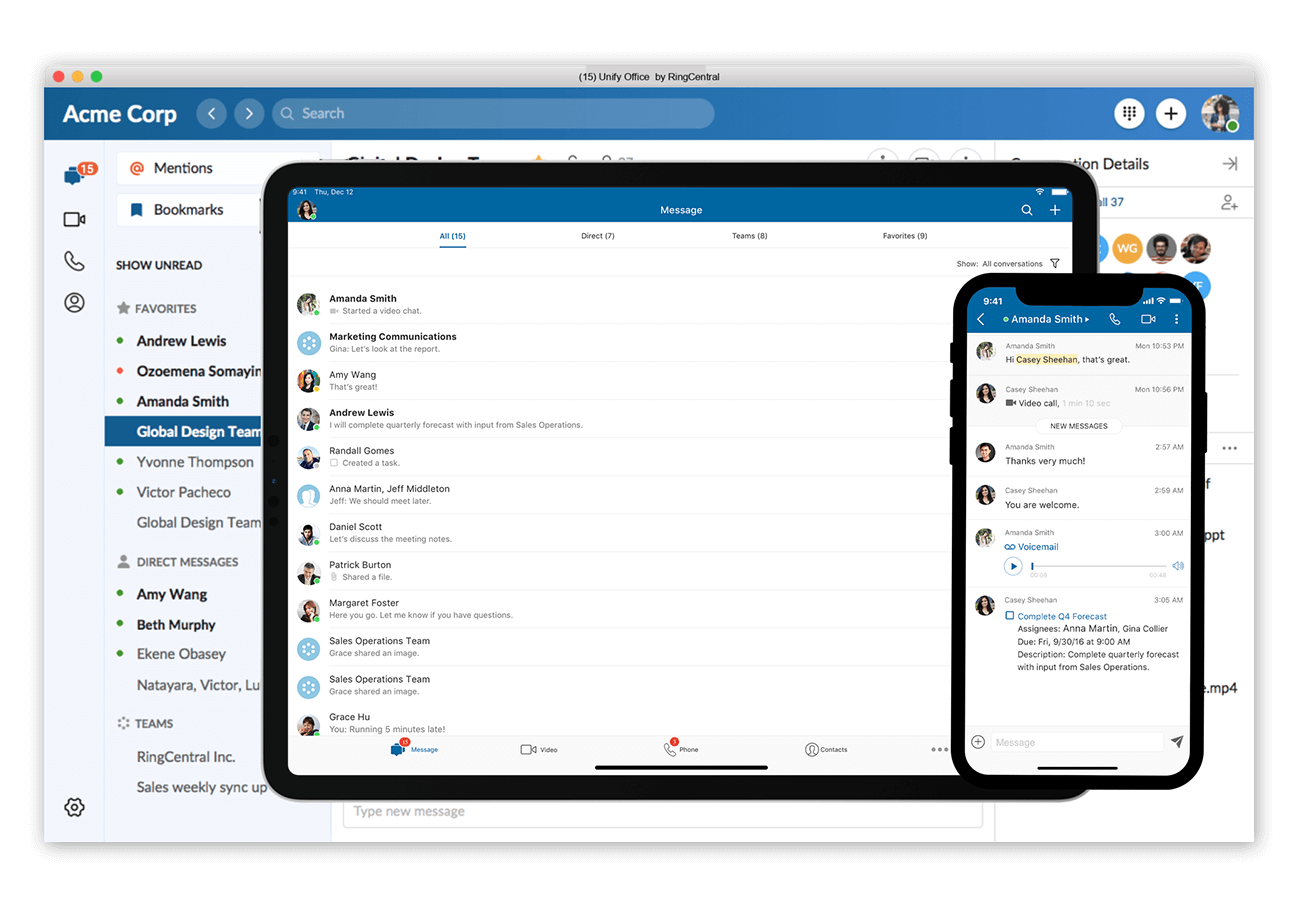 A large, international provider of technological services, Atos also provides call center software. Their call center software solutions are made to assist businesses in enhancing customer service, decreasing operating expenses, and boosting productivity.
Features
For group incoming calls, IVR, callbacks, and email routing are used.

From an integrated database, real-time and historical reporting is accessible.

Basics of IVR.

Finished CRM plug-ins.

The interactive voice can be altered.

Routing based on skills across all channels.

Platforms with pre-built CRM, social networks, and WFM connectors that are optimized.

IVR, chatbot, and AI partner connections for fully integrated self-service optimization analytics.
NICE CXone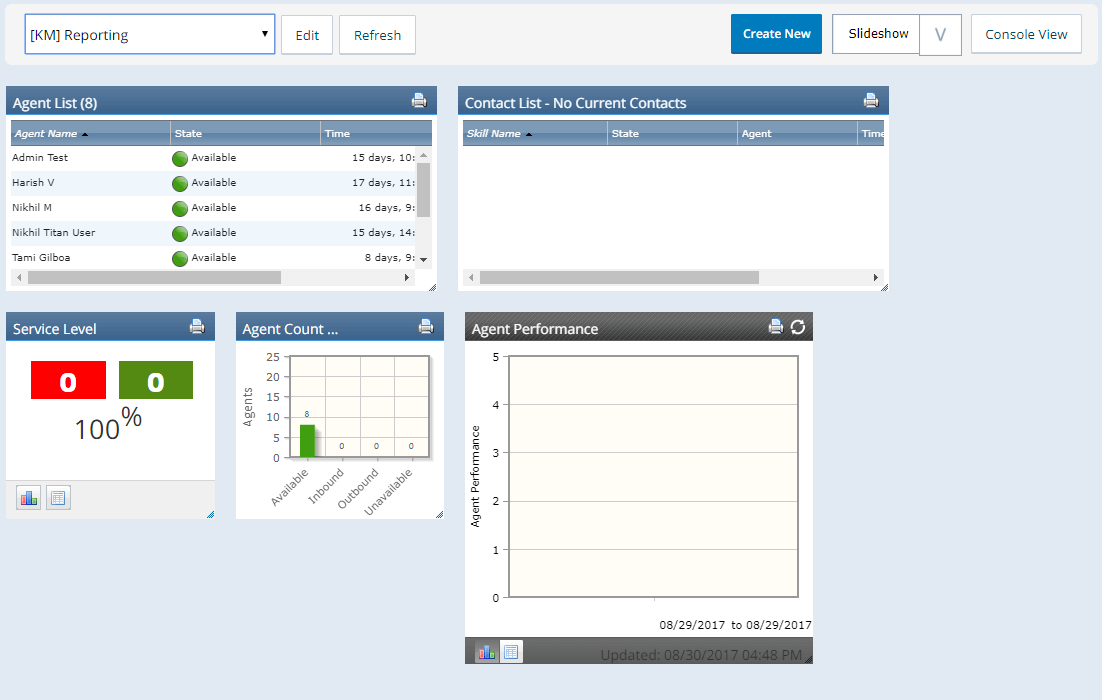 With the help of enterprises of all sizes, NICE CXone develops exceptional and reliable customer experiences that strengthen connections and brand loyalty. We integrate best-in-class Customer Analytics, Omnichannel Routing, Workforce Optimization, Automation, and Artificial Intelligence with NICE CXone CXoneTM, the industry's most comprehensive cloud customer experience platform
Features
The service has a 99.99% availability guarantee and runs in a carrier-grade infrastructure with geographical redundancy.

Intelligent call suppression - Checks to see if the company or people you are phoning are on a specific suppression list.

Build unique, personalized agent screens or scripts using agent scripting. Design your agents' workflow and decision trees.

Predictive dialing for multiple phone numbers that is hosted - Create a unique retry option for up to 20 phone numbers.

Campaigns for laying down messages that call contacts and leave automated messages without the need for agents.
8x8 Virtual Call Centre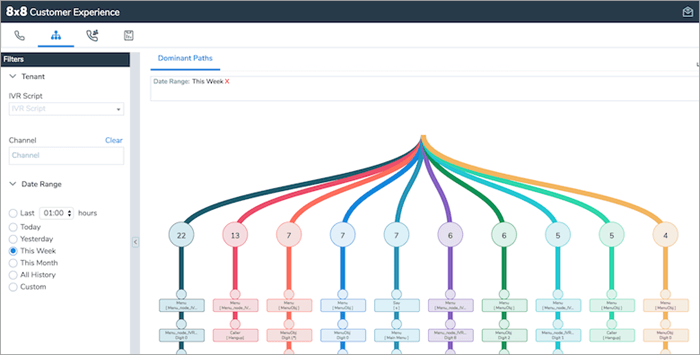 Cloud-based communication and collaboration tools, such as a platform for a virtual contact center, are offered by 8x8. The 8x8 Virtual Contact Center is a cloud-based solution with a number of features and tools to fulfill the requirements of enterprise contact centers. It can manage both inbound and outbound calls.
Features
Handling both inbound and outbound calls: The platform may manage both incoming calls from clients and incoming calls made by human agents or computerized systems.

Support for numerous channels: The platform allows users to communicate by phone, chat, email, and social media.

Call routing and distribution: Advanced call routing and distribution capabilities are included in the platform to make sure that incoming calls are routed to the right agent or team.

Monitoring of agent performance: The platform has capabilities for monitoring and evaluating agent performance, including call length, dropped calls, and client satisfaction.

Integrations: The platform may be easily accessed and used with a variety of third-party programs and tools, including CRM, sales and marketing automation, and others.
LiveAgent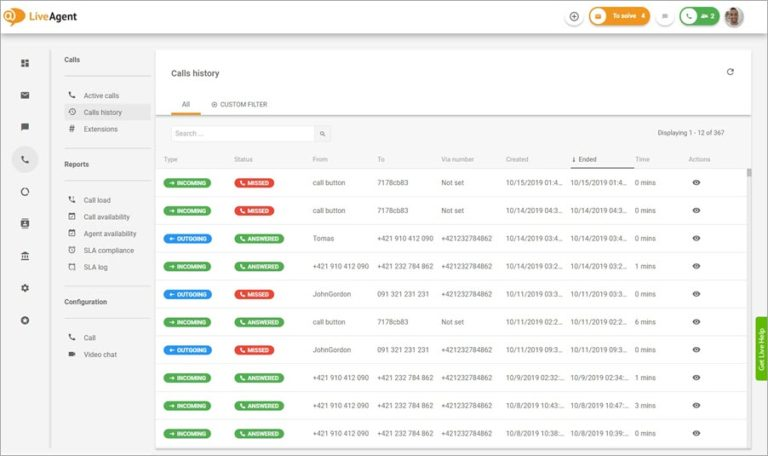 The call center software LiveAgent is hosted in the cloud. The program delivers both inbound and outbound call center functionality, complete with sophisticated IVR trees, call routing, and limitless call recordings. LiveAgent is a call center software that also includes live chat, ticketing, knowledge bases, customer portals, and reporting features.
Features
Call routing, call queuing, and call recording are just a few of the features that LiveAgent offers to help with call center operations. It also handles both inbound and outgoing calls.

LiveAgent comes with an IVR system that enables you to construct intricate IVR trees to direct calls to the proper agent or division.

Live chat and ticketing: LiveAgent comes with a live chat feature that enables real-time client communication as well as a ticketing system for handling customer requests and inquiries.

Knowledgebase: The software comes with a knowledgebase functionality that lets you save and arrange resources and information for customer support.

Customer portal: LiveAgent has a customer portal where users may submit tickets, get support information, and more.
Five9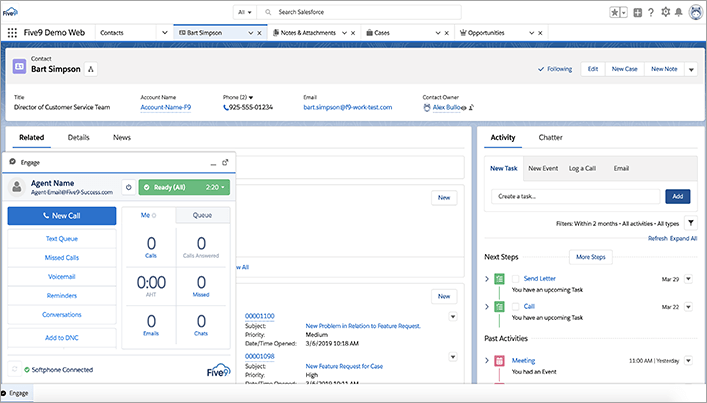 The contact center Five9 is hosted in the cloud. The administrative, common platform, inbound, and outbound components of the Five9 Call Center solution are included. A customized consumer experience is provided through the usage of AI. Over 100 different report types are available from it.
Features
Call routing, call queuing, and call recording are just a few of the services that Five9 offers to assist with call center operations. Five9 handles both inbound and outgoing calls.

Omnichannel support: Five9 offers tools for managing and rerouting client contacts across a variety of communication channels, including phone, chat, email, and social media.

Artificial intelligence (AI): Five9 uses AI to personalize customer experiences, improve call routing, and carry out other call center tasks.

Reporting: The software comes with more than 100 different types of reports that let you keep track of important performance indicators and learn more about how well your call center operations are working.
Talkdesk Cloud Platform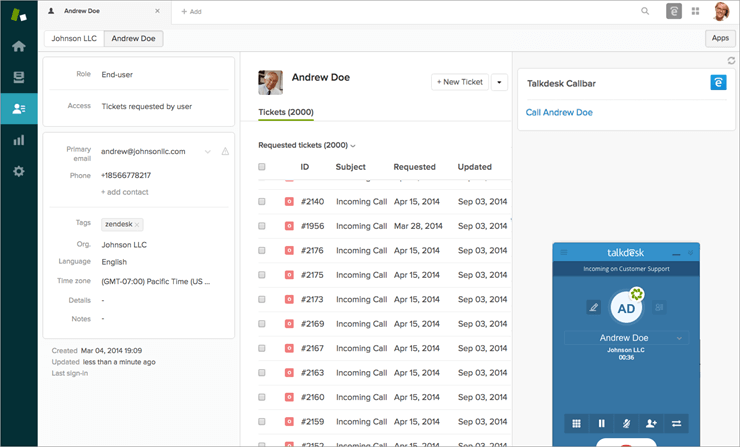 Intelligent routing tools like ACD, IVR, Ring Groups, etc. are available in Talkdesk. With both subscriptions, call recording is unlimited. Advanced voice functions and a power dialer are included in its features. Advanced network architecture is present. Talkdesk also has an Outbound Dialer feature.
Features
Intelligent call routing: To make sure that incoming calls are sent to the correct agent or team, Talkdesk provides advanced call routing capabilities like automatic call distribution (ACD), interactive voice response (IVR), and ring groups.

Both of Talkdesk's services include unlimited call recording, letting you record and listen to client interactions for training and quality purposes.

Advanced audio features: To satisfy the demands of your contact center, Talkdesk offers a variety of advanced voice services, including call forwarding, call transfer, and voicemail.

By automatically dialing the next number on a list, the software's power dialer enables agents to make outbound calls more effectively.

Advanced network design: To guarantee high availability and minimal latency for client interactions, Talkdesk uses a globally distributed network architecture.
Ytel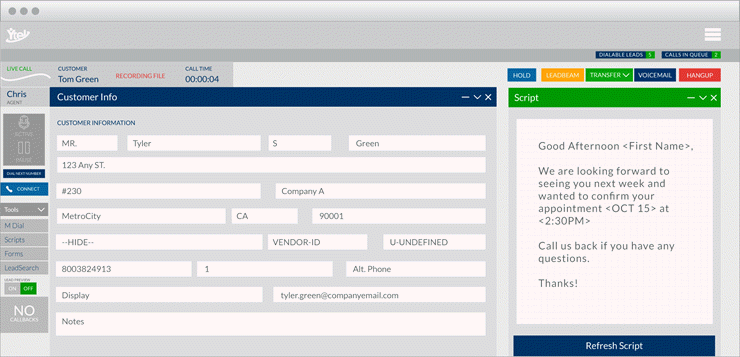 With Ytel, you can deal with dispersed workflows, disorganized contact lists, excessive traffic, and low conversion. Voice API is offered by Ytel for inbound, outbound, IVR, call recording, conference, and transcription features. It offers open API access and cloud deployment.
Features
Voice API: Ytel provides a Voice API that enables you to incorporate voice communication features such as inbound and outbound calling, interactive voice response (IVR), call recording, conferencing, and transcription into your applications or systems.

The platform from Ytel is available from anywhere with an internet connection thanks to its cloud deployment.

Open API: Ytel provides an open API that enables you to integrate the platform with your current systems and apps and use its features in your own workflow.

Features and tools for supporting call center operations are included in the Ytel platform, including call routing, call queuing, and agent management.
CrazyCall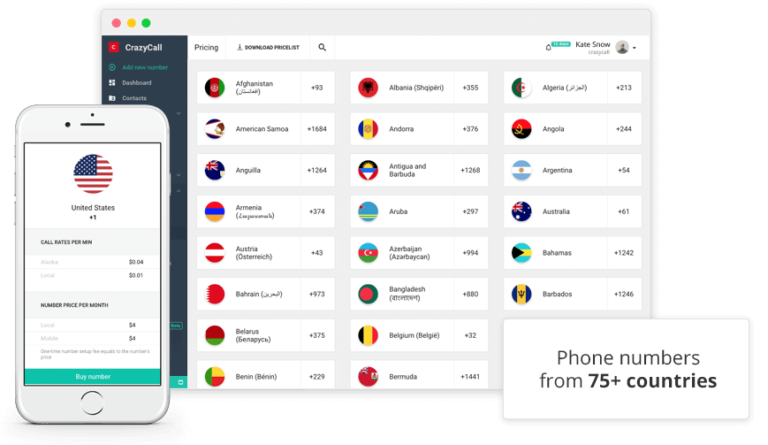 CrazyCall, a corporate phone system, will take care of your demands. It has features for call monitoring and recording. International phone numbers are supported. It has an autodialer, conference calling, and call transfer. You can get toll-free numbers through CrazyCall.
Features
CrazyCall has call recording and monitoring services that let you record and examine client conversations for training and quality-related reasons.

International telephones: By supporting foreign phone numbers, CrazyCall enables you to place and receive calls from anywhere in the globe.

Call transfer and conference calling tools are available on the platform, allowing you to connect clients or coworkers with the proper individual or division.

CrazyCall comes with an autodialer that makes outgoing calls more effective by dialing the next number on a list automatically.

Toll-free numbers: CrazyCall enables you to get toll-free numbers for your company, which may be used to make and receive calls without using the caller's credit card.
Convoso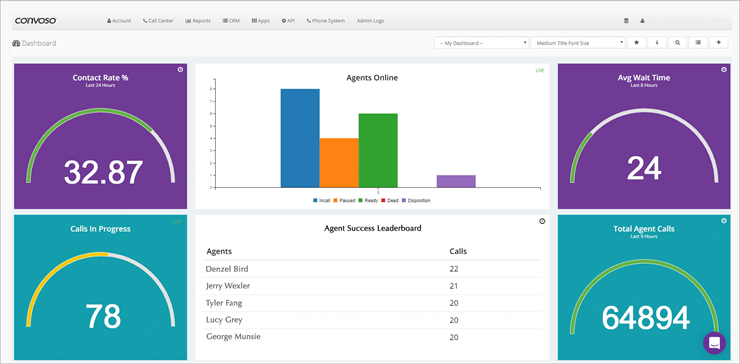 A browser-based call center platform is Convoso. Calling, SMS, voice broadcasting, email, ringless voice mail, and a conversational AI assistant are some of the basic services it offers. Furthermore, it offers sophisticated features like customizable dashboards, dynamic scripting, several dealing modes, workflow dialing, etc.
Features
Businesses wishing to connect with their consumers or clients in many ways may find it helpful to have the capacity to place calls, send SMS and emails, and employ voice broadcasting.

The technology may be able to handle client queries and interactions automatically, freeing up call center workers to undertake more difficult jobs, as suggested by the presence of a conversational AI assistant.

The platform may be highly flexible, allowing organizations to adapt it to their unique needs and operations. This is indicated by the customizable dashboards and dynamic scripting possibilities.

Businesses may be able to expedite and enhance their call center operations by including process dialing and numerous dealing modes.
Knowmax

A comprehensive knowledge management solution for contact centers is offered by Knowmax. You can quickly generate content, curate it, and distribute it across digital and helper channels with the help of this straightforward cloud-based platform, which is used in more than 30 countries.
Features
AHT and agent error are decreased because of Google-like search, which makes it simple to find information from a centralized source.

Agents can take the next best action with precise probing thanks to decision trees with step-by-step instructions.

Utilizing visual how-to guides for quick and precise responses at all times can facilitate product uptake and speed up resolution.

Using an integrated learning module with evaluation capabilities, agents' time to competency can be reduced from months to weeks or days.

Build up your language skills in English, Spanish, Mandarin, French, German, and other languages.
What's Next?
If different sales apps were combined into a suite, businesses could manage superior teamwork and generate more revenue through conversions. This would make it simpler to keep track of the development and results as well as the overall success of the sales campaign. Use 500apps to ensure that your business is running as effectively and productively as possible by having a range of business suites, such as those for human resources, customer service, marketing, and other departments.
Conclusion
It is crucial to take into account your unique needs and requirements while selecting Call Centre Software. Different Call Centre Software alternatives come with different features and functionalities. Some are easier to use than others. And some might cost less than others. In the end, VoxDesk from 500apps, which engages visitors to your website, is the best Call Centre Software program for you.
Visit 500apps right away to discover more about our 50-app All-in-One CRM Software, which is available for just $14.99 per user.
Why Choose 500apps?
#1
All-in-One Suite with more than 50 apps
#2
Everything you need today and in the future for all departments
#3
Unbelievable value - the lowest pricing you will ever find
#4
Hosted in 6 locations for compliance and blazing speeds
#5
24/5 Support - FREE chat, email and phone
#6
Uncapped features - limits you will never reach humanly
#7
Managed and maintained everyday by a dedicated team
#8
No downtime - comes with a 99.9% uptime guarantee
#9
Supports a number of international languages
#10
We've everything covered - 90k+ trust us with their business
Join the SaaS Revolution
All-in-One Suite of 50 apps

Unbelievable pricing - $14.99/user

24/5 Chat, Phone and Email Support