12 Best Virtual Meeting Platforms & Software
In today's world, virtual meetings are essential for conducting business in a timely and efficient manner. They provide us with the opportunity to connect with colleagues, friends and family from all around the globe without having to travel physically. With so many different options available, it can be difficult to decide which meeting platform is right for you. To help make your decision easier, we have compiled a list of the 13 best virtual meeting platforms & software currently on the market.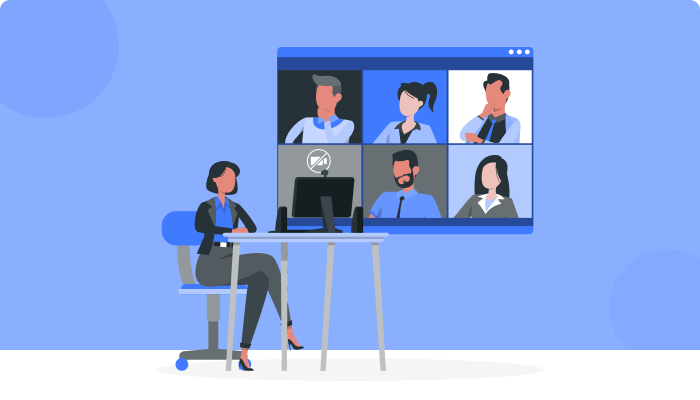 From user-friendly video conferencing tools that allow you to connect quickly with just one click, to comprehensive conference solutions designed specifically for businesses of any size; this guide will cover everything you need to know about choosing the perfect virtual meeting platform or software solution for your needs. We'll look at important features such as security protocols, pricing plans, audio/video quality and more to find out which ones offer the most value for money.
What Are Virtual Meeting Platforms?
Virtual meeting platforms are computer applications that allow people to communicate and collaborate in a virtual space. It's an invaluable tool for business professionals, teams, or anyone needing to connect with someone remotely. Virtual meetings offer real-time audio, video conferencing and chat options, which can be accessed from any device – laptop, desktop, smartphone or tablet.
There is a wide variety of virtual meeting platforms available today. Popular ones include Zoom, Skype for Business, Microsoft Teams and WebEx. Each platform offers different features such as screen-sharing capabilities, whiteboard solutions and file transfer support so users can share documents easily during their meetings.
In addition to the basic features offered by all virtual meeting platforms, some providers may also provide additional services like calendar integration for scheduling meetings and automated email reminders about upcoming conferences. These extra features make it even easier for users to stay organized when running multiple events simultaneously.
Tips for Conducting Effective Virtual Meetings
An effective virtual meeting requires the right platform, preparation and clear communication. By following these tips, you can ensure that your virtual conference platforms are used to their fullest potential and create successful meetings every time.
Select a suitable type of virtual meeting based on the purpose of the gathering.
Adequate preparation is key to have an efficient and productive meeting.
Prepare all materials beforehand.
Schedule breaks if necessary and set an agenda.
Ensure everyone knows how to use Teams Virtual Meeting.
Encourage open dialogue by asking direct questions.
Clarify topics discussed as they arise.
Actively listen throughout the session.
Foster discourse among participants and keep them engaged.-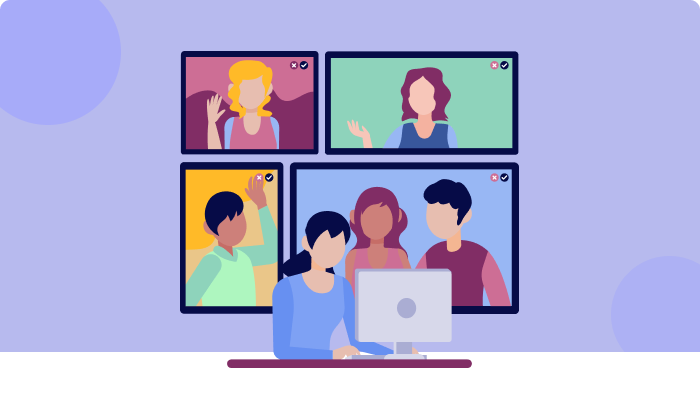 12 Best Virtual Meeting Platforms & Software
Virtual meetings have become increasingly popular recently as technology has made them easier and more convenient than ever. But with so many platforms out there, it can be difficult to find the one that's best for you. That's why we've rounded up 13 virtual meeting platforms and software options to help guide your search.
Zoom
Zoom is a popular virtual meeting platform and software that has become increasingly commonplace in our work-from-home world. Zoom's accessibility, affordability, and ease of use make it an ideal choice for many people looking to virtually connect with colleagues or friends. With features like video chat, file sharing, audio conferencing, and more, Zoom offers plenty of options for users to customize their experience.
The popularity of Zoom lies in its user-friendly interface, allowing anyone from a beginner to an experienced professional to get up and running quickly. It also provides helpful tutorials on how to use the various features available for each user type. Additionally, you can join meetings without having to create an account; this makes it especially useful when joining calls with clients or colleagues who don't have accounts yet.
Skype
Skype is an effective virtual meeting platform and software, providing users with a range of features to make meetings productive. Skype's ability to provide audio, video, and group call capabilities allow for remote meetings to run seamlessly. It also provides the capability for screen sharing, which can enable all users to view documents at the same time. Additionally, its chat feature enables a quick exchange of messages between participants if needed during the meeting.
Apart from these features, Skype has other advantages such as being accessible on any device; it runs on computers, tablets and smartphones alike. This makes it very convenient in terms of accessibility since everyone involved in the meeting can use their preferred device without any interruption or compatibility issues. Furthermore, security is top-notch with end-to-end encryption and two-factor authentication available as options when setting up a conference call.
Microsoft Teams
Microsoft Teams is a powerful virtual meeting platform and software that has become extremely popular recently. It allows you to communicate, collaborate, and get work done quickly and efficiently. With its intuitive user interface and integrated suite of features, it's easy to see why Microsoft Teams is becoming one of the go-to solutions for companies looking to streamline their workflow.
What makes this solution so attractive? Here are just a few reasons:
You can host video conference calls with up to 250 participants at once, making it ideal for large events or meetings.
Its chat feature allows team members to send messages in real-time and keep up with each other's progress while working remotely.
The integrated app store gives users access to thousands of apps they can use to enhance their experience on the platform, such as project management tools or file-sharing platforms like Dropbox.
You have access to all your files stored on OneDrive directly from within Microsoft Teams, no need to download them separately!
With all these advantages, it's no wonder why many businesses are turning towards Microsoft Teams for their virtual meeting needs.
Google Meet
When it comes to virtual meeting platforms and software, Google Meet is a popular choice. It's easy to use, with features that make it efficient for both small and large groups. For example, users can join meetings at any time by simply clicking on the link provided in their invitations.
Google Meet also offers impressive security measures, such as end-to-end encryption, which helps protect user data from unauthorized access. Additionally, its video conferencing capabilities are top notch, with HD quality audio and video streaming available even when you're using an older device. Furthermore, its real-time synchronization allows participants to be up-to-date on all changes made during the meeting, no matter where they are located.
Webex
Webex is an excellent virtual meeting platform and software that offers a variety of features to make meetings more efficient. Outstanding video and audio capabilities, screen sharing options, file transferring abilities, and conference call support are just some of the many useful tools it provides. With Webex users can:
Access meetings from any device or location.
Set up calls with up to 1000 participants.
Schedule in advance for future events.
Utilize advanced security protocols.
Share files quickly and securely.
Its easy-to-use interface makes hosting webinars or launching remote training sessions hassle-free. The platform also allows hosts to record their meetings, so they don't have to worry about taking notes during the session. This feature is especially helpful when teams need access to recordings of past meetings for reference purposes later on. In addition, integration with other popular business applications, such as Slack, Microsoft 365, Salesforce, etc., helps streamline workflow processes making collaboration even easier.
Gotomeeting
GoToMeeting is an online meeting platform that allows users to connect remotely. It's a great choice for virtual meetings, as it offers features like video conferencing, screen sharing, and file transfers. The platform also has additional security measures, such as end-to-end encryption and two-factor authentication.
GoToMeeting makes it easy to collaborate with multiple people at once; the interface shows which participants are talking and allows users to join in without any technical difficulties. Additionally, GoToMeeting provides customers with unlimited storage space so they can save their files securely from anywhere in the world.
Bluejeans
BlueJeans is a cloud-based video conferencing platform that provides seamless collaboration for businesses. It's an ideal virtual meeting solution for companies looking to connect with their remote employees, partners and customers anywhere in the world. Besides providing audio/video connections via web browser or mobile app, BlueJeans also offers features such as screen sharing, gallery view, instant messaging and more.
The biggest advantage of BlueJeans is its flexibility; it can be used with any device or operating system, from desktop PCs to Android phones and Apple devices. This makes it easy for users to join meetings on the go without having to download any extra software. Additionally, it has advanced security features like encryption and authentication protocols, ensuring your data remains safe during each session.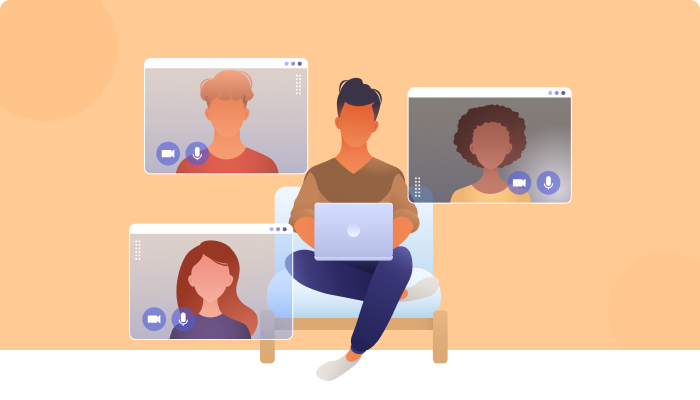 Slack
Slack is a powerful virtual meeting platform and software that enables users to stay connected and collaborate effectively. It goes beyond simple messaging by providing features such as file sharing, voice/video calls, screen-sharing, and integration with other applications. Here are four reasons why Slack stands out:
First, it has an intuitive user interface that makes it easy for anyone to use. You can easily create channels for different topics or projects in order to keep conversations organized. Additionally, its search functionality allows you to quickly find messages or files without having to scroll through long threads.
Another great benefit of using Slack is its scalability from small groups to large organizations, the platform can be adapted depending on your needs. Furthermore, notifications ensure you always know when someone sends a message or tags you in a thread so nothing slips under the radar!
Houseparty
Houseparty is another popular virtual meeting platform. It works on several devices, making it easy for people to join in from different locations. Unlike other platforms like Slack which are primarily text-based, Houseparty offers both audio and video conferencing capabilities. This allows users to have more of a face-to-face experience while still working remotely.
Another great feature of Houseparty is its ability to support larger groups than most other similar services. With up to eight people able to take part at once, it's perfect for team meetings and group conversations. Plus, there's an added bonus, the app includes fun games everyone can play together!
Jitsi Meet
Jitsi Meet is a great virtual meeting platform and software. It's an open-source video conferencing service that allows individuals to host meetings of up to 75 participants without needing any sign-up or login process. With Jitsi, users can easily share audio, video, text chat, and screen sharing capabilities with the click of a button.
One of its best features is that it provides high-quality audio and visual settings for all types of devices,including mobile phones. Additionally, the user interface is straightforward and easy to navigate, making setting up meetings much simpler than on other platforms. Furthermore, there are no hidden fees or charges associated with using Jitsi, as it's completely free!
Overall, Jitsi has become increasingly popular in recent years due to its ability to provide reliable communication services at no cost.
Discord
Discord is a popular virtual meeting platform and software that can be used for messaging, voice calls, video conferencing, and more. It's an incredibly versatile tool for users to interact with each other no matter their location or device.
What makes Discord stand out from the rest of the virtual meeting platforms? Firstly, its user-friendly interface allows members to join conversations quickly without navigating complex menus. Additionally, it provides built-in support for screen sharing and document sharing among participants in a chatroom. Finally, Discord also offers extra security features such as end-to-end encryption and two-factor authentication.
500Conference
500conference is a virtual meeting platform and software that's becoming increasingly popular. It was designed to help businesses collaborate, communicate, and manage projects in real-time with its high-quality video conferencing features. Here are three noteworthy advantages that 500conference provides:
Security: With 500Conference, users can enjoy the highest security standards when it comes to data protection, encryption of all audio/video streams as well as chats.
Flexibility: This virtual meeting platform allows you to access any meeting from your desktop or mobile devices anytime, anywhere. You can even join meetings without having an account created!
User-friendly interface: The user interface of this software is easy to use and navigate, making it ideal for both beginners and experienced professionals alike.
In summary, if you're looking for a reliable virtual meeting platform and software, then 500Conference should be at the top of your list! Its comprehensive suite of features makes it the perfect choice for businesses that need secure communication options with flexible access.
Get started with the leading Virtual Meeting Tool today! Sign Up 14 Day Trial
Conclusion
In conclusion, virtual meeting platforms and software have become integral to modern business. Having the right platform can help foster collaboration and make sure everyone is kept up to date on important decisions. The 13 best virtual meeting platforms & software mentioned in this article are Zoom, Skype, Houseparty, Jitsi Meet, Discord, and 500Conference. Each one has its own unique features that can be used depending on your specific needs.
Before deciding which virtual platform or software to use for your meetings, weigh all the options available against each other. Consider things such as security protocols, ease of use, scalability capabilities, cost-effectiveness, and other factors that may come into play when selecting a platform. Once you have chosen the most suitable option for your organization,, you can ensure the smooth running of remote meetings effectively and efficiently.
Why Choose 500apps?
#1
All-in-One Suite with more than 50 apps
#2
Everything you need today and in the future for all departments
#3
Unbelievable value - the lowest pricing you will ever find
#4
Hosted in 6 locations for compliance and blazing speeds
#5
24/5 Support - FREE chat, email and phone
#6
Uncapped features - limits you will never reach humanly
#7
Managed and maintained everyday by a dedicated team
#8
No downtime - comes with a 99.9% uptime guarantee
#9
Supports a number of international languages
#10
We've everything covered - 90k+ trust us with their business
Join the SaaS Revolution
All-in-One Suite of 50 apps

Unbelievable pricing - $14.99/user

24/5 Chat, Phone and Email Support