9 Best Email Tracker for Gmail and Outlook: A Quick Comparison
This article aims to overview nine of the best email trackers available for Gmail and Outlook users. We'll compare features like the price point, ease-of-use, compatibility levels, analytics capabilities, customer support options, and much more. With all these factors considered, we can determine which email tracker works best for each user's needs. So if you're looking for an effective way to keep tabs on all your incoming and outgoing emails without breaking your budget or sacrificing quality service, look no further!.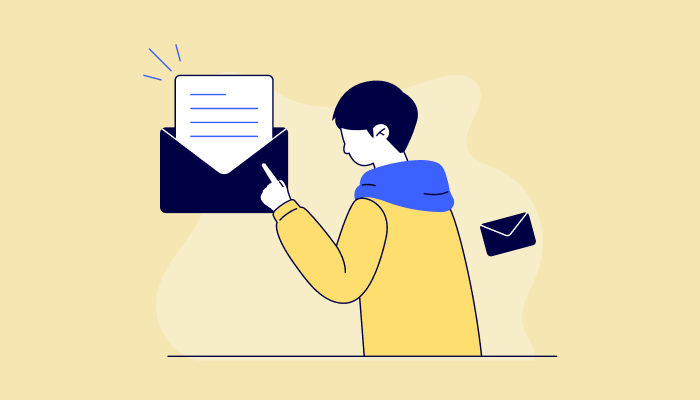 In this digital world, emails are one of the most important communication tools. The popularity of email has increased significantly over the past few years as more people rely on it for both personal and professional purposes. As such, it becomes increasingly important to keep track of your emails so that you can manage them effectively and efficiently. This is where email tracking comes in; a tool designed to help you monitor and follow up with your emails quickly and easily.
Importance of Email Tracker
Email tracking has become an important part of email communications in the digital age. It helps users identify if and when their emails are opened, providing valuable information on adjusting their approach for future communication. Email open tracking is an effective way to measure performance metrics and improve operations.
Enables customers to track progress on projects or tasks by monitoring opened emails.

Increases customer satisfaction by allowing them to make well-informed decisions.

Gives companies insight into which communications work best so they can tailor content accordingly.
Email tracking is essential for modern communication success, enabling businesses and customers to monitor progress more efficiently.
Recommendations for Choosing the Right Email Tracker
When it comes to email tracking, having the right tool is essential. There are several options available that offer diverse features and benefits. To ensure you make the best decision for your needs, let's look at some recommendations for choosing the right email tracker extension.
Consider what software will be most useful for your particular situation.

Look for an outlook or Gmail specific extension if applicable.

Think about how much customization is needed for tracking emails sent and received.

Look for extensions that allow for customization rules based on subject lines and other criteria.

Consider extensions that just track basic information if customization is not needed.
Once you have identified which email tracker fits your needs, don't forget to check out user reviews before making a purchase. Reading these reviews can give valuable insight into performance, reliability, and customer service quality if something goes wrong.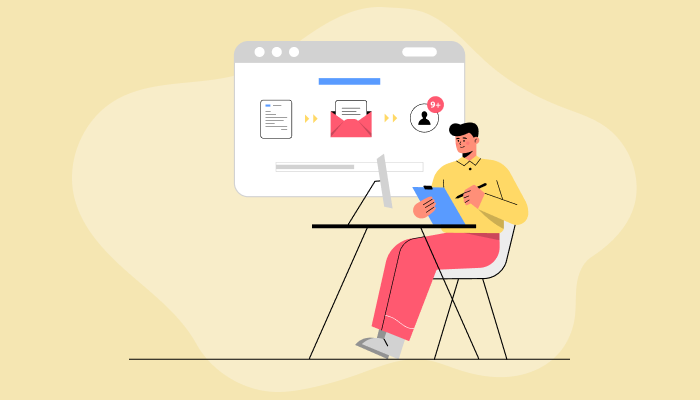 9 Best Email Tracker for Gmail and Outlook
Choosing the right email tracker can be difficult. With so many options available, it's important to consider features, pricing, and customer reviews when deciding. Let's look at nine of the best email trackers for Gmail and Outlook: a comparison of their features, pricing, and customer reviews.
Yesware
Yesware is one of the most popular email tracking tools available. It's an all-in-one solution that helps sales teams increase productivity and close more deals. With Yesware, users can track emails in real-time, automate follow-ups to ensure timely replies from leads or customers, and schedule emails for later delivery.
Yesware offers a comprehensive email tracking service with powerful features at competitive prices. Its intuitive user interface makes it easy to use even for beginners, while its robust set of advanced options allows experienced users to customize their experience according to their needs. Furthermore, numerous positive customer reviews attest to Yesware's quality and reliability.
Streak
Streak is another popular email tracker that can be used with Gmail and Outlook. Streak offers a comprehensive online platform for tracking emails in both systems, allowing users to see when their messages have been opened or replied to. Streak also provides the ability to set reminders, create pipelines, and track customer interactions.
The advantages of using Streak include
An intuitive user interface which makes it easy to get up and to run quickly.

The ability to access analytics on sent emails.

Establishing rules so that certain events initiate automated actions like sending an email reminder.
With Streak's powerful features, you can organize customer data more effectively while keeping detailed records of past conversations. It's an excellent tool if you're looking for an effective way to manage your inbox and keep track of important customer contacts by utilizing an email tracker online. Whether you use it in conjunction with other tracking tools or as a stand-alone solution, Streak will help you stay organized and be more productive.
Mailtrack
Mailtrack is another great email tracker for Gmail and Outlook. It's a browser extension that provides users with data on when their emails have been opened. It offers additional features that can help you understand how your correspondences are received. For example, Mailtrack allows users to see who has clicked any links included in the messages they sent.
The tool also allows recipients of tracked emails to opt-out if they don't want to be monitored, making it more user-friendly than other mail trackers. Regarding pricing, Mailtrack is one of the most affordable options available.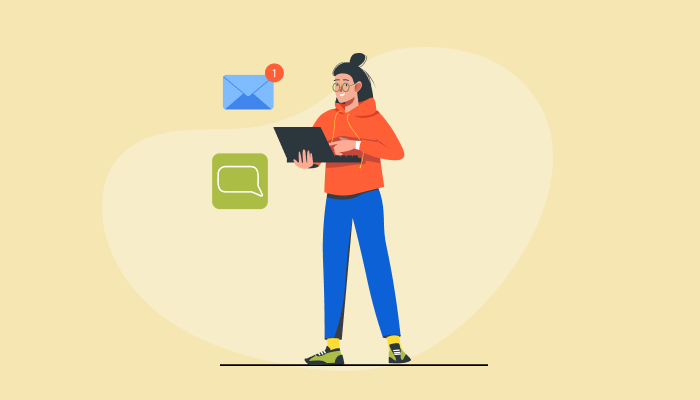 Bananatag
Bananatag is one of the leading email tracking tools available today. It allows users to track emails sent from both Gmail and Outlook, making it a great option for those who use multiple platforms. Bananatag also offers real-time notifications when emails are opened, allowing users to tailor their follow-up messages accordingly.
In addition to its basic email tracking capabilities, Bananatag provides extensive user activity analytics. Users can view open and click rates, delivery times, and device type data to gain deeper insight into customer engagement with their emails. These advanced features make Bananatag an excellent choice for businesses that need solutions beyond basic email tracking.
Saleshandy
Saleshandy is a popular email tracker for Gmail and Outlook platforms. It helps users keep track of emails, analyze performance metrics, set up automated follow-up reminders, and collaborate with team members on the same platform. Saleshandy also allows users to schedule emails in advance by setting time zones and specific days and insert personal signatures automatically into all outgoing messages.
The user experience with Saleshandy has been positive overall. Its interface is easy to navigate, and its features are intuitively laid out. The customization options within the platform make it ideal for small businesses that need more control over their communication process while still having access to advanced analytics capabilities.
Mixmax
Mixmax is a mail tracker extension allowing users to track emails sent from both Gmail and Outlook conveniently. It features real-time notifications, email scheduling, read receipts and analytics on how recipients interact with your message -allowing businesses to optimize their outreach process better. With Mixmax, you can also create automated responses for when someone opens an email, making it easy to stay connected without manually sending follow-up messages. Integrating this mail tracking tool into Gmail and Outlook makes managing communication across multiple channels effortless while providing insightful metrics.
Apart from its tracking capabilities, Mixmax offers additional features such as setting reminders. Hence, you never miss out on important tasks or deadlines, templates for quickly creating beautiful emails in minutes, and link tracking, so you know exactly who clicked what links in your messages. Overall, Mixmax provides a comprehensive set of tools to help streamline communication workflows and ensure the timely delivery of critical messages.
OpenedOrNot
OpenedOrNot is an email tracker extension that offers robust tracking capabilities for Gmail and Outlook. It provides powerful real-time data to help users decide when to follow up with leads, customers, and colleagues. Let's take a closer look at what OpenedOrNot has to offer:
Tracking features:
You can track emails sent from both Gmail and Outlook accounts in one place.

You can see who opened your emails, which links they clicked, how many times they viewed them, and whether or not they replied, all without leaving the platform.

Allows you to set alerts so that you know if someone hasn't seen your message yet or if it's time for a follow-up.
Automation tools:
Automates repetitive tasks like setting reminders and scheduling meetings with clients using its intuitive drag-and-drop automation feature.

Enables users to automate their outreach campaigns and quickly send personalized messages in bulk while keeping track of each conversation.

Provides options for advanced segmentation rules based on user behavior such as open rates or reply status.
In short, OpenedOrNot is a great option for those looking for an email tracker extension that will provide comprehensive analytics and allow them to manage their workflows efficiently and easily.
Get started with the leading Email Tracker Tool today! Sign Up 14 Day Trial
Findthatlead
Findthatlead is a powerful email tracking tool for Gmail and Outlook. It allows users to track emails, see when the recipient has opened the mail, and schedule follow-up reminders. The platform also offers rich analytics, metrics, automated workflows, and reporting capabilities.
Findthatlead's easy-to-use interface makes it simple to gather insights from customer activity data. With this feature, you can get detailed information on who opened your emails, how many times they read them, what links they clicked on etc., which helps you better understand their interests and behaviors. Moreover, its powerful segmentation tools help users create targeted campaigns based on contact profiles or engagement levels.
Toutapp
Regarding email tracking, two of the most popular choices are Toutapp and OpenedOrNot. Let's look at how they compare in terms of their features and what makes them stand out.
Toutapp is an email tracker designed for both Gmail and Outlook users. It offers comprehensive tracking capabilities; you can see when your emails were opened, clicked on, or left unopened. Plus, there's no need to install any additional software as everything works directly through your web browser.
Moreover, this service also allows you to set up automated follow-ups that will be sent if an email isn't opened within a certain time frame. With these tools available, you'll always know which messages have been seen by your contacts and can plan accordingly with your outreach strategy.
Overall, Toutapp provides an easy-to-use solution that gives you all the information to track emails sent via Gmail and Outlook accounts. Whether you're looking for detailed insights into who has read your emails or simply want to ensure important messages aren't missed, this service has covered you.
Conclusion
Email tracking is an invaluable tool for businesses and professionals who rely on emails to communicate with customers and clients. It can provide valuable insights into customer behavior, and the effectiveness of outreach campaigns or simply help you stay organized in a busy inbox. Selecting the right email tracker that offers features tailored to your needs ensures your team gets the most out of their time spent working through email threads.
The 9 best email trackers featured in this article have something unique to offer depending on what kind of user experience you are looking for. Yesware has powerful automation capabilities, Streak provides strong collaboration tools, Mixmax offers robust analytics, ToutApp is great for sales teams, FindThatLead allows users to search from within Gmail, and OpenedOrNot makes it easy to check if messages were opened or not.
Why Choose 500apps?
#1
All-in-One Suite with more than 50 apps
#2
Everything you need today and in the future for all departments
#3
Unbelievable value - the lowest pricing you will ever find
#4
Hosted in 6 locations for compliance and blazing speeds
#5
24/5 Support - FREE chat, email and phone
#6
Uncapped features - limits you will never reach humanly
#7
Managed and maintained everyday by a dedicated team
#8
No downtime - comes with a 99.9% uptime guarantee
#9
Supports a number of international languages
#10
We've everything covered - 90k+ trust us with their business
Join the SaaS Revolution
All-in-One Suite of 50 apps

Unbelievable pricing - $14.99/user

24/5 Chat, Phone and Email Support