Web Conferencing: A Comprehensive Guide
As businesses move increasingly into the digital world, web conferencing is becoming an essential tool for collaboration and communication. It connects people from all over the globe in real-time, allowing them to share data and ideas easily. However, it can be difficult to know where to start if you're new to web conferencing. This article provides a comprehensive guide on everything you need to get up and running with web conferencing, from choosing the right platform to best practices for successful online meetings.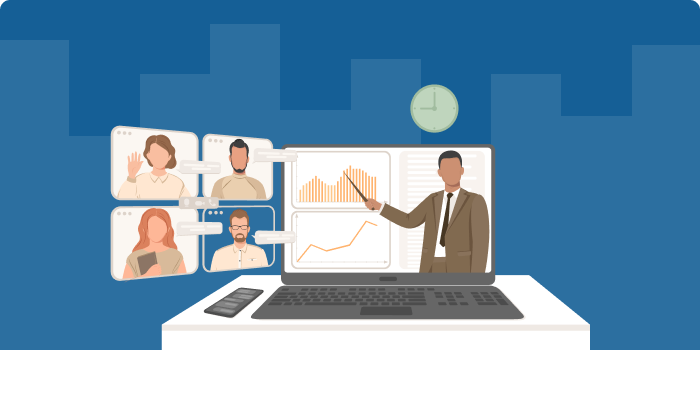 We also explore how businesses use web conferencing in everyday operations. Whether your business is small or large, there are many ways that web conferencing can help drive productivity and efficiency while helping teams stay connected no matter where they are located.
What Is Web Conferencing?
Web conferencing is a type of online communication that enables real-time audio, video, and text interactions between two or more people. It's an advanced video conferencing form that allows participants to collaborate remotely on documents, whiteboards, and other shared devices. Web conferencing has become increasingly popular in recent years due to its convenience and efficiency; it can save significant time and money compared to traditional face-to-face meetings.
Web conferencing allows teams to collaborate on projects by sharing their screens during meetings.
Many web conference platforms offer features like recording capabilities so users can review what was discussed at any point after the call.
Utilizing this technology allows businesses to stay connected regardless of team members' location.
Web conferencing provides companies with an incredibly useful tool for connecting staff from all over the world without having to travel long distances or incur expensive costs associated with physical conferences.
It helps organizations increase productivity while reducing operational expenses.
Types of Web Conferencing
Web conferencing is an effective way of connecting with people around the world. It has become a popular alternative to traditional face-to-face meetings, allowing users to have meaningful conversations without travelling long distances. As such, it's important to understand the different types of web conferencing available today.
Cloud-Based Web Conferencing
Cloud-based web conferencing is becoming increasingly popular because it offers many users secure meetings and reliable communication. 500Conference is one example of this type of technology, which enables participants from all over the world to connect in real-time.
There are several advantages to using cloud-based web conferencing solutions such as 500Conference:
It provides an easy way for people to access meetings remotely without needing special hardware or software.
Allows meeting hosts to control who can join their conferences and monitor activity during them.
Features like chat boxes and video streaming capabilities make it easier for attendees to participate in conversations.
Video Conferencing
Video conferencing has become a popular choice for web conferencing apps, allowing people to interact in real-time from remote locations. It is an ideal solution for businesses that need to conduct team meetings and collaborate effectively over the internet. With 500Conference, users can use high-quality video and audio technology to communicate with their colleagues.
Webinar Conferencing
Webinar conferencing is one of the top web conferencing solutions available. It provides a secure, reliable platform for hosting online meetings, events and conferences with large audiences. 500Conference's webinar solution allows you to conduct virtual seminars or lectures from anywhere in the world, providing your attendees with an engaging and interactive experience.
The main benefits of using webinar conferencing include its scalability, it can be used to host up to hundreds of participants simultaneously; its customization capabilities – allowing users to tailor their environment according to their preferences; and its flexibility, enabling users to switch between presentation modes quickly and easily. Additionally, 500Conference offers features such as live polls, Q&A sessions, real-time feedback tools, and even breakout rooms that allow participants in larger groups to divide into smaller discussion threads.
Audio Conferencing
Audio conferencing is a popular solution for businesses of all sizes. It's used to facilitate larger meetings and can be conveniently accessed from any device with an internet connection. 500Conference provides high-quality audio conferencing services at competitive prices, allowing organizations to host multiple participants in real-time conversations.
With 500Conference, users can easily set up audio conferences with phone numbers provided by the service provider or their VoIP system. This allows them to enjoy clear calls with no latency issues, even when connecting from remote locations worldwide. Plus, companies can keep track of call duration data for billing purposes and have access to built-in features such as muting, recording and scheduling capabilities. All these features provide users with a convenient and reliable way to communicate quickly while ensuring everyone remains on the same page during meetings.
Instant Messaging Conferencing
Instant messaging conferencing is vital to successful web conferencing. It allows for quick, real-time communication between participants in the virtual meeting. There are several key features to consider when evaluating instant messaging services:
How many people can it accommodate?
Does it come with encryption and secure message retention?
Is there an integrated audio/video option?
These questions will help you determine which solution best fits your organization's needs. It's essential to recognize that IM has become increasingly popular as a means of remote collaboration among teams at different locations. The ability to easily share documents, photos, videos, or multimedia within an IM chat window facilitates a smoother communication flow than traditional emailing.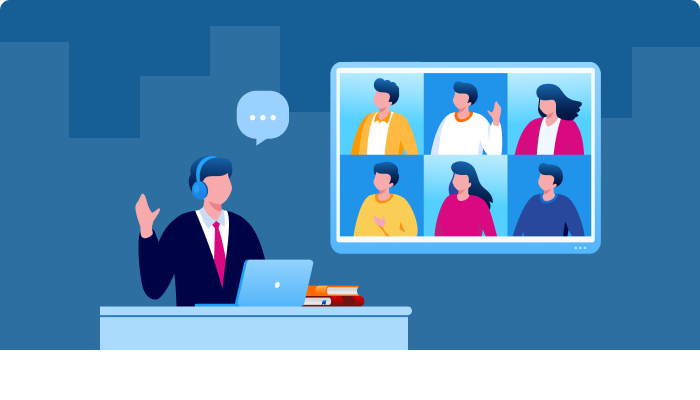 List of 5 Major Benefits of Web Conferencing
Web conferencing is becoming an increasingly popular form of communication, allowing people to connect and collaborate from anywhere in the world. It has various useful features that make it ideal for business meetings, training sessions and even social gatherings. In this article, we'll explore the five major benefits of web conferencing.
Cost Savings
Web conferencing offers a wide range of cost savings, especially when utilizing 500conference. It's one of the key advantages that virtual and web conferencing have over traditional in-person meetings. Here are three ways this type of technology can help you save money:
Eliminating travel costs: With web conferencing, there's no need to worry about paying for flights or accommodation expenses as everyone can participate from their homes.
Low setup fees: Setting up web conferences is relatively inexpensive, with low monthly subscription fees and sometimes even free trial periods available, depending on which provider you choose.
Reduced IT maintenance costs: Web conferencing requires minimal technical support, meaning you don't have to spend extra time or money making sure your system runs smoothly.
Increased Productivity
Web conferencing is an increasingly popular way to collaborate and stay connected with colleagues, no matter where you are. Using web conferencing apps like 500conference makes it easier than ever to ensure increased productivity in the workplace. Video conferencing allows for more meaningful interactions that can save time and money compared to traditional communication methods, such as emails or phone calls.
When everyone involved in a project can communicate face-to-face regardless of location, tasks get done faster, and better decisions can be made quicker. Projects also become much smoother since all relevant stakeholders can easily 'meet' online at any point during the development process. With tools like 500conference, team members can share documents and presentations quickly and securely for review in real-time; this means fewer misunderstandings between different teams or departments, leading to greater efficiency throughout the organization.
Improved Collaboration
Web conferencing is rapidly gaining popularity for its ability to provide secure meetings, improved collaboration and increased productivity. 500conference offers a wide range of features that make web conferencing an incredibly efficient way to communicate with people worldwide.
Collaboration between teammates can be greatly enhanced by web conferencing tools such as those provided by 500conference. In addition to providing clear audio and video capabilities, these services allow users to share documents and edit them together in real-time easily. This allows teams to quickly complete projects while still being able to get feedback or assistance from one another if needed. Access to this collaborative environment makes it much easier for individuals and groups alike to work effectively on tasks without having to be physically present at the same location - saving time and money.
Enhanced Customer Relationships
Web conferencing offers a powerful way to build and enhance customer relationships. Through 500Conference, businesses can easily connect with their customers in real-time by exchanging ideas and information without needing an in-person meeting. This technology allows companies to respond quickly to customer inquiries, resolve disputes more efficiently, share product updates faster, and maintain better contact with clients worldwide.
Furthermore, web conferencing also provides a cost-effective alternative to traditional face-to-face meetings. Companies no longer have to pay for high transportation costs or waste valuable resources on organizing physical events. It is now easier than ever for them to set up virtual conferences allowing participants to join from any location at a minimal cost. As such, it helps businesses improve communication with their customers while reducing expenses associated with large-scale conference events.
Improved Communication
Web conferencing is a powerful tool for improved communication. With 500conference, you can easily connect with customers and colleagues worldwide to share ideas, collaborate on projects, or discuss pressing issues. This technology enables real-time conversations and seamless collaboration, no matter where you are.
By using web conferencing tools like 500conference, companies can bridge geographical distances and make communication easier for teams. It's an ideal solution for remote meetings and internal communications within teams since it allows multiple individuals to join in quickly and conveniently without travelling long distances. Additionally, this technology provides organizations with secure connections so that confidential information stays private during conference calls or presentations.
List of 6 Major Drawbacks of Web Conferencing
Web conferencing can be a great way to communicate with colleagues and clients, but some drawbacks should be considered. Despite its many benefits, web conferencing can come with issues that should be addressed. Here are six major drawbacks of web conferencing:
Security Risk
Security is a major concern for web conferencing. 500conference provides flexible security features to help protect the data being shared during conference calls. However, there are still potential risks with this kind of platform.
For instance, malicious third parties may be able to access private information through unsecured connections or by eavesdropping conversations. Additionally, users who need to take proper precautions when setting up their accounts and devices might expose themselves to external threats, such as hacking attempts or other security breaches. To avoid these issues, educate yourself on the best practices for web conferencing and use reliable providers like 500conference prioritize security in their services.
Quality
Web conferencing is becoming increasingly popular for businesses due to its high quality. 500conference offers a reliable and secure platform allowing users to securely and efficiently access their data. Participants can join meetings from any device or location with no setup required, allowing them to collaborate remotely from anywhere in the world.
The audio and video quality of web conferences on 500conference are second-to-none, ensuring participants have crystal clear visuals during calls. It also features an array of tools, such as screen sharing and whiteboard, which help increase engagement between attendees, making it easier to stay connected regardless of physical distance. Additionally, powerful analytics allow administrators to monitor usage trends and adjust accordingly if needed.
Technology Incompatibility
One of the major benefits of web conferencing is that it resolves many issues related to technology incompatibility. With services such as 500conference, users can access various tools and features regardless of their device or operating system. This means users don't have to worry about finding compatible software to join meetings or make video calls.
This flexibility also makes it easier for different teams within an organization to collaborate since they don't need to be on the same platform to communicate effectively. Moreover, with solutions like 500conference's cloud-based architecture, updates are automatically applied so everyone can access the latest version, ensuring all participants remain connected throughout the meeting. All this adds up to a smoother experience when using web conferencing solutions like 500conference.
Lack of Engagement
Regarding web conferencing, lack of engagement is a major issue. Attendees may need help to stay focused and motivated during the conference if they feel connected with other attendees or the presenter. This can lead to reduced comprehension of content and lower satisfaction for all participants.
Fortunately, 500Conference provides tools that help overcome this problem. Their interactive features, such as whiteboards, polls and questionnaires, allow users to engage in meaningful dialogue from any device - making them more likely to participate fully throughout the conference. In addition, their group video chats give everyone an opportunity to share their opinions freely while reducing feelings of isolation and boredom. Thanks to these powerful resources on 500Conference, people can better connect during web conferences and take away valuable information from their experience.
Cost
When it comes to web conferencing, the cost is a major factor. The good news is that 500conference offers competitive pricing plans for businesses of all sizes. With the pay-as-you-go model, users only have to pay for what they use and avoid ending up with hefty bills after just one conference call. Plus, no monthly fees or long-term contracts are required, so you can adjust your spending depending on how often you use the service.
In addition to its flexible payment options, 500conference provides free audio conferencing services. Teams can keep in touch without worrying about expensive monthly phone bills. Moreover, participants won't need specialized hardware or software as 500conference works directly from their laptop or mobile device. As such, web conferencing has never been more affordable and accessible than now, thanks to 500conference.
Accessibility
Accessibility is one of the major benefits of web conferencing. It offers a convenient way for people to communicate and collaborate from anywhere in the world, regardless of time or location. With 500conference's features like audio-video streaming, screen sharing and discussion boards, users can easily connect with colleagues through their computers or mobile devices no matter where they are located. This allows them to get real-time feedback without travelling long distances and incurring additional costs.
Furthermore, many web conferencing solutions are designed to work seamlessly on different platforms, such as Windows, Mac OSX, iOS and Android. This ensures that everyone participating in a conference call has access to the same functionalities regardless of their device. Additionally, 500conference provides an intuitive user interface, making it easier for participants to join a virtual meeting quickly and conveniently without any technical expertise.
Get started with the leading Web Conferencing Tool today! Sign Up 14 Day Trial
Conclusion
Web conferencing has become an essential tool for businesses today. It allows them to communicate effectively with their customers, employees and partners from any location in the world at a fraction of the cost of traditional meetings. Web conferencing is also very easy and can be tailored to specific needs.
The major benefits of web conferencing include convenience, cost savings, improved communication and collaboration, better customer service and increased productivity. These advantages make it ideal for companies that need efficient online meetings without investing in expensive hardware or software solutions.
In conclusion, web conferencing offers many advantages over traditional methods of meeting face-to-face. Organizations can save money by utilizing cloud-based services like 500Conference while still staying connected with important contacts across all platforms, mobile devices and desktop computers. With its low cost and high efficiency, web conferencing provides businesses with a powerful communication solution that will improve their bottom line.
Why Choose 500apps?
#1
All-in-One Suite with more than 50 apps
#2
Everything you need today and in the future for all departments
#3
Unbelievable value - the lowest pricing you will ever find
#4
Hosted in 6 locations for compliance and blazing speeds
#5
24/5 Support - FREE chat, email and phone
#6
Uncapped features - limits you will never reach humanly
#7
Managed and maintained everyday by a dedicated team
#8
No downtime - comes with a 99.9% uptime guarantee
#9
Supports a number of international languages
#10
We've everything covered - 90k+ trust us with their business
Join the SaaS Revolution
All-in-One Suite of 50 apps

Unbelievable pricing - $14.99/user

24/5 Chat, Phone and Email Support