Best Lead Generation Softwares in 2023
Lead generation software is the most important component of any lead generation campaign. Lead generation software increases the conversion rate of your marketing and sales efforts.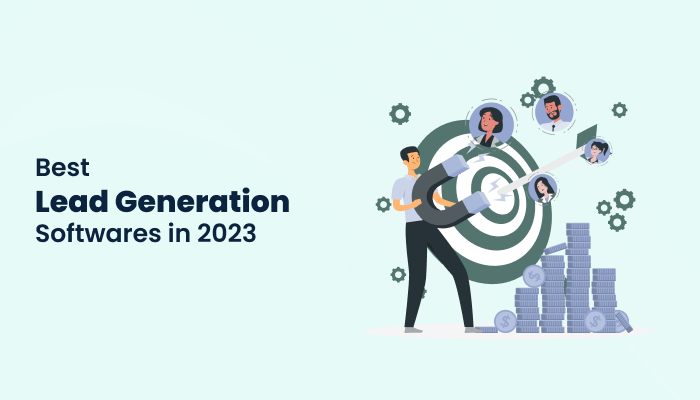 Lead generation tools have evolved rapidly over the past decade due to consumer and business needs. With so many options, it can be hard to know where to start for successful lead generation.
Lead generation software is used to generate leads for a business or organization. Track leads who have expressed interest in your company's products and services, helping to generate qualified leads.
This software is commonly used by sales and marketing teams to generate leads. It helps you track your lead generation campaigns and see what types of content are best for them to convert.
Lead generation software can be expensive but can also be cheap if used correctly.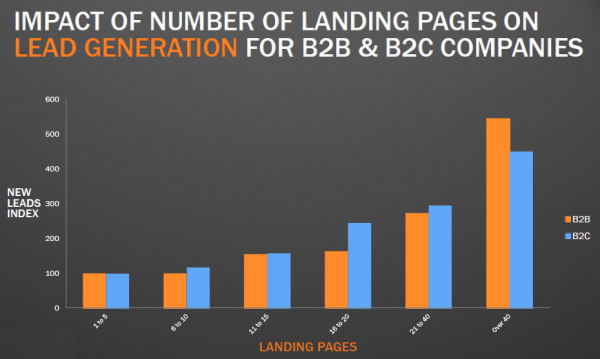 Benefits of lead generation software
Increased productivity
Lead generation software makes communicating with clients much easier. No more relying on manual processes or spending time chasing leads that turn out to be false positives or non-conversational.
Increased sales
Lead generation software makes communicating with customers much easier. No more relying on manual processes or spending time chasing leads that turn out to be false positives or non-conversational.
Improve your social media strategy
Lead generation software allows you to track your leads over time, which will help you find areas for process improvement or optimization to ensure maximum productivity.
Generate Business Opportunities
Call, email, post on social media, blog, etc. to get in touch with customers.
Build Visibility and Awareness
The easiest way to increase your visibility is by making it simple for customers to find you and learn about your products.
Automate Lead Management
Lead generation software can help you manage the entire process of turning leads into customers.
15 Best Lead Generation softwares in 2023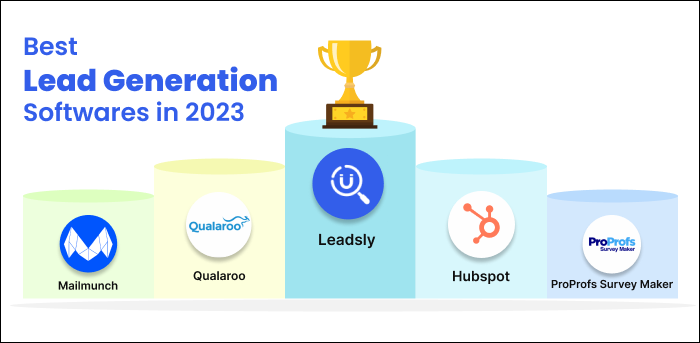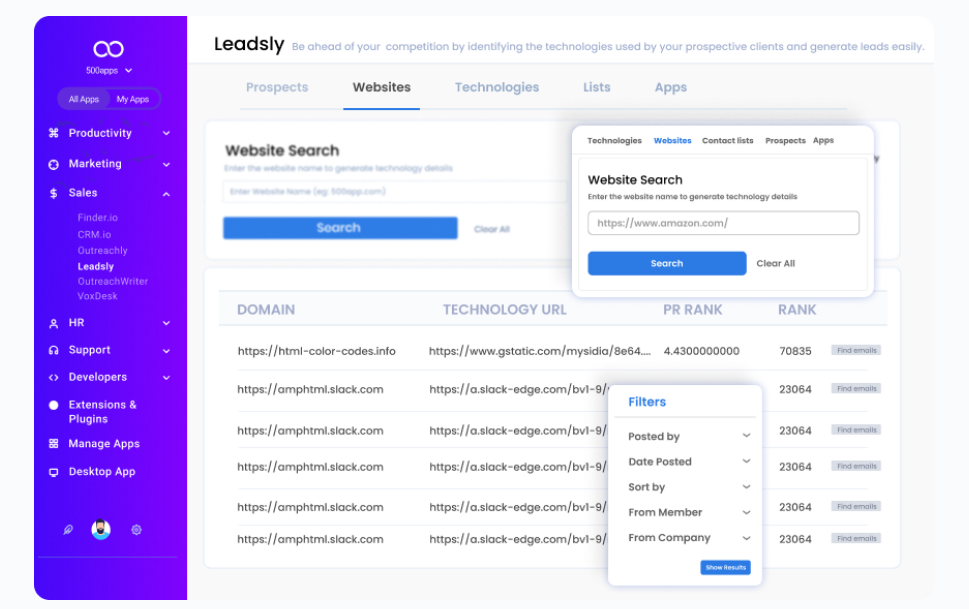 Leads are gathered from social media platforms including Facebook, Twitter, LinkedIn, and Google+ through a programme called Leadsly. It aids companies in increasing sales by connecting them with suitable clients who can buy their products or services.
Features
Search with Prospect: This helps you find the right people by looking through their social media profiles, email addresses found in publicly available documents, or phone numbers from the phone book.

Technology Search: You can use Technology Search to find the best companies and technological solutions for your business. You can search by industry among other options.

Linkedin Search: Using LinkedIn's search tool, you may find people and pages that have recently been looked up. This function would be beneficial if you want to increase traffic and brand recognition for your business.

Email Finder: The Email Finder option in Leadsly is one of the most useful features. You can use it to find out who has emailed your business and their email address.

Integrations: Most SaaS and CRM platforms can be integrated with Leadsly. You may easily link your leads into the lead management software you use, giving you access to all of your information in one location.
Qualaroo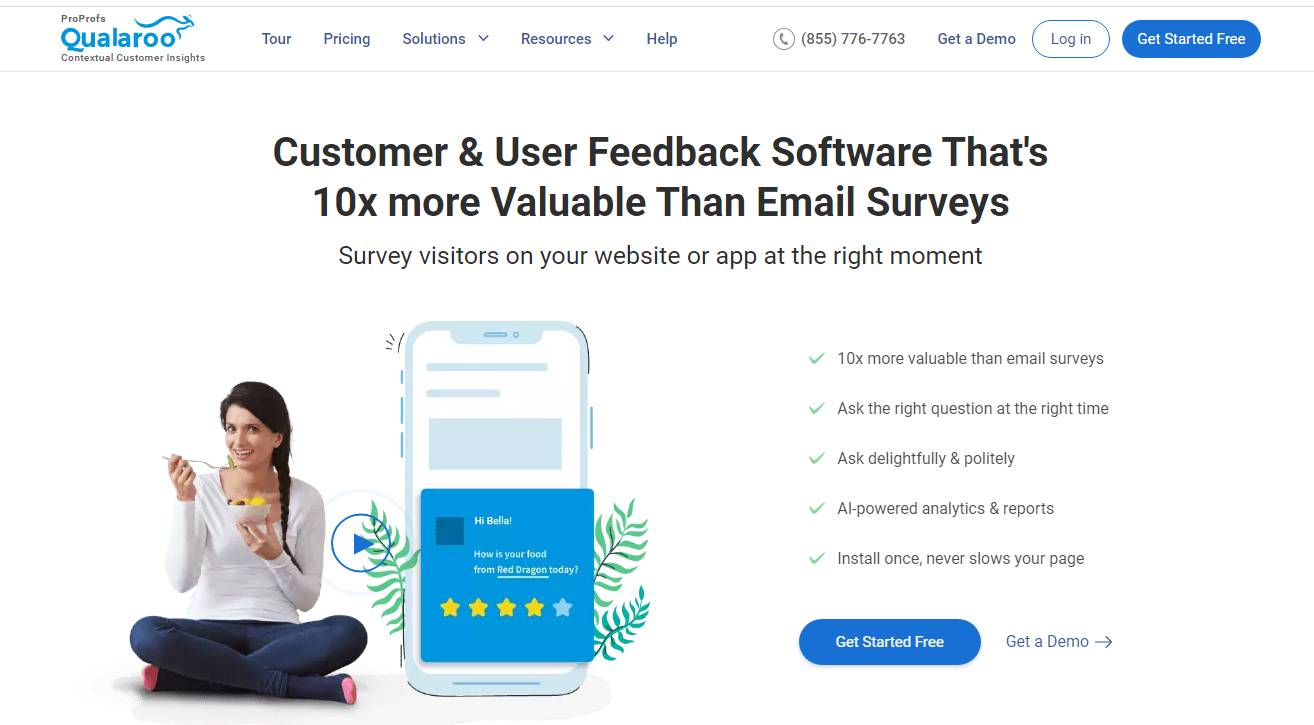 You can collect leads from website visitors with Qualaroo, an efficient lead creation platform. It is free to use, has a user-friendly interface for creating and organising surveys, and a number of tools to help you make the most of your surveys.
Features
Collect Leads From Your Website Visitors: To gather leads from website visitors, you can use Qualaroo to conduct surveys. You can create surveys that are launched in response to specific actions taken by website visitors, such as clicking a button or link or remaining on the page for a predetermined amount of time.

Easy-to-use Interface: With Qualaroo's user-friendly interface, creating and managing your surveys is simple.
HubSpot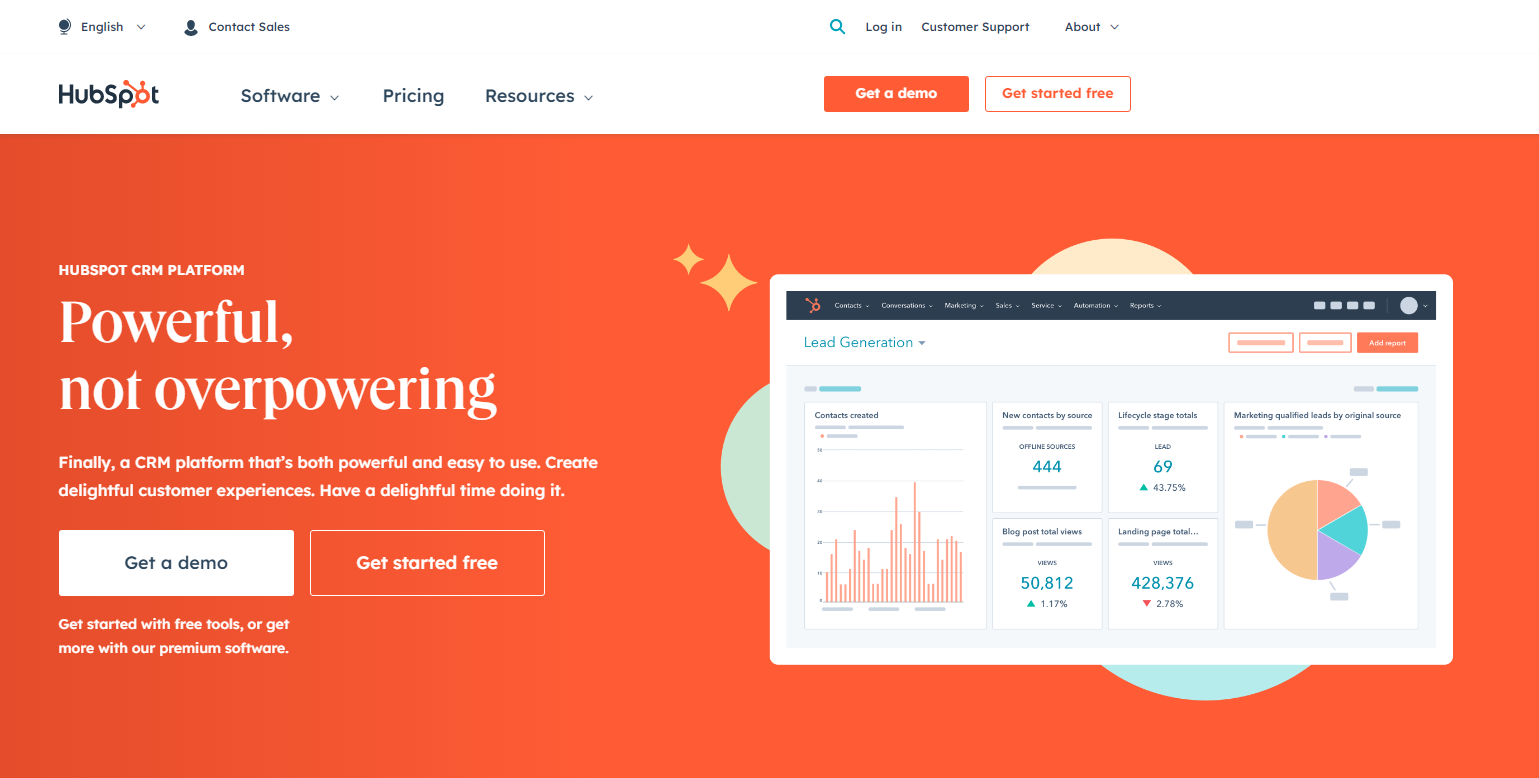 Businesses can generate leads from a variety of sources, including online forms, live chat, emails, and phone calls, using lead generation software. All of these features and more are powered by HubSpot's popular lead generation program.
Features
Lead Capture Forms: You can add several different, fully-customizable lead capture forms from HubSpot to your website.

Live Chat: You can have real-time conversations with website visitors using HubSpot's live chat function.

Email Marketing: HubSpot provides a range of email marketing solutions to help you nurture your prospects and convert them into customers.

Phone Calls: Using HubSpot's call tracking feature, you can determine which marketing campaigns are leading to phone calls.

Reporting: HubSpot's reporting tools let you discover more information about your leads.
Mailmunch
A lead generation tool called Mailmunch allows you to grow the number of leads and customers on your website faster. The simplest and most effective lead generation tool is Mailmunch.
Features
Opt-in Forms: Create compelling opt-in forms to collect leads.

Landing Pages: To convert more visitors into leads, design effective landing pages.

Exit Intent Popups: The moment a visitor is about to leave your site, capture the lead

Lead Magnets: provide lead magnets to entice users to fill out your form

Email Integration: To outset nurturing leads, sync your email marketing platform with it.
ProProfs Survey Maker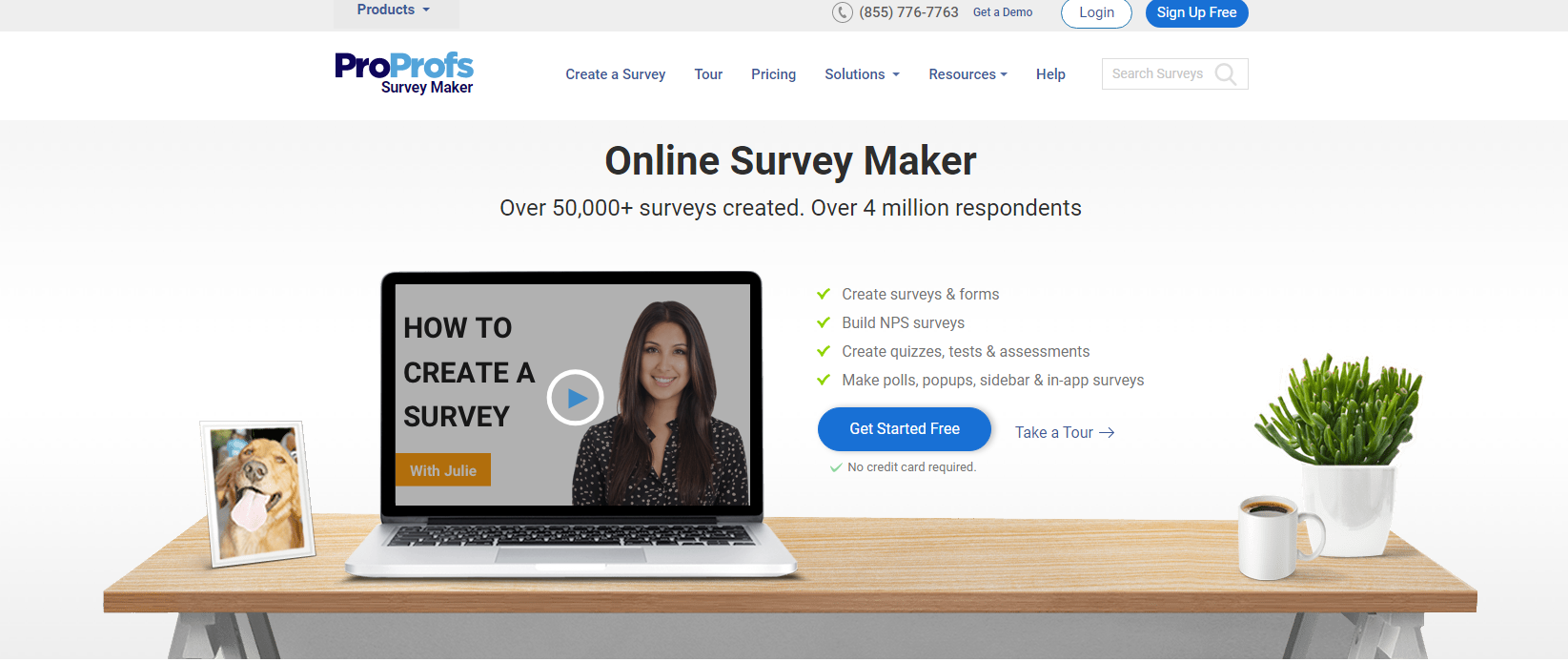 A powerful survey tool that simplifies the creation of surveys, quizzes, and polls is called ProProfs Survey Maker. You can get relevant information from your customers and leads with this tool, which will help you increase leads and sales.
Features
Easy to Use: You can add as many questions and answer options as you want when creating a survey. It's quick and easy.

Customizable: Surveys can be customized to reflect your brand and you can add rich media such as images, videos and other elements to make them more interesting.

Powerful Analysis: View your respondents' answers using ProProfs Survey Maker's robust data analysis.

Lead Generation: ProProfs Survey Maker can be used to produce leads.
OptinMonster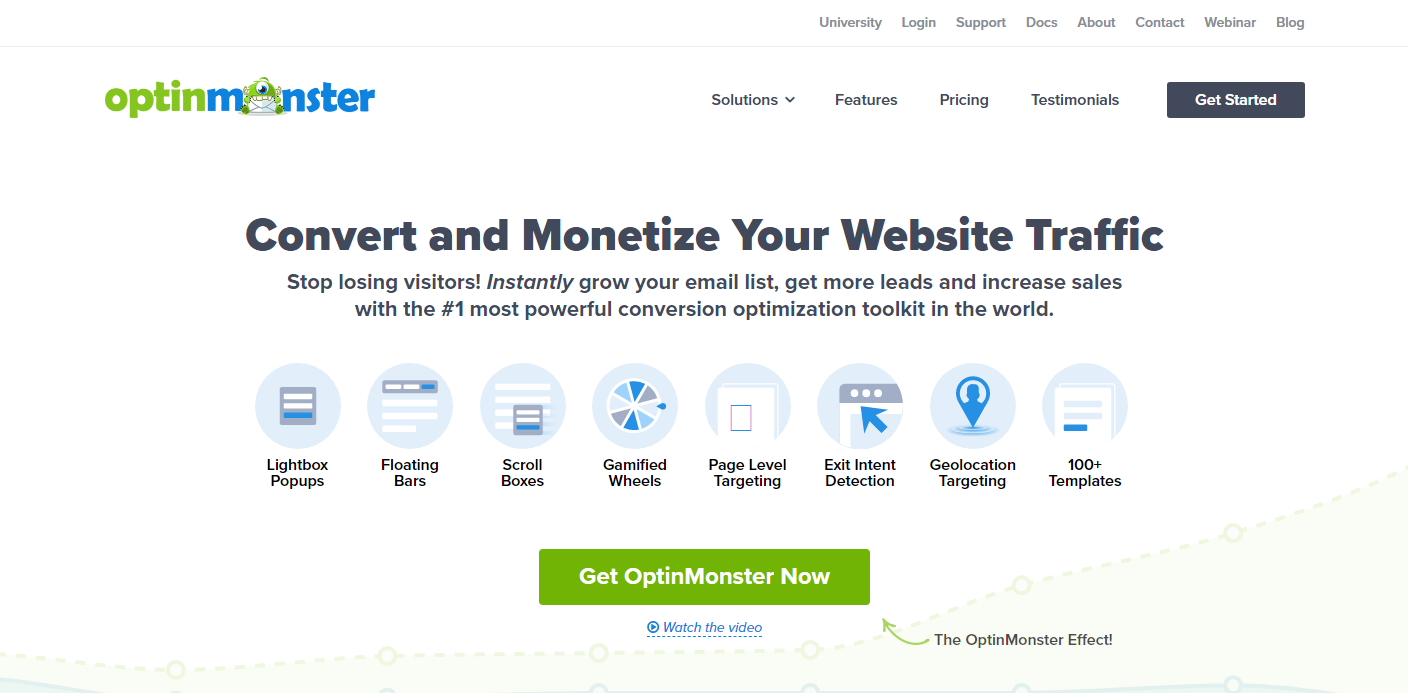 OptinMonster is a powerful lead generation tool that helps you design compelling opt-in forms and increase conversion rates. One of the most popular lead generation programs available is OptinMonster, which has many features.
Features
A/B Testing: You can split test your opt-in forms with OptinMonster to see which forms have the best layout.

Page Level Targeting: OptinMonster allows you to target specific pages of your website to display opt-in forms.

Exit Intent: OptinMonster uses Exit Intent technology to display opt-in forms to users who are leaving a website.

Behavioral Targeting: OptinMonster can be used to target users based on how they interact with your website.
Picreel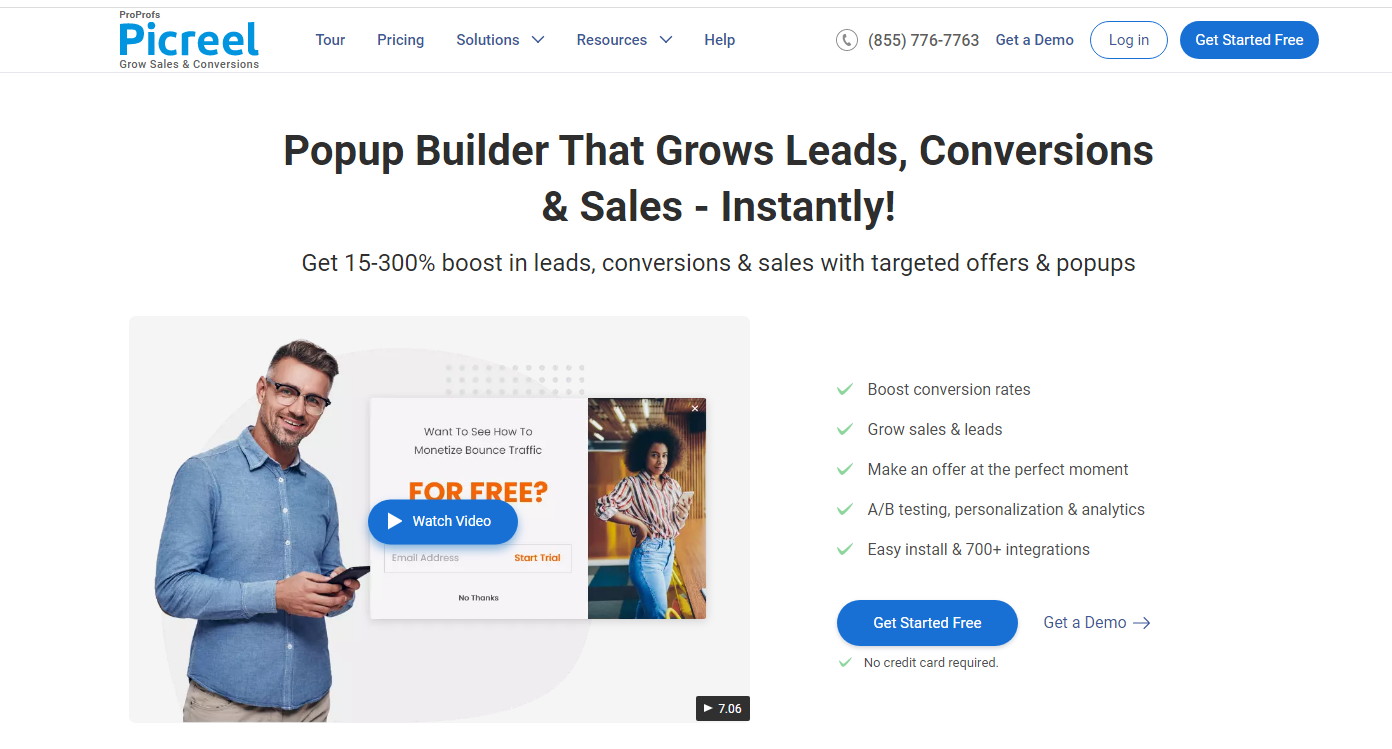 You can increase your lead generation with the help of Picreel. With Picreel, you can see lead generation tools like opt-ins, email autoresponders, and marketing automation.
Features
Evaluate and compare the results of your initiatives with convenient A/B testing options.

Perform a complete investigation of all your measurement data using the built-in reporting and analysis panel.

Drag and drop editor lets you create beautiful popups from scratch with custom fields.
TrustPulse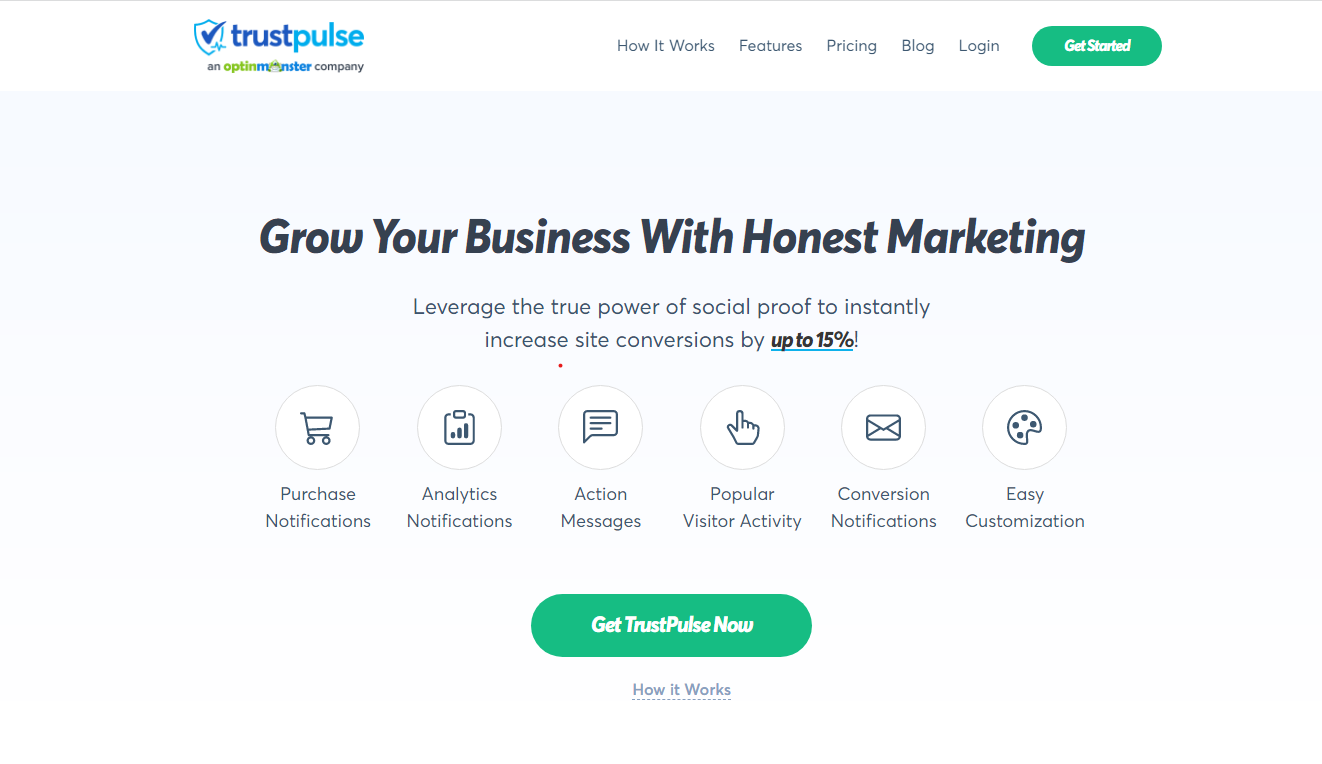 Build a database of people interested in your product or service with the TrustPulse lead generation tool. This database can be leveraged for niche content marketing and other lead generation initiatives.
Features
Create a targeted, time-sensitive campaign that appeals to the right demographic.

Collect phone numbers and email addresses to nurture your leads.

It's easy to export leads into applications like Salesforce or Mailchimp.
WPForms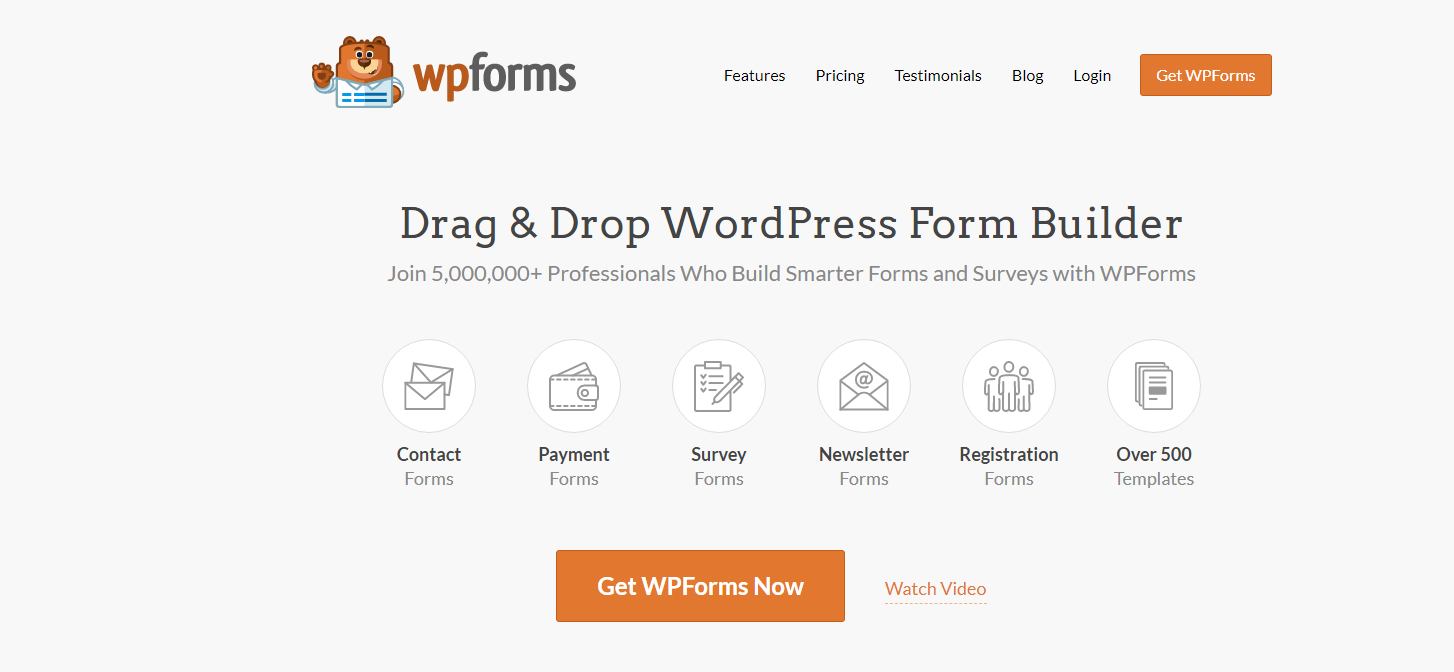 The lead generating platform WPForms allows you to create customised forms for your business. It is easy to use and offers several templates to get you going.
Features
Your website can have as many forms as you desire, and you can create them using a drag-and-drop interface (no coding required)

Have easy access to all of your leads' contact information, including name, email address, and phone number.

Your contact information can be downloaded as a CSV file or PDF.
Constant Contact

Constant Contact is a lead generation platform that helps businesses to collect, manage, and cultivate leads from a variety of sources. Businesses can use Constant Contact to add data to generate leads, import contacts from other systems, and create custom contact lists.
Features
Email templates that convert the leads you generate from the emails you send to subscribers and prospects.

A lead scoring system that lets you keep track of the level of interest your emails are attracting.

A funnels dashboard that shows the quantity of users who have opened emails, clicked on links, completed forms, and signed up for your newsletter.

Data reporting that shows you how effective your efforts are and how they compare to those of other companies in your sector.
Sendinblue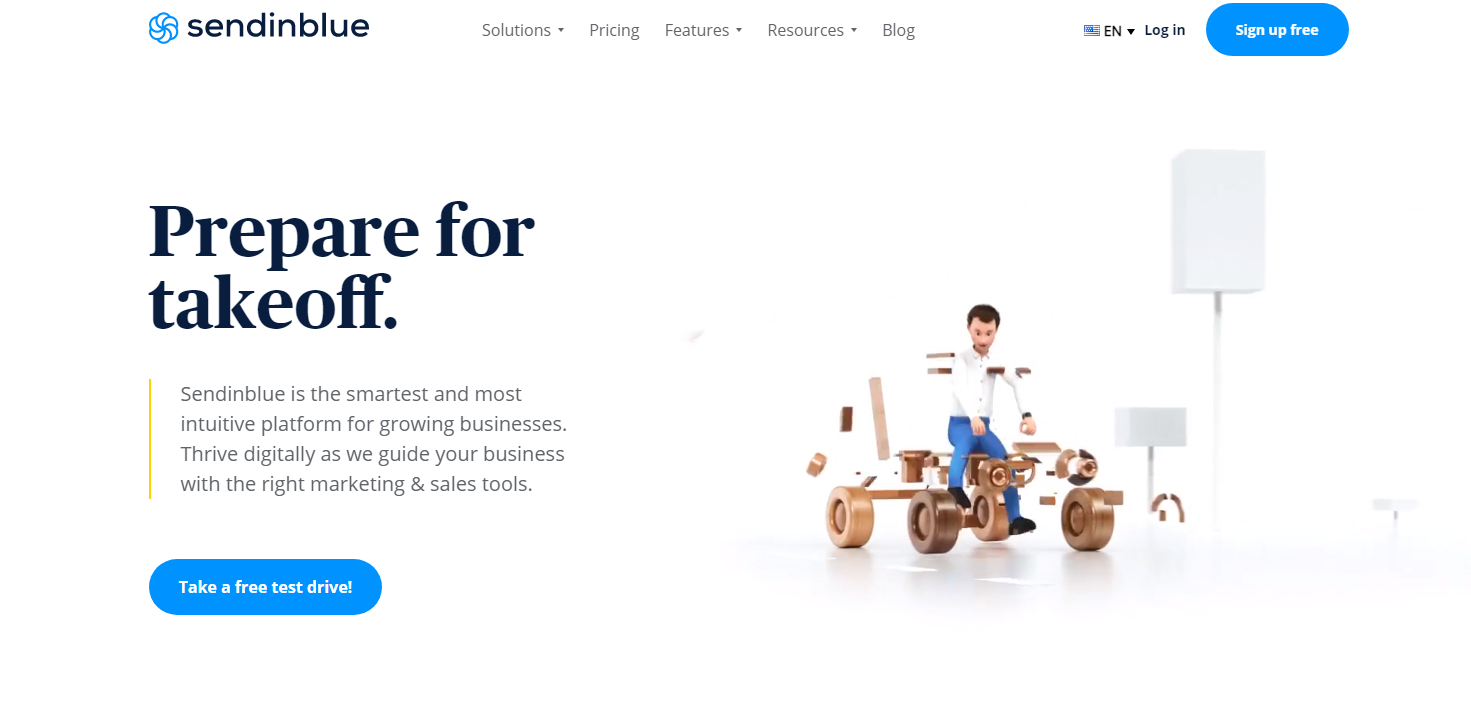 Sendinblue is the best platform in the world for producing B2B leads. Our programme assists you in quickly and effectively locating new customers by providing you with a powerful toolkit that enables you to search, qualify, and qualify prospects in minutes.
Features
For your business or product, create landing pages, and track conversions from both those pages and your email campaigns.

Importing leads into your CRM will help you maintain track of them.

Integrating Google Forms, MailChimp, and Slack with other programmes makes data collection simple.
ActiveCampaign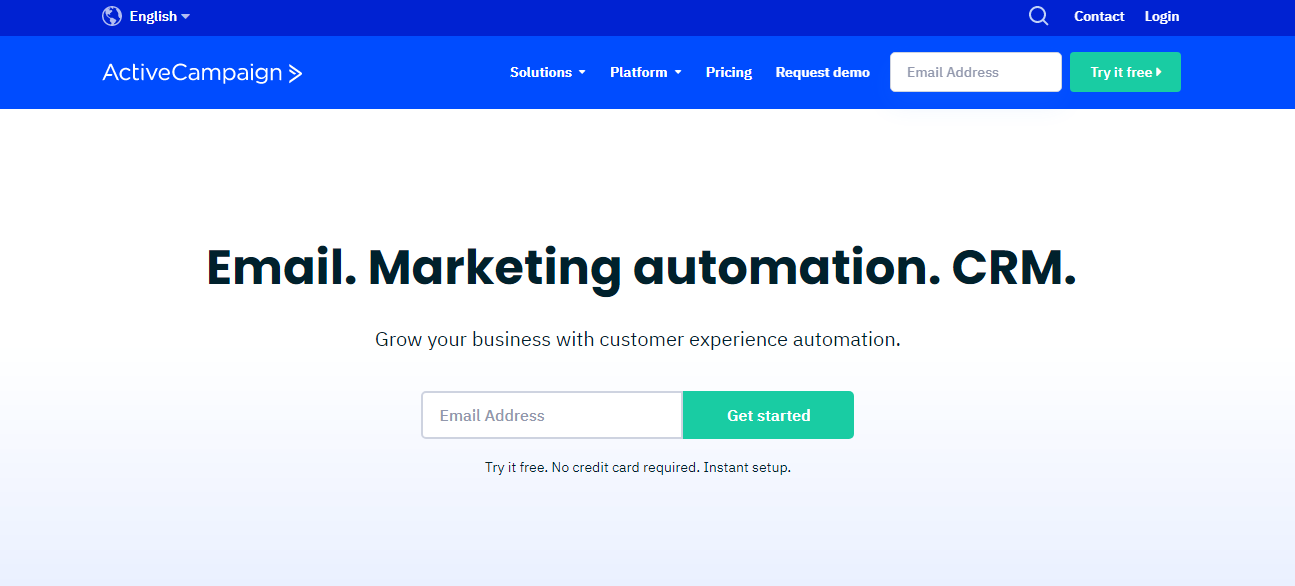 ActiveCampaign is a top provider of email marketing software for small businesses. It offers a complete set of tools that make managing email campaigns, nurturing leads, and generating sales simple.
Features
Collect leads from a variety of channels, such as your website, email, social media, and more.

To convert website visitors into paying customers, use a sales funnel.

To get the most out of your marketing budget, use lead generation solutions to aid you in obtaining the most qualified leads possible.

As soon as you can, create a lead capture form and add it to your website to start gathering leads.
AeroLeads

AeroLeads is a lead creation solution that allows you to instantly produce an infinite number of leads. Social media and email marketing enable you to communicate with your audience wherever they are.
Features:
Design specialised segments for the programme that are catered to your particular needs.

Ability to use up to 3 distinct data sources concurrently.

Quickly export all of your data to a spreadsheet or PDF document for future use.
Jotform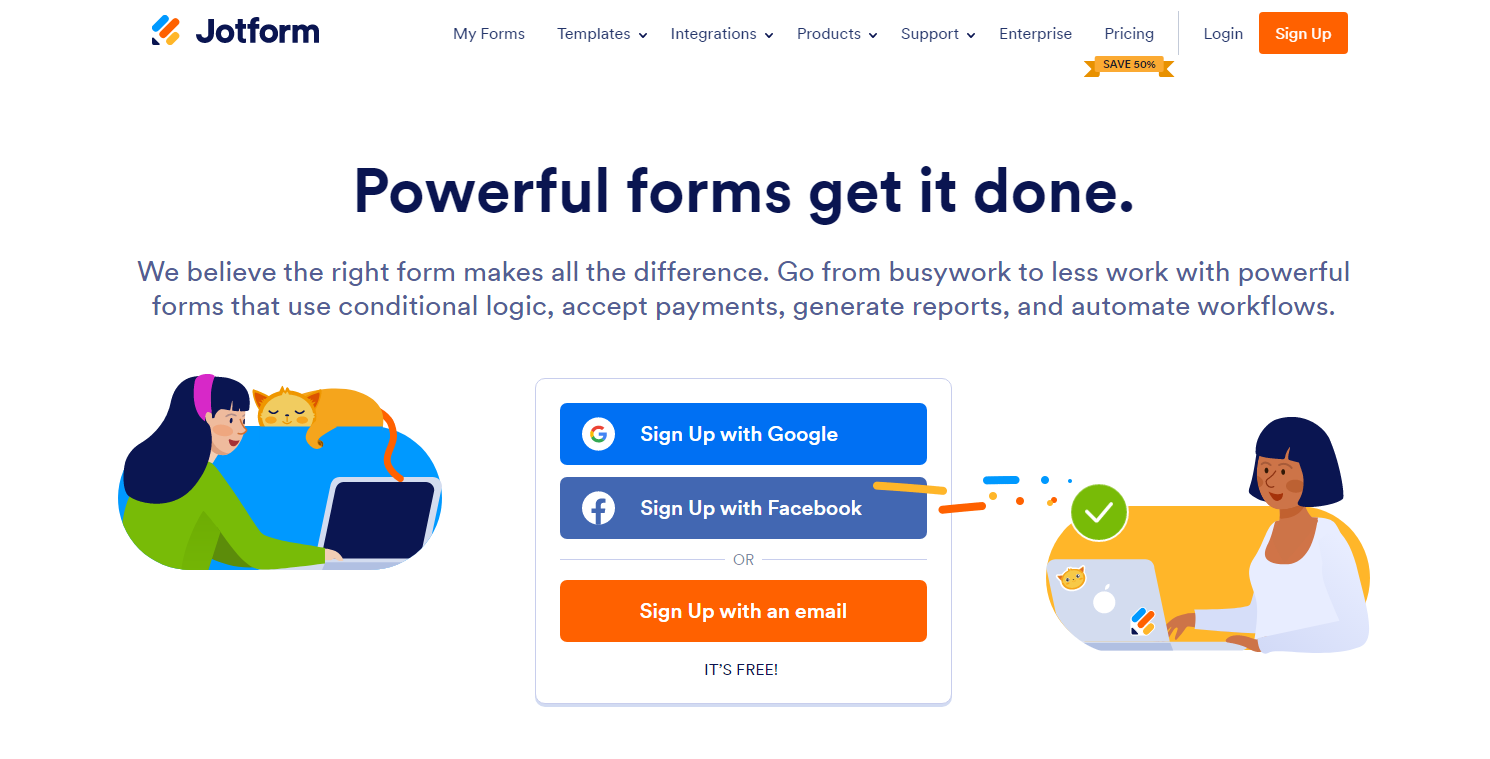 Businesses may create landing pages, polls, and quizzes to collect leads online using the lead-generation software platform Jotform.
Features
A customisable landing page that lets you put a tonne of contact information on one page.

A survey or questionnaire with options for each multiple-choice question.

A form that can be added as an embeddable widget to a website, blog, or social media profile.
Lusha
You may identify and qualify leads, manage your sales funnel, and automate the sales process with the help of a lead generation technology called Lusha.
Features
Lead sorting, scoring, and filtering to guarantee that you only get the best leads.

Updates in real time on qualifying leads

Applying keyword searches to discover the ideal prospect for any business or project

Employing Lusha to automate your sales process will free up your time to focus on closing business.
What's Next?
Having access to sales suite and lead generation software can be extremely advantageous for businesses. Sales suite provides the ability to monitor the sales process from start to finish, including creating sales orders, tracking delivery and invoicing. Lead generation software can assist in obtaining leads and managing customer relations. These two tools are critical for the success of any business. They can help companies to maximize their sales, manage customer relationships effectively, and deliver superior customer service.
Having all four suites – HR, Marketing, Support, and Sales – would be highly advantageous for businesses. HR suite can be used to recruit and manage personnel, the Marketing suite for marketing and building brand recognition, the Support suite for customer support and helpdesk services, and the Sales suite to facilitate the sales process. Having all of these suites in place can give businesses an advantage over the competition and ensure their operations are running efficiently.
Conclusion
500apps' lead generation software and the other 49 applications can help you to locate and connect with potential customers, which can lead to an increase in sales and revenue. All of these applications are available for only $15 per user and have a range of features to help you run and improve your business, from human resources, customer service, and marketing to productivity. With these tools, you can expand your business and increase your success and income.
Why Choose 500apps?
#1
All-in-One Suite with more than 50 apps
#2
Everything you need today and in the future for all departments
#3
Unbelievable value - the lowest pricing you will ever find
#4
Hosted in 6 locations for compliance and blazing speeds
#5
24/5 Support - FREE chat, email and phone
#6
Uncapped features - limits you will never reach humanly
#7
Managed and maintained everyday by a dedicated team
#8
No downtime - comes with a 99.9% uptime guarantee
#9
Supports a number of international languages
#10
We've everything covered - 90k+ trust us with their business
Join the SaaS Revolution
All-in-One Suite of 50 apps

Unbelievable pricing - $14.99/user

24/5 Chat, Phone and Email Support