9 Best Digital Signature Maker Tools In 2023
The world of digital signatures is rapidly changing, and staying up-to-date on the top tools can be a daunting task. It's important to choose the best digital signature maker for your needs so that you're comfortable and secure with the documents you create and sign electronically. To help narrow down your search, we've compiled our list of the 9 Best Digital Signature Maker Tools in 2023.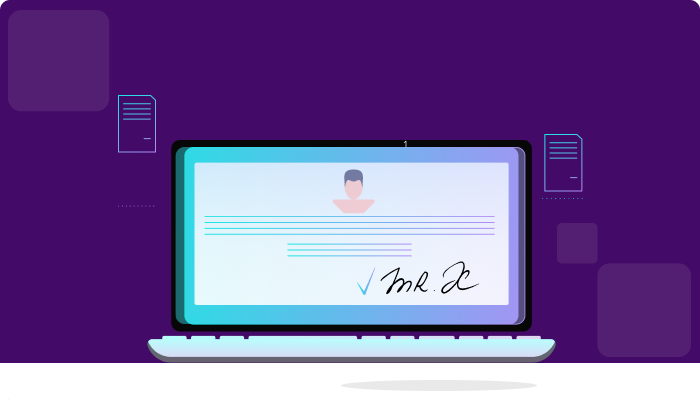 Our selection criteria included features such as security protocols, ease of use, compatibility with multiple platforms, cost, customer service ratings and more. Each tool was evaluated against these criteria to determine which ones stand out from the rest. We also conducted an extensive review process to ensure accuracy and quality assurance when selecting each product.
What Is a Digital Signature and Its Functioning?
A digital signature is an electronic form of authentication that allows a user to verify the validity and authenticity of any document. It functions as a type of seal or mark, typically in the form of a cryptographically secure hash algorithm like SHA-256 or MD5, which can be attached to any document or record. This ensures that no one else can access or modify it without being detected.
Online signature maker tools are becoming increasingly popular due to their convenience and affordability when compared to traditional methods. With online signature makers, users can quickly create legally binding signatures for documents such as contracts, tax forms, invoices, legal notices and more - all from the comfort of their own homes. These services also provide features like digital signature PDFs and software solutions allowing you to sign files digitally with just a few clicks securely.
Overall, digital signatures offer many advantages over manual signing processes, including increased security, improved accuracy and cost savings on paper costs associated with printing out paperwork. They also make life easier by eliminating much of the hassle involved in preparing documents for signing and providing greater flexibility when dealing with multiple parties who need access to signed documents at different times.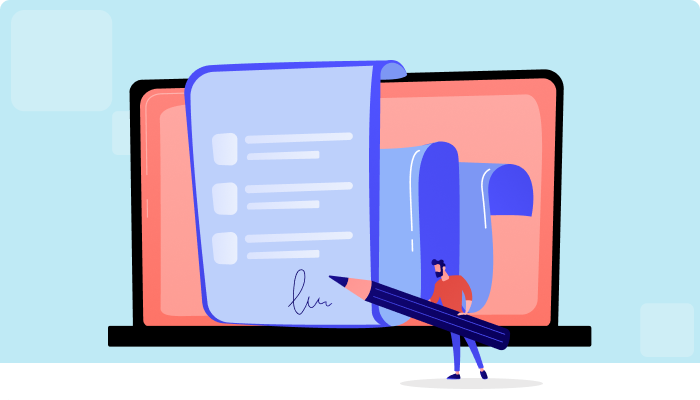 Advantages of Implementing Digital Signatures in Document Signing
Using digital signatures in document signing is a great way to streamline the process and make it more secure. The advantages of using digital signature makers like sign.cc are plentiful, allowing for quicker turnaround times on tasks, increased security when transferring data, and improved overall productivity. Here are some main advantages:
Convenience: Quickly create electronic signatures without specialized software or hardware.
Security: Multiple layers of encryption and audit trails to track access.
Cost savings: No need to print and mail documents, thus reducing associated costs.
Digital signature solutions such as sign.cc have revolutionized how we collaborate remotely by simplifying the entire process, even eliminating physical paperwork altogether if desired! This has resulted in greater efficiency across teams resulting in faster turnarounds on projects, higher job satisfaction among employees due to reduced manual labour requirements, and lowered overhead expenses related to printings costs & postage fees traditionally needed when sending documents through traditional mail services like FedEx/UPS etc.
9 Best Digital Signature Maker Tools in 2023
In the digital age, businesses increasingly turn to online signature maker tools to streamline their document signing process. As technology advances, so do these types of applications - making it easier for companies to manage and sign documents remotely securely. In this article, we'll take a look at some of the best digital signature maker tools available in 2023.
TIP: When selecting a digital signature maker tool, make sure it meets all your specific needs, such as providing secure storage options, easy integration with existing systems and comprehensive customer support services so you can rest assured knowing that your sensitive information is safe and sound!
Adobe Sign
Adobe Sign is a versatile digital signature maker tool for businesses and individuals in 2023. It offers an array of features that make it easy to authenticate documents with legally binding electronic signatures. Its user-friendly interface lets you quickly create secure digital signatures from any device. Plus, its integration capabilities enable the use of multiple applications at once, allowing users to sign contracts and agreements faster than ever before.
What really sets Adobe Sign apart is its ability to automate document workflow processes. This means you don't have to review or approve each transaction manually; instead, the system will automatically verify data accuracy without requiring manual input. And if there's an issue, it'll alert you so that adjustments can be made accordingly. In addition, Adobe Sign allows users to track signing progress in real-time, thus avoiding delays due to lost paperwork or forgotten emails.
DocuSign
Docusign is a popular digital signature maker tool in 2023. It allows users to easily create, manage and send legally binding documents. The platform offers multiple features such as integration with other applications, secure document signing, customizable branding options, automated reminders for signers and more.
The biggest advantage of using Docusign is that it helps to save time when creating or sending legal documents, as the entire process can be done quickly and efficiently from one location. Additionally, its security measures are top-notch, meaning your documents will always be safe. Furthermore, you don't need specialized knowledge or skills to use this service – anyone can get started immediately!
Zoho Sign
When it comes to digital signature maker tools, there's plenty of options. One tool that stands out is Zoho Sign. It makes creating and managing digital signatures easy for businesses of all sizes.
Zoho Sign offers a comprehensive suite of features that make the process effortless. You can create documents for signing, add fields for collecting data, embed images or videos in the document, and even use templates to fill out forms with pre-defined content quickly. Plus, you get access to powerful analytics that help you understand how your customers interact with your documents.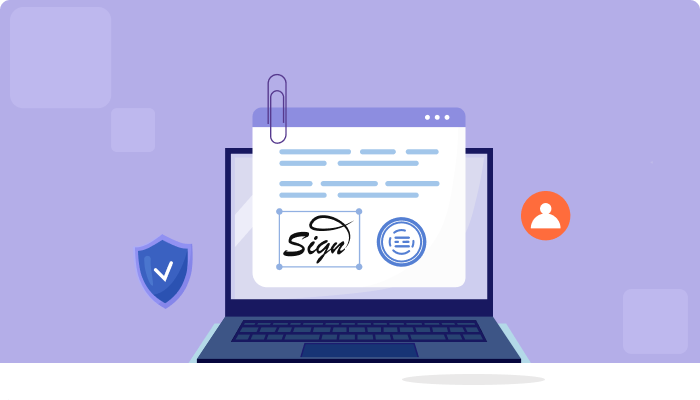 Pandadoc
Pandadoc is a digital signature maker tool that offers an array of features. It's easy to set up and use, with its intuitive interface. Plus, it gives businesses the ability to customize their documents quickly and easily.
The document automation capabilities allow users to create personalized contracts in minutes. And because PandaDoc integrates with other apps like Gmail, Salesforce and Zoho Sign, companies can get more done faster. Additionally, it includes eSignature tools so you don't need any additional software for signing documents securely.
Signeasy
SignEasy is an excellent digital signature maker tool to use in 2023. It has a user-friendly interface that makes it easy to create, store and send electronic signatures from any device. Here are three reasons why SignEasy is the perfect choice for all your digital signature needs:
SignEasy lets you track document activity, so you know when each person has viewed or signed the document. With this feature, you'll always be able to keep tabs on who's accessed what information at any given time. Plus, its customer service team provides prompt assistance should you need help setting up your account or navigating the platform's features.
For these reasons alone, it's no surprise that many businesses turn to SignEasy as their go-to digital signature maker tool in 2023. Its comprehensive suite of features provides peace of mind knowing that your data remains safe and compliant at all times.
Hellosign
Hellosign is a powerful digital signature maker tool, making it easy to get documents signed quickly and securely. It offers templates, automatic reminders, integrations with third-party software, and more. With Hellosign, users can create legally binding electronic signatures that are accepted in over 180 countries worldwide. Users can also add an extra security layer by signing their document with a PIN code or biometric authentication like facial recognition or fingerprint scanning.
Hellosign also makes it simple to sign documents from any device, laptop, tablet or smartphone. And since all data is stored in the cloud backup system, users don't need to worry about losing important documents due to hardware failure or malicious attacks. Plus its user-friendly interface means anyone can use this service without having any technical knowledge whatsoever.
What's more, Hellosign allows for multiple signers per document and provides real-time analytics so you can easily track who has seen your document and when they've completed the signing process. All these features make Hellosign a great choice for businesses looking for reliable and secure digital signature solutions in 2023.
Assuresign
Assuresign is an ideal digital signature maker for businesses in 2023. It offers a range of features, such as templates and automated workflows to streamline the signing process. Plus, it's cloud-based solution helps users save time by digitally signing documents from anywhere with any device connected to the internet.
What sets Assuresign apart from other tools is its advanced authentication methods. Users can choose between biometric factors, like fingerprints or facial recognition scans, as well as email and SMS verification layers that provide extra security when signing documents online. This means you can be sure your signatures are legally binding and secure.
Eversign
Eversign is a powerful digital signature maker tool that offers users an easy, secure, legally-binding way to sign documents. It can save time on tedious administrative tasks with no hassle. Eversign enables you to manage document workflows from anywhere in the world and send out documents for signing digitally.
This platform also allows users to track their sent documents' status quickly and effortlessly. With custom branding tools, businesses can ensure that all their documents are properly branded. Additionally, eversign's advanced security measures ensure data privacy and integrity when sharing sensitive information online.
Rightsignature
RightSignature is a great digital signature maker tool. It allows users to sign documents electronically, quickly and securely. The software has been designed with the utmost security in mind; all signatures are encrypted using 256-bit SSL encryption technology. RightSignature also offers an intuitive interface which makes it easy for users to create digital signatures on any device.
The features of RightSignature make it stand out from other tools on the market. Its main feature is its ability to automatically store signed documents, making them easier to find later on. Additionally, RightSignature's drag-and-drop feature makes document signing much faster than traditional methods. Furthermore, this tool can be used anywhere - from your computer at home or office to tablets and smartphones when you're on the go!
Keepsolid Sign
KeepSolid Sign is an efficient digital signature-maker tool that empowers businesses to streamline their signing processes. It offers a comprehensive solution for securely managing your documents, contracts and forms. With its easy-to-use interface, you can easily create legally binding electronic signatures in minutes, allowing users to sign agreements remotely without having to print them out and scan them back in. Here are the three key features of KeepSolid Sign:
User authentication: This feature allows organizations to verify user identities with secure two-factor authentication methods like SMS, call or email.
Advanced document security: KeepSolid Sign supports rest encryption and advanced data protection policies such as password-protected documents, time limits and IP address restrictions.
Document tracking: Users can track the progress of their documents from start to finish with real-time status updates on who has signed the agreement and when they have done so.
Sign.cc
Sign.cc is a digital signature maker tool that allows users to easily create and send documents for signing in just a few simple steps. It's easy enough for anyone to use, but has plenty of features to meet the needs of more experienced professionals. This makes it an ideal choice for companies looking for an effective way to manage their contracts electronically.
Here are some reasons why sign.cc stands out from other digital signature tools:
Utilizes advanced encryption technology: All data sent through Sign.cc is encrypted and secure, so you can be sure your sensitive information is safe when transferring documents online.
Offers flexible customization options: You can customize the look and feel of your documents, such as adding logos or fonts, making them personalizable according to each client's preference.
Easy document tracking: The platform offers automatic notifications whenever someone signs or views a document, helping you keep track without having to check up on things manually constantly.
Built-in integrations: Sign.cc integrates seamlessly with popular apps like Dropbox and Google Drive, allowing you to access files right when you need them quickly.
Overall, sign.cc is an excellent choice if you're searching for reliable and secure digital signature solutions that make managing electronic contracts effortless and efficient. Its intuitive interface allows even novice users to start creating signatures within minutes while its range of powerful features ensure businesses have all the resources they require to stay organized and compliant.
Get started with the leading Digital Signature Maker today! Sign Up 14 Day Trial
Conclusion
The use of digital signatures in document signing is becoming increasingly popular as businesses realize the cost and time savings it can provide. With so many tools available, you can find one that fits your business needs. The nine best digital signature maker tools listed here are all great options for 2023: Adobe Sign; DocuSign; eversign; RightSignature; KeepSolid Sign; and Sign.cc.
Each tool offers different features and benefits that make it suitable for various types of users and organizations. Most offer simple setup processes with no technical knowledge required, allowing any user to get started using the service quickly. They also provide secure encryption protocols to protect sensitive information while still enabling quick communication between parties involved in the transaction.
By utilizing a digital signature maker tool such as those mentioned above, businesses can save significant amounts of both time and money compared with traditional paper-based methods of document signing. As technology continues to change and evolve, these technologies should continue to become more widely adopted by companies worldwide.
Why Choose 500apps?
#1
All-in-One Suite with more than 50 apps
#2
Everything you need today and in the future for all departments
#3
Unbelievable value - the lowest pricing you will ever find
#4
Hosted in 6 locations for compliance and blazing speeds
#5
24/5 Support - FREE chat, email and phone
#6
Uncapped features - limits you will never reach humanly
#7
Managed and maintained everyday by a dedicated team
#8
No downtime - comes with a 99.9% uptime guarantee
#9
Supports a number of international languages
#10
We've everything covered - 90k+ trust us with their business
Join the SaaS Revolution
All-in-One Suite of 50 apps

Unbelievable pricing - $14.99/user

24/5 Chat, Phone and Email Support