Best Video Interview Software for Your Business in 2023
Communication involves interviewing people, but it's often a tedious and slow process. By using InterviewStream, the interviewing process becomes quick & easy.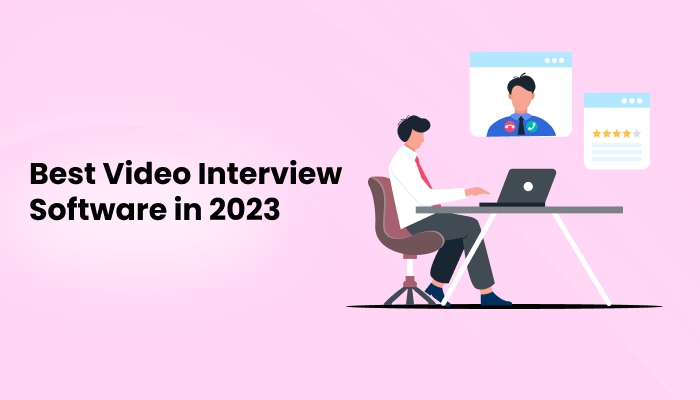 Video interview software has become a popular tool for employers and recruiters over the last decade, as it has allowed companies to conduct job interviews quickly and conveniently. The evolution of video interview software has been driven by advances in technology and changes in the labor market, as employers have sought to reduce the time and cost associated with face-to-face interviews.
In the early days of video interviews, employers and recruiters relied on basic software such as Skype and Google Hangouts to facilitate the process. However, these platforms lacked the features necessary to make video interviews a truly viable option. As technology advanced, so too did the sophistication of the software, with platforms such as Zoom and Webex offering more advanced features such as adjustable video angles, audio quality control, and the ability to record interviews.
The global market for video interview software has grown significantly over the past decade. According to a report by Grand View Research, the market was valued at USD 2.5 billion in 2020 and is expected to reach USD 8.5 billion by 2027, registering a compound annual growth rate of 16.9%. This growth is largely driven by the increasing popularity of video interviews among employers, as well as the development of more sophisticated software to meet the changing needs of the labor market.
The popularity of video interviews is expected to continue to grow in the years to come, as employers look for more efficient ways to recruit and hire the best talent. The global market for video interview software is set to remain a lucrative and rapidly growing sector, as companies continue to invest in technology to improve their recruitment processes.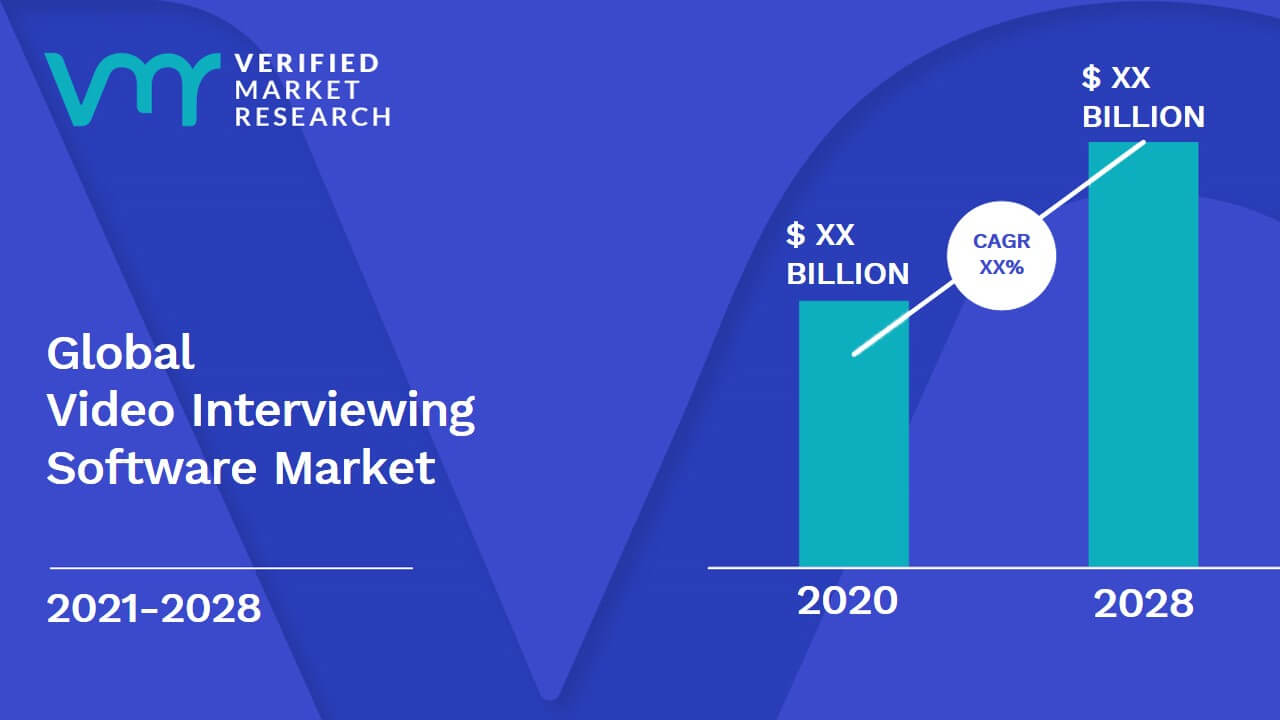 Advantages of Video Interview Software
Cost Savings: Video interview software can help companies save money by reducing the cost of travel to and from interviews. This can be especially helpful for companies with multiple locations or those that are hiring remotely.

Flexibility: Video interviews offer a great deal of flexibility. Candidates can take interviews from anywhere with an internet connection. This can make it easier to accommodate candidates who have busy schedules or live in different time zones.

Screening Efficiency: Video interviews allow recruiters to screen more candidates in less time. This can be especially helpful when a company needs to fill a position quickly.

Improved Candidate Experience: Video interviews can provide candidates with a more efficient and enjoyable interview experience. Candidates can take the interview from the comfort of their own homes and don't have to worry about the stress of traveling to a physical location.

Performance Data: Video interviews can provide recruiters with valuable insight into how a candidate performs under pressure. This can help recruiters make more informed hiring decisions.
List of Top 11 Video Interview Software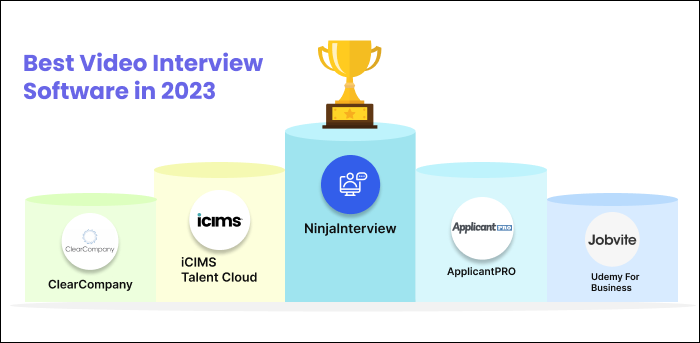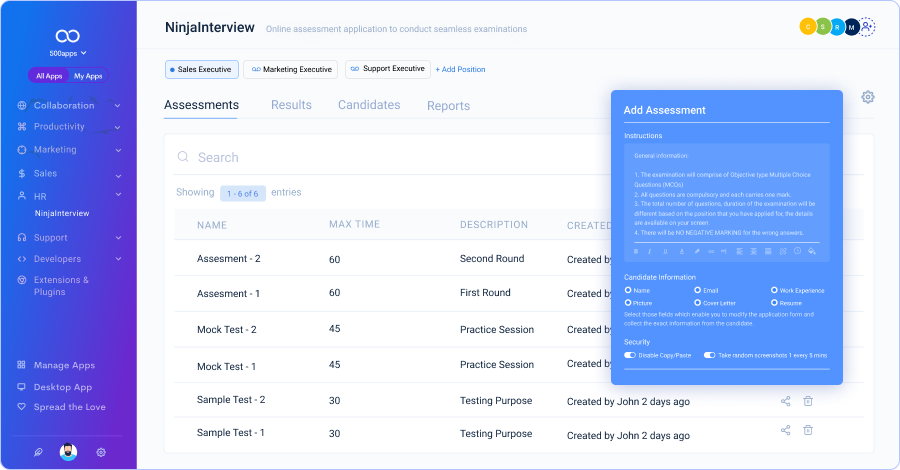 The video interview software NinjaInterview is a powerful online interviewing tool that helps recruiters and hiring managers to find the right job candidates quickly and easily. With NinjaInterview, recruiters are able to ask questions, record interviews, and review responses all from one platform.
Features
Video Assessments Create accessible video assessments to evaluate efficient candidates. Leverage the latest video technology to conduct high-quality remote interviews at any time.
Coding Assessments Code assessments are an excellent approach to swiftly measure the abilities of programmers. You can prepare a new set of questions or pick from the pre-existing questionnaire.
Candidate Management Enhance your screening and qualifying processes by consistently assessing applicants' skills and managing candidates for available job positions more efficiently.
Online Aptitude Testing Create online aptitude assessments that help you shortlist suitable candidates for selection and then easily track their performance to see if they meet or exceed expectations.
Assessment Management Assess the candidate's intellectual strengths and weaknesses to generate qualified candidates.
Automatic Grading Automate the evaluation procedure to speed up the hiring process. Let NinjaInterview grade the candidate assessment based on your regulations.
iCIMS Talent Cloud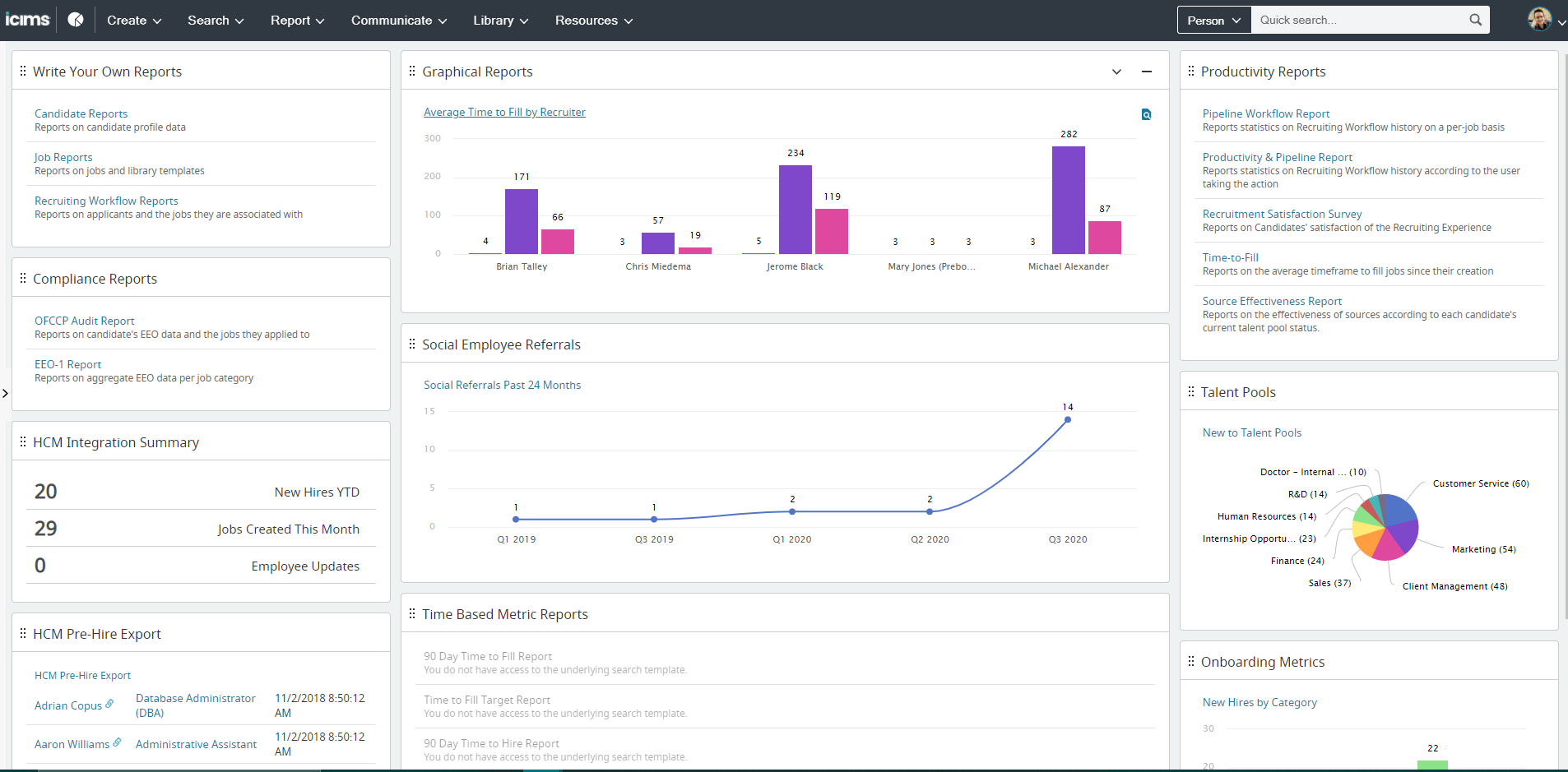 Ensure a seamless candidate experience from beginning to end by using a single recruitment platform. For your hiring life cycle, iCIMS provides best-in-class recruitment products that may be purchased separately or as a part of a single talent cloud platform.
Features
AI-Powered Recruiting: iCIMS Talent Cloud utilizes artificial intelligence to simplify the recruiting process and make it easier to identify top candidates. AI-powered features such as job-matching and automated resume screening enable recruiters to quickly and accurately identify the best candidates for a role.

Integrated Recruiting Platform: iCIMS Talent Cloud provides a unified platform for all recruitment activities, including job postings, candidate tracking, and onboarding. This integrated platform streamlines the entire recruitment process, making it easier for organizations to quickly find and hire the right talent.

Comprehensive Talent Database: iCIMS Talent Cloud offers an extensive database of candidates, allowing recruiters to quickly find and access the best talent. The platform also offers advanced search capabilities, allowing recruiters to find specific candidates based on skills, experience, and other criteria.

Social Recruiting Tools: iCIMS Talent Cloud offers powerful social recruiting tools, including social media job postings and integrations with popular social networks. These tools enable recruiters to easily find candidates on social media and engage with them directly.

Automated Onboarding: iCIMS Talent Cloud automates the onboarding process, streamlining it and reducing the amount of time required to bring new employees up to speed. Automated onboarding tools such as document management, compliance tracking, and employee self-service portals help organizations quickly and easily onboard new hires.
ApplicantPRO

A cloud-based applicant tracking system (ATS) called ApplicantPRO by JobMatch is made for small- to medium-sized businesses that are trying to adhere to EEO/AA and OFCCP regulations. Organizations in any sector, including property management, manufacturing, education, the food, and beverage industry, and more, can use its interface.
Features
Automated Job Postings: ApplicantPRO allows you to easily post jobs on popular job boards. This helps you reach more potential applicants, increasing your chances of finding the right fit.

Applicant Tracking: This feature allows you to track applicants throughout the recruitment process. You can track their progress, review their resumes, and manage their applications.

Resume Parsing: This feature automatically parses resumes and extracts important information, such as job titles, skills, and experience. This helps you quickly identify the best candidates for the job.

Interview Scheduling: You can set up interviews with candidates directly through the applicant. This saves time and ensures that you can quickly get the interviews scheduled.

Customizable Reports: ApplicantPRO provides you with customizable reports that provide insights into your recruitment process. With these reports, you can track the performance of your recruitment strategy.

Candidate Engagement: ApplicantPRO offers several ways to engage with your candidates, including email campaigns and SMS messages. This helps you keep in touch with applicants and stay top of mind.
ClearCompany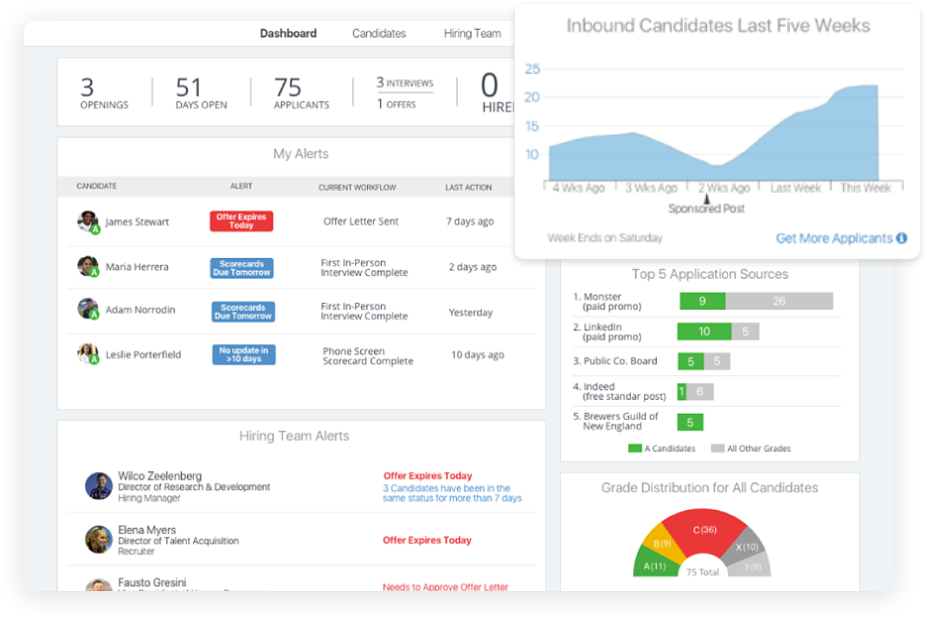 ClearCompany is an all-in-one HR, talent, and performance management platform designed to help businesses of any size optimize their recruitment, onboarding, performance, and development process. It is an intuitive, easy-to-use solution that helps companies increase employee engagement and maximize ROI.
Features
Applicant Tracking and Recruiting: ClearCompany provides an automated recruiting and applicant tracking system that streamlines the process of sourcing, screening, and onboarding new hires. It also offers automated job posting and custom job boards, as well as a powerful search tool to quickly find the right candidate.

Onboarding: ClearCompany's onboarding feature helps to quickly and easily onboard new hires, allowing companies to save time and money on training and onboarding costs. It includes automated onboarding tasks, employee onboarding checklists, and custom forms.

Performance Management: ClearCompany's performance management suite helps to track and measure employee performance. It includes customizable performance reviews and feedback forms, as well as a goal-setting module to help employees stay focused on their objectives.

Learning and Development: ClearCompany's learning and development suite provide comprehensive training and development resources for employees. It includes a library of online courses, as well as a library of assessments to help measure employee engagement and performance.

Analytics and Insights: ClearCompany's analytics and insights feature help to track and measure employee performance across multiple metrics. It also provides real-time insights into employee engagement, allowing companies to make smarter decisions and boost their ROI.
Jobvite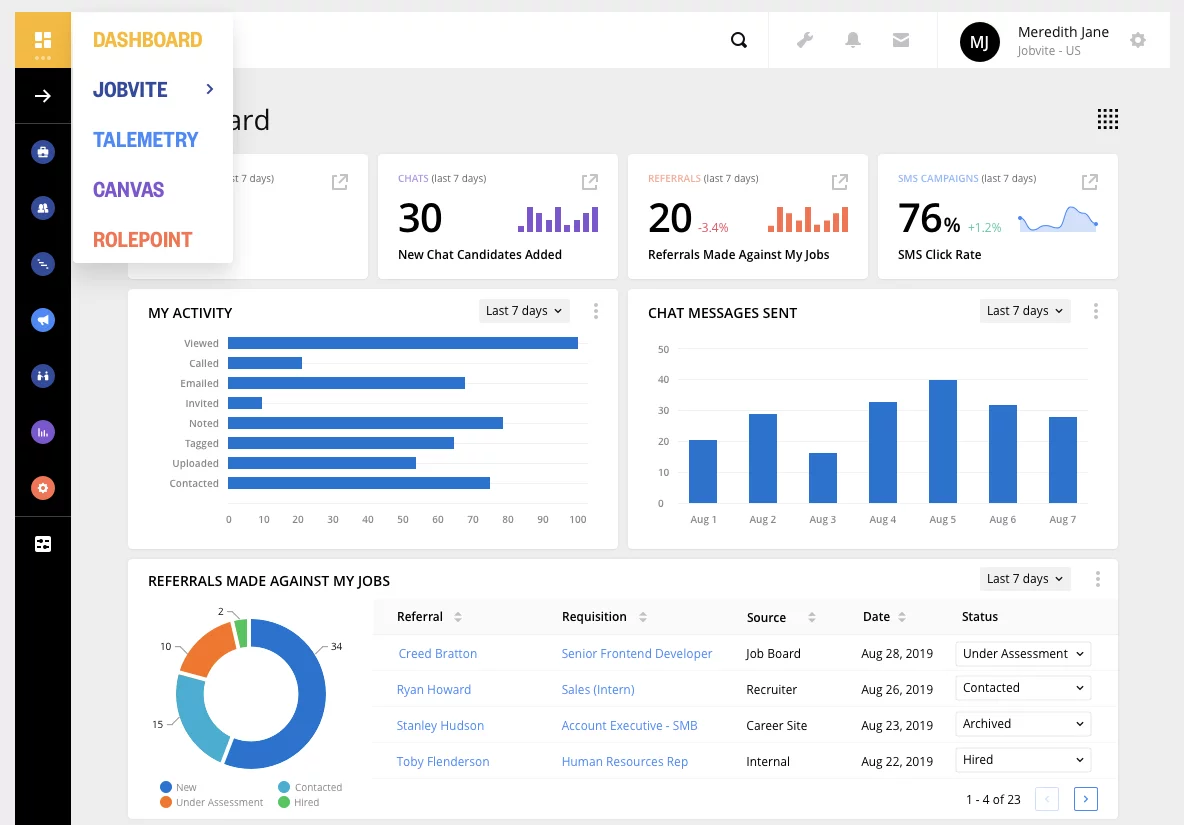 Jobvite is the leading cloud-based recruiting platform designed to help you hire smarter, faster, and better. The platform offers a wide range of features to make the hiring process more effective and efficient.
Features
Applicant Tracking System (ATS): Automatically track and manage your candidates throughout the entire hiring process, from sourcing to onboarding.

Automated Workflows: Streamline your hiring process with customizable workflows that automatically send notifications and reminders.

Job Advertising: Reach more qualified candidates by advertising your job postings on over 100 job boards and social networks.

Candidate Screening: Use our automated screening tools to quickly evaluate candidates and identify the most qualified individuals.

Video Interviewing: Connect with candidates quickly and easily using our integrated video interviewing platform.

Comprehensive Analytics: Gain insights into your recruiting efforts with detailed data and analytics.

Mobile-Friendly: Make it easier for job seekers to apply by using our mobile-friendly job postings and applications.
VidCruiter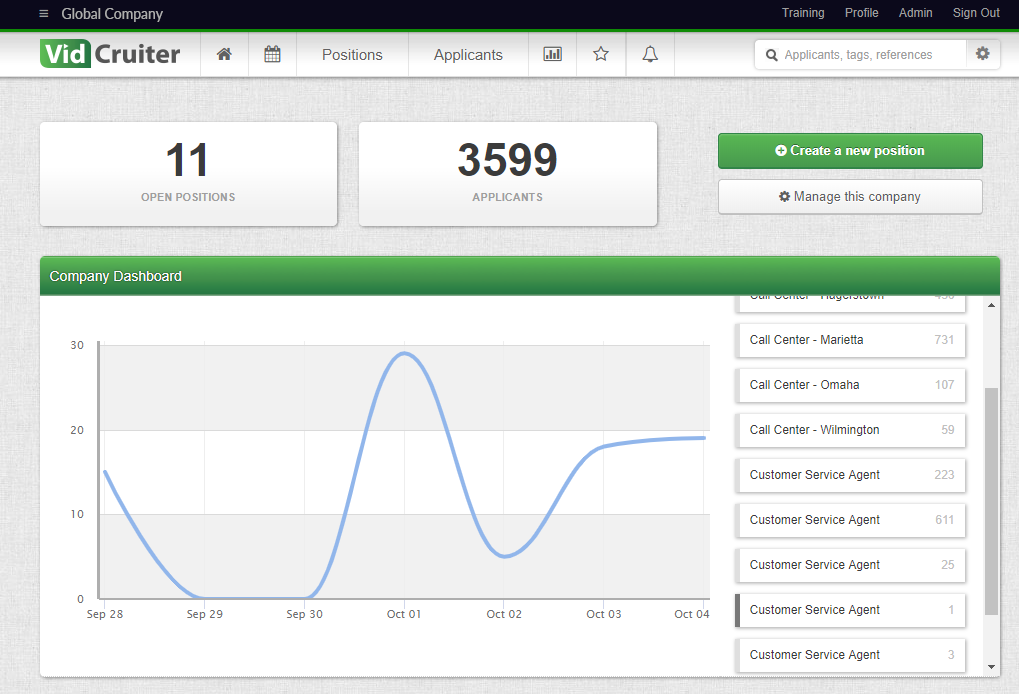 A video interviewing platform called VidInterviewing by VidCruiter has assisted businesses of all sizes in finding higher-quality candidates more quickly and affordably. It includes pre-recorded and live video interviews that can be tailored to match any recruitment scenario.
Features
Automated Scheduling: VidCruiter's automated scheduling feature allows you to quickly and easily schedule interviews with candidates. This feature removes the need for manual coordination of both online and in-person interviews.

Online Interviewing: VidCruiter offers a comprehensive online interviewing solution for candidates. This includes the ability to record, store, and share video interviews.

Workflow Automation: VidCruiter's workflow automation feature streamlines your recruitment process by automating tasks and processes. This helps reduce the amount of time spent on manual tasks and allows you to focus on more important tasks.

Customizable Questionnaires: VidCruiter allows you to create and customize questionnaires for each job. This allows you to tailor the hiring process to the specific job you're looking to fill.

Reporting and Analytics: VidCruiter's reporting and analytics feature allows you to quickly get an overview of the performance of your recruitment process. This helps you identify areas of improvement and make more informed hiring decisions.
Paycor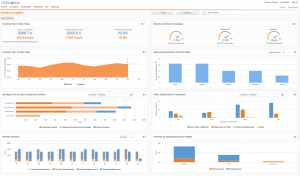 Paycor equips managers to create successful teams. The modernization of every aspect of people management by Paycor's human capital management (HCM) platform, from hiring, onboarding, and payroll to career development and retention, really sets Paycor apart.
Features
Robust Reporting: Paycor's reporting features are designed to provide real-time data and insights on employee performance, review cycles, and workforce composition. This allows HR professionals to quickly identify and address potential issues, as well as track progress toward goals.

Automated Onboarding: Paycor's automated onboarding system lets HR professionals quickly create personalized employee onboarding experiences, including automated notifications and documents. This ensures employees receive important information in a timely manner and helps organizations save time and resources.

Comprehensive Benefits Management: Paycor's benefits management system allows HR professionals to easily manage employee benefits, including health insurance, retirement plans, and more. This helps organizations stay compliant with state and federal laws0 while providing employees with the benefits they need.

Employee Self-Service: Paycor's self-service portal provides employees with a secure, easy-to-use platform to access their pay statements, review benefits information, and more. This makes it easier for employees to access the information they need while saving HR professionals time and resources.

Mobile App: Paycor's mobile app allows employees to quickly access their payroll and benefits information, as well as submit time-off requests, from their phones. This helps employees stay connected to their pay and benefits information, even when they are away from the office.
HireVue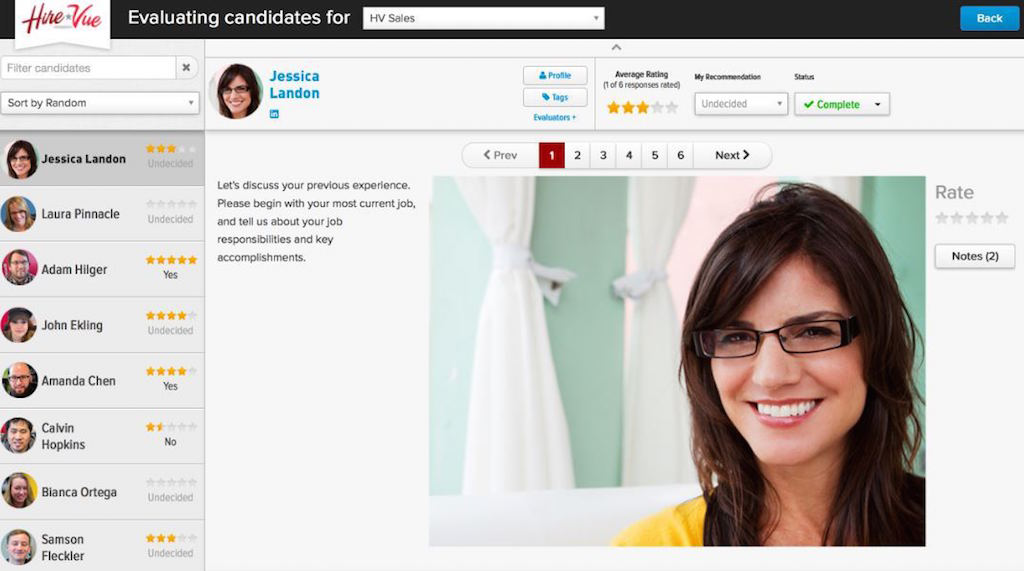 A cloud-based human resource management (HRM) tool called HireVue gives organizations the ability to interview candidates through video. Through an online video interface, the system enables job hopefuls to respond to interview questions.
Features
Artificial Intelligence-Powered Interviews: HireVue utilizes advanced artificial intelligence technology to make the interviewing process more efficient. This allows employers to quickly assess candidates and select the most suitable ones for the job.

Automated Video Interviews: HireVue's automated video interviewing platform enables employers to quickly and easily invite candidates to complete a pre-recorded interview. This eliminates the need for in-person interviews and allows employers to assess candidates from all over the world.

Customizable Interview Questions: HireVue's customizable interview questions allow employers to tailor the interview process to their specific needs and target the best candidates for their organization.

Real-Time Reporting: HireVue's real-time reporting feature provides employers with detailed insights into candidate performance and makes it easy to compare candidates. This helps employers to make more informed hiring decisions.

Mobile-Friendly Platform: HireVue's mobile-friendly platform allows employers to easily access the platform from any device. This makes it easy to conduct interviews on the go and keeps employers connected with their candidates.
Avature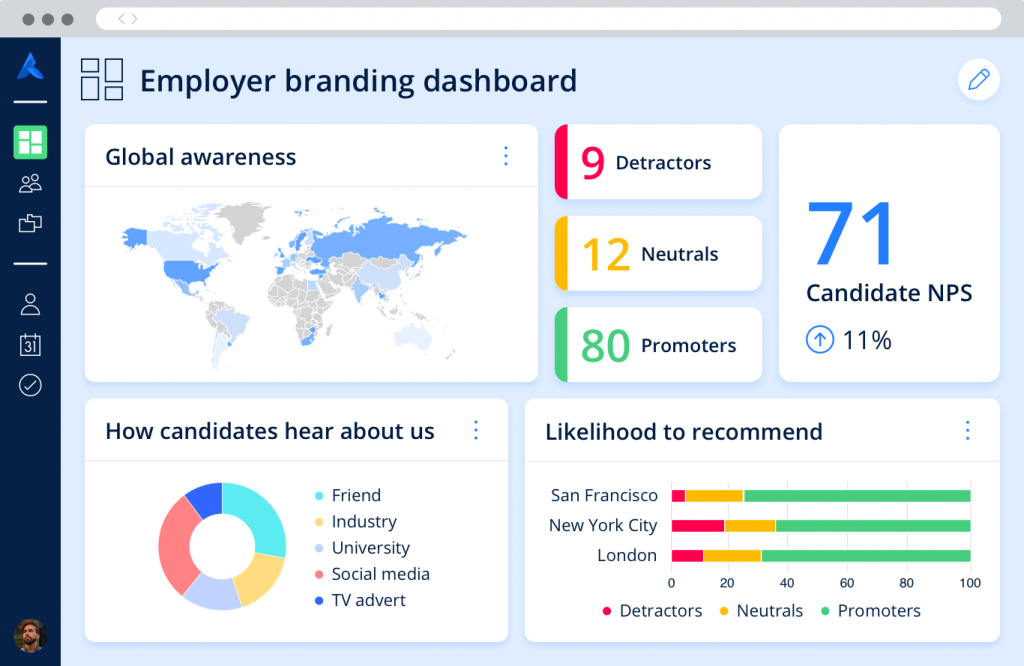 Avature is a highly customizable enterprise SaaS platform for recruiting and managing employees that stimulates the development of HCM software. Avature, which was founded by Dimitri Boylan, enables cutting-edge HR solutions for business-level businesses all around the world.
Features
Advanced Search & Filtering: Avature's advanced search and filtering capabilities make it easy to quickly find the right candidate for your job opening. With the ability to search by location, experience, skills, and more, you can get a better understanding of the talent pool.

Automated Recruiting & Engagement: Avature's automated recruiting and engagement features allow you to quickly and easily identify and engage with potential candidates. You can send personalized emails, schedule interviews, and track candidate progress all in one place.

Reporting & Analytics: Avature's reporting and analytics features give you a comprehensive view of your recruitment process. You can extract and analyze data to better understand the success of your recruiting efforts and identify areas for improvement.

Collaboration & Automation: Avature's collaboration and automation capabilities make it easy to coordinate with other recruiters, managers, and stakeholders. You can automate repetitive tasks, such as candidate outreach and interview scheduling, to save time and increase efficiency.

Mobile-Friendly Platform: Avature's mobile-friendly platform is optimized for use on both desktop and mobile devices. This allows recruiters to access their recruiting dashboards, review resumes, and engage with candidates from anywhere.
Interviewstream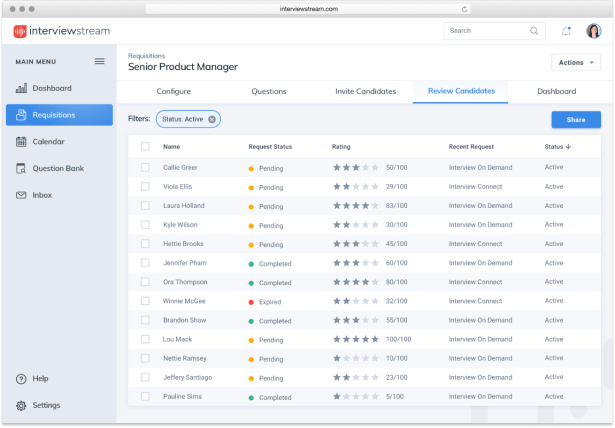 The video interviewing and scheduling technology from Interviewstream has aided businesses in making faster and more effective hiring decisions. Our customers adore how simple we are to use, how quickly we can respond to help requests, how much better the candidate experience is, and how little time is spent screening candidates.
Features
Real-time Interviews: InterviewStream allows you to conduct interviews with candidates in real time, offering a more convenient and efficient way to interview.

Automated Scheduling: InterviewStream makes it easy to schedule interviews with candidates and automated reminders are sent out to ensure everyone is on the same page.

Video Interviews: Video interviews provide employers with a way to assess candidates' communication and presentation skills.

Customizable Interviews: Interviewers can customize their interviews with questions, time limits, and feedback forms tailored to their needs.

Compressed Video Playback: InterviewStream's video playback feature allows you to review and analyze interviews quickly and easily.

Analytics: InterviewStream provides detailed analytics to help you understand your candidate's strengths and weaknesses.

Secure Interviews: All data is stored on secure servers and InterviewStream also offers a secure video streaming solution for added security.

Multi-Device Support: InterviewStream is compatible with desktop, laptop, tablet, and mobile devices, so you can conduct interviews anywhere.
Kira Talent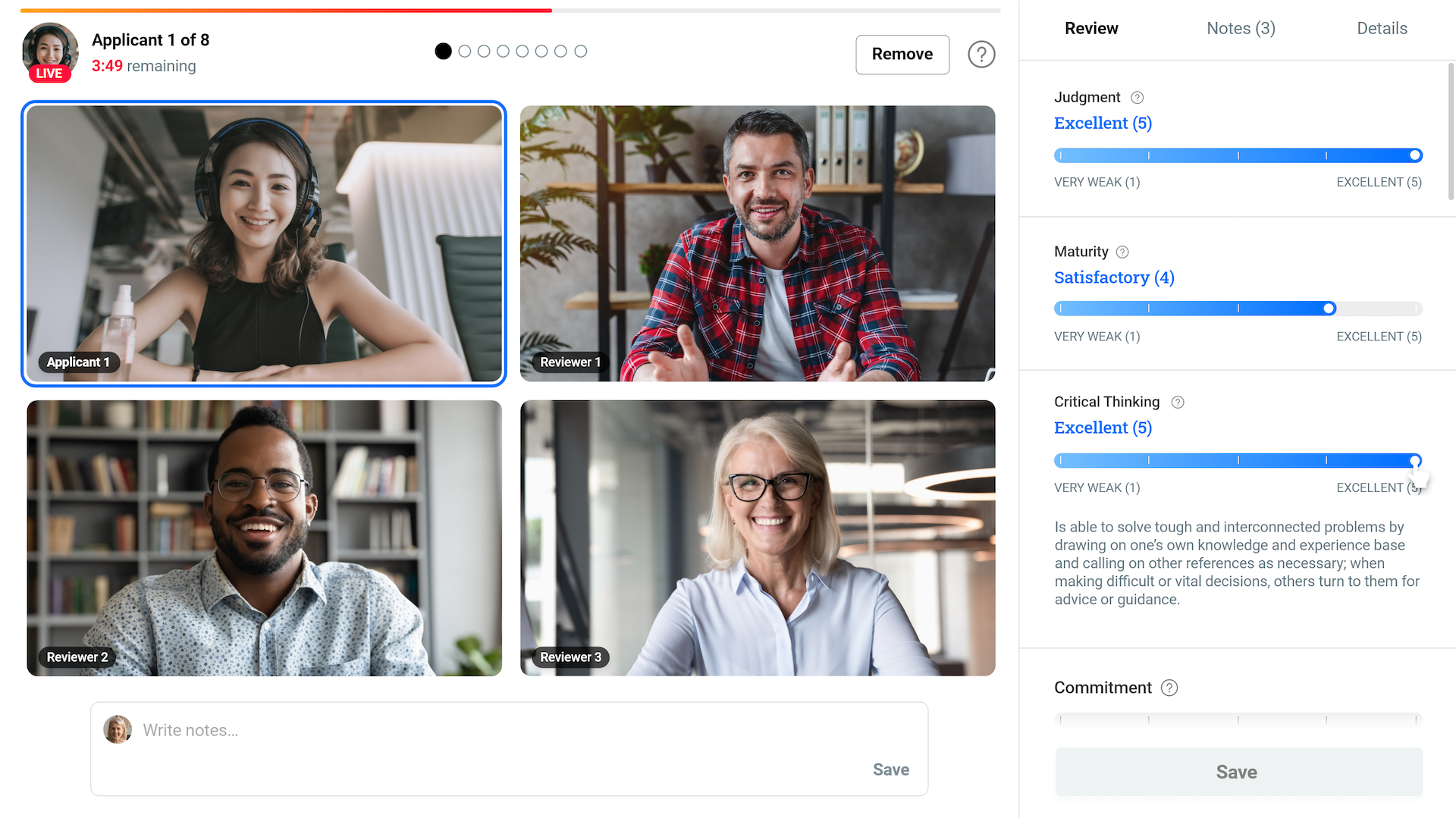 Kira Talent is the solution of a cloud-based admission that aids university and higher education institute administrators in managing their admission procedures and candidate assessment processes.
Features
Automated Interviews: Kira Talent enables recruiters to create customized video interviews with automated questions and assessment criteria. It helps to streamline the hiring process, as recruiters can quickly review and compare applicant responses.

Video Assessments: Kira Talent allows recruiters to create video assessments that assess both technical and soft skills. This feature helps recruiters better understand an applicant's skill set and gives them the ability to make more informed hiring decisions.

Candidate Screening: Kira Talent offers a powerful candidate screening feature that allows recruiters to quickly filter out candidates that do not meet their criteria. It also provides employers with a more efficient way to review and compare applicants.

Analytics and Reporting: Kira Talent provides recruiters with detailed analytics and reporting tools to help them gain insight into their recruiting process. This helps to identify areas that need improvement and allows recruiters to make more informed hiring decisions.

Customization: Kira Talent allows recruiters to customize their online assessments and interview questions to better meet their recruitment needs. Recruiters can also customize notifications and emails to help streamline the recruitment process.
What's Next?
Businesses would be better equipped to handle their hiring process in one location if various recruiting apps were bundled into one suite. This would make it easier to monitor results, progress, and the general effectiveness of the employment drive.
It will be possible for you to maximize the return on your technological expenditures and make sure that your company is operating as efficiently and successfully as 500apps by having several business suites, such as Sales, Developers, Marketing, etc.
Conclusion
The finest video interviewing software makes managing job candidates throughout the hiring process simple. They give you a central location for all applicant data and let you monitor each candidate's advancement during the recruiting process.
Video interviewing software with exciting features like NinjaInterview from 500apps is the greatest and most well-liked applicant software example for your company.
Learn more about our All-in-one CRM Software, which offers 50 apps for just $14.99 per user, by visiting 500apps today.
Why Choose 500apps?
#1
All-in-One Suite with more than 50 apps
#2
Everything you need today and in the future for all departments
#3
Unbelievable value - the lowest pricing you will ever find
#4
Hosted in 6 locations for compliance and blazing speeds
#5
24/5 Support - FREE chat, email and phone
#6
Uncapped features - limits you will never reach humanly
#7
Managed and maintained everyday by a dedicated team
#8
No downtime - comes with a 99.9% uptime guarantee
#9
Supports a number of international languages
#10
We've everything covered - 90k+ trust us with their business
Join the SaaS Revolution
All-in-One Suite of 50 apps

Unbelievable pricing - $14.99/user

24/5 Chat, Phone and Email Support