9 Best Practices for Implementing an Online Live Chat System
Live chat systems are becoming increasingly popular for businesses looking to provide better customer service and engagement. With an online live chat system, customers can quickly get the help they need with their inquiries or problems in real-time. Implementing a successful live chat system is a challenging feat. However, it requires careful planning and implementation of best practices.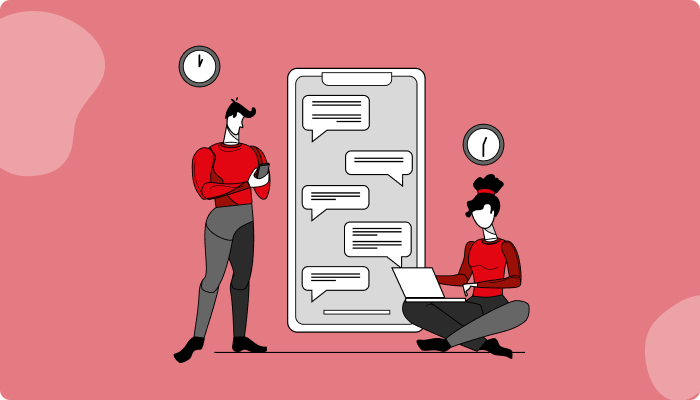 This article will look at nine key best practices that have been proven effective when setting up an online live chat system. From providing instant access to knowledgeable staff to offering proactive support services, these tips will ensure a successful and efficient live chat program running on your website in no time.
Why Use Live Chat for Your Business?
Live chat is one of the most efficient customer service software solutions available to businesses today. Online live chat provides customers with direct access to your business, enabling them to get their questions answered in a timely manner and receive personalized assistance. Using website live chat, companies can provide better customer experience by offering quick response times and helpful support when needed.
The advantages of implementing an online live chat system are numerous. It's convenient for both customers and agents, as well as is cost-effective compared to other web chat software programs. Live chats also enable you to collect data on customer feedback that can be used to improve future services or products. Moreover, it allows you to engage with visitors who may not have been able to contact you otherwise due to geographical restrictions or language barriers. All these factors contribute significantly towards providing superior customer service experiences, ultimately leading to increased customer satisfaction.
Live chat offers many benefits ideal for any business looking for improved customer service capabilities. From faster resolution times, higher engagement rates and greater convenience for all parties involved. Implementing an online live chat system will surely bring substantial improvements in customer service quality and overall satisfaction from clients.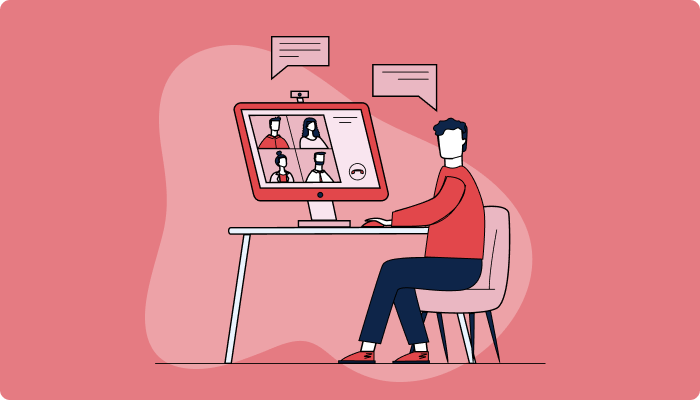 What to Look for in a Live Chat System?
When choosing a live chat system for your business, there are several important factors to consider. It's essential to ensure that your selected system meets all your needs and provides an excellent customer experience. Here are some key features to look out for:
Customization Options: Look for systems with unlimited departments so customers can quickly be routed to the right representative. Also, make sure it offers customizable chat windows and automated messages and greetings tailored to your brand's identity.

Security & Compliance: Ensure that the platform is secure from cyberattacks and compliant with industry regulations like GDPR or HIPAA. Additionally, confirm that transcripts of chats won't get into the wrong hands, no matter their format (email, text file).

Integrations & Analytics: Select one that integrates easily with other tools in your stack such as CRM software or knowledge base documents. This will help streamline processes across teams and allow you to access valuable data insights through analytics reports on customer conversations.
Choosing the best live chat system takes research but when done properly it can pay off by providing customers with quick support while also boosting efficiency within your team. Investing time upfront researching different solutions available in the market will go a long way toward helping you find the perfect fit for your business.
9 Best Practices for Using Live Chat
When it comes to providing a customer service experience, using an online live chat system is one of the best methods available. It allows customers to get help directly and quickly without having to wait on hold or send emails. Some important best practices should be followed to ensure you are getting the most out of your online live chat system. Here are 9 of the best practices for using an online live chat:
Provide Quality and Responsive Service
Providing quality and responsive service is one of the key best practices for implementing an online live chat system. Companies should ensure that their support team can swiftly respond to customer queries, no matter the time. In addition, they should also deploy a reliable online live chat software like NinjaChat which allows customers to talk with agents in real-time while providing them with a seamless user experience.
NinjaChat offers features such as automated messages, canned responses and customizable widgets, making it easier for companies to provide prompt and accurate customer service.
Monitor and Measure Chat Performance
Monitoring and measuring chat performance is essential for ensuring a high-quality customer experience. This involves tracking the performance of both customers and agents over multiple channels, such as live chats, emails, texts and phone calls. By evaluating these metrics, businesses can see how their team is responding to queries and identify areas where they are excelling or falling short.
NinjaChat enables companies to monitor and measure chat performance in real-time. It provides powerful analytics tools that allow teams to analyze data from all customer interactions across different platforms. Companies can track agent responses, average response times, total conversations per day/week/month etc., helping them maintain quality control throughout the process. Multi channel support also allows businesses to respond quickly to issues on any platform regardless of which was used first by the customer.
By leveraging NinjaChat's monitoring capabilities, businesses can gain valuable insights into their operations while improving overall customer satisfaction levels with each interaction. Ultimately this helps organizations increase efficiency and maximize ROI through improved communication with customers via multi-channel support options.
Use Automation
Automation is an important part of implementing a successful online live chat system. Automation can streamline the process and increase efficiency in customer service, marketing, and sales. NinjaChat offers features that can help automate different aspects of your business operations.
With NinjaChat, you can set up automated responses to common questions or inquiries from customers. This helps reduce customer wait times by quickly providing helpful information without requiring manual input from staff members. Additionally, automating certain processes within the chat system allows for more personalized interactions with each customer. You'll be able to provide tailored solutions faster than ever before while maintaining high quality control levels and customer satisfaction.
NinjaChat also has powerful analytics capabilities that enable you to track performance metrics like response time and customer feedback. With this data at hand, it's easy to identify bottlenecks in your processes and optimize them accordingly. In short, using automation through NinjaChat can significantly improve your online live chat experience while reducing operational costs and increasing productivity across all departments.
Avoid Multitasking
When implementing an online live chat system, it's important to avoid multitasking. This can include having multiple conversations open at once or taking on too many customer inquiries simultaneously. It's easy for agents to become overwhelmed if they're trying to juggle too much, which could lead to a decrease in the quality of service.
NinjaChat is one way to help with this issue. The platform has a feature that allows agents to focus on one customer conversation at a time. Agents are able to save their place within the queue and come back later when more capacity becomes available without losing track of where they left off. In addition, NinjaChat also offers automated messaging options so customers can get quick answers while waiting for an agent's response.
Personalize the Chat Experience
Personalizing the chat experience is key to providing great customer service. By taking into account customers' individual needs, companies can provide a better support experience and gain more loyal customers in return. NinjaChat provides businesses with all the tools they need to customize their live chats according to different scenarios: Set automated messages for FAQs
Offer personalized greetings and signatures

Integrate with CRM systems such as Salesforce or Zendesk

Respond quickly to incoming chats

Allow agents to use canned responses when handling repetitive tasks.
By using these features, businesses can create a much smoother interaction between them and their customers. With streamlined processes and tailored conversations, employees become more efficient while customers feel they are being heard. Furthermore, NinjaChat's integration capabilities allow you to connect your other integrations like social media platforms, giving you an even greater control over how you interact with your clients.
Set Customer Expectations
Setting customer expectations is important when implementing an online live chat system. By setting expectations, customers will understand what kind of service they'll receive and how quickly their inquiries will be addressed. To ensure customers have a positive experience, providing them with the right information is essential before engaging in a live chat session. This includes clear instructions on how to begin chatting, as well as any features that are available for free on your website's live chat platform. For example, NinjaChat offers customizable greetings and automated messages so you can personalize each interaction with visitors.
In addition to providing clear instructions about starting a conversation, setting customer expectations also involves informing users about response times and availability. Letting customers know how long they should expect to wait for an answer or if there are certain hours during which the live chat is not active can help manage customer satisfaction levels and ensure everyone has realistic expectations from the outset. With NinjaChat's advanced reporting capabilities, you can easily track response times across multiple conversations and adjust your strategy accordingly.
Offer Proactive Chats
Proactive chats are an important part of any online live chat system. It's a great way to provide an extra layer of customer service and engagement, which can help increase the success of your business. The key is to use software that makes it easy for customers to start conversations with you ahead of time. NinjaChat offers this kind of proactive chat feature; you can set up automated messages in advance, so customers don't have to wait for answers or assistance. This allows users to get quick responses without reaching out directly each time they need something. Plus, it helps ensure that no one has their questions unanswered due to a lack of staff availability or response times.
Using NinjaChat as your live chat software enables you to track performance metrics such as average resolution time and total chats handled per agent. With these insights, you can identify areas where improvements are needed and adjust accordingly.
Utilize Chat Transcripts
Chat transcripts are an important component of any online live chat system. They enable customer service agents to review conversations and look up information quickly, allowing them to provide better support to customers in the future. With NinjaChat, you can easily view, store, and search all your incoming and old chats. This way, you'll always have access to the data needed for troubleshooting or further assistance.
Offer Multiple Channels
Offering multiple channels for customers to use when communicating with your business is essential to providing quality customer service. By utilizing various communication methods, companies can give their customers the freedom and flexibility to choose how they want to reach out. Not only does this increase convenience for customers, but it also helps businesses streamline their processes by avoiding confusion or miscommunication.
One great option for businesses offering multiple channels is NinjaChat, a live chat platform that enables users to communicate via text message, voice messages, video calls, and more. Some features include:
Secure encryption technology protects user data.

Integrates seamlessly with existing systems.

Highly customizable features.

Real-time conversations between customers and agents.

Option to save transcripts as proof of the conversation.
NinjaChat provides businesses with an efficient way to handle customer inquiries while maintaining high security and privacy. Companies can provide fast support in real-time without sacrificing data integrity or compromising the quality of their customer service experience.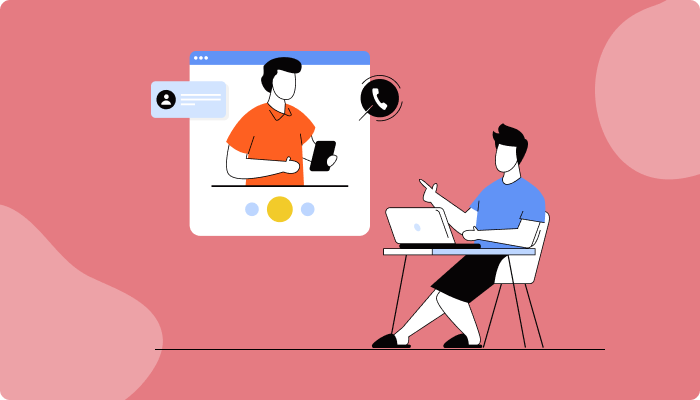 5 Metrics to Measure the Success Rate of Live Chat
Live chat systems can be extremely helpful for businesses looking to provide customer service and increase sales. But how can you measure the success rate of live chats? Here are five metrics businesses should consider when evaluating their online live chat system, such as NinjaChat.
Look at the response time: How long does it take for agents to respond to customers' inquiries? Quick response time shows customers that your business values them and is willing to help.

Consider customer satisfaction ratings: Surveys allow customers to share their experience with your company and give feedback on agent performance in real-time. Moreover, surveys offer valuable insight into areas where your team needs improvement or what features need attention. Be sure to include an easy way for customers to leave reviews, so they don't have difficulty finding this option within the platform.

Pay attention to first contact resolution (FCR) rates: FCR measures how often an agent resolves a customer's inquiry during the initial interaction without requiring further follow-up from either party. This metric gives you a better understanding of your team's efficiency in solving complex problems quickly while providing great service along the way!

Examine average handle time (AHT): This metric helps determine whether agents are taking too much or not enough time handling each conversation - both scenarios being equally detrimental to productivity and customer retention rates.

Analyze conversion rates: The conversion rate indicates how often visitors become paying customers using live chat services during their shopping journey. It gives you an idea of how effective agents are in converting prospects into loyal customers through quality interactions and timely responses. Knowing these numbers will enable teams to make necessary changes if needed and ensure that all conversations are productive towards achieving sales goals.
In summary, businesses seeking successful implementation of online live chat systems should track these five key metrics: response time, customer satisfaction ratings, first contact resolution, average handle time, and conversion rate – provided by tools like NinjaChat in order to gain insights into their current performance as well as pinpoint any areas that require improvement or additional resources.
Get started with the leading Online Live Chat System today! Sign Up 14 Day Trial
Conclusion
Live chat is quickly becoming one of businesses' most popular customer service tools. Implementing an effective live chat system can significantly increase customer satisfaction and loyalty and provide more opportunities to upsell products or services. The nine best practices outlined in this article will help ensure that your business enjoys the full benefits of having a live chat system.
One key factor for success with live chat is providing quality and responsive service; it's important to respond promptly to inquiries and be able to answer questions accurately. Additionally, metrics like average response time or total chats handled are great ways to measure performance. Lastly, offering multiple channels is essential; customers may prefer different communication methods, such as SMS or social media platforms, so having a variety of options available ensures all customers can reach you easily.
Why Choose 500apps?
#1
All-in-One Suite with more than 50 apps
#2
Everything you need today and in the future for all departments
#3
Unbelievable value - the lowest pricing you will ever find
#4
Hosted in 6 locations for compliance and blazing speeds
#5
24/5 Support - FREE chat, email and phone
#6
Uncapped features - limits you will never reach humanly
#7
Managed and maintained everyday by a dedicated team
#8
No downtime - comes with a 99.9% uptime guarantee
#9
Supports a number of international languages
#10
We've everything covered - 90k+ trust us with their business
Join the SaaS Revolution
All-in-One Suite of 50 apps

Unbelievable pricing - $14.99/user

24/5 Chat, Phone and Email Support