Business Management Software Guide and Solutions of 2022
Business management software is a broad phrase that has been used in a variety of software systems. A genuine business management system acts as a one-stop solution that streamlines and handles most parts of a business operation. One of the most significant advantages of business management software is that you need only one system to handle all of your company's demands. This makes double data entering and system management redundant. Furthermore, any changes made to the program can be propagated across all modules and third-party apps. As a result, business management software provides better information management and reporting, more accurate data, and fewer errors.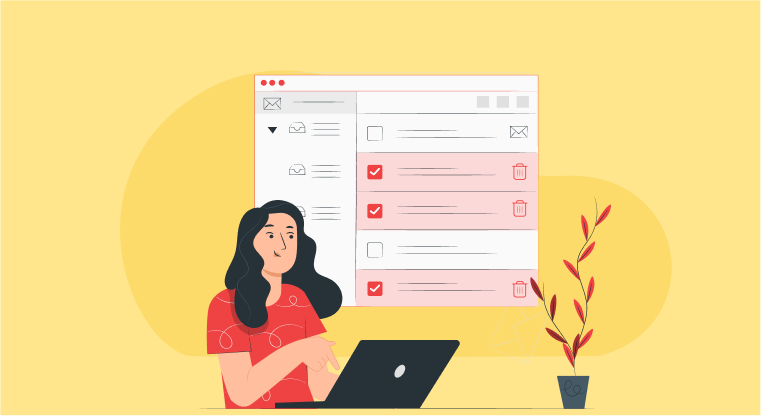 Advantages of Business Management Software
Organize Your Business Data
A business management software organizes everything for your team, from customer emails to phone numbers and other vital information. This implies that every day, your employees save hours.
The software boosts your productivity by making data storage and administration straightforward. In addition, it allows all information to be accessible at your fingertips, whether you are looking for a document or the latest sales deed.
Furthermore, having a comprehensive picture of the company's initiatives, operations, and resources assists management in making decisions. Compiling and collecting data on your company's revenue and expenses can assist in identifying bottlenecks in a timely manner and support the choice to shift resources and energy to more profitable endeavors.
Business management software aids in the automation of routine and time-consuming tasks. This eliminates your team's manual labor, paperwork, and other business difficulties. Furthermore, your team now has additional hours to brainstorm, plan, execute, and optimize workflow to promote company growth.
You can halt all unnecessary recruitments as most repetitive jobs are automated, thus saving time and money. Your clients also gain from your reduced company costs, as you can offer them products at a lower rate.
Aid Your Team In Improving Communication
Employees can communicate with one another instantaneously via business management software, which eliminates the need for them to spend time sorting through their inboxes or responding to lengthy email chains. Because the connection is quick, your team can interact in real-time and work more efficiently.
All in all, through a single database, business management software combines marketing, project management, customer service, and sales, which ensures that different teams have access to the same, up-to-date client data.
Top Features Every Business Management Software Should Have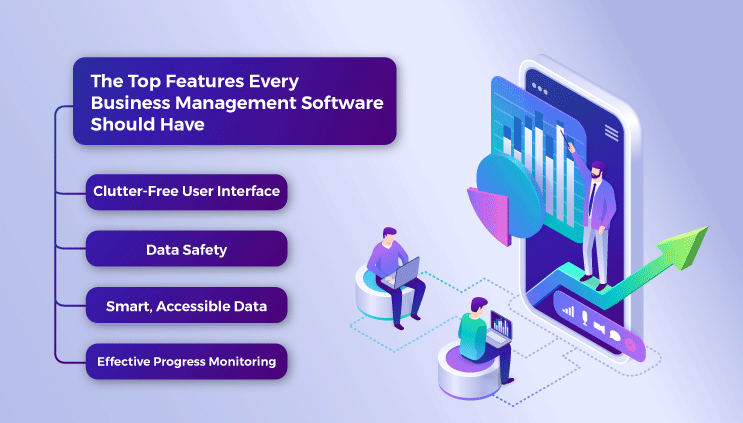 Clutter-free User Interface
A business management software allows you to accomplish as much as possible without relying on large panels and menus, using a plethora of keyboard shortcuts. Not only does this speed up your work, but it also helps create a mess-free interface allowing you to focus on the task at hand.
Your business management software is continually processing massive amounts of data. Therefore, safety methods should be employed. The best business management software contains security measures that ensure the safety and integrity of your data while making it easy for authorized individuals to obtain access. The security settings should be adaptable enough to correspond with your company's security policies and regulations yet robust enough to combat industry-recognized data risks.
Different tools such as project management or time management tool on a business management software provide extensive reports on employee productivity, working hours, and the number of people working on the task. Such data is critical in determining employee salary and client invoices while ensuring overall productivity.
Effective Progress Monitoring
Continuously monitoring the task status is essential for successfully completing all tasks. A task management tool in an all-in-one business management software that provides reports and other data like how much time was spent on each task. Furthermore, it offers real-time analysis allowing you to be up to date with the task's progress.
How to Pick The Right Business Management Software for Your Company?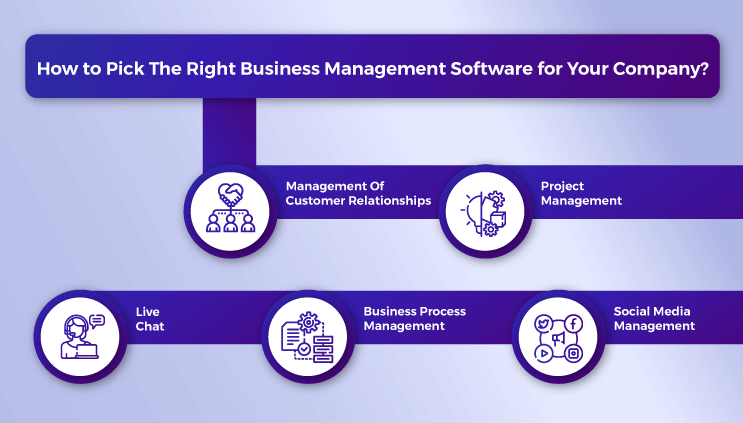 Well-designed business software should serve the demands of numerous departments simultaneously. Therefore, it is recommended to consider the following factors before selecting a business management software.
Management of Customer Relationships
Getting new consumers is a business's dream come true. However, you should be able to follow up with and service your current client base with the same care and attention. Most organizations fail to see this and instead seek out new clients while disregarding those they currently have.
A business management software can assist you in storing client data such as user behavior, length of time a client has been with your company, purchase records, and notes on sales interactions. All these data can help you optimize the way in which you interact with the client.
The intuitive business management software live chat module enables you to automate replies to frequently asked questions and resolve customer inquiries. It can also keep the consumer engaged until a service representative arrives. The software also allows visitors to make appointments without the need for human intervention.
Business management software helps you organize your tasks, especially when a small team is managing several projects at the same time. You may create comprehensive targets and track their progress in real-time with an effective project management tool, thus, enhancing operational efficiency.
Business Process Management
Business process management (BPM) is an organizational discipline in which a firm steps back and examines all of its processes collectively and individually. It assesses present conditions and suggests improvement opportunities to build a more efficient and effective organization.
A business management software works great for this purpose as it allows you to create complicated business processes that span several departments and locations. This, in turn, helps increase the productivity of your company's workflows and improve your management abilities by simplifying your company's operations. It also allows for modifications to the current operating model as the organization expands over time.
With businesses expanding globally, social media is serving as a digital storefront. A business management software allows you to manage all your social media accounts on one platform. In addition, the software can provide alerts to alert you of messages or customer feedback.
Here's your chance to streamline business management today! Sign Up 14 Day Trial
Conclusion
Running a business places you in a competitive environment. Hence, it is critical to stay ahead of the curve using newer, quicker, and better business strategies. This entails learning how to provide better products and solutions as well as making your tasks as simple as possible so that you may concentrate on what is essential.
For this purpose, we strongly recommend 500apps, a 39-app all-in-one suite for all your business needs that enable you to grow your business into the next fortune 500 company.
Why Choose 500apps?
#1
All-in-One Suite with more than 50 apps
#2
Everything you need today and in the future for all departments
#3
Unbelievable value - the lowest pricing you will ever find
#4
Hosted in 6 locations for compliance and blazing speeds
#5
24/5 Support - FREE chat, email and phone
#6
Uncapped features - limits you will never reach humanly
#7
Managed and maintained everyday by a dedicated team
#8
No downtime - comes with a 99.9% uptime guarantee
#9
Supports a number of international languages
#10
We've everything covered - 90k+ trust us with their business
Join the SaaS Revolution
All-in-One Suite of 50 apps

Unbelievable pricing - $14.99/user

24/5 Chat, Phone and Email Support