Cloud Drive Storage: A Comparison of Top Providers
The cloud has become an essential part of the digital age. With it, individuals and businesses can store their data securely in a centralized location accessible from anywhere with an internet connection. But how do you know which cloud drive storage provider is right for you? In this article, we'll look at some of the top providers and compare them to determine which offers the best value for your needs.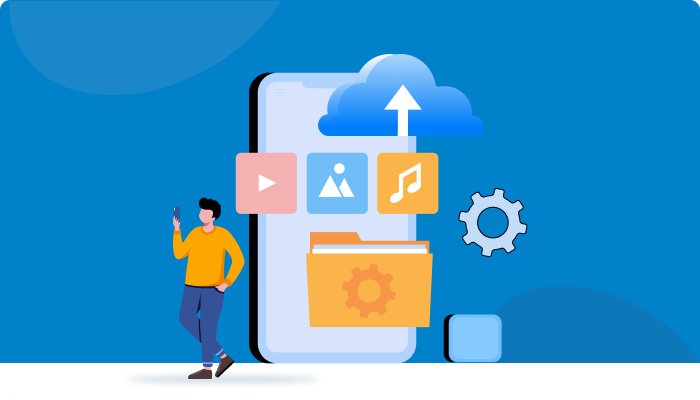 Cloud storage services provide users with more flexibility than ever before when it comes to storing and accessing their files. This makes them ideal for both personal use and business applications, as they allow users to access their important documents anytime, anywhere. However, choosing the right service can be tricky; numerous providers on the market offer different levels of security and features.
What Is Cloud Drive?
Cloud drive is a modern form of data storage that has revolutionized the way people store and access their data. It allows users to securely store, manage, and share files on the cloud without having to worry about physical hardware or software installation. Cloud drive makes it possible for anyone to have secure file sharing capabilities in real-time with minimal effort. This type of cloud storage can be used by individuals or organizations alike looking for an efficient way to keep their important documents safe while still allowing them access from anywhere around the world.
Eliminates the need for manual backups and updates, as all changes are automatically stored in the cloud.
No lengthy setup processes. Users simply log into a secure website and begin utilizing their accounts immediately.
No need to worry about losing any data due to device malfunctions or other issues because everything is safely stored online.
Provides its own set of security protocols so that users' personal information remains private at all times.
The key benefits associated with using a top-tier provider when it comes to cloud storage management include affordability, scalability, reliability, availability and safety features such as encryption technology which ensure your data isn't vulnerable to theft or cyberattacks. With a wide range of plans available depending on one's specific needs – both in terms of budget and size – choosing a reputable service ensures you get cost savings along with excellent customer support services should something go wrong with your system or account settings. All this combined makes for an experience where you can rest assured knowing your valuable data will always remain safe regardless of circumstances - giving you peace of mind when working remotely or just enjoying life away from home!
Benefits and Limitations of Cloud Storage
Cloud drive storage is a convenient way to store and access data from anywhere with an internet connection. It offers many advantages over traditional hard drive-based solutions, but some drawbacks should be considered when deciding which provider to use. In this section, we'll discuss the benefits and limitations of cloud storage.
Cloud drives are accessible at any time, regardless of location or device.
Cloud drives come with additional features such as automatic backups and versioning capabilities.
Sharing large files with colleagues or other individuals is easy.
Most cloud providers offer limited amounts of free storage space and charge for larger plans.
Security can be an issue with smaller companies needing to follow the same standards as major players.
Costs may skyrocket depending on how much bandwidth your business requires for downloading/uploading data from/to the cloud.
Carefully considering the costs associated with each plan offered by different vendors is essential before signing up.
Utilizing cloud drive storage appears well worth the investment for businesses who want to take advantage of modern technology trends without sacrificing security and privacy protection measures.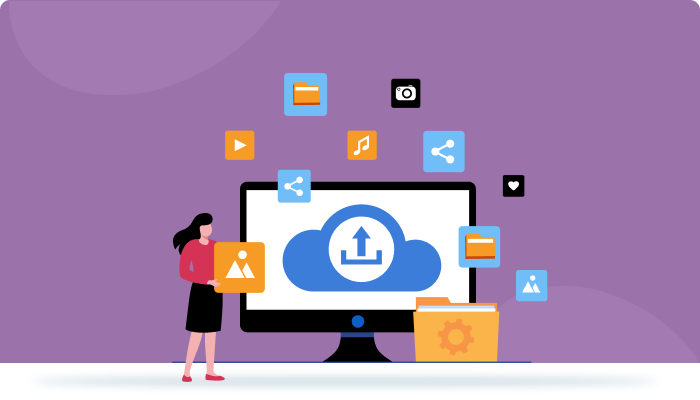 Comparison of Top 10 Cloud Storage Providers
When it comes to cloud drive storage, there are many options. To make things easier, we've compared the top 10 providers in terms of features and cost. In this overview of our comparison, you'll learn more about what makes each provider stand out so that you can decide which one is best for your needs.
Amazon Web Services (AWS)
AWS is one of the top 10 cloud storage providers, and it's worth taking a closer look. With an extensive range of services and features, AWS offers great value for businesses looking to store data in the cloud. It's easy to use, secure and reliable, making it ideal for any organization that needs access to its files from anywhere.
AWS provides users with plenty of options when it comes to their cloud storage plans. They can choose between different types of storage solutions depending on their specific requirements, from object-based storage like Amazon S3 to block-level storage such as Elastic Block Storage (EBS). Additionally, customers can choose to use pay-as-you-go or reserved pricing models to get exactly what they need while saving money.
The security offered by AWS is also impressive; all data stored in the cloud is automatically encrypted and protected against unauthorized access. Plus, customers can add extra layers of security through authentication technologies like Multi-Factor Authentication (MFA) and Identity Access Management (IAM). AWS is a great option if you're searching for a comprehensive yet affordable solution for storing your important data safely in the cloud.
Microsoft Azure
Microsoft Azure is one of the leading cloud drive storage providers. It offers a comprehensive range of services from data storage to computing and networking capabilities. Customers can choose from different levels of service, allowing them to scale their infrastructure up or down based on their needs. Azure also has strong security measures in place, including encryption for all stored data and physical access control for its data centers.
Azure provides customers with several tools that help manage their cloud storage environment. For example, users can create custom policies that govern how applications are accessed and used within an organization's network. They can also define rules that specify which files need to be backed up and when they should be updated. Additionally, Azure provides disaster recovery options so organizations can quickly restore lost information in case of system outages or other unexpected issues.
Overall, Microsoft Azure is a robust solution for businesses storing and managing large amounts of data securely and efficiently in the cloud. Its wide variety of features makes it suitable for small-scale operations and larger enterprises with complex IT requirements. Moreover, its scalability allows customers to adjust their resources according to changing workloads without incurring additional costs.
Google Cloud Platform (GCP)
Google Cloud Platform (GCP) is an ever-expanding suite of cloud-based tools and services that provide the infrastructure necessary to build, maintain, and manage applications. It's a great choice for companies looking to get started with cloud computing quickly, as it offers cost savings compared to on-premises solutions. GCP also has robust security features, allowing businesses to keep their data safe in the cloud. Additionally, Google provides powerful machine learning capabilities enabling businesses to leverage AI and analytics for better decision-making.
Compared to other top providers, such as Microsoft Azure, GCP stands out due its scalability and flexibility. With GCP, users can easily scale up or down depending on their needs without worrying about physical limitations like hardware availability. This makes GCP ideal for organizations whose usage tends to fluctuate from time to time. Furthermore, since it's hosted in the cloud, there's no need for costly upgrades or maintenance, reducing overall business expenses over time.
The ease of use associated with the Google Cloud Platform is another advantage worth mentioning here. The platform comes with intuitive graphical user interfaces and SDKs tailored to developers so they can create complex solutions faster than ever. In addition, pre-configured templates allow teams to set up projects quickly while still maintaining complete control over their architecture configurations. All these benefits make GCP one of the most sought-after cloud storage solutions available today.
IBM Cloud
IBM Cloud is another popular cloud drive storage provider. It offers a wide range of services with different pricing plans, making it an attractive option for businesses and individuals alike. IBM Cloud has both high-end enterprise offerings as well as cost-effective solutions so that everyone can take advantage of the platform's features.
The core components of IBM Cloud are its computing, storage, database, analytics, DevOps tools and AI capabilities. This allows users to create applications quickly and easily using pre-built templates or building their custom cloud solution from scratch. The platform also supports multiple operating systems, including Windows and Linux. Additionally, IBM Cloud provides advanced security measures such as encryption and authentication protocols to keep your data safe and secure.
One of the best things about IBM Cloud is that you can access all its features through one single portal, which makes managing your projects easier. You can monitor performance metrics in real-time and track usage on various platforms like mobile devices or desktop computers. Furthermore, numerous integrations with other third-party services allow you to integrate them easily into your workflow.
TIP: For those looking for a comprehensive cloud drive storage solution but want to invest only a little money upfront, IBM Cloud is worth considering due to its flexible pricing plan options and extensive feature set.
Alibaba Cloud
Moving on from IBM Cloud, Alibaba Cloud is another big player in the cloud storage market. As an expert provider of cloud computing services, they offer their customers a wide range of options. Alibaba has something that meets everyone's needs, from basic file storage to complex enterprise solutions.
Alibaba offers several different plans and packages depending on the size and scope of your project. Their most popular plan is their Standard Plan, which allows you to store up to 10GB of data with unlimited access and transfer speeds. They also provide premium plans for larger projects that require more features, such as advanced security measures and higher speed connections.
In addition to offering great value for money, Alibaba Cloud provides excellent customer service with 24/7 support via phone or email. It also provides regular updates that keep your system running smoothly and securely. If you're looking for a reliable yet affordable solution to store your data in the cloud, then Alibaba could be a great fit for you.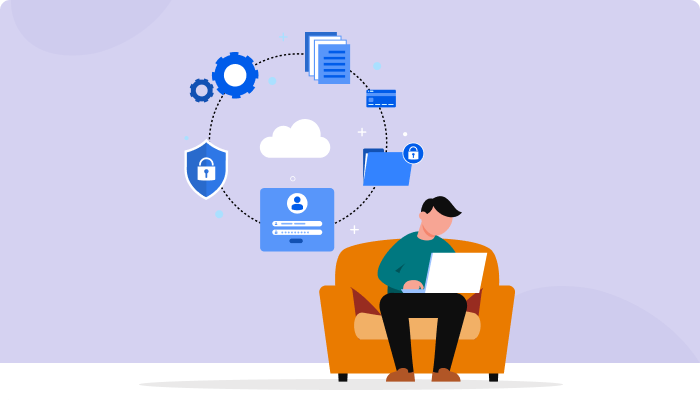 Oracle Cloud
Oracle Cloud is the latest entrant in the cloud drive storage market. It has a range of competitive offerings, from free to pay-as-you go plans. Similarly to previous competitors, Oracle promises secure data management and reliable performance with their solutions. What sets them apart is their expansive suite of tools for developers and IT professionals that help bring projects to life quickly and easily.
From an infrastructure point of view, Oracle offers enterprise-grade servers and networking capabilities which can be tailored according to customer needs. Additionally, they provide flexible scaling options so businesses can grow without worrying about capacity constraints or service disruptions. This makes them ideal for large organizations looking for comprehensive cloud-scale solutions.
Oracle Cloud provides a robust set of features designed to meet the needs of all types of customers - from individual users to large enterprises. With its advanced security measures, extensive toolset, scalability options and cost-effective pricing models, it's worth considering if you're looking for a secure cloud storage solution that meets your specific requirements.
Rackspace
Rackspace is one of the world's leading cloud drive storage providers. It offers a range of services, including managed hosting, private clouds, and public cloud solutions. Rackspace's goal is to provide customers with cost-effective options for their data needs that are reliable and secure.
One standout feature of Rackspace is its single sign-on solution called Identity Management. This allows users access to multiple applications without having to use separate usernames and passwords each time. Additionally, Rackspace has an extensive network infrastructure with over 15 global data centers located across six continents. As such, it provides fast access times for users worldwide, making it ideal for international businesses or those with distributed teams.
When comparing Rackspace with other top providers like Oracle Cloud and AWS, there are some key differences to consider. While both offer similar capabilities, such as backup and recovery options, Rackspace stands out by offering more control over its resources through dedicated servers and flexible pricing plans that allow companies to scale up or down depending on their usage needs. Furthermore, Rackspace also works closely with developers who need assistance building custom applications on its platform – something not offered by Oracle or AWS.
Overall, Rackspace provides an attractive option for businesses looking to leverage a powerful cloud drive storage provider at an affordable price while maintaining full control of their data and applications.
Dropbox
Moving on to Dropbox, this cloud drive storage provider has been around since 2007 and is one of the most popular services in today's market. It stands out for its user-friendly interface, making it easy for users of all levels to store and access their files securely. Dropbox also offers a range of pricing plans tailored specifically to businesses and individuals, making it an attractive option for many different types of customers.
When comparing Dropbox with other providers, some key features set it apart from the competition. For example, its integration with Microsoft Office 365 allows users to quickly and easily share documents between multiple devices while still ensuring they're secure. Also, Dropbox has powerful collaboration tools like file commenting and versioning control so that teams can work together more efficiently. Finally, its advanced search capabilities make it simple to locate specific files even when dealing with large amounts of data.
Overall, Dropbox offers a comprehensive suite of features that give users plenty of options for storing and accessing their data online safely and reliably. Its user-friendly interface and wide range of pricing plans make it an appealing choice for both business owners and individual consumers alike.
Box
The box is another popular cloud drive storage provider in the market. It offers a secure and efficient way to store files, documents, photos, videos and other content in an organized manner. With Box, users can access their data from any device with an internet connection and share it with collaborators.
Compared to Dropbox, Box provides more features, such as unlimited API calls per month, much larger file size limits of up to 5GB for free accounts, the ability to customize folder structure and custom branding on shared links. Furthermore, if you need additional security measures like two-factor authentication or encryption of files at rest and during transit, then Box also has that covered too.
Compared to other providers in this space, Box stands out by providing enterprise- solutions for businesses along with robust support options, including 24/7 phone support for premium plans, making it easier for companies to manage their data securely across multiple locations. Additionally, its user-friendly interface helps new customers get up and running quickly without needing advanced technical skills.
500Box
500Box is a cloud storage provider that has become increasingly popular in recent years. It offers many of the same features as its competitors, such as secure file sharing and collaboration tools. However, 500Box also provides some unique advantages to users. For instance, it allows them to access their files from any device with an internet connection, even if they're offline. Additionally, 500Box offers unlimited space for storing data and automated backups, so users don't have to worry about losing important documents or photos.
When comparing 500Box to other providers, one thing stands out: pricing. Its plans are more affordable than those offered by most of its rivals; this makes it ideal for businesses looking for a cost-effective solution without sacrificing quality service. Furthermore, 500Box doesn't require contracts or long-term commitments, which can help keep costs down further. Plus, there's no limit on the number of people who can collaborate on projects using 500Box's platform – making it a great choice for teams of all sizes.
In terms of security capabilities, 500Box boasts strong AES 256-bit encryption with two-factor authentication (2FA) and single sign-on (SSO). This ensures that only authorized personnel have access to sensitive data stored within the system - offering peace of mind for businesses handling confidential information over the cloud. With these features combined into one package at an attractive price point, 500Box is definitely worth considering when choosing a cloud drive storage provider.
Get started with the leading Cloud Drive Tool today! Sign Up 14 Day Trial
Conclusion
Cloud drive storage is an important part of any business's cloud infrastructure. It provides a secure and reliable way to store, manage, access, and share data across multiple platforms. By comparing the top 10 providers in terms of features, performance, reliability, scalability, cost-effectiveness, customer service and more, businesses can make the best decision for their unique needs.
Why Choose 500apps?
#1
All-in-One Suite with more than 50 apps
#2
Everything you need today and in the future for all departments
#3
Unbelievable value - the lowest pricing you will ever find
#4
Hosted in 6 locations for compliance and blazing speeds
#5
24/5 Support - FREE chat, email and phone
#6
Uncapped features - limits you will never reach humanly
#7
Managed and maintained everyday by a dedicated team
#8
No downtime - comes with a 99.9% uptime guarantee
#9
Supports a number of international languages
#10
We've everything covered - 90k+ trust us with their business
Join the SaaS Revolution
All-in-One Suite of 50 apps

Unbelievable pricing - $14.99/user

24/5 Chat, Phone and Email Support