10 Best Video Content Marketing Tools for Hosting and Video Delivery
Video content marketing is a powerful and effective tool for businesses of any size. It can help you to engage your customers, build relationships with them and increase sales. But how do you choose the right tools? With so many available options, it can be difficult to know which ones best suit your needs. This article looks at 10 of the best video content marketing tools that allow you to host and deliver videos to your audience effortlessly.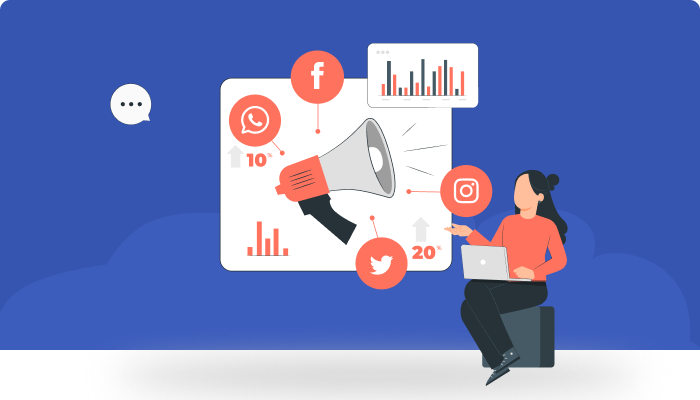 An effective video content strategy requires reliable hosting, quality delivery and convenient access on multiple devices. The right choice of software should make this process as smooth as possible while providing valuable insights into customer engagement. We've researched some of the leading solutions available today to bring you our top 10 tools for hosting and delivering great video content across all platforms.
These ten applications have everything you need, from streaming services to interactive embedding features for successful video marketing campaigns. Read on to discover more about each one, including what makes them stand out from the competition!
Definition of Video Content Marketing
Video content marketing is digital marketing that focuses on creating and distributing video content to engage with potential customers. It can raise brand awareness, attract new leads, increase customer loyalty or boost sales. Content generators are tools designed to help marketers create high-quality videos to meet their objectives.
Content generators provide features such as templates and production resources that enable users to generate engaging visuals for any purpose quickly. They also offer analytics capabilities so users can measure the effectiveness of their campaigns and determine which strategies work best for them. Additionally, they often come equipped with hosting and video delivery options, making it easier for businesses to showcase their video content online.
Benefits of Video Content Marketing
Video Content Marketing is essential to any business's content marketing strategy. Whether you're creating educational videos, entertaining ads or informational tutorials, video can help to increase engagement and draw in new customers. But what are the benefits of utilizing video as part of your content plan?
Using video as a form of content offers several advantages, such as increasing traffic, providing better customer service, and more effectively showcasing products or services than text-based posts.
The video provides helpful visual cues that can be used to explain complex subjects quickly and easily.
It helps with SEO since search engines favor websites with optimized multimedia elements over those without them.
Videos make it easier for viewers to share relevant information across social media platforms, boosting reach and online visibility.
High-quality visuals have become increasingly important for staying competitive in today's digital landscape.
Investing in professional editing software and hosting solutions can help businesses leverage these trends to stand out from their competitors and drive significant results for their bottom line.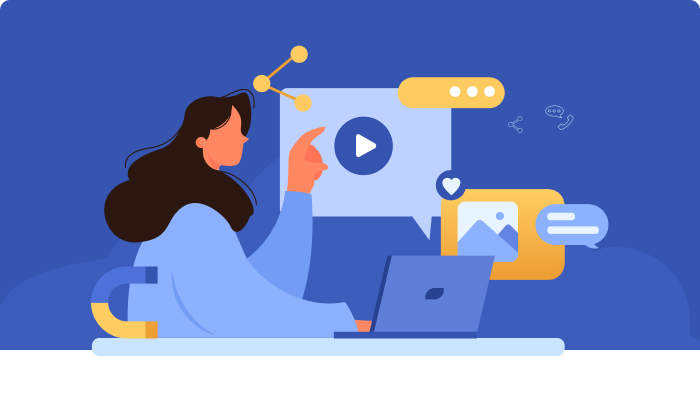 Key Components of Video Content Marketing
Video content marketing is an effective way to reach out to customers, boost brand awareness and increase sales. It's a key component of any content marketing strategy, as it can help drive traffic to your website, engage with current customers and capture new leads. By combining the use of AI blog writer technology with creative video content, you have unlimited potential for success. Here are five elements that make up a successful video content marketing campaign:
Quality Content: Quality should be a top priority when creating videos. This is what makes or breaks a viewer's experience. Ensure videos are well-written, entertaining and informative; no one wants to watch boring videos!
Targeted Audience: Know who you're trying to reach through each piece of content - age group, gender etc. This will inform how you produce the video and ensure the language resonates with viewers to captivate their attention.
Strategic Promotion: How do you plan on getting your eyes on your video? Promote them across different channels such as social media platforms, email newsletters and search engine optimization techniques (SEO). Utilizing all available resources helps maximize exposure for maximum impact.
Consistent Branding: Videos should reflect underlying company values while tying into existing branding efforts like logo design and color palette choices to establish credibility within the market.
Analyze Results: Utilize analytics software tools that measure viewership data during post-production stages to get insights about audience engagement levels and adjust strategies accordingly based on real numbers over time to keep campaigns fresh and relevant at all times.
Many facets are involved when constructing an effective video content marketing strategy. Still, if done right, it'll result in increased profits down the line, so taking advantage of modern tools such as AI blog writers goes hand-in-hand with executing quality visuals capable of inspiring action from viewers.
10 Best Video Content Marketing Tools: Comparison of Key Features and Capabilities
When it comes to video content marketing, numerous tools can help make your strategy a success. Here's an overview of the 10 best video content marketing tools and their key features and capabilities to determine which will work best for you.
NinjaContent
NinjaContent is an all-in-one video content marketing solution that combines hosting, streaming and delivery into one platform. With Ninjacontent, businesses can quickly create, manage and distribute videos at scale with maximum efficiency. It also provides the ability to track performance metrics so users can measure ROI on their campaigns.
It provides an array of features such as:
Automated encoding in different resolutions ensures your videos can be seen on any device.
Customizable and branded playback experiences with interactive calls-to-action.
Tracking capabilities so you can monitor your videos' performance across all channels.
Seamless integration into existing workflow and distribution networks like YouTube, Facebook, Twitter, etc.
Furthermore, NinjaContent has a number of features designed to help maximize engagement for each video campaign, including customizable calls-to-action (CTAs), personalized recommendations and interactive tools such as quizzes or polls. This makes it easy for marketers to create engaging experiences that generate leads and conversions from every video they produce. All in all, Ninjacontent is an effective tool for creating successful video content marketing campaigns.
VidIQ
VidIQ is a powerful video content marketing tool that helps businesses create, optimize, and amplify their video campaigns. It provides users the tools to track, measure, and analyze all aspects of their videos, from creation to delivery. With VidIQ's intuitive dashboard, you can easily monitor performance metrics such as impressions, views, likes, shares, engagement rate, and more.
Keyword research for optimizing titles & descriptions.
Audience segmentation for targeting relevant viewers.
Competitor analysis to keep an eye on your rivals.
Branded intros/outros for added branding power.
A/B testing for maximum optimization.
Social media monitoring to track how your videos are performing across different platforms.
Vidyard
Vidyard is a comprehensive video content marketing tool for hosting and delivery. It's an ideal solution for organizations looking to maximize engagement with their audience. With its powerful suite of features, Vidyard enables businesses to create high-quality videos that captivate viewers and provide valuable information.
The platform allows users easy access to analytics data to track performance across different channels. This helps them understand how well the video content performs regarding reach, clicks, views, and shares. Additionally, it allows companies to produce targeted campaigns based on user behavior and preferences. Furthermore, Vidyard's simple editing tools make it easy to edit existing videos or create new ones from scratch quickly and efficiently.
TubeBuddy
TubeBuddy is an all-in-one tool for YouTube channel owners that helps them increase their viewership and engagement. It offers advanced search engine optimization, comprehensive analytics, keyword research tools, content tagging and much more. TubeBuddy also allows users to customize their channel with custom branding options and provides access to exclusive TubeBuddy discounts on popular products like Adobe Creative Cloud and VidIQ Pro.
TubeBuddy makes video hosting and delivery easier than ever before. Its one-click upload feature enables instant publishing of videos directly from a desktop or mobile device. The platform's advanced analytics provide data insights into user behavior, allowing users to understand audience preferences better and optimize content accordingly. Additionally, its video-sharing capabilities allow users to quickly share content across multiple platforms while tracking performance in real-time.
VYOND
Vyond is a video content marketing tool that helps businesses create and share engaging animated videos. It offers an all-in-one solution to quickly create professional-looking visuals, allowing users to use their time and resources better. Creating high-quality videos has always been challenging with Vyond's library of templates, characters, props, music tracks, sound effects, and more. Additionally, it provides hosting capabilities for easy access and delivery of your creations.
In addition to its user-friendly interface and extensive template library, Vyond also offers advanced features such as voiceover recording tools for added personalization. This makes it ideal for creating compelling stories with custom narration in any language you choose. Plus, its analytics feature lets you track how people respond to each video so you can tweak your approach accordingly. All this combined gives marketers the power they need to produce powerful visual experiences that engage viewers on any platform or device.
InVideo
InVideo is a web-based video creation and video editing platform that offers a range of features to help users create professional-looking videos quickly and easily. One of the key features of InVideo is its extensive library of video templates. Users can customize these templates by adding their own text, images, and videos, or they can start from scratch and create their own video using InVideo's intuitive drag-and-drop interface.
Another notable feature of InVideo is its advanced video editing tools, including text overlays, filters, and transitions, making it easy for users to add a professional touch to their videos. InVideo also provides a library of stock photos, videos, and music tracks, which users can easily search and add to their videos.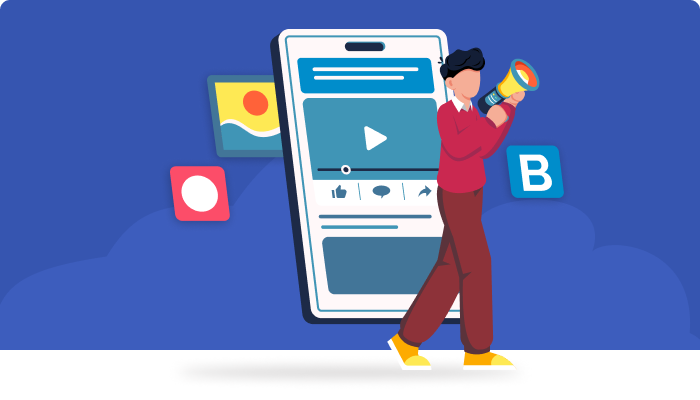 WISTIA
Regarding hosting and video delivery, Wistia stands out among the best video content marketing tools. It offers features that help marketers optimize their videos for maximum impact. For example, its Video SEO feature ensures that your videos are indexed by search engines and can easily be found by potential viewers. Additionally, with its customizable player design, you can ensure that any branding is consistent across your hosted videos.
Wistia also provides advanced analytics, such as heatmaps which track how users interact with your videos; this information helps marketers understand what works to create even more effective videos. Moreover, it has an easy-to-use editing platform to trim, crop or add effects like blurs without switching platforms. Overall, Wistia is packed full of features designed to simplify creating engaging video content for marketing purposes and makes it easier for businesses to get their message across effectively.
Wave.Video
Wave.video is an easy-to-use content marketing tool that helps businesses quickly create, host and deliver videos to their audiences. Its intuitive drag-and-drop editor lets users craft beautiful videos in just a few clicks. Plus, it provides additional features such as analytics for tracking the performance of your videos, and integration with popular social media platforms so you can easily share them online.
Here's what makes wave.video stand out:
Easy Video Creation: It has a simple user interface with pre-made templates that make creating stunning videos a breeze, no technical know-how is required!
Analytics & Insights: Get detailed insights on your videos' performance and use this data to improve engagement and ROI.
Social Media Integration: Connect with popular social networks like YouTube, Facebook, and Twitter to quickly reach your audience across multiple channels.
The platform also has built-in SEO tools so you can get more organic traffic from search engines without spending time manually optimizing each post. Wave.video also offers custom branding options which allow businesses to customize their videos according to their brand identity. Wave.video is one of the best video content marketing tools available today for hosting and delivering engaging video experiences to customers worldwide.
Vimeo
Vimeo is an excellent video content marketing tool with a number of features designed to help you host, stream, and deliver videos. It boasts a powerful suite of tools for creating stunning visuals to draw viewers in. Plus, it offers advanced analytics to track performance and measure success. The platform also allows users to monetize their content through Vimeo On Demand, which lets them charge customers for viewing their videos online.
The interface is user-friendly and easy to navigate, making it simple for marketers to get up and running quickly without technical knowledge. Additionally, the robust privacy settings give creators full control over who can view their content – perfect for businesses looking to keep their materials secure while still allowing them access on demand. All these features make Vimeo one of the best solutions for hosting and delivering high-quality video content marketing campaigns.
Sendspark
Sendspark is a powerful video content marketing tool for hosting and delivering videos. It allows users to quickly produce, host, share, and track their video campaigns without any difficulty.
Sendspark also has advanced security protocols which help protect user data from unauthorized access or editing. This ensures that only authorized personnel can access the company's sensitive information. Additionally, it allows teams to collaborate easily by providing real-time feedback options for teammates, enabling them to provide quick edits or approve changes when needed. All these features make Sendspark one of the most effective tools available today for hosting and delivering high-quality video content.


Get started with the leading Video Content Marketing today!
Sign Up 14 Day Trial
Conclusion
In conclusion, video content marketing is an effective and powerful way to engage with potential customers. It can help build trust in your brand, increase sales conversions, and ultimately grow your business. With the right tools, however, you'll be able to take your engagement to the next level. The ten best video content marketing tools discussed in this article provide users with comprehensive features and capabilities that allow them to create engaging videos quickly and easily. From hosting platforms like VidIQ or WaveVideo to delivery services such as Vimeo or Sendspark, these tools have everything you need for successful video content marketing campaigns. Finally, NinjaContent makes it easy to coordinate multiple aspects of a video campaign into one seamless workflow. These great solutions are invaluable assets for creating compelling visual stories that capture viewers' attention better than any other medium available today.
Why Choose 500apps?
#1
All-in-One Suite with more than 50 apps
#2
Everything you need today and in the future for all departments
#3
Unbelievable value - the lowest pricing you will ever find
#4
Hosted in 6 locations for compliance and blazing speeds
#5
24/5 Support - FREE chat, email and phone
#6
Uncapped features - limits you will never reach humanly
#7
Managed and maintained everyday by a dedicated team
#8
No downtime - comes with a 99.9% uptime guarantee
#9
Supports a number of international languages
#10
We've everything covered - 90k+ trust us with their business
Join the SaaS Revolution
All-in-One Suite of 50 apps

Unbelievable pricing - $14.99/user

24/5 Chat, Phone and Email Support