9 Best Email Marketing Software to Generate Leads
Are you looking for the best email marketing software to generate leads? If so, you're in luck! Email marketing is one of the most effective ways to reach potential customers and build relationships. It's also an incredibly powerful way to generate leads for your business.
Let's look at some of the best email marketing tools available today and explore how they can help you get more leads. We'll discuss features like list segmentation, automation capabilities, reporting options, and more. By the end of this article, you'll know which tool is right for your needs and have all the information necessary to make an informed decision about which platform to use.
Top Features of Email Marketing Software
When looking for email marketing software, there are many features to consider. From the ability to automate emails to create a personalized experience for leads to tools that make it easy to measure results, these features should be at the top of any list when evaluating email marketing software.
Automation
Automation is a key feature of any email marketing software. Email automation tools allow businesses to send out messages and campaigns quickly without manually managing each task or message. Automation also provides accuracy and consistency in the delivery of emails, allowing companies to save time on repetitive tasks while ensuring customers receive high-quality content.
Email automation tools can be used for many purposes, such as sending welcome emails, triggered campaigns, newsletters, surveys and more. As a result, businesses can automate email communication with customers more effectively and efficiently than ever before. Automated segmentation allows companies to target specific customer groups based on criteria like geography, interests or past purchases. Business owners can ensure they deliver the right information at the right time to the right people.
A/B Testing
A/B testing is a key part of any successful email marketing strategy. It helps you see which emails are more effective and gives insight into how your customers interact with them. By using A/B tests, you can ensure that the content in your emails gets seen by the right people at the right time. Using automated email marketing tools makes it easy to set up and run A/B tests, allowing businesses to quickly test different versions of their emails: To start, try out different subject lines for each version of an email to see which one resonates better with your audience.
For example, experiment with shorter vs longer titles or personalisation vs generic language.
Next, review the images used in each version and the body copy and call-to-action buttons.
You could look at how color schemes affect engagement or if visuals help increase click-through rates on links within the emails.
By running continuous A/B tests on all aspects of an email campaign, marketers can continuously refine their strategies and improve performance over time while gaining valuable insights into what works best for their target market or customer segment. This process allows organizations to maximize the impact of every message they send.
Segmentation
Segmentation is a key tool for successful email marketing. By segmenting your target audience into smaller, more manageable groups, you can focus on providing tailored content and campaigns to specific subsets of potential customers. This allows marketers to hone in on their message and increase relevancy while ensuring they don't waste time or resources trying to reach people who won't be interested in the offer. With an effective email marketing service like XYZ, it's easy to build out customer segments based on past purchase history, demographic data, interests or any other criteria that help define your ideal buyer. You can also use A/B testing to measure how different segments respond to specific messages, allowing you to optimize future content accordingly and generate more leads from your email campaigns.
For best results when using segmentation with an email marketing tool, ensure you have clear goals for each campaign before sending them out. A good understanding of your objectives will help ensure all efforts are focused towards achieving them, ultimately leading to higher conversion rates and better returns on investment.
Analytics and Reporting
Analytics and reporting are two crucial aspects of any email campaign software. It helps to track the success of an overall campaign, as well as individual emails that were sent out during it. With analytics and reports, marketers can identify trends and adjust their strategies accordingly. This allows them to create more effective campaigns in the future by making data-driven decisions based on the insights they get from their analytics and reports.
Furthermore, data provided through analytics and reporting provides a great way for marketers to check how successful their campaigns have been. For example, metrics such as open rate, click-through rate (CTR), bounce rate, etc., are all tracked, giving marketers valuable information about what is working or not working with their campaigns. Additionally, these features often come with automated reports that take away time manually collating data into meaningful charts or graphs, saving lots of time!
Integrations
Integrations are a key component of the best email marketing software. They make it easier to generate leads and automate and streamline processes. Here's how integrations can help you:
Easily sync your customer data across multiple platforms with one click. This makes it easy to segment customers into different lists and target them more effectively.
Automate tasks such as sending emails or tracking clicks on links to save time and maximize efficiency.
Get real-time insights from internal and external sources to get an accurate picture of what's working and what isn't for your campaigns. Having the right integrations is essential to take advantage of the best email marketing software available today. Integrations don't just provide convenience but also give insight into trends which can be leveraged to optimize lead-generation strategies. There's no doubt about it. Leveraging integrations will help ensure your success when using email marketing software!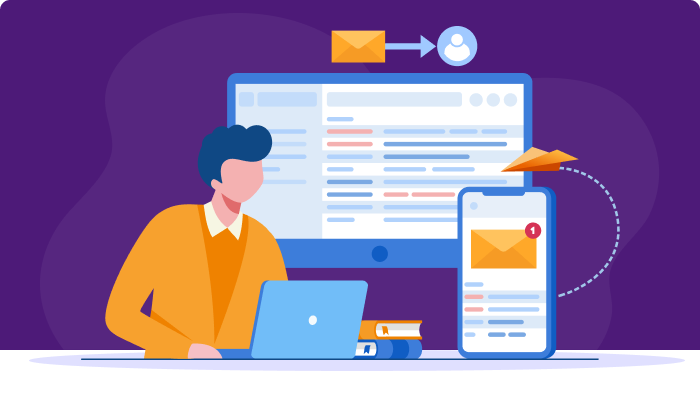 9 Best Email Marketing Tools For Generating Leads
Finding the right software to help with lead generation can be overwhelming. That's why we've researched for you and put together a list of nine great email marketing tools that will make your job easier.
Mailchimp
Mailchimp is a popular email marketing software used to generate leads. It provides users easy-to-use tools and analytics, allowing them to create campaigns quickly. Plus, it offers templates for creating professional emails and tracking user engagement. With Mailchimp's Automation feature, you can send automated messages based on user activity or events. This way, you can ensure your message gets seen by the right people at the right time.
Another great thing about Mailchimp is that it integrates seamlessly with other platforms like WordPress and Shopify. You don't need any coding knowledge to use this tool - just drag and drop elements into place without having to worry about HTML code! And since Mailchimp has one of the best customer service teams, you can get help whenever needed. If you're looking for an effective way to generate leads through email marketing, Mailchimp should be your first choice!
Constant Contact
Constant Contact is another popular email marketing software that can be used to generate leads. It has an easy-to-use interface and numerous features like setting up automated emails, tracking email campaigns, and managing contact lists. Another great thing about Constant Contact is its powerful analytics capabilities which allow you to track open rates, click-throughs, unsubscribes, and more. Plus, it offers a variety of integrations with third-party apps such as Salesforce and Shopify so users can easily connect their data sources.
Constant Contact provides an ideal platform for businesses looking to maximize lead generation through email marketing. From creating engaging content to tracking results in real-time, plenty of tools are available when using this software. And if you're new to email marketing or don't have much experience with online programs, fear not: Constant Contact includes helpful tutorials and support options throughout the entire process.
GetResponse
GetResponse is a great email marketing software solution for businesses looking to generate leads. It comes with all the necessary features, such as automation tools and access to extensive analytics reports. What sets GetResponse apart from other solutions is its intuitive interface which makes it easy to create, send, and monitor campaigns - no matter your skill level or tech knowledge.
It also offers advanced personalization options that allow you to customize emails according to customer preferences. This helps ensure higher open rates and better engagement with potential customers. Getresponse's powerful segmentation capabilities help further tailor messages, making them most effective in reaching target audiences. This combined allows businesses to maximize their ROI while boosting lead generation efforts more efficiently than ever.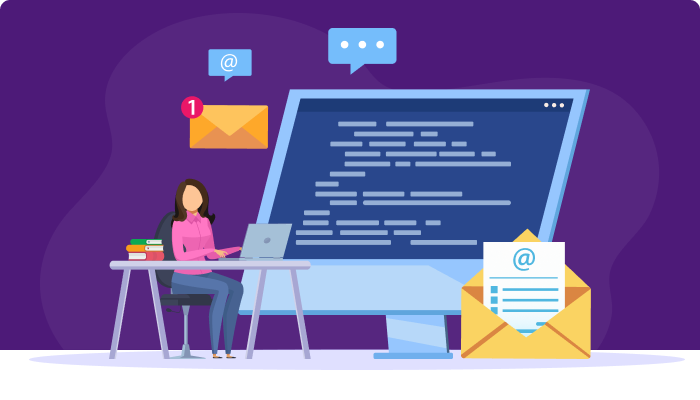 Aweber
Aweber is an effective email marketing software designed to help businesses generate leads. It offers a wide range of features and tools that enable users to create professional-looking emails with minimal effort. For example, it comes with hundreds of customizable templates, and its drag-and-drop editor makes it easy for anyone to customize their emails without needing any technical skills.
Additionally, Aweber's tracking and reporting system provides insight into user data so marketers can measure the success of their campaigns in real-time and adjust them accordingly. This allows marketers to optimize their content for maximum lead generation effectiveness. The platform integrates seamlessly with other popular software solutions like WordPress and Zapier.
Drip
Drip is an email marketing software that makes it easy to generate leads. It features a visual workflow builder that helps you create automated campaigns in minutes and powerful segmentation tools and integrations with various other channels. With its drag-and-drop editor, you can quickly design beautiful emails tailored for your audience. Additionally, Drip offers detailed analytics to track your campaigns' success.
The platform also provides several pre-built templates to help make the process easier. You can customize these templates according to your needs or start from scratch if desired. And finally, Drip has built-in A/B testing capabilities to optimize your content for maximum impact on lead generation.
ConvertKit
ConvertKit is a powerful email marketing tool to help you generate leads. It features comprehensive automation, segmentation and tagging capabilities that allow users to customize their campaigns for more effective lead generation. Plus, it has an easy-to-use interface so even beginners can get up and running quickly.
ConvertKit offers the ability to create automated workflows tailored to your specific needs. For example, after someone joins your mailing list, they could be sent a series of emails designed specifically for them based on how they interact with your content or what actions they take. This ensures that each customer receives relevant information at the right time in their journey, which helps maximize conversions.
Sendinblue
Sendinblue is a powerful email marketing software that can help you to generate leads. It's user-friendly, with many features and tools that make it easy for anyone to create effective campaigns. With its intuitive drag-and-drop editor and helpful customer support team, Sendinblue makes it simple to get started quickly. The platform offers an expansive suite of features designed to increase engagement and maximize lead generation. Here are some of the advantages:
Automation & Personalization: Create automated sequences based on subscriber behavior as well as customize emails with dynamic content.
Advanced Analytics: Monitor clicks, opens, subscribers' location and more in real-time.
Email List Management: Easily segment contacts into lists and nurture them with personalized messages.
Integrations: Connect your app or website with the integration marketplace to manage contacts from one place.
Sendinblue provides users with 24/7 access to comprehensive resources such as guides, tutorials, webinars, and video libraries, so no matter what their level of proficiency is they can learn how to leverage the full capabilities of the program efficiently.
MailSend
MailSend is a powerful email marketing software with features designed to generate leads. It stands out for its affordability, user-friendliness and automation capabilities. Here are some of its highlights:
Automation: Create automated campaigns that trigger based on subscriber activity or contact data changes.
Segmentation: Separate contacts into groups using custom filters and conditions.
Reporting & Analytics: Get real-time insights about your subscribers' engagement and track the success of each campaign.
Integration: Easily link MailSend to other apps such as Salesforce, Marketo, HubSpot and more.
Customization: Personalize emails with dynamic content like images, videos and personalized messages.
MailSend provides an engaging platform for businesses seeking to nurture relationships with customers at scale while optimizing lead generation efforts. It's simple enough for beginners yet powerful enough to meet the needs of advanced users, making it an ideal choice for any organization looking to maximize its ROI from email marketing.
Get started with the leading Email Marketing Software today! Sign Up 14 Day Trial
Conclusion
In conclusion, email marketing software can be a great tool for businesses to generate leads and increase their sales. It is important to select the right software that offers automation, A/B testing, segmentation, analytics, and reporting. Drip, ConvertKit, SendinBlue, and MailSend are all good options for choosing an email marketing platform. Each of these services has different pricing plans, making them suitable for any budget.
It is also essential that you take into account other factors, such as usability and customer service, before making your decision on which one to use. With the help of email marketing software, companies can build customer relationships by providing personalized content tailored to their needs and preferences. This will ultimately result in increased conversions and improved ROI for businesses.
Why Choose 500apps?
#1
All-in-One Suite with more than 50 apps
#2
Everything you need today and in the future for all departments
#3
Unbelievable value - the lowest pricing you will ever find
#4
Hosted in 6 locations for compliance and blazing speeds
#5
24/5 Support - FREE chat, email and phone
#6
Uncapped features - limits you will never reach humanly
#7
Managed and maintained everyday by a dedicated team
#8
No downtime - comes with a 99.9% uptime guarantee
#9
Supports a number of international languages
#10
We've everything covered - 90k+ trust us with their business
Join the SaaS Revolution
All-in-One Suite of 50 apps

Unbelievable pricing - $14.99/user

24/5 Chat, Phone and Email Support