Best Help Desk Software in 2023
Employ our help desk software. It is a high-quality platform with which team members can track customer service requests and manage certain aspects of the company.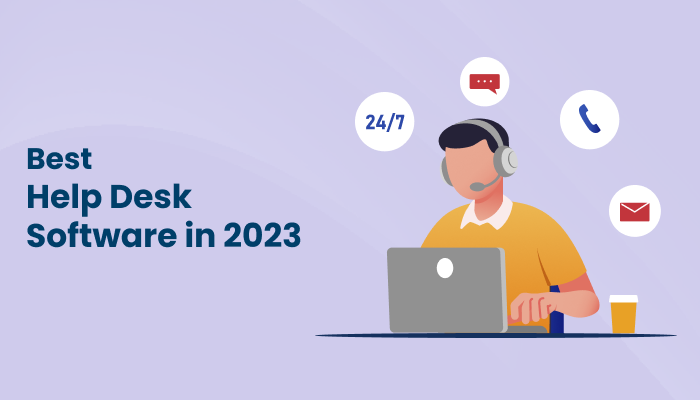 Helpdesk software has undergone significant evolution since its inception, and the global market revenue for these tools has grown considerably as well. Initially, helpdesk software was designed to provide a centralized platform for managing customer support inquiries and requests. This allowed businesses to track and resolve customer issues more efficiently, improving their overall support operations.
Over time, helpdesk software has evolved to incorporate a range of additional features and capabilities. Many modern helpdesk tools now offer features such as self-service portals, knowledge management systems, and integration with other business applications. This has made them even more valuable to businesses, as they can now use these tools to not only manage customer support but also to improve their overall operations and customer experiences.
The global market for helpdesk software has grown significantly in recent years, driven by the increasing importance of customer support and the growing demand for more sophisticated and feature-rich tools. In 2021, the global market revenue for helpdesk software was estimated to be worth over $7.5 billion, and it is expected to continue to grow at a steady pace in the coming years.
Overall, the evolution of helpdesk software has been driven by the needs of businesses to improve their customer support operations and provide better experiences for their customers. As a result, these tools have become increasingly valuable and the global market for them continues to grow.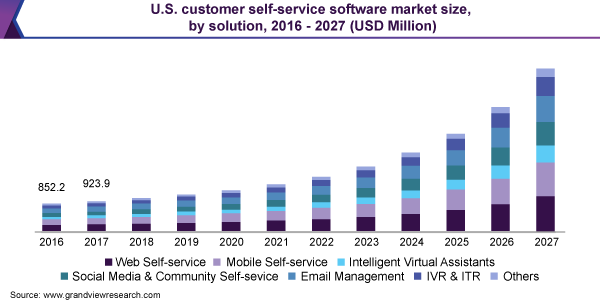 Advantages of Helpdesk software
Helpdesk software is a tool that helps businesses and organizations provide customer support by tracking and resolving customer issues. Some of the main advantages of using helpdesk software include:
Improved efficiency: Helpdesk software allows customer support teams to track and manage customer issues in a more organized and efficient way, which can help improve overall productivity.
Better customer service: With helpdesk software, customer support teams can quickly and easily access customer information and history, which allows them to provide more personalized and effective support.
Increased customer satisfaction: Helpdesk software allows businesses to resolve customer issues more quickly and effectively, which can lead to increased customer satisfaction and loyalty.
Enhanced collaboration: Helpdesk software often includes collaboration tools that allow teams to work together more effectively, which can improve communication and coordination within the support team.
Detailed reporting: Many helpdesk software tools include detailed reporting capabilities that allow businesses to track and analyze customer support metrics, such as response times and resolution rates, which can help them improve their support processes over time.
List of top 11 Helpdesk Software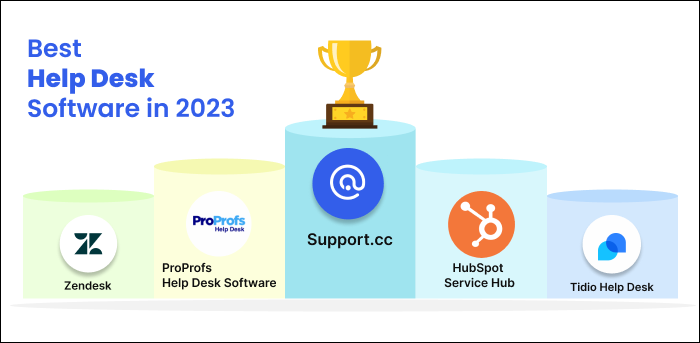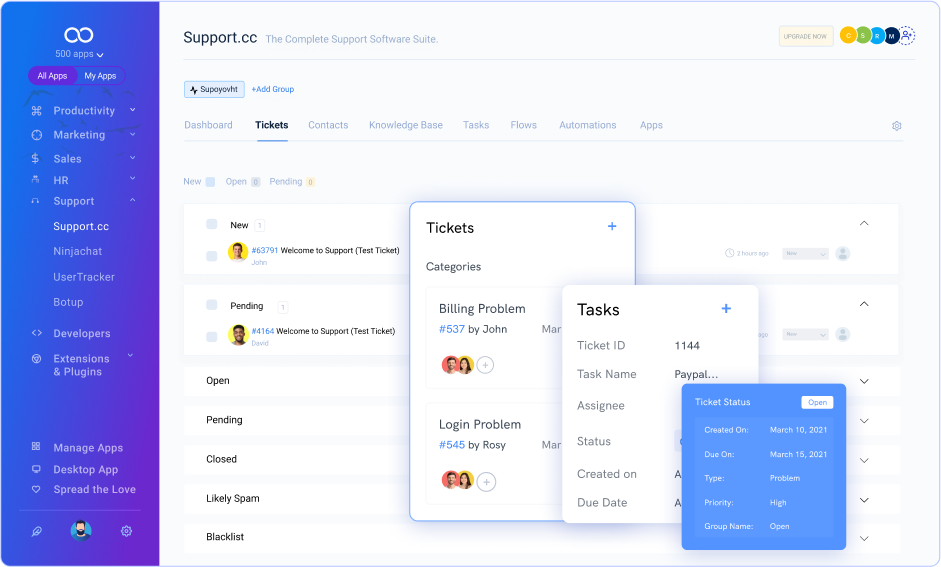 Using the help desk software, the best customer experiences are achieved. Because of its products' robustness and adaptability, any business can use them to satisfy their demands for customer engagement and support. It is an easy ticketing system for keeping track of consumer communications.
Features
Ticket Management- This tool makes it simple to observe, track, manage, and resolve user requests and IT incidents.

Knowledge Base- A knowledge base is a published compilation of content that includes frequently asked questions, how-to manuals, and troubleshooting information. It is meant to make it easy for people to find solutions to their problems without having to ask for help.

Helpdesk Automation- It enables you to provide better customer support by automating administrative chores like allocating tickets to the appropriate parties and ensuring that all requests are tracked. It can be utilized to automate the ticketing process and customer updates, raising the bar for customer service.

Advanced Reports- To gather information to enhance the customer experience, use advanced reports. A summary of all activities taking place inside the customer support staff, including critical performance indicators like ticket volume, number of issues resolved, and average ticket resolution time.

Contact Management- Monitoring and managing contacts with clients, partners, and other significant persons are known as contact management. The contact's profile information, such as contact lists, email distribution lists, publication schedules, contact history logs, etc., can be organized with its assistance.

Task management- It aids in organizing and planning tasks. It breaks projects down into smaller tasks, tracks development, and delivers notifications when due dates are approaching or tasks are not completed. Instead of concentrating on one activity at a time, it enables you to make a list of tasks that you can then move through to track your progress.
ProProfs Help Desk Software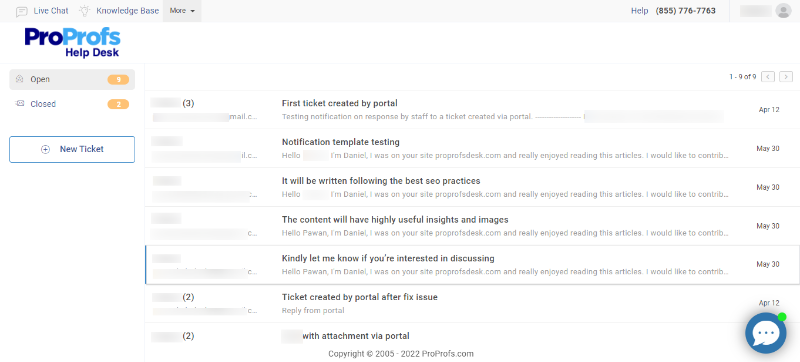 A customer service solution called ProProfs Help Desk Software assists companies and organizations in managing and resolving client complaints. Support teams can track and handle client issues as they are reported and fixed thanks to ticket tracking.
Features
Knowledge base: Offers a searchable collection of details and remedies that can be used to assist in resolving client problems.

Tools for collaboration: Enable support staff to communicate and work together more effectively to resolve client issues.

Automated responses: Sends common client inquiries or problem answers automatically, which helps lighten the load on the support staff.

Customer self-service: Customers can visit a web-based portal where they can monitor and edit their own information, as well as submit and track their own support problems, thanks to customer self-service.

Analytics and reporting: Provide thorough metrics and reports on the performance of the support staff so they may be utilized to gradually enhance the support processes.
HubSpot Service Hub
A cloud-based customer service platform called HubSpot Service Hub is made to make it easier for companies of all sizes to manage customer inquiries and boost client engagement.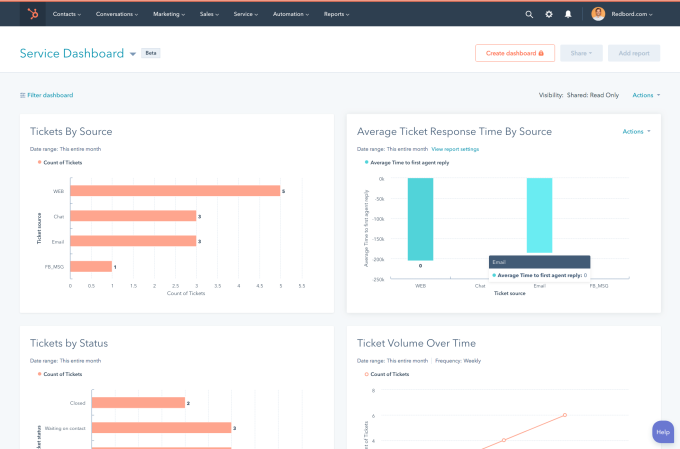 Features
Use communication technologies for conducting contextual, conversational conversations to convert customers into brand promoters.

Promote cooperation by giving all team members access to the Conversations mailbox, which provides a contextual overview of a customer's history and prior interactions.

Create actionable tickets from conversations and emails that can be prioritized, categorized, and tracked in order to streamline end-to-end customer support.

By developing an online knowledge base and personalized Helpdesk that clients can use, you may assist customers with self-service remedies.

Use the advocacy and feedback tools available through HubSpot Service Hub to learn more about customer sentiment and pinpoint areas that could use improvement.
Zendesk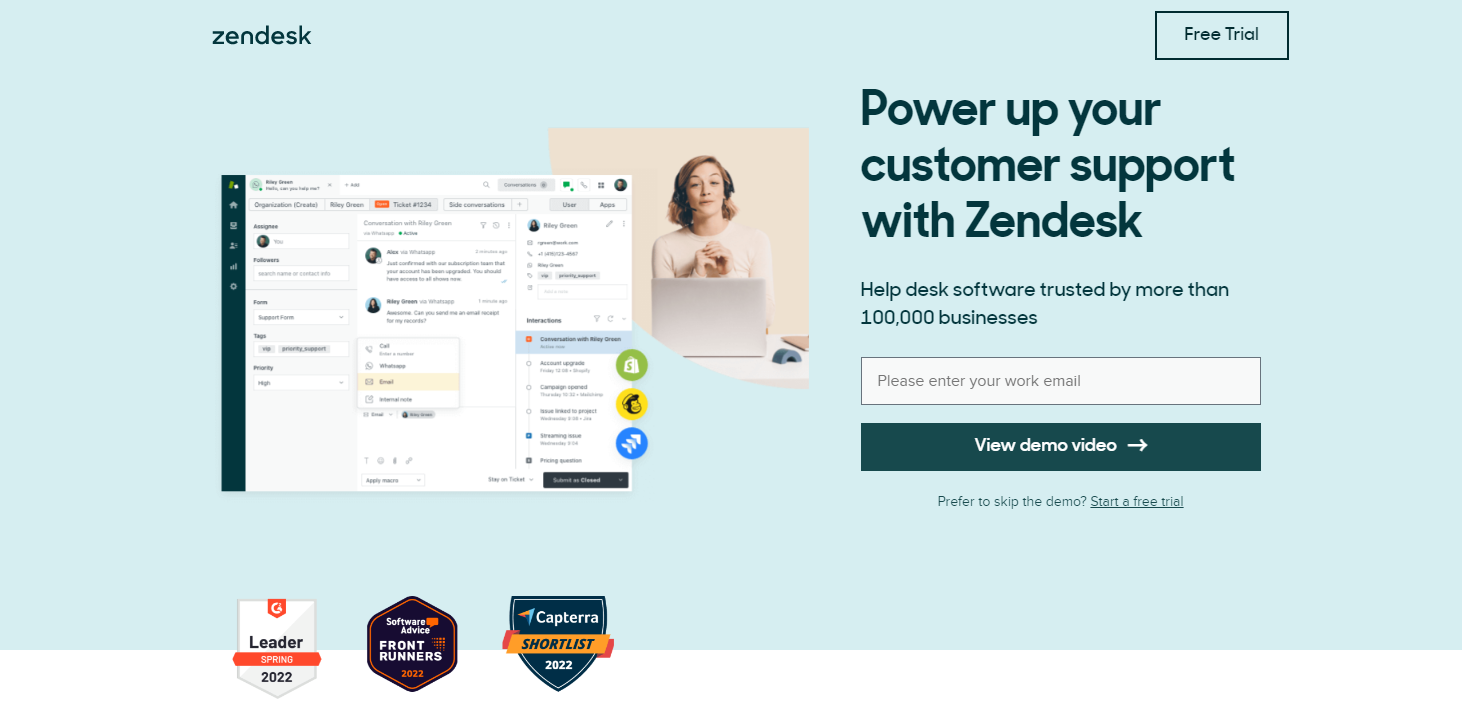 A simple-to-use customer service tool like Zendesk is capable of meeting even the most complex requirements while still being straightforward enough to allow you to get started right away. With a single, unified agent workspace that collects all conversations across web, mobile, and social platforms, Zendesk makes it simple for desk agents to monitor, prioritize, and reply to customers.
Features
Unified Workspace: A digital contextual interface will provide you a seamless workspace experience. Gain advantages by having agents work in shifts. Work orders and pass-around tickets are circulated among the team members.

Omnichannel Support: Support workers may connect with consumers through a variety of channels with the help of omnichannel support. Get omnichannel assistance built into the workspace of the product while maintaining context. No matter the channel, keep the discussion going with clients and solve problems without losing context.

Better Support From Anywhere: Provide round-the-clock assistance with AI-powered chatbots that enable users to quickly find answers to common questions without the assistance of a human agent.
Tidio Help Desk

Tidio is a versatile platform for a customer experience that increases sales for companies all around the world. Agents can efficiently answer inquiries thanks to its flexible and simple chat widget that integrates with numerous websites. In order to communicate with users whenever necessary, it offers real-time chat help.
Features
Shared Inbox: Control communications across various websites and collaborate via one channel. For future use, see complete details such as the customer's contact information, location, past interactions, and pages viewed.

Chatbots: Create and activate a variety of lead-capturing chatbots using various templates. Drag and drop visual editor for modifying codeless chatbots.

Visitors List: Use the sidebar to view and track website visitor information in real-time. No need to inquire about specifics while striking up a conversation. Send pleasantries based on the customer's location to make conversations more personalized.

Integration: Customize live chat and enhance it with as many chatbots as you like for marketing automation. When offline, receive notifications. On particular web pages, present live chat.

Integrate: Easily with well-known websites, CRMs, analytics, and eCommerce platforms.
Freshdesk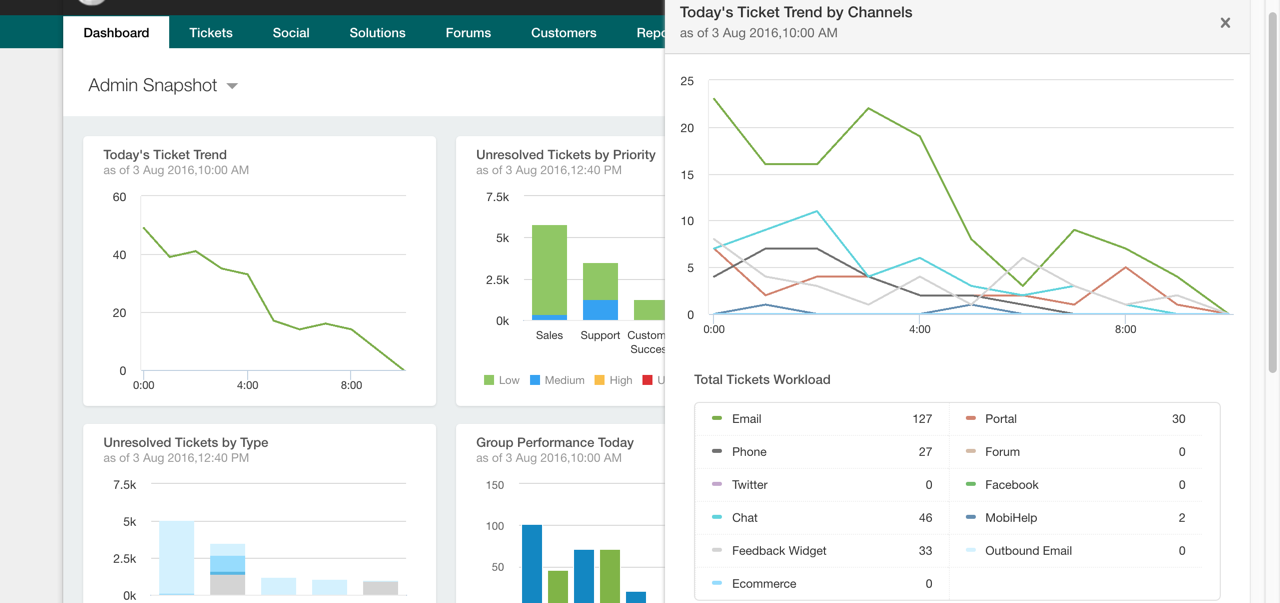 Freshdesk is customer service software that is available as a service (SaaS). It provides omnichannel features, automatic ticket routing, in-depth reporting, self-service choices, SLA management, and much more.
Features
Intuitive UI- Freshdesk's slick and simple-to-navigate user interface makes it quick to set up an account, familiarise yourself with the tool, and more.

Omnichannel Capabilities- Manage requests coming in via email, online, phone, chat, and social media from a single spot and have them automatically sent to the appropriate agents according to the channel they are coming in through.

Enhanced Productivity- Freshdesk includes strong automation that eliminate repetitive activities and was built to support agents in maintaining their highest levels of productivity.

Increased Functionality- Get more done with Freshdesk by integrating products from its marketplace, which features over 500 apps including Salesforce, Jira, WordPress, and Shopify.

24/7 Help- Freshdesk provides email, phone, and chat support.
Zoho Desk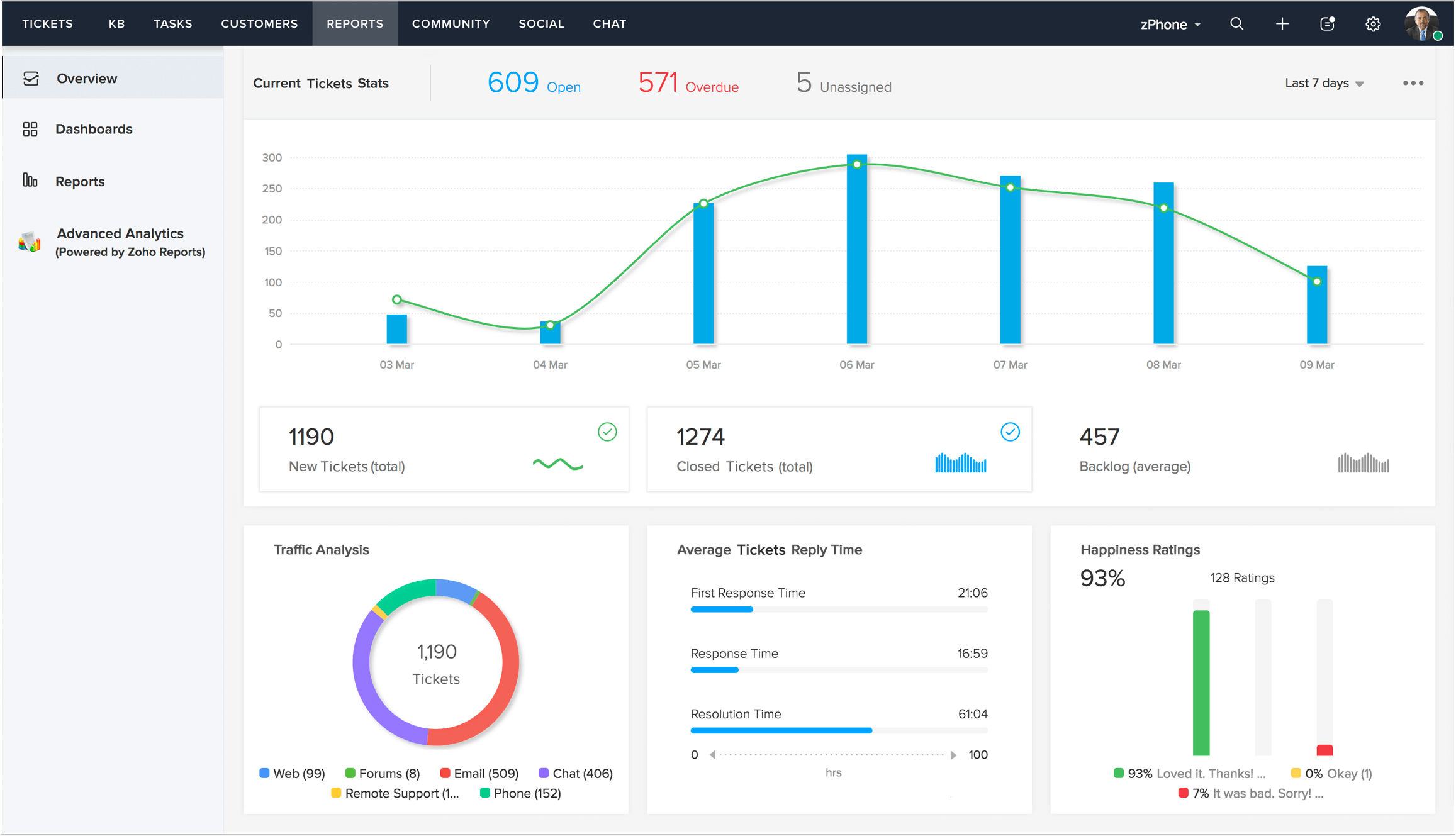 For organizations of all sizes to manage customer service, Zoho Desk is a cloud-based help desk platform. The production of reports, contract management, customer support tickets, and a customer support portal are some of the key features.
Features
Dashboard: In the Zoho interface, the dashboard is the primary section. It displays your live traffic, agents, incoming and outgoing bandwidth from a number of channels, and more.

Ticketing: Ticketing Zoho Desk's primary function is ticketing. With the use of this tool, your clients can submit support tickets to you detailing their problems, and your staff will be able to both respond to these and initiate proactive outbound support requests.

Live Chat: Your website's live chat function enables you to converse with your visitors in real-time. Sending messages back and forth is also an option, as is sending messages with attachments of Help Center articles to enable consumers to self-serve.
AzureDesk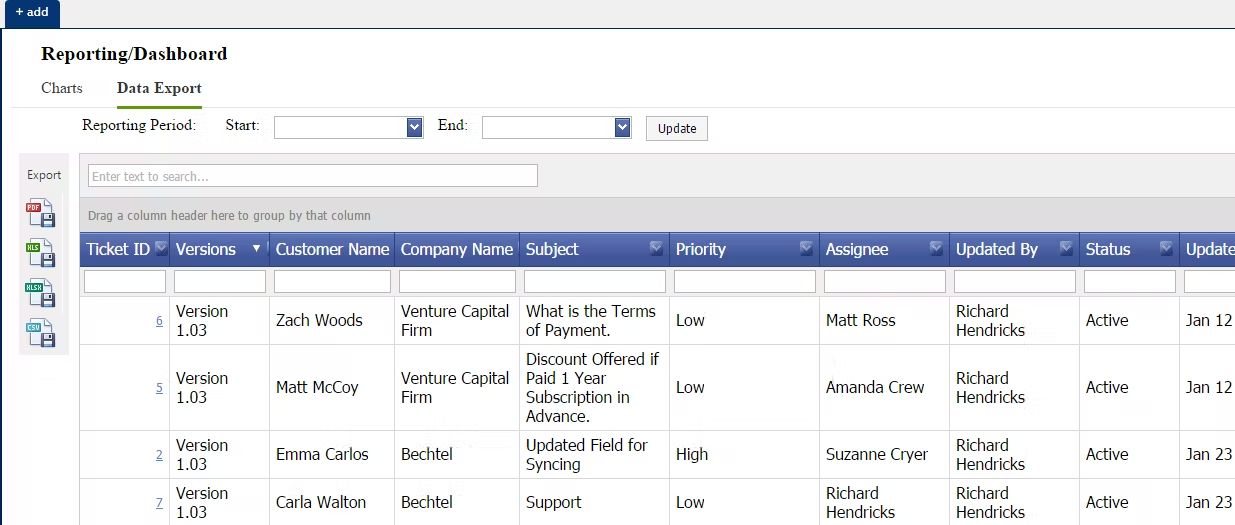 For companies of all sizes, there is a support desk solution called AzureDesk. The application unites support emails, support tickets, and inquiries received via email from consumers while centralizing all information pertaining to the latter group.
Features
Permit customers to use the self-service, rapid search customer interface of AzureDesk to look up answers to their own support questions first.

AzureDesk lets you automatically create tickets from receiving support emails.

From the time a question or problem is raised until it is resolved, manage it while keeping the consumer informed.

With AzureDesk's integrated JIRA integration, it's simple to turn support requests into JIRA problems.

With AzureDesk's administration site, add clients, businesses, and agents.
Spiceworks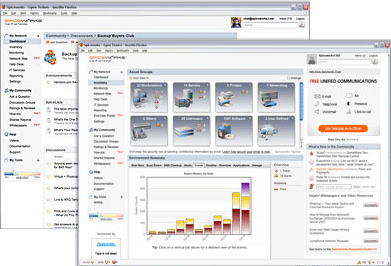 You can quickly handle IT tickets and tasks using Spiceworks' cloud-based helpdesk service. You don't have to be concerned about purchasing servers, making backups, or even maintaining them because your support desk is housed in the cloud.
Features
Track the status of tickets and automatically assign them to agents.

Share support tickets with other team members to speed up problem resolution.

Create reports and quickly access metrics for team performance.

Maintain a list of new tickets and determine your initial response time.

Publish queries and ideas from consumers on the Spiceworks community forum.
HelpScout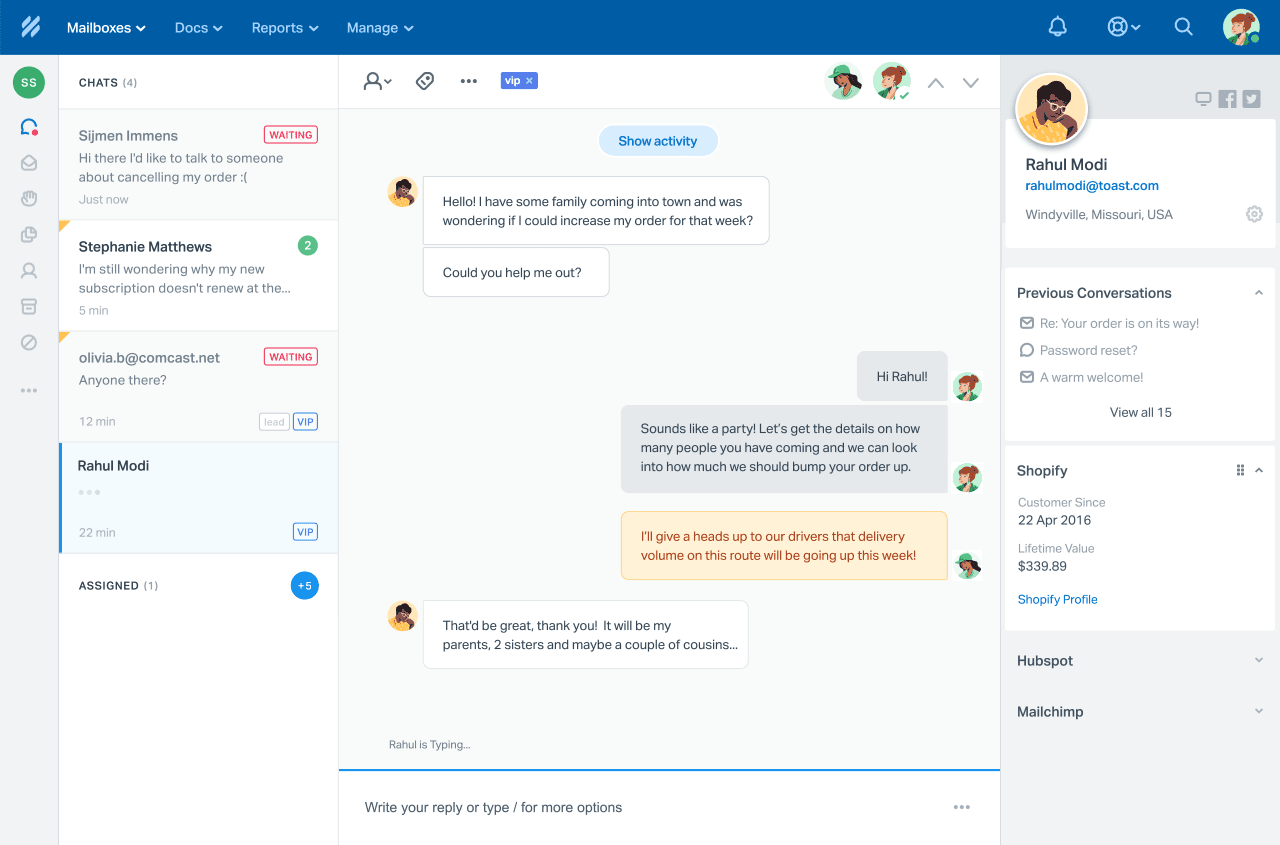 With a powerful shared inbox function, Help Scout is unquestionably one of the top helpdesk software. To keep everyone informed, it is simple to set up numerous shared inboxes for various teams, email addresses, and brands.
Features
To make it simple to add text, pictures, links, videos, and tables to assistance articles.

Activated messages are used to onboard new customers and provide proactive help.

Create reports on all discussions, the busiest times, and performance.

The agent collision detection tool might help you avoid duplicate talks.

Keep track of the number of tickets through phone, chat, or email.
Vision Helpdesk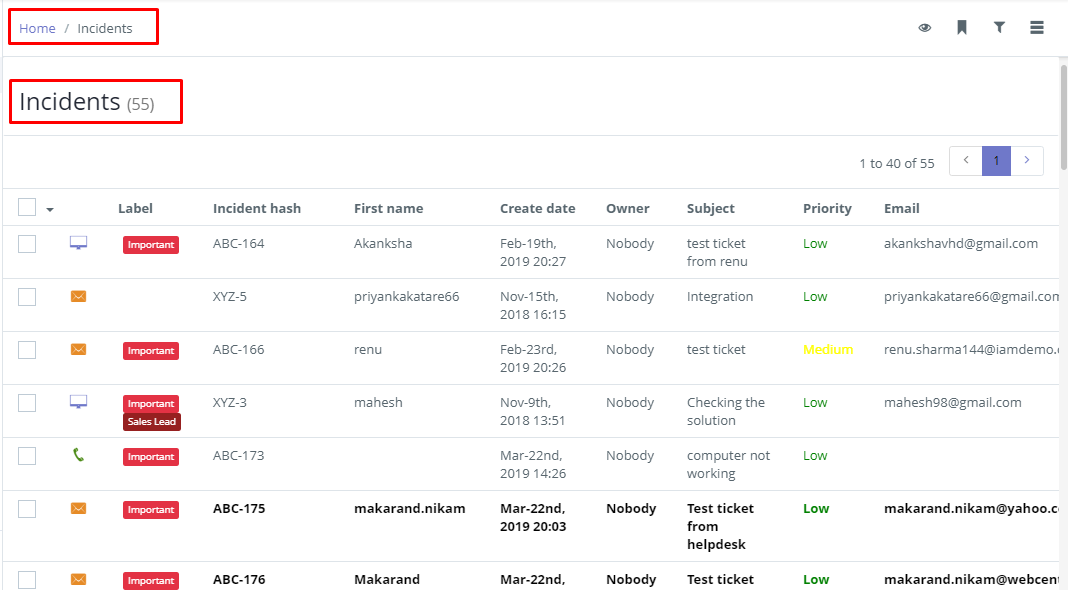 The outstanding utility known as Vision Helpdesk also merits a spot on this list of help desk applications. The application makes it possible for your customer service professionals to take in, analyze, and deal with issues and service requests. With its multi-channel features, you can consolidate all of your support conversations, whether they occur over chat, phone, email, a web portal, Facebook, or Twitter.
Features
Set up agent quests and accomplishment levels to make your process more engaging.

Permitting your agents to log the time they spend resolving a particular ticket

Assist clients from around the world by developing a multilingual client site.

Customers should be automatically recommended knowledge base content.

Make help articles that are SEO-optimized to increase their visibility.
What's Next?
If different support apps were combined into a suite, businesses could manage their customer engagement and assistance in one place more easily. This would make it simpler to keep track of the development and results as well as the overall success of the support campaign. Use 500apps to ensure that your business is running as effectively and productively as possible by having a range of business suites, such as those for sales, human resources, customer service, marketing, and other departments.
Conclusion
It is crucial to take into account your unique needs and requirements while selecting Helpdesk software. Different Helpdesk software alternatives come with different features and functionalities. Some are easier to use than others. And some might cost less than others. In the end, Support.cc from 500apps, which engages visitors to your website, is the best Helpdesk program for you. Visit 500apps right away to discover more about our 50-app All-in-One CRM Software, which is available for just $14.99 per user
Why Choose 500apps?
#1
All-in-One Suite with more than 50 apps
#2
Everything you need today and in the future for all departments
#3
Unbelievable value - the lowest pricing you will ever find
#4
Hosted in 6 locations for compliance and blazing speeds
#5
24/5 Support - FREE chat, email and phone
#6
Uncapped features - limits you will never reach humanly
#7
Managed and maintained everyday by a dedicated team
#8
No downtime - comes with a 99.9% uptime guarantee
#9
Supports a number of international languages
#10
We've everything covered - 90k+ trust us with their business
Join the SaaS Revolution
All-in-One Suite of 50 apps

Unbelievable pricing - $14.99/user

24/5 Chat, Phone and Email Support