10 Best Web Chat Tools in 2023
Chatting has become a fundamental part of our lives, both in the business world and in our communications. With so many tools available for web chatting, it can be difficult to know which is best for your needs. Today, we will explore the 10 best web chat tools currently on the market and discuss how they compare to each other in terms of features and benefits.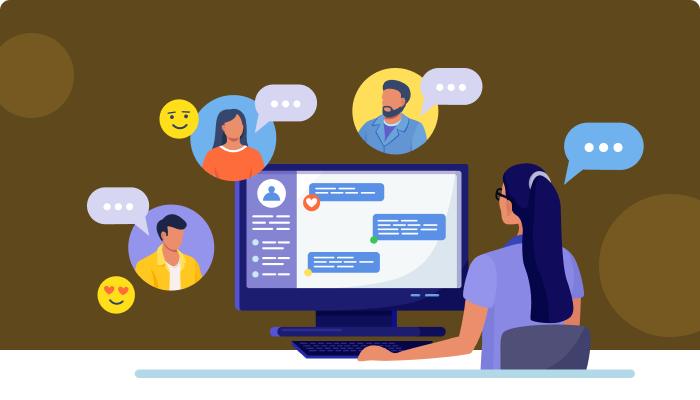 The advancement of technology has made it easier to stay connected with friends, family members, colleagues, and customers from any location around the world. Web chat tools provide us with an efficient way to communicate quickly and easily without having to switch between various applications or programs. We have seen incredible advances in these tools over the past few years, but which ones are worth using?
What Is Web Chat?
Web chat is a type of communication available on the internet that allows for real-time conversations between two or more people. It's an easy and convenient way to communicate with others worldwide, whether it be work colleagues, friends, family members, or customers. Web chat is often used with live chat apps like Skype, WhatsApp Messenger, and Google Hangouts to provide quick responses during business transactions or casual conversations.
Web chat is becoming increasingly popular due to its convenience and versatility.
Live chat apps allow customers to get assistance from representatives quickly and easily without having to wait on hold or send emails.
Web chat tools are essential for businesses looking to stay competitive in today's digital landscape.
In 2023, there will be better solutions for web chats with faster response times and enhanced security features.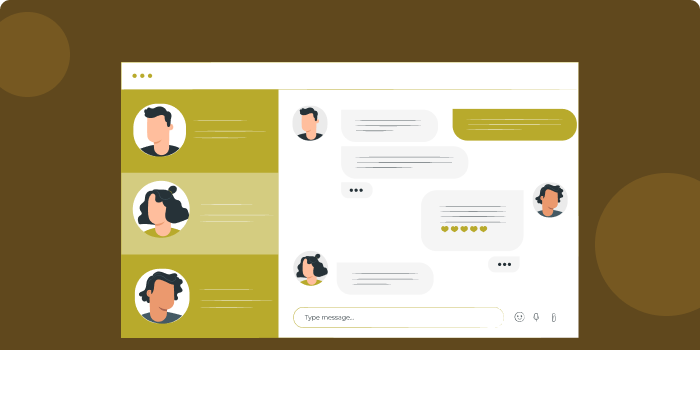 Uses of Web Chat
Web chat is a powerful tool for businesses to provide customer service and build customer relationships. It allows website owners to have conversations in real-time, allowing them to respond quickly and effectively to inquiries. This type of communication also enables companies to monitor customers' satisfaction levels and give feedback on products or services they offer.
Web chat tools have become increasingly popular due to their convenience and flexibility.
Businesses can utilize free live web chats that allow users to communicate without downloading software or registering an account.
Web chat provides a great platform for sales staff as it gives them access to potential customers from around the world at no extra cost.
Web chat offers features such as file sharing, audio calls, video conferencing, automated messages, and more that make it easier for businesses to engage with customers efficiently.
10 Best Web Chat Tools
Live chat support software and website live chats are two essential features in providing customers with a positive user experience. Here's a list of four of the best web chat tools for businesses in 2023:
Olark
Olark is an open-source web chat tool that has been helping businesses communicate with their customers for over a decade. It features live chat capabilities, automated messages and powerful analytics to help organizations get the most out of their conversations. With Olark's simple setup process, users can start using it immediately without any technical knowledge or coding skills. Olark integrates with popular CRMs like Salesforce and Zendesk, so you can easily connect your customer data across multiple platforms.
What makes Olark stand out from other web chat tools is its extensive set of customization options. You can customize everything from branding and colors to message templates and automation. This allows companies to create a unique experience tailored specifically to their needs, which isn't always available in other solutions today.
Livechat
When it comes to the best web chat tools in 2023, one of the most popular options is LiveChat. It's a comprehensive customer service platform that combines live chat with other helpful features. This makes it easy for businesses and their customers to communicate quickly and efficiently.
LiveChat offers powerful features including automated messages, support tickets, contact forms, user segmentation, and analytics reports. Its intuitive interface allows users to customize their experience according to their needs. With these capabilities, companies can provide better customer service while increasing efficiency and productivity.
Drift
Drift is a powerful web chat tool that has recently gained popularity. It offers companies of all sizes an easy way to communicate with customers and prospects alike. Its features include automation, integrations with other tools, custom bots for customer service, as well as its own analytics platform to track conversations.
Its focus on conversational marketing makes Drift stand out from the competition. Creating automated campaigns, it allows businesses to engage potential leads in real-time at scale. This means more opportunities for sales conversions due to timing and personalization. Furthermore, its free plan provides access to many basic features while still allowing users to get started quickly without needing a large upfront budget.
Zendesk Chat
Zendesk Chat is a popular web chat tool for businesses looking to offer customer support via live chats. It offers an easy-to-use interface and powerful automation capabilities that make it ideal for companies of all sizes. Zendesk Chat also integrates seamlessly with other products and services, allowing users to manage their communication needs in one place.
The platform boasts strong security measures, including encryption over the server and client to protect customers' data. Additionally, its built-in analytics let you track performance metrics such as average response time, which helps improve your customer service levels. Plus, multiple customisation options are available to tailor the experience to suit your business's specific needs.
Tidio
Tidio is a powerful chat tool that offers real-time messaging for customer service. It's easy to use and integrates with popular services like Slack, Facebook Messenger, and more. With Tidio, you can quickly respond to inquiries from customers, manage conversations in multiple languages, automate messages based on customer actions, and even set up bots to handle basic conversations.
Tidio's ability to personalize chats with custom images and GIFs sets it apart from other web chat tools. You can also customize the look of your chat window by adding your logo or changing the color scheme. Its advanced analytics provide valuable insights into user behaviour, so you can stay ahead of trends and make better decisions about how best to serve your customers. Additionally, their support team is always available if you encounter any issues.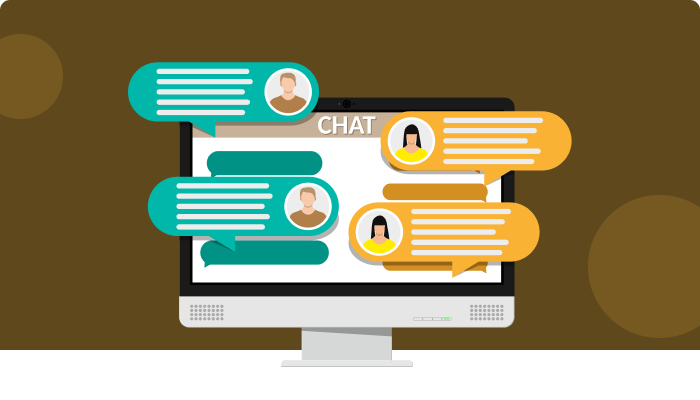 Chatlio
Chatlio is a powerful web chat tool that's been gaining traction in the industry. It offers an integrated customer service platform with features such as live chats, automated messages, and robust analytics. This makes it one of the best solutions for businesses looking to improve their customer experience.
The platform also has several advantages over other tools out there. For instance, you can customize its interface according to your branding needs without any coding knowledge or technical skills. Additionally, Chatlio enables users to integrate multiple services into their accounts, making it easier than ever to provide comprehensive support across all channels. Moreover, its AI-powered bots are designed to offer quick responses, so customers get help quickly and efficiently.
Intercom
Intercom is a powerful customer service platform that enables teams to provide better support and build lasting relationships. With its easy-to-use app, businesses can quickly respond to customer requests and inquiries and track their conversations in one place. It also offers features like automated responses, personalized messages, live chat, bots and much more. Its intuitive user interface ensures that customers get the help they need quickly and easily.
What's more, Intercom integrates with popular web services such as Salesforce, Zendesk, Slack and many others, making it an ideal choice for companies looking to leverage existing tools while still offering excellent customer service. Additionally, its advanced analytics capabilities allow businesses to gain insights into how their customers are interacting with them. This makes it easier for teams to identify issues before they become costly problems or lost opportunities. All these features make Intercom an attractive option for those seeking comprehensive web chat solutions in 2023.
Freshchat
Freshchat is one of the leading web chat tools for businesses in 2023. It offers features to help organizations engage with customers, such as automated messages, rich messaging options and multiple channels. The platform has evolved from a traditional customer support system into an AI-powered conversational marketing tool. Here are three reasons why Freshchat stands out:
Its user-friendly interface makes it easy to use and understand.
It offers great customer service and technical support via live chats or other methods like email, phone calls etc.
It allows you to customize your web chat experience through various customization options available on the platform.
Freshchat provides a comprehensive solution for businesses looking to provide excellent customer engagement experiences at scale. With its modern design and powerful capabilities, it's no wonder why more companies are turning to this innovative tool for their online communication needs.
Pure Chat
Pure Chat is a great web chat tool that emerged in 2021. It has quickly become one of the most popular tools for customer service and support teams, providing a range of features to help streamline communication with customers. With Pure Chat, you can access unlimited messaging, customizable widgets, automated triggers and messages, and detailed conversation reporting. Plus, it integrates seamlessly with other applications such as Slack and Zapier.
What sets Pure Chat apart from its competitors is its built-in AI assistant – Botly. This allows users to automate tasks like responding to frequently asked questions or gathering customer information so your team can focus on more complex inquiries. Pure Chat offers full customization options, so your website's look and feel are always up-to-date.
Ninjachat
Ninjachat is a modern, feature-packed web chat tool that can meet the needs of many businesses. It boasts an intuitive user interface with simple navigation and powerful capabilities like real-time analytics and custom branding. Here are some of its top features:
Automated triggers with personalized messages to encourage conversations.
Unlimited concurrent chats for high volumes of inquiries.
Ability to integrate with popular customer relationship management (CRM) systems.
These features make Ninjachat a great choice for customer support teams looking to provide quick, efficient responses in 2023. With flexible plans designed to accommodate any budget, it's no surprise so many companies are turning to this platform--and why you should too!


Get started with the leading Web Chat today!
Sign Up 14 Day Trial
Conclusion
In conclusion, web chat is a powerful tool for businesses of all sizes looking to improve their customer service and increase sales. It provides an efficient way of engaging with customers online in real-time, allowing them to quickly get the help they need. The 10 best web chat tools available in 2023 are Olark, LiveChat, Intercom, Freshchat, Pure Chat, and NinjaChat. All of these options provide great features that can be tailored to meet the needs of any business or organization. They also offer a range of pricing plans so businesses can choose one that works within their budget.
Why Choose 500apps?
#1
All-in-One Suite with more than 50 apps
#2
Everything you need today and in the future for all departments
#3
Unbelievable value - the lowest pricing you will ever find
#4
Hosted in 6 locations for compliance and blazing speeds
#5
24/5 Support - FREE chat, email and phone
#6
Uncapped features - limits you will never reach humanly
#7
Managed and maintained everyday by a dedicated team
#8
No downtime - comes with a 99.9% uptime guarantee
#9
Supports a number of international languages
#10
We've everything covered - 90k+ trust us with their business
Join the SaaS Revolution
All-in-One Suite of 50 apps

Unbelievable pricing - $14.99/user

24/5 Chat, Phone and Email Support