ATS for Recruitment - 9 Best Practices for Selection
Finding the right Applicant Tracking System (ATS) is a critical decision for any organization. There are many considerations when selecting an ATS, including cost and features. However, there are also best practices that organizations can follow to ensure they select the most suitable system for their needs. Let's look at some of the best practices for ATS selection.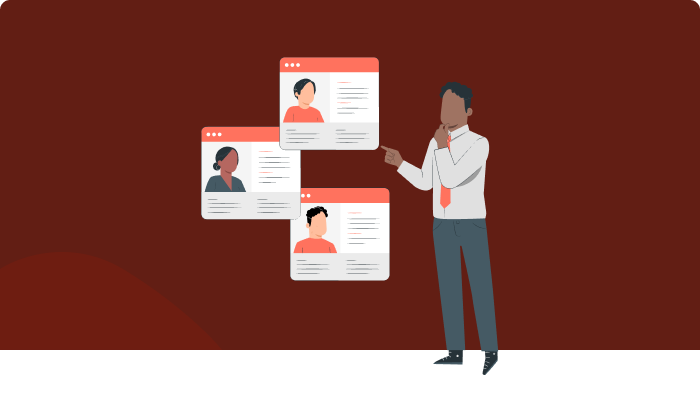 It's important to understand the best practices when using an ATS for recruiting purposes and make sure it meets your company's needs. To help you make informed decisions about which solution works best for you, let's go into detail about all aspects related to ATS for recruitment - from understanding its features and benefits to providing practical advice on how to apply them in order to maximize their effectiveness.
9 Best Practices for ATS Selection
Finding the right Applicant Tracking System (ATS) is a critical decision for any organization. There are many considerations to take into account when selecting an ATS, including cost and features. . Does the platform provide all the necessary features? Are they up to date with current trends? However, there are also best practices that organizations can follow to ensure they select the most suitable system for their needs. Let's discuss the best practices for ATS selection in order to help organizations make informed decisions about which system to purchase
Understand Your Business Requirements
Selecting an Applicant Tracking System (ATS) is a critical decision for any business. ATS software helps companies to manage their recruitment process and can be extremely beneficial to the hiring process, but selecting the right solution requires careful consideration of the specific needs of that particular organization. Understanding the business requirements and how they will affect which ATS should be chosen is key in making the correct selection.
When deciding which ATS to use, businesses must consider their recruiting goals and ensure that the system they choose meets those requirements. It's important to understand if some certain features or capabilities need to be included, such as automated job postings, resume database integration, video interviewing tools, etc., before beginning the search for a suitable solution. Businesses should also determine whether recruitment-hiring processes have already been established and decide if these processes need revising when incorporating new technology.
Finding an appropriate ATS for recruitment is no small task; there are many options available with different features and price ranges. To make this choice easier, research about various solutions should be conducted in advance, including talking to colleagues who may have experience with certain systems. Companies should make sure they read reviews online from current users of each potential product, look into customer support credentials offered by vendors, and compare pricing models so that they can select the best option based on their budget and long-term plans. Taking all of these elements into account will help organizations find an effective ATS solution that fits within their desired parameters while helping them reach their staffing goals efficiently.
Research & Compare Different ATS Options
When selecting an applicant tracking system (ATS), it is important to research and compare different options. While the goal of any ATS should be to streamline recruitment efforts, not all systems are equal in terms of features or cost. By researching multiple platforms, organizations can better understand which ATS will best meet their needs.
Before deciding on which ATS platform to select, employers must consider various factors such as customer service support, ease of use, recruiting analytics, scalability, and costs associated with implementation and maintenance. Additionally, they should evaluate whether the system supports job board integrations and applicant tracking tools like resume parsing software, automated reference checking services and onboarding modules. Employers may also want to examine if the ATS offers workflow automation capabilities for quickly processing candidates through each stage of the selection process.
A good way to narrow down potential ATSs is by reviewing reviews from other recruiters who have used the system before. This provides valuable insight into how well an ATS works in real-world scenarios. Furthermore, it's beneficial to speak directly with vendors about the product details so that users understand exactly what they get when purchasing an ats tracker or best ats for recruitment programs. Comparing these variables side by side can help determine which option fits organizational objectives most closely and delivers maximum value for its investment over time.
Consider Integration Requirements
When selecting an ATS for recruitment agencies, integration requirements should be considered. An effective recruitment solution requires a comprehensive and properly integrated system that can bring together data from multiple sources and platforms. This includes integrating with external databases such as applicant tracking systems or customer relationship management (CRM). Additionally, there should be capabilities to synchronize internal processes within the organization, including payroll processing and employee onboarding applications.
The features of the ATS must also meet the specific needs of each individual business to ensure successful implementation. For instance, if a company is looking for more complex recruiting functions, they should consider solutions that provide robust reporting tools and support for advanced analytics. It is important to understand which functionalities are most suitable for their recruitment process before making any decisions on integrating these systems into their workflow.
In addition, it is essential to evaluate how much time, resources and money will need to be invested in setting up the technology prior to its deployment. Companies should weigh all available options carefully when assessing different ATSs for recruitment companies and determine whether additional investment may be required over time in order to keep pace with changing trends in HR technologies. Furthermore, businesses should assess user feedback and ratings from existing customers in order to gain insight into how well-received an ATS has been by other organizations using it.
Evaluate User Experience & Functionality (Include RecruitHire)
When selecting an ATS, evaluating the user experience and functionality is essential. This includes evaluating the system's interface, ensuring that navigation within the platform is intuitive and simple for users such as recruiters, hiring managers, and candidates. Additionally, there should be a consideration of whether integrations with other systems are necessary; RecruitHire provides integration capabilities with various software solutions in order to enhance its services.
When assessing user experience and functionality, some key items to consider include:
User-friendly design: Is the design aesthetically pleasing? Does the layout facilitate easy navigation?
Analytics & Reporting Tools: Can data gathered from the usage of the system easily be exported or visualized?
Scalability: Can additional features be added as needed by your organization? And if so, how long does this take?
Technical Support: How quickly can technical difficulties experienced by users be resolved?
It is important to remember that although many ATS platforms may offer similar features on paper, not all vendors will present their products equally. Therefore, thorough user experience and functionality evaluation must be conducted before making any selection decisions. Moreover, having a firm understanding of what type of support resources you need now and into the future is crucial when choosing an ATS vendor. In light of these points, organizations should conduct research on multiple options to make sure that they select one which meets their individual needs best.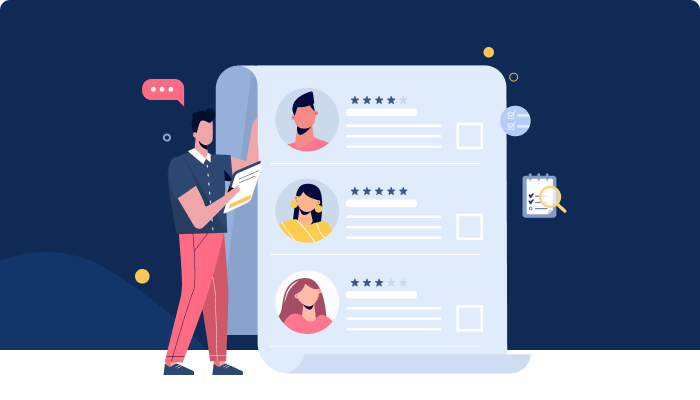 Assess Security & Compliance
Security and compliance are two key factors to consider when selecting an applicant tracking system (ATS). Organizations must ensure that the chosen ATS meets security standards and that any sensitive data is kept secure. Additionally, organizations should look for a system which complies with relevant legal regulations in their industry.
RecruitHire provides features which support these requirements; their systems store data securely and provide detailed audit trails of all user actions within the platform. RecruitHire also offers integrations with external regulatory bodies to further reduce risk of non-compliance. Furthermore, they offer flexible access control options so organizations can easily customize access levels depending on user roles or other criteria.
Organizations should assess security and compliance when selecting an ATS to ensure it fits their needs while upholding necessary standards. Carefully evaluating each option's capabilities is essential to find a suitable solution that meets business objectives while adhering to specific rules and regulations.
Analyze Pricing & Support Services
The evaluation of pricing and support services is an integral part of the selection process for any Applicant Tracking System (ATS). This step should involve a comprehensive review of all fees associated with the system, including any setup or implementation costs. It should also consider whether additional features may be available for an extra cost, such as analytics on recruiting performance. Additionally, the support capabilities of the ATS vendor should be considered when selecting an appropriate system. The quality and responsiveness of customer service can significantly impact user satisfaction over time.
When assessing pricing and support services in relation to RecruitHire, several factors need to be taken into account. Firstly, it is important to consider any upfront costs involved in setting up and implementing the system. Furthermore, users should determine what level of technical support is included in their subscription package and if there are additional charges for certain features or upgrades. Finally, prospective customers must evaluate how quickly they will receive help from customer service representatives and how easy it is to access this assistance in case issues arise while using the platform.
Overall, careful consideration needs to be given when analyzing pricing and support services provided by RecruitHire before making a final decision about which ATS best meets your company's needs. Aspects like initial setup costs, extra feature availability, technical support options, response times, and accessibility should all form part of this assessment process so businesses can make informed decisions about which ATS provider offers value for money without compromising on essential functionalities required for successful recruitment management.
Confirm Data Migration & Reporting Capabilities
When selecting an Applicant Tracking System (ATS), it is important to confirm the data migration and reporting capabilities. Doing so will ensure that all relevant information can be transferred smoothly from one system to another and provide accurate reports on recruitment efforts and their outcomes. To this end, recruiters should research specific ATS providers for available features such as:
Data extraction capabilities – Including extracting resumes, candidate profiles, job postings and other associated documents
Building customizable reports - Allowing users to create custom-tailored reporting templates based on their own needs
Automated report generation – Anabling rapid access to timely and meaningful data insights
In addition to these technical features, recruiters should also inquire about support services ATS vendors provide. This could include customer service availability via phone or email, training resources and tutorials for new users, onboarding guidance and product updates. Understanding what type of assistance an ATS provider offers can help recruiters determine which platform best meets their business's requirements. Ultimately these considerations will allow companies to leverage technology in order to optimize the process of recruiting talent more efficiently.
Test Performance & Scalability
Testing performance and scalability is a key best practice when selecting an Applicant Tracking System (ATS). Scalability refers to the system's ability to handle increasing workloads over time. Performance testing should focus on verifying user requirements, such as response times for various operations and data access, are met.
When considering testing performance and scalability with regard to ATS selection, RecruitHire can be examined in terms of its features. This software platform provides powerful search capabilities across all candidate profiles, enabling recruiters and hiring managers to locate qualified candidates who match their specific job openings quickly. The platform also allows for automated workflows that streamline tasks like scheduling interviews or sending out offer letters. Additionally, RecruitHire offers reporting capabilities which allow users to track metrics such as time-to-hire or cost-per-hire.
RecruitHire's high levels of performance and scalability support quick decision making without compromising the quality of service while accommodating increased demand from higher volume recruiting processes. These attributes must be assessed during ATS selection so users can rest assured they are leveraging technology capable of meeting any size recruitment need efficiently and effectively.


Get started with the leading ATS For Recruitment today!
Sign Up 14 Day Trial
Review Vendor Reputation & References
The selection of an applicant tracking system (ATS) is a major decision that can have significant implications for an organization. Therefore, it is important to consider the reputation and references of potential vendors when selecting an ATS solution. RecruitHire is one such vendor that has established itself as a leader in the industry through its commitment to providing high-quality software solutions with efficient customer service support.
To properly evaluate a vendor's reputation and references, it is necessary to review feedback from current users and ratings from independent organizations or publications. In addition, prospective customers should contact existing customers directly to ask about their experiences using any given ATS solution. This will provide valuable insights into how well the product performs in real-world scenarios by those utilizing it daily. Furthermore, this information should be considered alongside performance testing results which are typically available publicly on various websites and forums.
Conclusion
Overall, researching the performance of different ATS tools along with reviews and testimonials from actual users is essential for making informed decisions during the selection process. Accurately assessing these factors helps identify reputable vendors who offer not only quality products but also deliver reliable support services throughout the life of their products.
Some best practices should be observed when choosing an ATS like RecruitHire, including researching customer reviews, assessing scalability requirements and understanding pricing models. By taking the time to research various solutions on the market today and implementing best practices for selection - employers can ensure they benefit from their investment in an ATS for recruitment.
Why Choose 500apps?
#1
All-in-One Suite with more than 50 apps
#2
Everything you need today and in the future for all departments
#3
Unbelievable value - the lowest pricing you will ever find
#4
Hosted in 6 locations for compliance and blazing speeds
#5
24/5 Support - FREE chat, email and phone
#6
Uncapped features - limits you will never reach humanly
#7
Managed and maintained everyday by a dedicated team
#8
No downtime - comes with a 99.9% uptime guarantee
#9
Supports a number of international languages
#10
We've everything covered - 90k+ trust us with their business
Join the SaaS Revolution
All-in-One Suite of 50 apps

Unbelievable pricing - $14.99/user

24/5 Chat, Phone and Email Support