10 Best AI Chatbots for Businesses in 2023
In the digital age, businesses increasingly turn to Artificial Intelligence (AI) chatbot technology for customer service and other operations. AI chatbots offer automated conversations with customers, allowing businesses to save time and money in providing support. In 2023, a wide range of AI chatbots will be available on the market, each offering different features suited to specific business needs. The following article explores 10 of the best AI Chatbots for Businesses in 2023 that have been identified based on their efficiency and cost-effectiveness.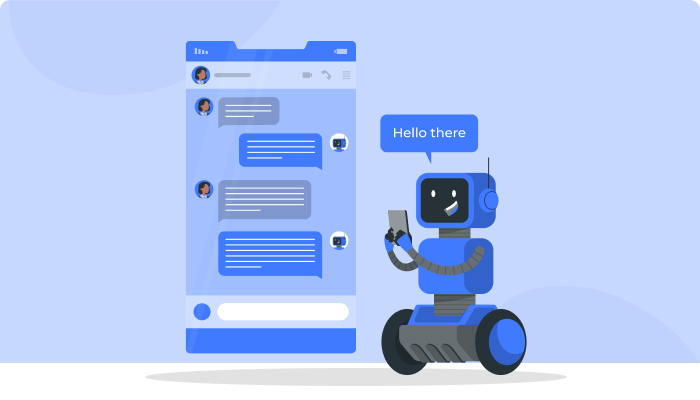 The benefits of using an AI chatbot extend beyond just saving money; they can also provide valuable insights into what customers want from your business. By understanding customer preferences through natural language processing and machine learning algorithms, companies can improve the products or services offered more effectively. Additionally, some AI chatbot platforms offer advanced analytics capabilities, allowing businesses to understand better how their customers interact with them via text messages or voice calls.
What Does an AI Chatbot Do?
AI chatbots have become a popular tool for businesses in recent years. They can provide customer service, automate tasks and even process payments – all without the need of any human interaction. By 2023, AI chatbot technology promises to deliver even more powerful and sophisticated interactions between customers and businesses.
AI chatbots are becoming increasingly important for customer service, providing quick and accurate answers to basic questions and transferring to live agents when needed.
AI chatbots are becoming increasingly complex, allowing them to be used for automated tasks such as data analysis or lead generation campaigns.
AI chatbots can accept payment information directly from users, streamlining transactions and making them faster than ever before.
The advancements made in AI-powered technologies over the past few years mean that by 2023 we'll likely see various options available for businesses looking to integrate an AI Chatbot into their operations. Whether for customer service automation or task management optimization, there should be plenty of great choices for those looking for the best AI Chatbot solution possible.
What Are the Different Types of Chatbots?
Chatbots are a type of artificial intelligence (AI) technology that can automate customer conversations. They have become popular in recent years as businesses look for ways to increase efficiency and provide better customer service. But what exactly are the different types of chatbots?
Several types of AI-powered chatbots are available today, each designed to meet specific needs. The most common ones include messenger chatbots, AI chatbots online, and AI chats.
Messenger Chatbots: Messenger chatbots use conversational language to interact with people on platforms such as Facebook Messenger or WhatsApp. These bots usually have basic functions like answering simple questions or providing information about products or services. They can also handle more sophisticated tasks such as taking orders or booking appointments.

AI Chatbot Online: AI Chatbot Online is an automated system that uses natural language processing (NLP) algorithms to simulate human conversation by understanding user input and responding accordingly. This bot is ideal for customer service because it can quickly answer inquiries without requiring manual intervention from agents. It's also useful for conducting research since it can automatically glean insights from conversations and extract data from them.

AI Chats: AI Chats allow users to communicate directly with computers via text messages or voice commands. These systems use machine learning algorithms to understand complex queries and accurately respond with relevant real-time answers or recommendations. For example, a medical assistant could ask an AI Chatbot which medication would work best for a patient's condition and get an accurate response within seconds.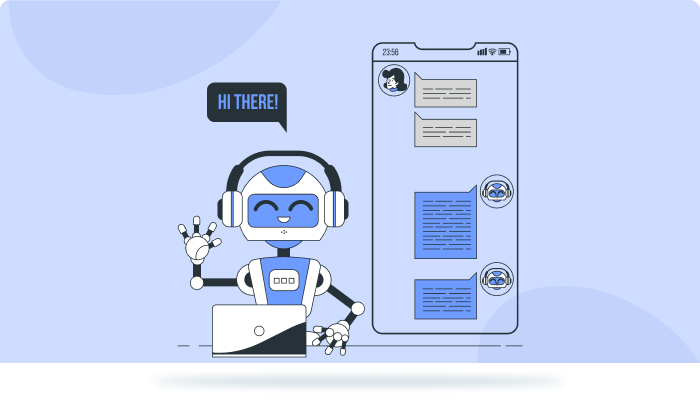 10 Best AI Chatbots for Businesses
When it comes to businesses in 2023, AI chatbots are becoming increasingly popular. Not only do they create a more efficient and cost-effective customer service experience but can also help brands build relationships with their customers quickly. Here is a list of the 10 best AI chatbot tools for businesses to make the decision process easier.
Intercom
Intercom is a popular chatbot software for businesses in 2023. It's built to provide efficient and intuitive customer service, allowing customers to get support quickly without having to wait on hold or navigate through lengthy menus. Intercom also simplifies managing conversations with customers by automatically organizing them into logical segments that can be easily tracked and accessed at any time.
The main benefit of using Intercom as your business' chatbot software is its scalability - it grows along with the company, so you don't need to worry about outgrowing the solution down the line. Plus, its AI-powered features ensure every conversation gets routed to an agent who understands how best to address each inquiry. This means that not only are customers satisfied more quickly, but agents don't have to waste their time dealing with irrelevant messages.
Drift
Drift is an AI chatbot that businesses can use to better engage with their customers. It uses natural language processing (NLP) and machine learning algorithms to understand customer questions quickly and provide accurate answers in real-time. This makes conversations more efficient and seamless for the business and the customer.
A few key features of Drift make it stand out from other AI chatbots:
It has automated bots that help answer common queries, saving time for human agents who can focus on more complex tasks.
It's integrated seamlessly into websites, making it easy for users to start chatting with a bot when they visit.
Its advanced analytics tools provide detailed insights into user behaviour.
It offers 24/7 support so customers can get help anytime, anywhere.
The platform is highly customizable, allowing businesses to customize their look and feel based on specific needs.
Not only does Drift make conversational engagement simpler, but it also helps reduce costs associated with customer service while improving overall customer experience.
Watson Assistant
Watson Assistant is an advanced AI chatbot by IBM. It's been around since 2018 and continues to be a popular choice for businesses looking to automate their customer service in 2023. What sets Watson apart from other AI solutions? Let's take a look at its features:
Easy Integration: With ready-to-use APIs, integration into existing systems is easy. Plus, customising conversations with customers is simple once you've set up the system.
Natural Language Processing Capabilities: Watson understands what your customers are asking for and can respond accordingly. This helps create more meaningful experiences for users that make them feel heard and respected.
Robust Analytics Tools: The analytics provide insight into how people interact with the bot so you can continually improve your conversation flows and outcomes.
Overall, Watson Assistant has everything you need to deliver exceptional customer service while continuing to grow as technology advances. Its ease of use and powerful insights makes this platform ideal for businesses that want to stay ahead of the curve in 2023.
Appy Pie Chatbot
Appy Pie Chatbot is a great AI-powered solution for businesses in 2023. It's an easy to use, conversational chatbot that provides customers with the answers they need quickly and efficiently. Appy Pie Chatbot can be used on websites, social media, apps, and more to increase engagement rates and customer satisfaction.
The bot uses natural language processing technology to understand user queries and provide relevant responses. Additionally, it comes preloaded with various features such as automated web forms, FAQs integration, analytics & insights reporting, multi-language support, custom branding options and much more.
Infobip
Infobip is a powerful AI-powered chatbot solution that can help businesses engage with their customers efficiently and cost-effectively. It offers advanced features such as natural language processing, sentiment analysis, automated response routing, and more. Unlike other AI chatbots, Infobip also supports voice recognition capabilities to help provide better customer service interactions.
The platform boasts of its ability to quickly process data from multiple channels simultaneously, thus allowing it to respond to customer inquiries faster than ever before. Additionally, the bot has pre-defined responses for common questions, so businesses don't have to worry about inventing new answers every time. With its built-in analytics suite, companies can monitor their conversations and identify trends in customer behaviour over time.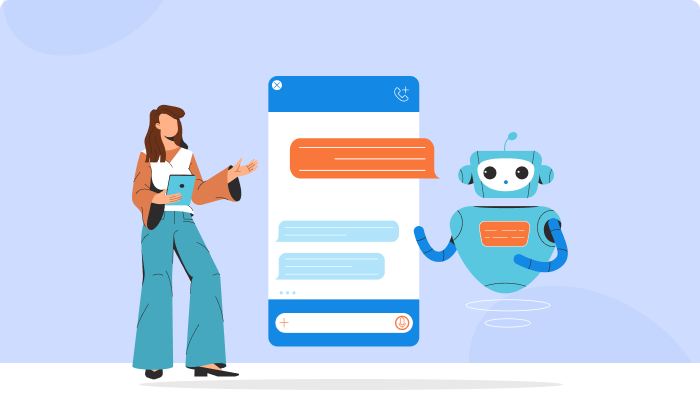 Mindsay
Moving on from Infobip, another AI chatbot for businesses in 2023 is Mindsay. It's a cloud-based platform that helps companies "build smarter relationships with customers and employees." Its conversational AI technology focuses primarily on customer service automation to help streamline workflows and improve customer satisfaction.
Mindsay also has features such as predictive analytics, which can predict user behaviour based on data collected through conversations with the AI chatbot. This allows businesses to tailor their offerings more accurately and meet customer needs better. Moreover, its advanced natural language processing capabilities make it possible for customers to have natural conversations with the bot.
Proprofs Chatbot
Proprofs chatbot is an AI-driven customer service platform that helps businesses interact with customers in real-time. It's designed to handle customer inquiries quickly and accurately, reducing the amount of human labor needed for support operations. The system uses natural language processing (NLP) technology to understand user queries and respond appropriately. Additionally, it can be integrated with other CRM tools like Salesforce or Oracle to provide a comprehensive view of customer interactions across multiple channels.
The Proprofs chatbot offers customizable features such as automatic responses, FAQs, ticketing systems, live chats and more. Businesses can configure their own set of rules and parameters according to their specific needs. This allows them to create personalized experiences for their customers while still maintaining control over how they communicate with them.
Bold360
Regarding leveraging AI chatbots for businesses in 2023, Bold360 is a reliable option. This comprehensive suite of tools offers an omnichannel approach to customer service and support. It features natural language processing (NLP) technology that can understand customers' queries quickly and accurately. Additionally, the platform's analytics capabilities enable companies to gain insights into how their customers are engaging with them and allow them to customize experiences accordingly.
What sets Bold360 apart from other AI chatbot solutions is its ability to work across multiple channels such as websites, mobile apps, email and SMS messages. Furthermore, the platform can be easily integrated into existing systems so that organizations don't have to start from scratch when launching their bots.
Salesforce Einstein
Salesforce Einstein is an AI-powered chatbot that helps businesses to streamline customer service and sales operations. It can be programmed with natural language processing (NLP) capabilities to understand customer queries and respond accurately. Furthermore, its predictive analytics engine allows it to anticipate customers' future needs based on their history. With Salesforce Einstein, businesses can provide a more personalized experience for their customers while at the same time increasing efficiency.
Moreover, Salesforce Einstein offers comprehensive data integration support, making it easy for organizations to integrate existing systems into the platform without investing in costly infrastructure upgrades. This means companies can leverage this powerful AI chatbot's features without additional cost or effort.
Zendesk Chat
Zendesk Chat is a highly rated AI chatbot for businesses in 2023. It offers an easy-to-use interface and provides a personalized customer experience, helping the company get more leads and increase its sales. The bot works with natural language processing technology that can understand complex queries and respond quickly, accurately and efficiently to customers.
What sets Zendesk Chat apart from other bots is its integration into multiple messaging platforms like WhatsApp, Facebook Messenger, Slack etc., allowing companies to reach out to customers on any channel they prefer. This flexibility makes it easier for brands to engage with their audiences in real-time without switching between different apps or websites.
BotUp
Botup is one of the best AI chatbots for businesses in 2023. It is an easy-to-use, automated customer service bot that can be integrated with any platform, such as the web, mobile apps and social media channels. This makes it a great choice for companies looking to streamline their customer support operations.
The key features of Botup include the following:
Automated response system: Botup provides pre-defined answers based on your customers' queries, so you don't have to answer every single query manually;
Customizable user experience: Botup allows you to customize its responses according to your company's needs;
Integrations with third-party services: Botup integrates with various third-party services such as Salesforce, Zendesk and more, allowing you to manage all customer interactions from a single place easily.
With these features, Botup offers businesses an efficient way to provide excellent customer service without investing time or money into hiring extra staff members. It also enables businesses to respond quickly to customer inquiries, which helps them build customer trust and loyalty.


Get started with the leading AI Chatbot Tool today!
Sign Up 14 Day Trial
Conclusion
AI chatbots have become integral to businesses in the last few years. They provide a fast, efficient, and cost-effective way for companies to interact with their customers without hiring additional personnel. AI chatbots can handle customer inquiries, automate customer service processes, and even help upsell products.
Why Choose 500apps?
#1
All-in-One Suite with more than 50 apps
#2
Everything you need today and in the future for all departments
#3
Unbelievable value - the lowest pricing you will ever find
#4
Hosted in 6 locations for compliance and blazing speeds
#5
24/5 Support - FREE chat, email and phone
#6
Uncapped features - limits you will never reach humanly
#7
Managed and maintained everyday by a dedicated team
#8
No downtime - comes with a 99.9% uptime guarantee
#9
Supports a number of international languages
#10
We've everything covered - 90k+ trust us with their business
Join the SaaS Revolution
All-in-One Suite of 50 apps

Unbelievable pricing - $14.99/user

24/5 Chat, Phone and Email Support