Best AI Writer Software for Your Business in 2023
The Best AI Writer software will make your content better and faster than any professional writer.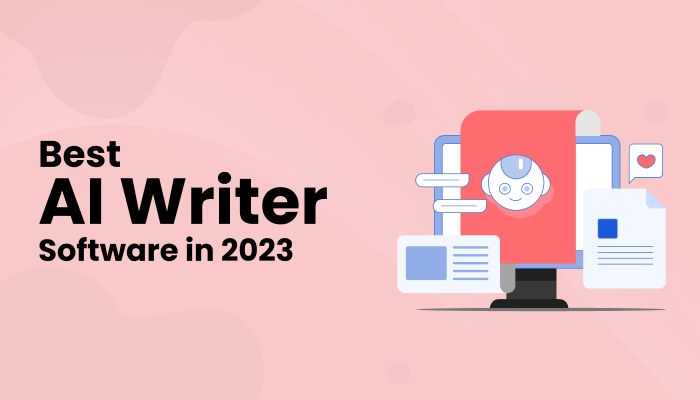 Artificial intelligence (AI) writers are a type of software that uses natural language processing (NLP) and machine learning algorithms to generate written content. These systems have been developed to assist with tasks such as content creation, content curation, and language translation.
The evolution of AI writers can be traced back to the 1950s when researchers first began exploring the use of computers for natural language processing. In the decades since, AI writers have undergone significant developments, becoming increasingly sophisticated and able to produce human-like content.
One key area of development has been in the use of machine learning algorithms, which allow AI writer to learn and adapt to new data and improve their output over time. This has led to a range of applications, including the creation of news articles, marketing copy, and social media posts.
In terms of market demand, AI writers have gained traction in a number of industries, including journalism, marketing, and e-commerce. They are often used to help businesses save time and resources by automating the creation of written content, and are also used to augment the work of human writers by providing suggestions for improvement or alternative phrasing.
Overall, the evolution and market for AI writers have seen significant growth in recent years, and it is likely that these systems will continue to play an increasingly important role in the field of content creation and natural language processing in the future.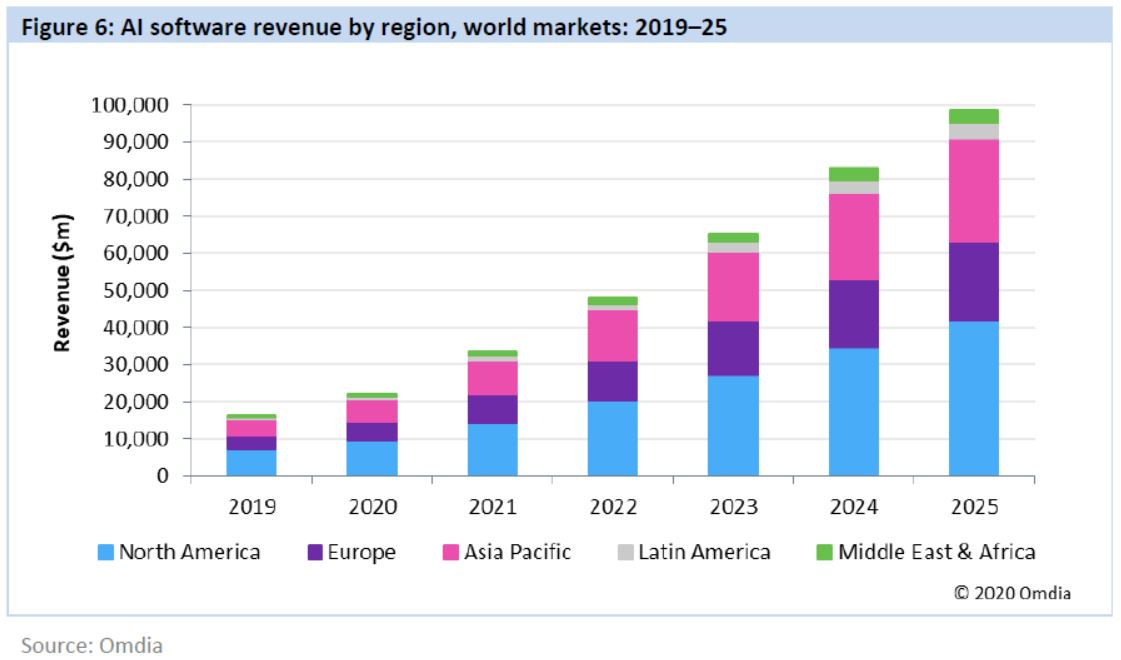 Advantages of AI Writer Software
There are several advantages to using AI writer software:
Efficiency: AI writers can produce written content much faster than humans, which can save time and resources for businesses.
Consistency: AI writers can produce written content that is consistent in style and tone, which can be useful for businesses that need to produce a large volume of written content on a regular basis.
Cost-effectiveness: AI writers can significantly reduce the cost of creating written content, as they do not require the same level of labor and resources as human writers.
Customization: AI writers can be customized to produce written content in a specific style or tone, which can be useful for businesses that need to maintain a particular brand voice or messaging.
Versatility: AI writers can be used for a wide range of tasks, including generating news articles, creating marketing copy, and producing social media posts.
Language support: Some AI writing software supports multiple languages, which can be useful for businesses that need to produce written content in multiple languages.
List of Top 10 AI Writer Software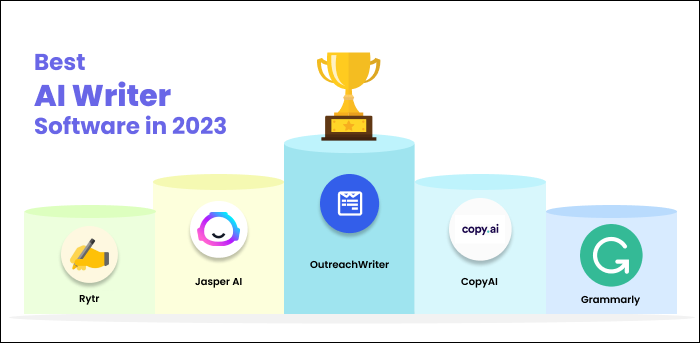 OutreachWriter is a content creation tool that aims to help businesses and organizations create high-quality, SEO-optimized content for their websites and online marketing efforts.
Features
AI Email Writer AI-powered personalized outreach that creates customized emails based on a prospect's digital footprint.

AI LinkedIn Outreach Prospect's LinkedIn profile and activity are analyzed to draft personalized messages that get read and replied to.

Backlink Email Writer Generate personalized email content for SEO backlinks in minutes using our AI platform and a diverse set of templates.

Sales Pitch Writer Scrape LinkedIn profiles of prospects using bots and write personalized LinkedIn messages and cold emails mentioning the prospect's recent activity, company, and designation.

AI-Writer for Recruitment Send personalized responses to your applicants without having to write anything manually, and use AI to craft responses based on candidates' application status.

Opening Line Writer Create custom opening lines for emails, that can easily grab the reader's attention with a catchy beginning.
Jasper AI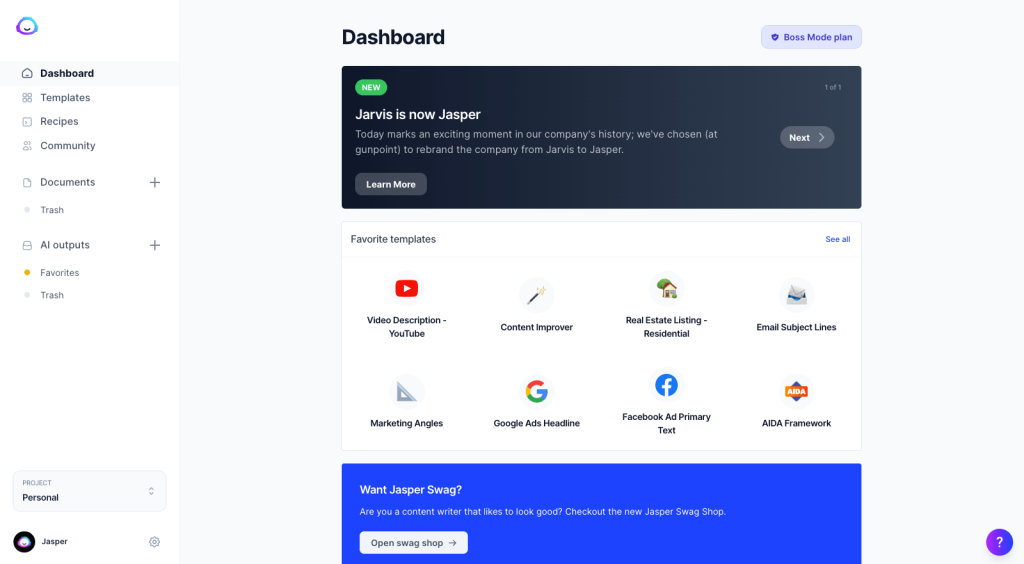 Jasper AI is a powerful Artificial Intelligence (AI) technology that is used to automate routine business processes and create real-time decision support systems. It is used to automate data analysis, automate customer service, and automate other aspects of business operations. Jasper AI is designed to be an easy-to-use, intuitive, and scalable platform that helps businesses become more efficient and effective.
Features
Automated Decision Making: Jasper AI is designed to make automated decisions based on the data it collects and analyses. This means businesses can make quick and accurate decisions without the need for manual intervention.

Natural Language Processing: Jasper AI uses natural language processing to understand customer queries and provide accurate answers. This helps businesses provide faster customer service and also helps reduce customer frustration.

Machine Learning: Jasper AI uses machine learning algorithms to improve the accuracy of its decisions and predictions. This helps businesses make better decisions and reduce their risk of making wrong decisions.

Automated Data Analysis: Jasper AI can automate data analysis tasks, such as sentiment analysis, text summarization, and entity extraction. This helps businesses gain valuable insights from their data and make better decisions.

Automated Process Automation: Jasper AI can automate processes such as customer service, marketing automation, and business operations. This helps businesses save time and money, and also improves efficiency and productivity.

Scalable Platform: Jasper AI is designed to be a scalable platform that can be used by businesses of all sizes. This helps businesses get more out of their investment in AI technology.
CopyAI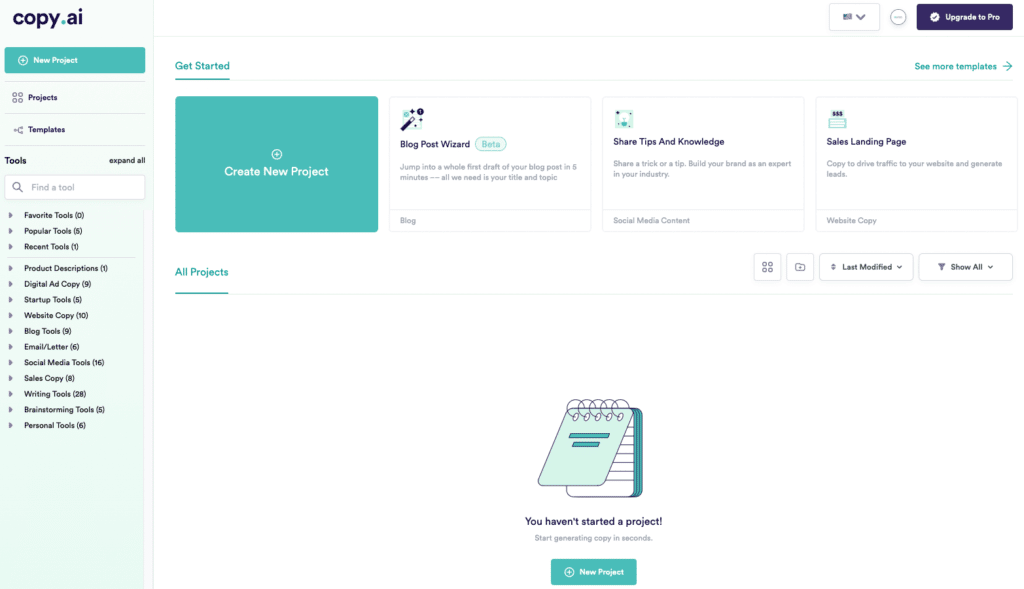 CopyAI is an AI-powered text editing and summarization tool that helps users quickly write, edit, and summarize the text. It uses natural language processing (NLP) and advanced machine learning algorithms to achieve accuracy and speed in its text-processing tasks.
Features
Auto-Summarization: CopyAI's auto-summarization feature quickly creates an accurate summary of a text document in a few seconds.

Automated Editing: CopyAI's automated editing feature quickly corrects grammar, spelling, and punctuation mistakes, making the text easier to read and more professional.

Natural Language Processing: CopyAI's NLP capabilities allow it to understand the context of the text and make more accurate edits and summaries.

Smart Suggestions: CopyAI's smart suggestions feature analyzes the text and provides suggestions for improvement that may be more impactful than the original.

AI-Powered Writing: CopyAI's AI-powered writing feature helps users generate new content quickly and efficiently, saving time and effort.

Multi-Lingual Support: CopyAI supports multiple languages, allowing users to write and edit the text in their preferred language.
Rytr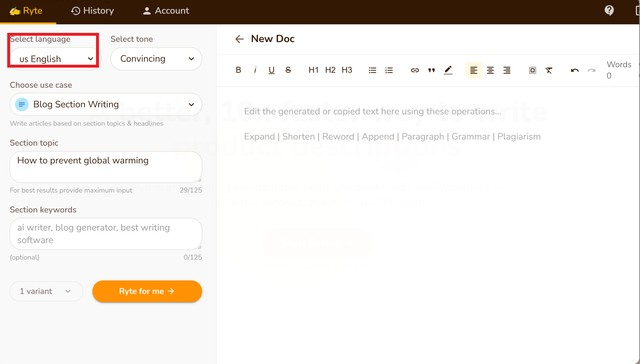 The Rytr AI Writer Tool is a powerful artificial intelligence-based writing assistant that helps users write better content faster. It utilizes natural language processing, machine learning, and deep learning algorithms to provide automated writing assistance. Rytr AI Writer Tool can help users save time and effort by quickly generating well-written content without the need for manual editing. It also comes with a variety of features to help users customize their writing experience.
Features
Auto-Correct: This feature uses advanced algorithms to identify and correct spelling, grammar, and punctuation errors in real time.

Contextual Suggestions: This feature uses natural language processing to suggest relevant words and phrases as you type.

Word Prediction: This feature uses machine learning to predict the next words you are likely to type.

Text Summarization: This feature uses deep learning algorithms to summarize long pieces of text into shorter, concise summaries.

Cloud Storage: This feature allows you to store your writing projects in the cloud for easy access.

Export Options: This feature allows you to export your writing projects in various formats such as PDF, Word, or Text.
Grammarly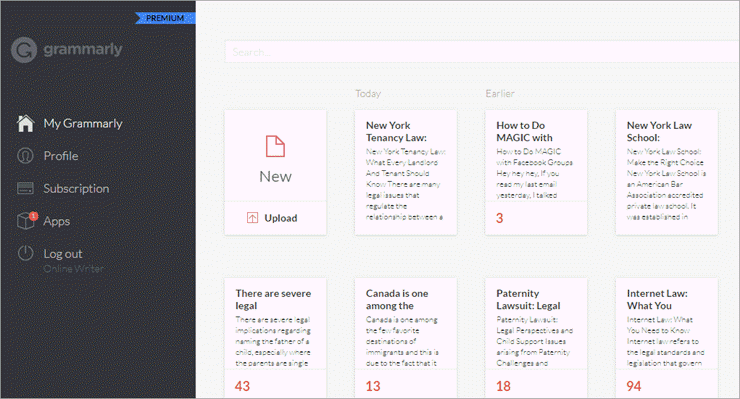 Grammarly is a writing enhancement tool that helps users improve the grammar, spelling, and overall clarity of their written work.
Features
Grammar and spelling check: Grammarly automatically checks for and corrects grammar and spelling errors in your writing.

Plagiarism checker: Grammarly can help you ensure that your work is original by checking it against over 16 billion web pages and documents.

Vocabulary enhancement: Grammarly suggests alternative words and phrases help you improve the clarity and impact of your writing.

Contextual writing suggestions: Grammarly takes into account the context of your writing and provides writing suggestions based on the specific audience and tone of your work.

Integration with popular apps: Grammarly can be integrated with popular apps like Microsoft Word, Google Docs, and Outlook to check your writing as you work.

Personalized feedback: Grammarly provides personalized feedback on your writing based on your unique writing style and goals, helping you improve your overall writing skills.
INK

For budding content creators, INK is yet another fantastic all-in-one option. Planning, content development, and SEO are all included in one package. Try INK if you want a tool that creates original, unique content that is search-engine friendly.
Features
Writing tools: Ink provides a range of writing tools to help users improve their writing, including a grammar checker, thesaurus, and a word counter.

Collaboration: Ink allows users to collaborate on writing projects in real time, making it easy for teams to work together on documents.

Organizational tools: Ink includes a range of organizational tools to help users keep their writing organized, including the ability to create outlines, add notes and comments, and tag important passages.

Customization: Ink allows users to customize the appearance of their writing environment, including the ability to choose different fonts and themes.

Integration with popular apps: Ink can be integrated with popular apps like Evernote and Google Drive, making it easy to access and edit your writing on multiple devices.

Security: Ink places a strong emphasis on security, with features like encryption and password protection to help protect your writing from unauthorized access.
Surfer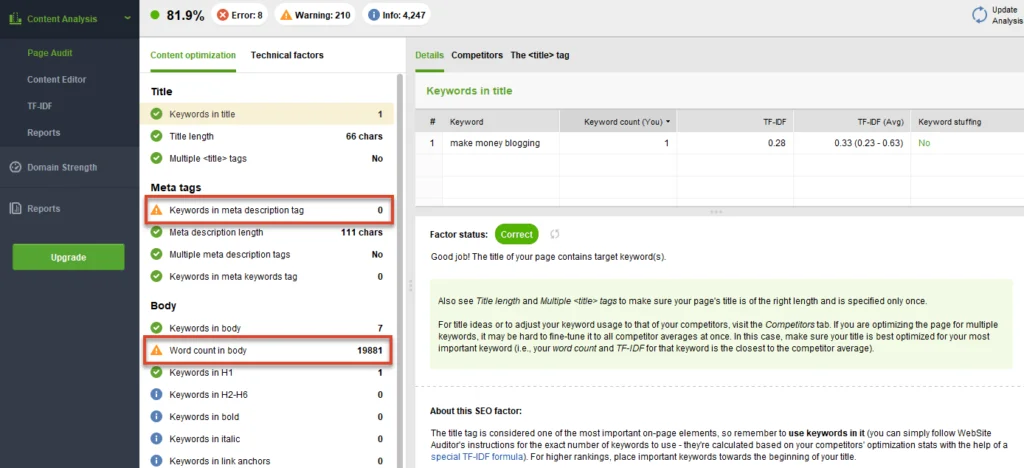 Surfer is a powerful yet user-friendly data analysis and visualization software designed to make complex data analysis simple and intuitive. It allows users to quickly visualize data in a variety of ways, such as contour maps, 3D surfaces, and more. With Surfer, users can easily create impressive maps and graphs for advanced data analysis and presentation.
Features
Interactive Map Creation: Create stunning maps with the intuitive user interface, versatile map creation tools and powerful customization options.
Contour Maps: Easily create detailed contour maps to visualize elevation and other data.

3D Surfaces: Create 3D surfaces to visualize data in a 3D environment.

Vector Maps: Visualize data with vector-based maps, such as wind and stream direction maps.

Data Analysis: Analyze data with various advanced analysis tools, such as grids and surfaces.

Presentation: Create impressive presentations with the integrated presentation tools.
WriteSonic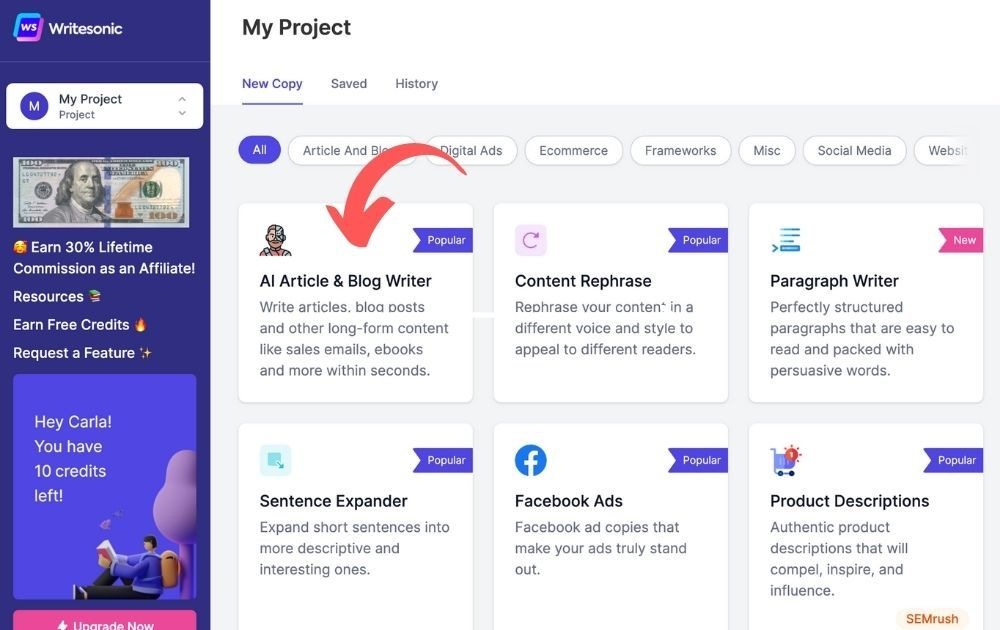 WriteSonic is a powerful text editor and writing tool that offers a wide range of features to help writers and content creators create professional-quality documents.
Features
Advanced text editing: WriteSonic offers a range of advanced text editing tools, including spell check, grammar check, and word count, as well as support for formatting and styles.

Collaboration: WriteSonic has built-in collaboration features, allowing multiple users to work on a document at the same time. This is especially useful for team projects or when working with clients.

Organizational tools: WriteSonic includes a variety of tools to help you organize your writing, including the ability to create outlines, set goals, and track your progress.

Templates and style guides: WriteSonic includes a wide range of templates and style guides to help you create professional-quality documents quickly and easily.

Research tools: WriteSonic includes a built-in research tool, allowing you to quickly find and incorporate information from online sources into your writing.

Cloud synchronization: WriteSonic automatically saves your work to the cloud, so you can access it from any device and continue working wherever you are.
Articoolo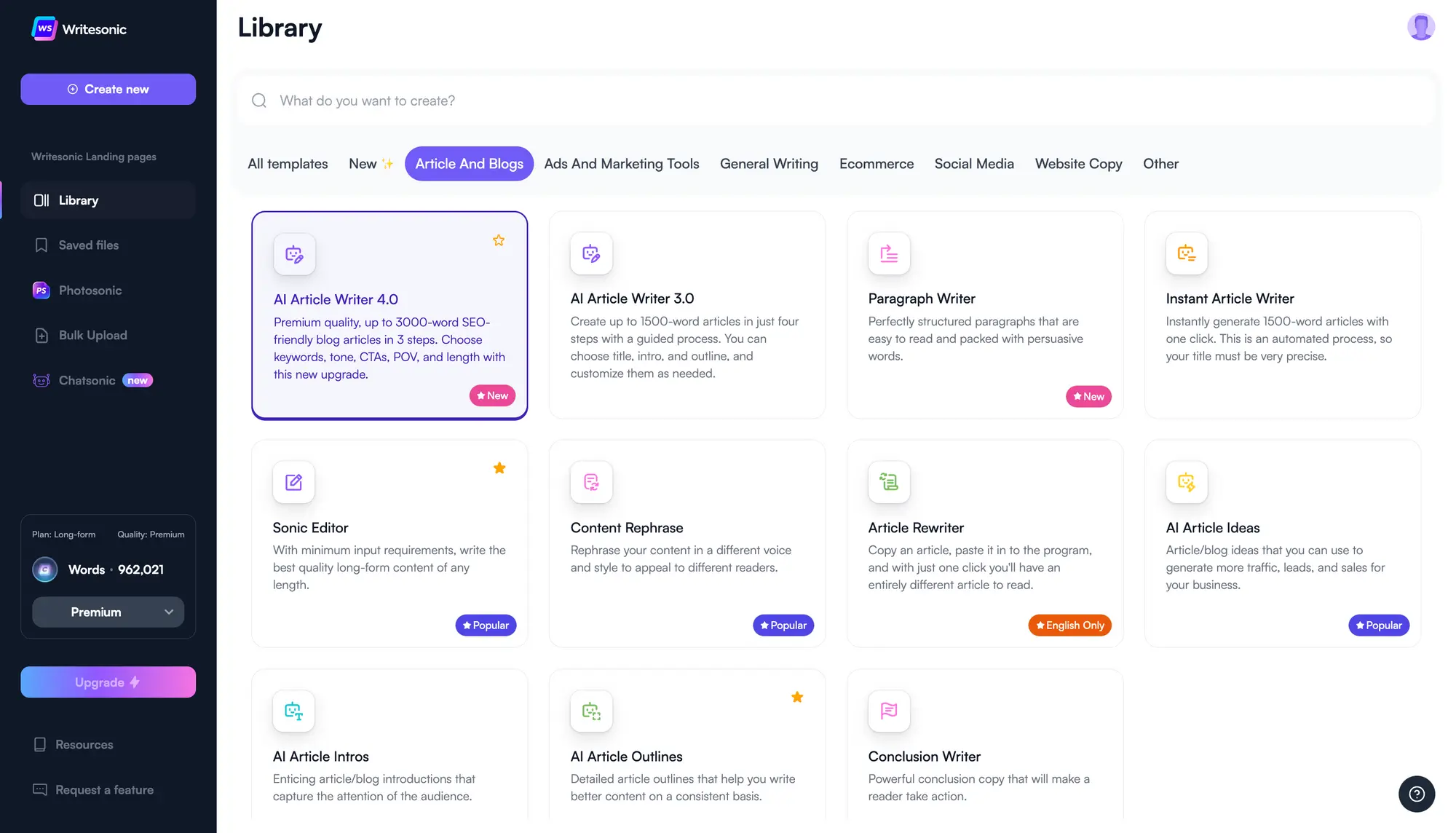 Articoolo is a content creation tool that uses artificial intelligence to generate unique and high-quality articles on a wide range of topics.
Features
Fast article generation: Articoolo can generate articles quickly, making it a useful tool for anyone who needs to produce a lot of content in a short amount of time.

Wide range of topics: Articoolo can generate articles on a wide range of topics, including business, technology, health, and more. This makes it a versatile tool for content creators who need to produce content on a variety of subjects.

Customizable content: Articoolo allows users to customize the content generated by the tool by adjusting various parameters, such as the length of the article, the level of detail, and the tone of the writing.

SEO optimization: Articoolo generates articles that are optimized for search engines, with relevant keywords and good readability scores. This can help improve the visibility and ranking of the content on search engines.

Plagiarism check: Articoolo includes a plagiarism checker that ensures the content generated by the tool is unique and not copied from other sources.

Easy integration: Articoolo can be easily integrated with a variety of content management systems and platforms, making it easy to use and publish the generated content.
Scalenut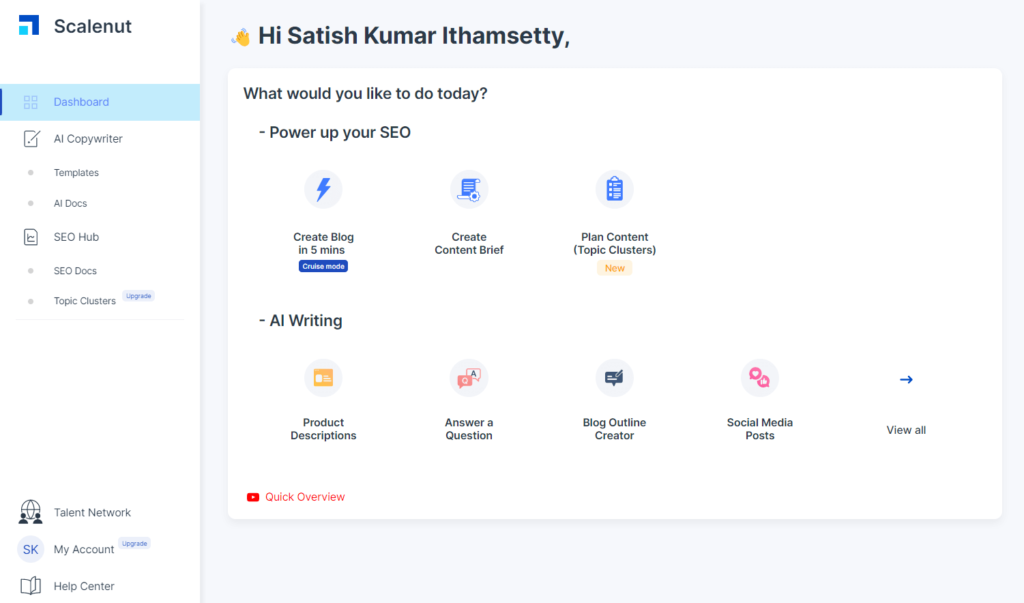 Scalenut is a powerful AI-driven content-writing tool that helps users create professional-looking content quickly and easily. With Scalenut, users can generate high-quality content from scratch, and edit existing content.
Features
Automated Content Generation: Scalenut automatically generates content from scratch, allowing you to quickly create content without having to spend hours researching and writing.

AI-Assisted Writing: Scalenut uses AI-assisted writing tools to help you refine your work and make it more accurate and engaging. You can use the AI Writer tool to generate content suggestions and edit your work for grammar, spelling, and style.

Automated Editing and Proofreading: Scalenut offers automated editing and proofreading tools that check your work for grammar, spelling, and style errors, while also suggesting improvements.

Automated SEO Optimization: Scalenut can analyze your content and suggest SEO improvements to help optimize your content for search engines.

Collaborative Writing: Scalenut allows you to collaborate with other writers and editors, allowing you to quickly create and refine content.

Data-Driven Insights: Scalenut provides data-driven insights that can help you better understand how your content is performing and how to improve it.
What's Next?
Having access to sales suite and lead generation software can be extremely advantageous for businesses. The sales suite provides the ability to monitor the sales process from start to finish, including creating sales orders, tracking delivery, and invoicing. Lead generation software can assist in obtaining leads and managing customer relations. These two tools are critical for the success of any business. They can help companies to maximize their sales, manage customer relationships effectively, and deliver superior customer service.
Having all four suites – HR, Marketing, Support, and Sales – would be highly advantageous for businesses. HR suite can be used to recruit and manage personnel, the Marketing suite for marketing and building brand recognition, the Support suite for customer support and helpdesk services, and the Sales suite to facilitate the sales process. Having all of these suites in place can give businesses an advantage over the competition and ensure their operations are running efficiently.
Conclusion
AI writer software has the potential to revolutionize the way businesses create content in the coming years. With the ability to generate high-quality, engaging content quickly and efficiently, these tools can save time and resources while also improving the overall quality of a company's written materials. As the technology continues to advance and become more widely available, it is likely that AI writer software will become an increasingly popular choice for businesses looking to streamline their content creation process.
While there are many options on the market, it is important for businesses to carefully consider their needs and choose a tool that meets their specific requirements. Ultimately, the best AI writer software for your business in 2023 is OutreachWriter by 500apps which will boost your success and income.
Visit 500apps right away to discover more about our 50-app All-in-One CRM Software, which is available for just $14.99 per user
Why Choose 500apps?
#1
All-in-One Suite with more than 50 apps
#2
Everything you need today and in the future for all departments
#3
Unbelievable value - the lowest pricing you will ever find
#4
Hosted in 6 locations for compliance and blazing speeds
#5
24/5 Support - FREE chat, email and phone
#6
Uncapped features - limits you will never reach humanly
#7
Managed and maintained everyday by a dedicated team
#8
No downtime - comes with a 99.9% uptime guarantee
#9
Supports a number of international languages
#10
We've everything covered - 90k+ trust us with their business
Join the SaaS Revolution
All-in-One Suite of 50 apps

Unbelievable pricing - $14.99/user

24/5 Chat, Phone and Email Support