Best Video Conferencing Software for Your Business
Video conferencing is an effective way to stay connected with your clients from anywhere, anytime. Here's how to choose the best video conferencing software for your business.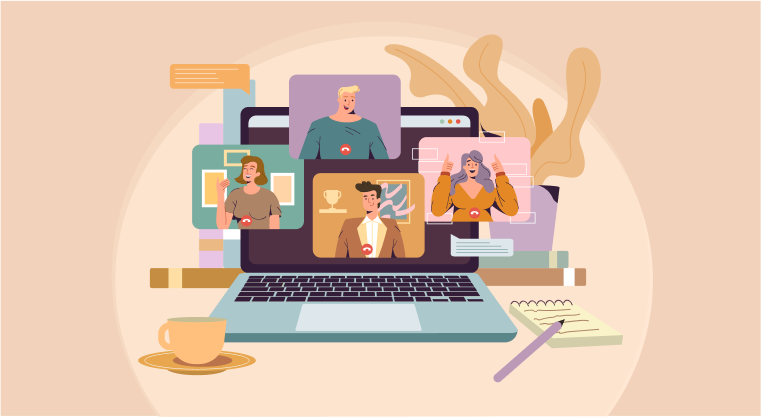 Video conferencing software is an ideal method to connect and collaborate with people you would not typically see in person. Video conferencing lets you interact quickly and efficiently with people you might not have met as frequently otherwise.
What Is Video Conferencing Software?
A video conference is a meeting that happens over the internet. People can see each other and talk to each other using their computers. Sending audio, video file sharing, real-time chat, screen sharing, and YouTube live signals between two or more places is known as video conferencing.
For example, imagine you and your friends are all in different world regions. You can all meet together in one place without ever having to leave your homes by using a video conference.
How Does Video Conferencing Software Help Businesses?
For businesses to communicate with clients, video conferencing software is becoming increasingly popular. Companies can save money on travel costs by using this software and holding more productive meetings. Many video conferencing software options are available, so it is essential to do your research before settling on one.
What Is the 500Conference?
500Conference is a video conferencing software that allows people to connect and collaborate online. They can do this by sharing audio, video, private and public meetings, screen sharing, mobile access, YouTube live or text content in real-time. This type of software is growing in popularity because it allows for more efficient communication and collaboration between individuals far apart.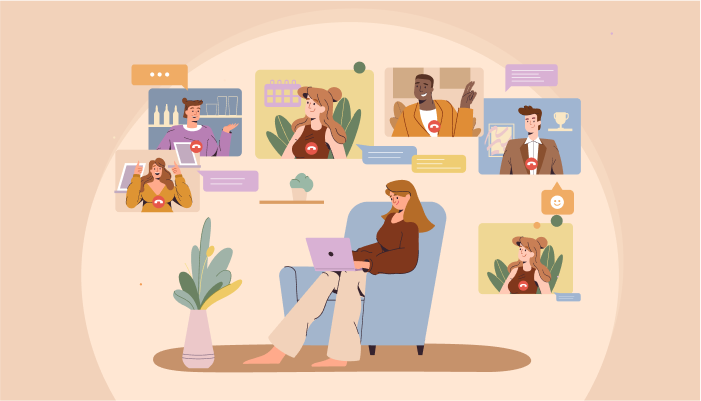 You can also use video conferencing software for various purposes, including training, webinars, and product demonstrations. Creating and customizing background images to match the meeting for individuality is possible. There is also no limit to meeting durations. Meetings can be held for an indefinite period of time.
Why Should You Use 500Conference?
We'll start our list with one of the best video conferencing software, 500Conference. 500Apps is the company behind 500Conference. Using this software, users can enhance their video conferencing experiences using secure file sharing, call recording, real-time chatting, private virtual meetings, mobile access, custom backgrounds, and YouTube live. Further, unlike other platforms, 500Conference has no time limit on how long sessions can last. An unlimited number of participants can also attend meetings.
What Are the Features of 500Conference?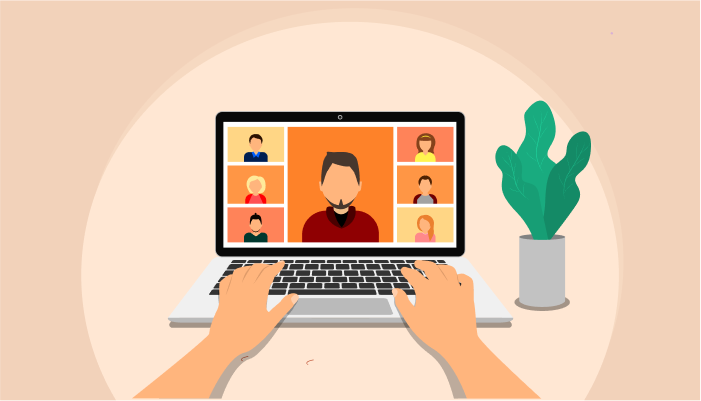 Video Call Recording
Meetings should be recorded so that they can be reviewed later. You will ensure that you have all the pertinent information by simply writing down what was discussed in the meeting. Video conferences are recorded so that no significant aspect is missed. The video call recording feature of any video conferencing software allows you to save and record high-definition video along with the audio. With a simple set of annotation tools in the video call recording section, you can make yourself appear more professional.
Screen Sharing
The benefits of screen sharing include capturing the attention of attendees, delivering better presentations, and helping them more readily understand the objectives. Your computer screen can be used to display facts, images, or tool functionality to make your meeting more entertaining. You decide what to show. The screen could be a portion of your desktop, the entire display, or a whiteboard with videos stored locally. To create a more professional and impressive video-sharing experience, you can include audio along with your videos at the conference. You can also share your screen privately so that the attendees cannot see your pop-up notifications from other apps.
Real-Time Chat
Real-time chat enables you to speak with anyone globally and allows you to send and receive quick messages and reactions. Only you and the receiver will have the key to open them, preventing others from hearing your potentially private chats.
Choose Video Conference Software, Look No Further! Sign Up 14 Day Trial
You can liven up chats with real-time chat features like replies, citations, GIFs, and other visual components. Tag anyone participating in the group chat and make them feel important to ensure faster follow-up in a group conversation. Real-time chat helps you streamline your process by simultaneously transmitting the same message to multiple discussions.
File Sharing
The most distinctive file sharing option enables you to swiftly and easily share large files during meetings, ensuring that the conference produces actual results. Among other things, sending files to all participants, a single participant, or in a group chat improves efficiency and comprehension.
Drag and drop any file, image, or computer document into the video conferencing software chat window to present oneself properly during a conference call.
Private Meetings
You can host private meetings in a safe environment with further encryption and password protection, or you can have a moderator approve entrance. The meeting can only be joined by those who have a password. However, the conference host can control who can join the discussion by permitting or disallowing join requests.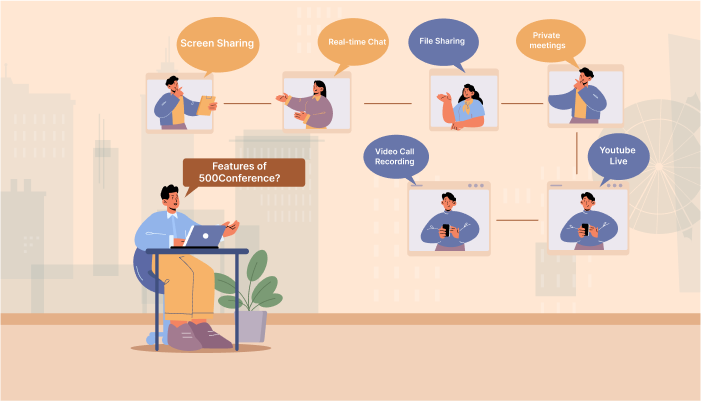 Custom Branding
You can improve your presentation by adding your corporate logo or personal logo to your background using the custom branding feature. Use the virtual environment to help you deal with the problem of keeping the conference room clean during a professional meeting. When hosting a professional conference or webinar, include a logo to assist participants in trusting your brand. Choose a color pattern as your virtual background to create a sense of uniqueness.
Youtube Live
Live broadcasting on YouTube allows you to communicate with your audience in real-time. With a camera and conferencing equipment, live conferencing refers to the live broadcasting of interactive audio and video presentations, lectures, meetings, and seminars to a global audience.
Conclusion
Your company's requirements are determined mainly by which video conferencing software you choose. As a result, when selecting the proper tool for your company, always keep your business's needs in mind. This ensures that the software you purchase from 500apps gets used to its full potential.
Why Choose 500apps?
#1
All-in-One Suite with more than 50 apps
#2
Everything you need today and in the future for all departments
#3
Unbelievable value - the lowest pricing you will ever find
#4
Hosted in 6 locations for compliance and blazing speeds
#5
24/5 Support - FREE chat, email and phone
#6
Uncapped features - limits you will never reach humanly
#7
Managed and maintained everyday by a dedicated team
#8
No downtime - comes with a 99.9% uptime guarantee
#9
Supports a number of international languages
#10
We've everything covered - 90k+ trust us with their business
Join the SaaS Revolution
All-in-One Suite of 50 apps

Unbelievable pricing - $14.99/user

24/5 Chat, Phone and Email Support