Creating Effective Call Center Scripts: Best Practices, Tools and Tips
As businesses increasingly rely on call center technology, they must create effective scripts. Every interaction with a customer should be smooth and successful to ensure customer satisfaction and loyalty. The right script can make all the difference in giving customers an exceptional experience.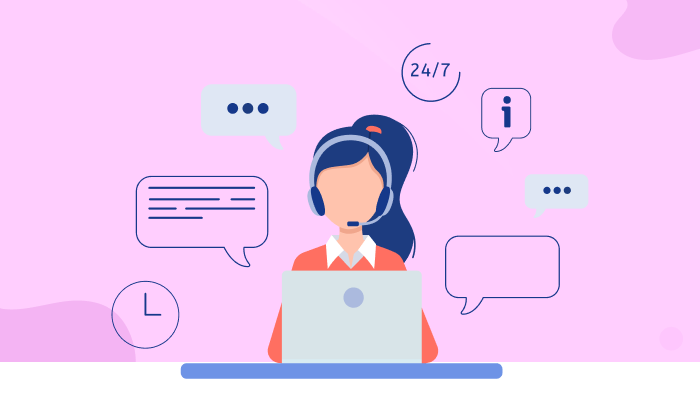 This article will explore best practices for creating effective call center scripts and provide tips and tools to help you get started. We'll look at strategies for writing scripts that maximize efficiency and minimize mistakes while still providing great service for each caller.
Whether you're just starting or looking to refine current processes, this guide provides the information needed to craft outstanding call center scripts that give every customer the quality of care they deserve. Read on for insight into maximizing effectiveness through scripting!
What Is a Call Center Scripts?
A call center script is a pre-written conversation guide used by customer service representatives when speaking to customers. The goal of the script is to provide agents with the structure needed to handle and respond to inquiries efficiently while simultaneously providing a great customer experience.
When crafting call center scripts, businesses must remember that their content should be concise and easy to follow. To ensure success, there are some best practices worth considering. For example, using bullet points instead of long blocks of text helps improve readability and makes it easier for reps to reference necessary information mid-conversation quickly. Similarly, having an agent periodically review any changes or updates made keeps them informed on recent changes in policy or new product launches.
Many online platforms offer free templates and advice from industry professionals for organizations looking for tools or tips on creating effective call center scripts. These resources typically include customizable sample scripts that can be tailored to fit the specific needs of each organization's brand messaging.
Tips for Developing Effective Call Center Scripts
Creating effective call center scripts can be time-consuming and daunting. But, it can be simple with the right set of tools and tips. Here are some useful suggestions for developing successful call center scripts to ensure a smooth customer experience.
Utilize call center software or templates from existing script samples to get started.
Focus on using simple language that customers would understand quickly.
Include all relevant information such as product features, benefits and pricing details.
Keep the flow consistent throughout the script.
Review each script thoroughly before putting it into action.
By following these guidelines when creating your call center scripts, you'll increase efficiency while delivering a better customer experience overall. Customers want quick solutions but value good service – crafting effective scripts will help guarantee both!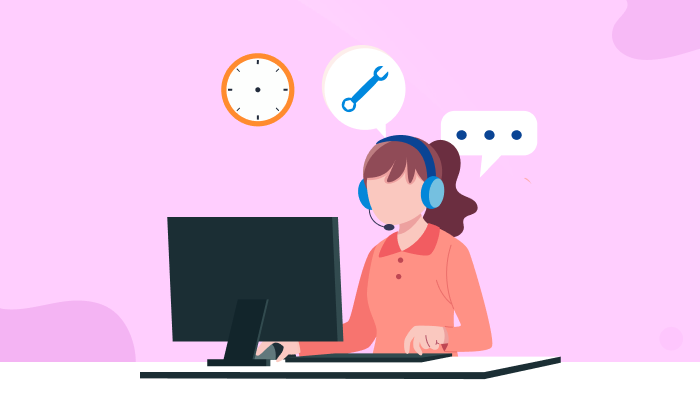 5 Best Tools for Creating Call Center Scripts Faster
Creating effective call center scripts can be daunting, but it doesn't have to be. To make the process easier and faster, there are several great tools available that can help you create professional-level scripts quickly. Here are five of the best tools for creating call center scripts faster.
Talkdesk
Talkdesk is a leading call center script-building tool that can help businesses create scripts quickly and efficiently. This software solution offers many features, including call monitoring and outbound calling capabilities. With Talkdesk's intuitive dashboard, users can monitor their calls in real-time and receive detailed insights into customer conversations while creating the perfect call center script.
Besides helping users build effective call center scripts faster, Talkdesk also provides tools for customizing those scripts to meet specific business needs. Users can access a drag-and-drop editor for easy customization and templates for more advanced scripting options.
Olark
Olark is a great tool for creating effective call center scripts. It allows for easy call management and cloud contact, which helps ensure that no customer service inquiry goes unnoticed. Olark's features include:
Automated responses from chatbot integration.
Ability to segment customers into groups by needs or interests.
Call routing depending on caller preferences.
Real time reporting of calls and interactions with customers.
These features help streamline the process of creating effective call center scripts. They allow for more efficient use of resources so that you can allocate your team's time optimally. Olark also gives users access to detailed analytics about conversations and interactions, so businesses can quickly identify trends in customer inquiries. This makes it easier to respond proactively and make necessary changes if needed. All these aspects come together to create an environment where customer experience is consistently optimized without having to sacrifice efficiency.
Zendesk
Zendesk is a powerful virtual call center tool that can help create effective scripts. It offers rich features, such as automated triggers, which allow you to customize your customer service processes. Additionally, its analytics capabilities enable you to track and measure performance metrics in real-time. Its intuitive interface makes it easy for agents to manage their workflow more efficiently.
One of the biggest advantages of Zendesk is that it allows managers to build customized call center scripts tailored towards different scenarios and customer types. This helps agents respond quickly and accurately while delivering an optimal level of customer satisfaction. Furthermore, with built-in reporting tools, managers can easily identify trends or areas where improvement is needed to ensure consistent quality across all calls.
Salesforce
Salesforce is an effective tool for creating and managing call center scripts. It offers several features that can help streamline the process, including automated scripting templates, customizable word-processing tools, and dedicated customer support teams. Additionally, it has integrated AI-powered analytics capabilities to allow users to track key performance indicators and optimize their scripts accordingly.
The platform also provides access to predictive insights from its comprehensive database of customer interactions. This helps managers quickly identify trends in customer behavior and tailor their scripts for maximum efficiency. With these advanced capabilities, you can ensure that your team has the most up-to-date information when crafting successful calls.
Voxdesk
VoxDesk is a cloud-based call center software solution that can help organizations create effective scripts for their customer service needs. It offers comprehensive tools to streamline the scripting process and ensure consistent customer communication. Here are some of the best practices, tools and tips VoxDesk provides:
Easy script creation: The VoxDesk drag-and-drop editor simplifies creating customer-facing scripts by allowing users to customize pre-existing templates or start from scratch quickly.
Automation features: With automated responses, you can ensure that all customers receive the same response no matter who answers the phone. This helps maintain consistency across your customer service team.
Real-time analytics: Keep track of your scripts' performance by using real-time data insights such as average talk time per call or number of calls handled in an hour.
Quality assurance checks: Use VoxDesk's audio recording feature to review agent performance and find ways to improve the overall quality of customer interactions.
VoxDesk provides a comprehensive suite of features that makes it easier than ever before to create effective call center scripts. Its automation capabilities will save time and energy while helping organizations deliver better customer experiences on every interaction.
Get started with the leading Call Center Script today! Sign Up 14 Day Trial
6 Best Practices for Using Call Center Scripts
Creating effective call center scripts is important to delivering great customer service. To make sure your customers have a positive experience, it's key to ensure that scripts are up-to-date and efficient. Here we share six best practices for using call center scripts.
Keep the Scripts Simple
It's essential to keep call center scripts simple. This ensures agents can remember the script and use it quickly, thus improving customer service. One of the best tools for scripting calls is Voxdesk. It allows you to make call flows with no coding knowledge required—so even novice agents can effectively handle a variety of scenarios. Here are some tips to ensure simple scripts:
Keep the language concise: avoid using unnecessary words or phrases that could confuse customers.
Use plain English: don't include industry jargon that only experts would understand.
Make sure each sentence contains just one thought: this makes it easier for customers to follow along and comprehend what you're saying.
By utilizing these tips, coupled with Voxdesk's powerful toolset, your call center will be able to create effective scripts in no time! Your team will be confident to provide excellent customer service on every phone call.
Provide Context
Providing context is essential when writing effective call center scripts. It helps the customer service agents have a clear understanding of the subject, resulting in better customer responses and outcomes. Context also aids in helping agents understand any relevant background information or facts that could be used during a call.
Here are 3 ways to provide context while creating an effective script:
Identify who the target audience is: Who will be using this script? Knowing this ahead of time can help you create tailored content that fits their needs.
Explain why it's important: Showing your audience what benefits they get from following your instructions increases their motivation.
Include key terminology: If specific terms need to be known, make sure they're included (and defined). Doing so ensures everyone understands exactly what's being asked of them throughout their interactions with customers.
By considering these steps, you'll ensure all stakeholders involved have enough information to work off of when crafting quality call center scripts that serve both employees and customers well.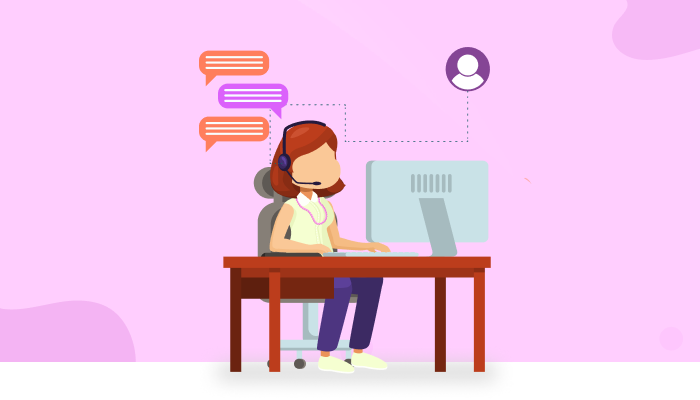 Allow for Flexibility
When creating effective call center scripts, allowing for flexibility is essential. After all, customers come from all sorts of backgrounds and can have different needs. Customer service representatives must be able to adjust the script to meet those needs best. Here are a few tips on how to do so:
Utilize signposts and buffers: Signposts help create an organized structure within your script while providing space for variance depending on customer response. Buffers allow reps to take extra time if needed by introducing phrases like "Let me see what I can do for you" or "I understand why this would be concerning".
Train reps properly: Ensure agents know when they should deviate from the script and when they should stick with it. This way, they'll better handle each customer interaction efficiently and effectively.
Encourage feedback: Ask agents for their input after every call so that you can track any common issues or trends that need adjusting in the future. This will also give them more confidence in knowing that their opinions matter in improving the overall workflow process.
Listen carefully: Listening closely during conversations allows reps to pick up on subtle cues that could provide insight into how best to tailor their responses. Having the ability to move away from a strict call center script provides greater opportunities for customer satisfaction, something both businesses and consumers alike strive for.
Therefore, taking measures such as these can go a long way towards ensuring positive experience outcomes throughout each call center interaction.
Train Agents
Training your call center agents is a crucial part of creating effective scripts. Agents must be given the tools and resources to handle any customer requests that come their way, and with Voxdesk, you can make sure they're well-equipped for success. Here are four things you should keep in mind when training agents:
Make sure there is an organized structure. Provide agents with clear instructions on how to use the script, so they know what to do without having to guess.
Allow time for practice sessions. This gives agents a chance to understand the script better and get accustomed to using it correctly during actual calls.
Stress the importance of flexibility. While following the script is important, customers often need more than just generic answers or advice and allowing agents some leeway helps them give customers solutions tailored to their needs.
Prepare them for both routine and unique scenarios. Agents should not only know how to answer common questions but also be prepared for anything out of the ordinary that could arise while handling customer inquiries.
Through proper training, your call center agents will have all they need to manage customer conversations according to your desired scripts effectively. Preparing them ahead of time ensures smoother interactions between customers and representatives, resulting in higher satisfaction rates overall.
Monitor and Update
Monitoring and updating call center scripts are important parts of creating effective ones. Having the right tools helps ensure that any changes made are accurate and up-to-date, making it easier for agents to find answers quickly. Voxdesk provides a great solution here, with its range of features designed specifically for this purpose.
Voxdesk allows organizations to monitor customer interactions in real-time and update their scripts accordingly. Agents can be provided access to relevant materials on demand without leaving their desks. This makes them more efficient and better able to provide quality service. Additionally, managers have access to detailed analytics, which can help identify areas where improvements may be necessary.
By using Voxdesk's suite of monitoring and updating tools, organizations can keep their call center scripts current to remain effective over time. As a result, customers will receive improved service from agents who are better prepared and equipped with the latest information.
Test the Script
When it comes to creating effective call center scripts, testing is essential. It's the only way to ensure that your scripts will work properly in real-life scenarios and provide a great customer experience. With Voxdesk, you can easily test out different variations of your script without having to implement them directly into production. This makes it easy to find any errors or issues before they become an issue with customers on calls.
One key tip when testing scripts is to use agents as much as possible to get accurate feedback from people doing the job. Ask agents their thoughts after going through the script, so you can be sure that it works well and covers all potential questions or objections customers raise during calls. Having this kind of insight early on helps ensure smoother deployment of the script once it goes live.
Conclusion
Call center scripts are essential to any contact center, as they help agents deliver a consistent customer experience and ensure that each call is handled properly. With the right tools and strategies, you can develop effective call center scripts quickly and easily. Talkdesk, Olark, and VoxDesk all offer great solutions for creating and managing your call center scripts.
Allowing for some flexibility within your script, training your agents on how to use it properly, monitoring its performance regularly and making necessary updates when needed will ensure optimal efficiency in delivering service to customers. Additionally, by testing out the script before launching it live, you can address any potential issues before they arise. This ensures that the quality of service being delivered remains at a high level throughout every interaction with customers.
In conclusion, having an effective call center script can be invaluable in providing excellent customer service experiences, but only if managed correctly. Using the right tools such as Talkdesk, Olark and VoxDesk alongside techniques like allowing for flexibility while scripting, training staff members on proper usage, monitoring ongoing performance metrics and testing often – you'll soon find yourself reaping all the benefits associated with successful call center scripting!
Why Choose 500apps?
#1
All-in-One Suite with more than 50 apps
#2
Everything you need today and in the future for all departments
#3
Unbelievable value - the lowest pricing you will ever find
#4
Hosted in 6 locations for compliance and blazing speeds
#5
24/5 Support - FREE chat, email and phone
#6
Uncapped features - limits you will never reach humanly
#7
Managed and maintained everyday by a dedicated team
#8
No downtime - comes with a 99.9% uptime guarantee
#9
Supports a number of international languages
#10
We've everything covered - 90k+ trust us with their business
Join the SaaS Revolution
All-in-One Suite of 50 apps

Unbelievable pricing - $14.99/user

24/5 Chat, Phone and Email Support