11 Best Online Meeting Platforms & Software
The modern workplace is increasingly going digital, and online meeting platforms are becoming a necessary part of the corporate landscape. With so many different tools available to businesses today, it can take time to pick the right one for your needs. That's why we've put together this comprehensive guide on the 11 best online meeting platforms & software out there.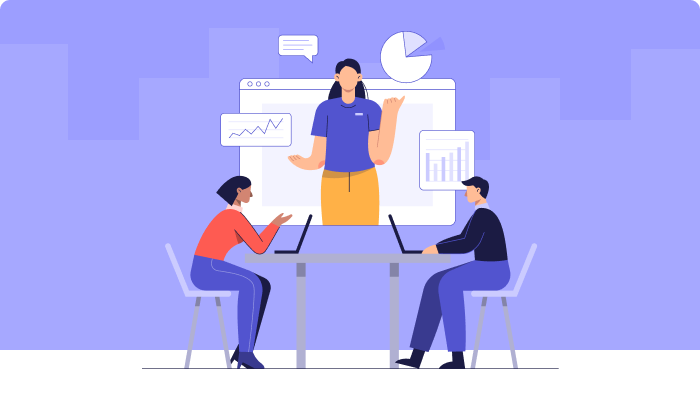 We'll walk you through each platform, giving an overview of its features, pricing plans and what makes it stand out in the crowd. We aim to help you find the perfect solution that meets all your requirements while still fitting within your budget. So whether you're looking for a free option or something more full-featured, you'll have everything you need to decide which tool best suits your business.
What is the Meaning of Online Meeting?
An online meeting is a virtual conferencing software that allows users to communicate with one another remotely. It's often used in place of face-to-face meetings and enables people to participate in conversations, share files, collaborate on projects, and present presentations. With an online meeting tool, participants can join the conference from anywhere worldwide as long as they have access to the internet.
The advantages of using an online meeting platform include improved efficiency when arranging events or discussing matters. Participants don't need to travel for hours just to attend a single event; instead, every one can simply log into the same virtual room at any time. Additionally, members can connect via video chat so that conversations feel more like real-life encounters despite being separated by thousands of miles.
What is the Difference Between a Virtual Meeting and an Online Meeting?
Most people need clarification on online and virtual meetings, but there are some important differences between the two. Online meetings refer to any digital gathering of people who meet via an online platform such as Zoom or 500Conference. In contrast, virtual meetings use various web-based collaboration tools like conference call software or video conferencing to interact with one another in a simulated environment.
Virtual Meeting
A virtual meeting is a type of online meeting that allows two or more people to interact in real-time over the internet in order to collaborate or discuss a variety of topics. Virtual meetings can include audio, video, and text components, and many useful software and applications to facilitate their use.
Online Meeting
An online meeting is a type of meeting that takes place entirely over the internet, with participants communicating via video conferencing, audio conferencing, text messaging, or other digital means. Unlike virtual meetings, online meetings do not require participants to interact in real-time.
To break it down further:
Online meetings involve connecting through online platforms such as online meeting platforms, online conference platforms, and the best online meeting apps that allow participants to join from anywhere with an internet connection.
Virtual meetings require specialized hardware and software for each participant in order to create a realistic simulation of a physical meeting space where everyone can see and hear each other.
Virtual meetings provide more features than standard online meetings, including real-time 3D modeling capabilities, interactive whiteboards and document-sharing options.
The main takeaway is that both types of meetings offer advantages depending on your specific needs. If you're looking for something quick and easy that allows everyone to connect remotely, then an online meeting might be the way to go. On the other hand, if you need more advanced features that enable better communication and collaboration among all members, then perhaps opting for a virtual meeting could be the right choice.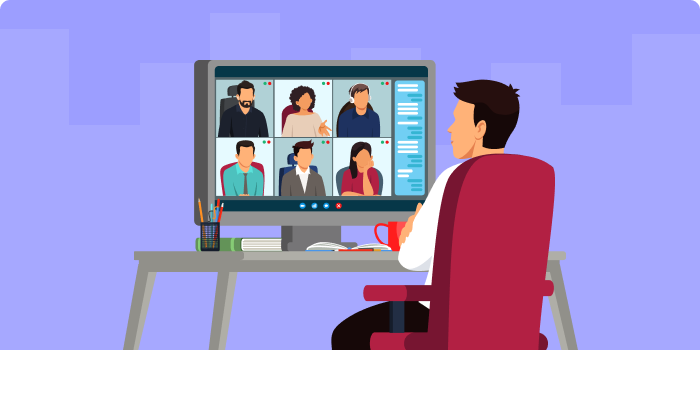 What are the Advantages of Online Meetings?
One of the key advantages of hosting online meetings is that they allow many people from different locations to connect and collaborate. This means that they can easily join in no matter where participants are located. Additionally, compared to traditional physical meetings, there are far fewer expenses associated with organizing an online meeting. Plus, it's possible to record and store virtual meetings so they can be reviewed later if necessary.
Holding online meetings also provides more flexibility regarding scheduling since everyone participating doesn't have to be present simultaneously. This makes it easier for busy professionals worldwide who may have yet to be able to attend an in-person meeting due to conflicting commitments or geographical distance. To ensure the best experience for all involved, choosing the right platform for your online meeting is essential. For example, finding one that offers features such as real-time sharing capabilities and collaboration tools will ensure all contributors feel connected regardless of their location - making it simple and easy to get work done together without any hassle. That's why selecting the best platform for online meetings is so important; you should look for features like these before deciding which option works best for you and your team.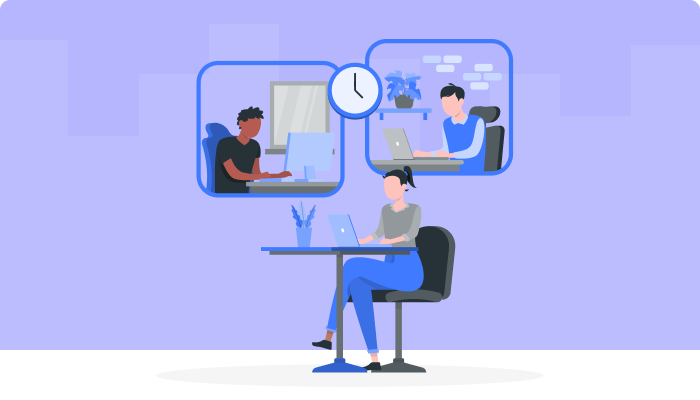 11 Best Online Meeting Platforms & Software
Online meetings have become a popular way to enhance collaboration and communication among individuals, teams, and organizations. These virtual meeting tools can streamline processes and make it easier for people to stay connected regardless of location or time zone. This article will cover the 11 best online meeting platforms & software that you should consider when looking for an effective video conferencing solution.
Zoom
Zoom is one of the best online meeting platforms available today. It's a powerful and versatile tool that allows users to easily host webinars, group meetings, or even individual conversations. Zoom has tools such as screen sharing and file transfer capabilities, so you can easily collaborate on projects with others in real-time. Plus, it offers audio conferencing for up to 1000 participants simultaneously!
Not only does Zoom have great features, but it's also incredibly user-friendly. The interface is easy to navigate and understand, making it perfect for experienced professionals and new users. Additionally, you can access the platform from any device, your laptop, tablet or smartphone, giving you maximum flexibility when using the service.
500Conference
500conference is a comprehensive and reliable online meeting platform. It allows users to host meetings with up to 500 participants, making it ideal for large-scale events like conferences or seminars. This solution also provides features designed specifically for webinars, such as automated reminders, registration forms, polls and surveys.
The platform offers several features that make it easy to use:
Easy scheduling of meetings: Scheduling meetings on 500Conference is simple and straightforward. You can quickly set up video conferences, audio calls, and online chats without hassle.
Multi-party video conferencing:With 500Conference, you can host large virtual meetings with multiple participants from different locations. The platform supports both voice and video conferencing so everyone can stay connected no matter where they are located.
Secure File Sharing: You can securely share documents and files in real-time through the 500Conference secure file-sharing feature. This makes collaboration much easier as team members can access the same information simultaneously.
With these features and its ease-of-use capabilities, 500Conference provides users with an effective way to manage their communication needs while staying productive and connected across different devices and locations.
Get started with the leading Online Meeting Tool today! Sign Up 14 Day Trial
GoTo Meeting
When it comes to online meeting platforms, GoTo Meeting is a great choice. This platform offers an array of features that make it the perfect tool for hosting meetings and webinars. It's easy to use with its intuitive design; users don't need any technical knowledge or special software to get started. The video conferencing feature allows you to connect up to 250 participants worldwide in one place. Participants can join via computer, mobile app, or telephone call, making it convenient no matter their device.
GoTo Meeting has powerful collaboration tools like screen sharing and whiteboarding so attendees can collaborate in real-time, even if they're not physically at the same location. You also have access to analytics such as who attended sessions and how long they stayed engaged throughout each call; this helps identify areas where improvement may be needed or better engagement strategies could be applied.
Skype
Skype has become one of the most popular online meeting platforms and software. It is favored for its easy-to-use interface, robust features, and free video call capabilities, perfect for both business use and social gatherings.
It's no wonder Skype has taken off over the years; it enables users to connect with others from anywhere in the world quickly and easily. Users can share their screens to present materials or host a group discussion with up to 50 people at once. They also have access to chatrooms so they can communicate without having to be on a call.
Join.Me
Join.me is a powerful online meeting platform that makes it easy to collaborate with others in different locations. It offers high-quality audio, video, and screen-sharing capabilities so everyone can stay on the same page. Plus, join.me also has recording features, allowing you to capture important conversations for later review or use as evidence of decisions made during the meeting.
The join.me platform is designed to be user-friendly and intuitive; even those without technical expertise will find this tool easy to navigate. You can get started quickly by sending out an invitation link before your scheduled meeting time - no downloads are necessary! Additionally, there are useful collaboration tools like chat and file transfer options available, making sure everyone's input is accounted for throughout the session.
Google Meet
Google Meet is a popular online meeting platform that allows users to easily connect with colleagues, friends and family. It offers audio and video calling capabilities, available across multiple devices, including PCs, tablets or smartphones. This free software from Google also supports up to 25 participants at once for group meetings.
The interface of this software provides an easy-to-navigate experience for its users. It has features such as chat rooms, file-sharing options and the ability to join conversations through web links. Additionally, it integrates well with other applications like Gmail and Google Calendar, making scheduling meetings simpler. In terms of security, it relies on encryption technology so users can feel confident in their privacy while using the service.
Anymeeting
Anymeeting is a great online meeting platform that offers free and paid plans. It's an easy-to-use, cloud-based solution for virtual meetings, video conferencing, webinars, screen sharing and more. Not only does it provide audio and video capabilities, but also allows you to share documents and whiteboards with participants.
The software has all the features needed for effective remote collaboration, such as recording meeting sessions so people who missed them can catch up later; it even provides real-time chat support during your meeting, keeping everyone on top of what's happening. In addition, AnyMeeting includes breakout rooms where multiple groups can discuss different topics simultaneously.
Highfive
Highfive is an online meeting platform and software that provides users with a simple yet sophisticated way to communicate. It offers features such as content sharing and video conferencing for up to 500 people at once. The user interface is intuitive and easy to navigate, making it ideal for those new to virtual meetings. Highfive also allows you to record your sessions so you can go back and review them later on. Plus, its cloud-based storage makes it secure and reliable.
Whether you're looking for a straightforward solution or something more advanced, Highfive has you covered. Its integration with other business applications like GSuite and Slack makes it even easier. You can schedule meetings ahead of time or join quickly using a link. At the same time, the ability to customize settings ensures everyone feels comfortable in their space, no matter where they are located.
Vast Conference
Vast Conference has become a popular online meeting platform and software. This service provides users with various features to host virtual meetings, such as audio/video conferencing, file sharing, screen-sharing, and more. It's easy to get up and run, and you only need an internet connection, your preferred device (e.g., laptop or smartphone), and the app itself. Plus, Vast Conference offers support in multiple languages so everyone can understand each other.
The interface of Vast Conference is user-friendly and intuitive; it allows for smooth navigation between different functions during calls. Additionally, this software is suitable for small businesses due to its affordability and scalability options. And if you're looking for security, then we have good news: Vast Conference uses end-to-end encryption technology to protect communication data from unwanted eyes.
Webex
Webex is an online meeting platform and software that allows users to host video conferences, webinars, or virtual events. Its easy-to-use interface gives the user access to a range of tools for collaboration, such as screen sharing, file transfer, message boards and more. Not only does Webex offer all these features, but it also provides high-quality audio and video, which makes it ideal for both small businesses and large organizations alike.
The great thing about Webex is its scalability; you can easily add participants if your conference grows. Plus, with their added security measures, like end-to-end encryption and two-factor authentication, users can rest assured that any sensitive data they share on this platform will remain secure. With features such as these and many others, it's no wonder many people prefer using Webex over other similar services.
Conclusion
The modern workplace has been revolutionized by the introduction of online meetings, allowing people to meet virtually anywhere. Online meetings are an incredibly useful tool for businesses looking to collaborate remotely and cut down on travel costs. With various options available, deciding which is best suited for your needs can be difficult.
Zoom, Highfive, Vast Conference, Webex, and 500Conference are just some of the top online meeting platforms & software that have come highly rated by users. They each offer unique features such as video conferencing, file sharing, and recording capabilities, making them ideal solutions for any business or individual looking to take their virtual meetings to the next level.
Why Choose 500apps?
#1
All-in-One Suite with more than 50 apps
#2
Everything you need today and in the future for all departments
#3
Unbelievable value - the lowest pricing you will ever find
#4
Hosted in 6 locations for compliance and blazing speeds
#5
24/5 Support - FREE chat, email and phone
#6
Uncapped features - limits you will never reach humanly
#7
Managed and maintained everyday by a dedicated team
#8
No downtime - comes with a 99.9% uptime guarantee
#9
Supports a number of international languages
#10
We've everything covered - 90k+ trust us with their business
Join the SaaS Revolution
All-in-One Suite of 50 apps

Unbelievable pricing - $14.99/user

24/5 Chat, Phone and Email Support