Best Practices for Using Project Management Tools
The modern workplace is constantly evolving, and project management tools have become integral to many businesses. These tools allow for efficient collaboration between teams, better tracking of projects and tasks, and help reduce the stress associated with managing complex projects. However, to truly reap project management tool's benefits, it's essential to understand the best practices for their use.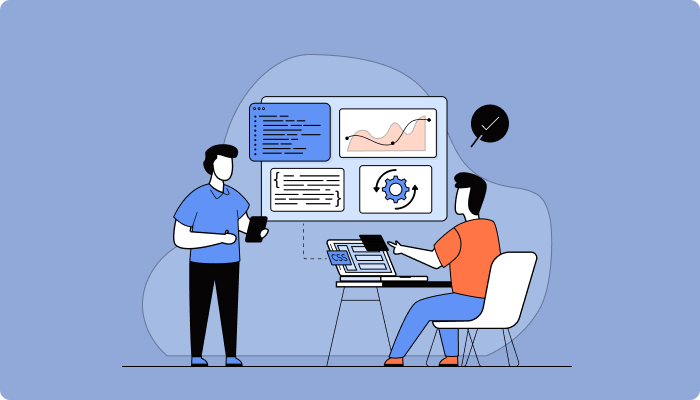 This article will discuss the various aspects of effective project management tool usage, including setting up a successful team workspace, guidelines for organizing projects into manageable chunks, and tips on communication and dealing with confusion or conflicts. By following these key strategies, even the most inexperienced users can make the most of their project management tools.
Benefits of Project Management Tool
Project management tools offer a variety of benefits that can help organizations achieve their goals. These tools provide an organized platform to plan, track and document project activities to ensure successful completion. With a project management tool, teams have a streamlined system for task assignment, timeline tracking and resource allocation. This helps them stay on top of tasks and focus on completing projects on time.
Improved Collaboration
Project Management Tools offer a great way to improve collaboration between team members. With Projectsly, it is possible to easily assign tasks, track project progress, and communicate in real-time with all involved. This way, everyone can stay up-to-date on the project's status while working together more efficiently.
Projectsly also features an intuitive dashboard where each team member can view their tasks and progress with others within the same project. The entire team has access to this data to see what needs to be done and when; this leads to improved transparency which helps people assume responsibility for their assigned tasks.
TIP: To make sure you get the most out of using Project Management Software like Projectsly, it's always important to keep communication open among team members and update task statuses regularly!
Increased Visibility
One of the most important benefits of using project management tools is increased visibility. With a good project management app, every user can see what tasks have been completed or are still in progress on any project. This makes it easier for teams to stay organized and remain up-to-date on their projects. Projectsly helps streamline this process by providing an intuitive interface where users can track specific tasks' status and completion rate.
Streamlined Processes
Streamlined processes are essential for any successful project. By using the best project management software, like Projectsly, teams can ensure they have a streamlined process and workflow that will help them get projects done quickly and efficiently.
Projectsly allows users to break down complex tasks into smaller chunks with its powerful project planner feature. This makes tracking progress on each task and keeping up-to-date with deadlines easier, giving team members greater visibility of their work.
Here are four ways in which Projectsly facilitates in streamlined processes:
Its timeline view shows what tasks must be completed next according to priority.

It offers an easy way to assign tasks and allocate resources.

The drag-and-drop feature simplifies rearranging projects as needed.

Automated reminders let people know when important tasks or milestones are coming up.
Thanks to these helpful tools, organizations can save time by streamlining their processes and ensuring nothing slips through the cracks. Furthermore, having one central hub for tracking multiple projects helps reduce team confusion and keeps everyone aligned towards common goals. With Projectsly's comprehensive project planning software, organizations can increase efficiency while keeping things organized, ultimately leading to better business outcomes.
Improved Resource Utilization
Project management tools, such as Projectsly, can help improve resource utilization by streamlining processes and creating a clear plan for project completion. With these tools, teams have access to an organized system that breaks down each task into small steps and makes it easier to see what resources are needed and when. This allows managers to allocate the right resources at the right time so projects don't experience delays or cost overruns due to a lack of personnel or materials.
The improved resource utilization offered by project management tools has several benefits:
Efficiency: Teams can work faster since they know exactly which resources must be allocated at every project stage.

Cost-Effectiveness: By ensuring optimal utilization of available resources, companies save money on their projects.

Quality Control: Managers can keep a closer eye on progress and spot issues before they become costly problems.
By using project management tools like Projectsly, organizations can ensure efficient use of their resources while still delivering high-quality results in a timely manner. Such solutions make it easy for everyone involved in the project to stay organized and collaborate effectively towards successful outcomes.
Enhanced Project Tracking
Enhancing project tracking is a key component of successful open-source project management. With the right tools, it's possible to monitor progress and keep track of tasks in real-time. Projectsly is an advanced project monitoring tool that helps teams stay organized and on top of their workflow.
Projectsly allows users to customize and tailor their workflows from start to finish from task assignment to completion tracking. This ensures all stakeholders know what needs to be done, when it needs to be completed, and who's responsible for each step. In addition, team members can easily collaborate by sharing documents, commenting on tasks, or messaging directly within the platform.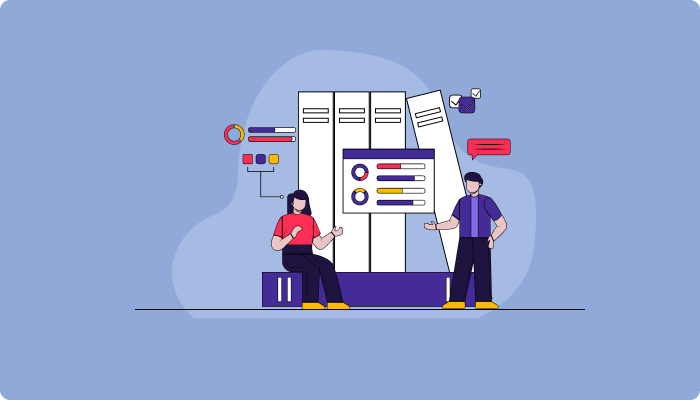 How to Begin Using Project Management Software?
Starting to use project management software is a daunting task. However, it doesn't have to be difficult when you know the basics. By following some best practices, you can use project management tools easily and efficiently.
Familiarize yourself with the features of your particular tool to get up and running quickly.

Take advantage of any tutorials or help sections available in the software.

Utilize templates within your chosen software to save time and ensure relevant information is included.

Look for specific industry related pre-built templates that could fit your needs perfectly.
What are the Best Practices for Utilizing Project Management Tools?
Regarding project management, utilizing the right tools is key for successful implementation and delivery. Understanding best practices using these tools can help ensure you get the most out of them. This article will explore what some of those best practices are for utilizing project management tool.
Utilize Automation
Automation is a critical aspect of project management tools, and utilizing it correctly can help ensure successful outcomes. It helps streamline processes and eliminates manual labor which otherwise takes up valuable time. Projectsly is one tool that offers automation capabilities to make the most out of any project management system.
Projectsly automates tasks like scheduling meetings, tracking progress on projects and deadlines, and analyzing data for better decision making. In addition, it also provides features like resource allocation and task assignment. Through automated notifications, teams are kept in sync with each other by providing timely updates about upcoming events or changes in plans.
Track Progress
Tracking progress is a key element of effective project management. By having visibility into the progress of tasks, teams can adjust to ensure projects stay on track and any issues that may arise can be addressed quickly. Projectsly allows users to monitor progress with its suite of features easily.
Projectsly enables team members to view task dependencies in Gantt charts. This helps everyone visualize how their work relates to other tasks within the project and lets them see which tasks must be completed before they can start theirs. Project managers can also use this information to re-sequence tasks if something isn't going according to plan or assign resources more efficiently.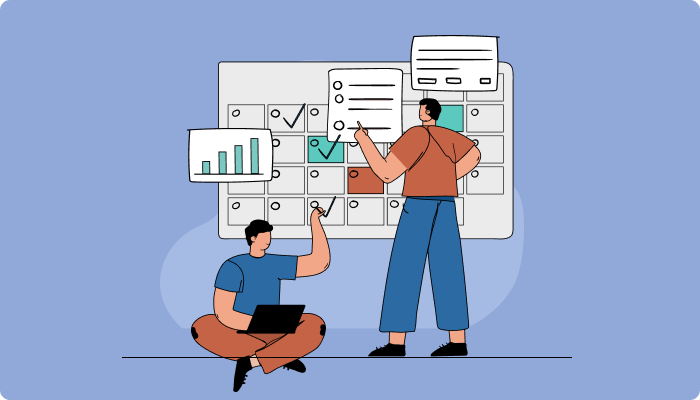 Establish Clear Communication
It's no secret that communication is essential to successful project management. With the help of tools such as Projectsly, organizations can easily establish clear lines of communication among their teams and stakeholders. Here are 3 key benefits of using a project management tool for efficient communication:
Streamline conversations: Instead of having multiple emails or messages going back and forth between team members, all communications related to the project can be kept in one place. This helps reduce confusion, eliminate redundancy and ensure everyone is on the same page.

Facilitate collaboration: With an online platform like Projectsly, users have access to shared spaces where they can work together through video conferencing, chat functions and document sharing features. This allows them to collaborate more effectively no matter how far apart they may be geographic.

Monitor progress: Most project management tools provide real-time updates so managers can track project progress at any time. This helps identify areas that need improvement or additional resources quickly so corrective action can be taken promptly if necessary.
By utilizing a quality project management tool such as Projectsly, organizations will benefit from improved communication among all parties involved.
Monitor Resources
Monitoring resources is a key part of effective project management, and tools like Projectsly can help. With this tool, you can easily track how your team's efforts contribute to the success or failure of each task and milestone within the project. You'll also be able to quickly identify any understaffed areas that need more attention from your team to meet deadlines.
Here are five benefits of using Projectsly for resource monitoring:
Easily view all tasks and milestones associated with a given project.

View who's assigned to what task and when they should complete it.

See where your team's time is being allocated at any given moment during the project timeline.

Track progress against goals over time to better prioritize future projects.

Remain up-to-date on resource allocation, so you're never left wondering if work is getting done as expected.
Using Projectsly lets you manage resources efficiently while keeping everyone involved informed about their job responsibilities throughout the project's lifespan. This way, you can ensure that tasks get completed on schedule without needing multiple follow-up emails or face-to-face meetings.
Get started with the leading Project Management Tool today! Sign Up 14 Day Trial
Celebrate Success
Celebrating success is an important part of project management, and it's something that should be taken seriously. A key way to do this is by enabling everyone involved in the project to recognize their contributions and accomplishments. Using a tool like Projectsly can help ensure team members can easily access reports on project progress and celebrate successes with one another.
Projectsly also helps managers keep morale high during long-term projects by encouraging teams to take short breaks when they achieve milestones. This rewards individuals for their hard work and builds camaraderie among team members as they collaborate towards a common goal.
Conclusion
Project management tools are integral to any successful project. By utilizing the right tool, teams can collaborate more efficiently and effectively on projects of all sizes and complexities. Using these tools also allows for improved visibility into tasks, resource utilization, and progress tracking so that team members know what needs to be done and when it needs to be done. Clear communication is essential to ensure everyone understands their roles and responsibilities for the project to reach its desired outcome.
Finally, celebrating success along the way helps motivate teams to continue making progress towards completing the project on time. Projectsly offers an extensive suite of features designed specifically with those goals, from real-time collaboration capabilities to automated task updates, allowing teams to work smarter, not harder. With a user-friendly interface and intuitive design, it's never been easier or faster to stay organized while managing your projects.
Why Choose 500apps?
#1
All-in-One Suite with more than 50 apps
#2
Everything you need today and in the future for all departments
#3
Unbelievable value - the lowest pricing you will ever find
#4
Hosted in 6 locations for compliance and blazing speeds
#5
24/5 Support - FREE chat, email and phone
#6
Uncapped features - limits you will never reach humanly
#7
Managed and maintained everyday by a dedicated team
#8
No downtime - comes with a 99.9% uptime guarantee
#9
Supports a number of international languages
#10
We've everything covered - 90k+ trust us with their business
Join the SaaS Revolution
All-in-One Suite of 50 apps

Unbelievable pricing - $14.99/user

24/5 Chat, Phone and Email Support