Best Screen Capture Chrome Extension
The necessity for screen recording and capturing has grown to the point that we now engage screen recording and capturing solutions on a regular basis.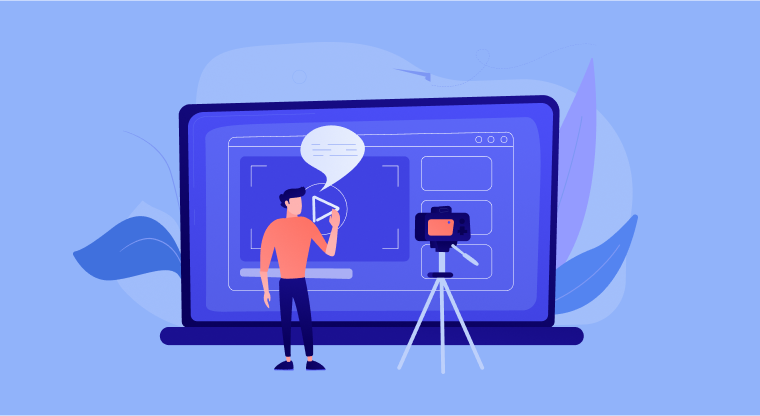 There are a ton of different screen capture extension for Chrome, and it can be tough to decide which one is the best option for you. In this post, we'll discuss one of the most popular screen capture extension and help you decide which one is right for you.
Whatever your need—whether you want to take a quick screenshot, record a video of your screen, or annotate something on your screen—there's an extension for that!
NinjaCapture has several features that make it stand out from the other options. Ninjacapture lets you capture the whole page, a selected area, or just a part of the page. You can then annotate your screenshot with text, shapes, lines, and even blur sensitive information. Once you're done editing your screenshot, you can save it as a JPEG.
What is NinjaCapture?
Ninja Capture is an All-In-One Screen Capture Browser Extension for capturing web pages, videos, and images in one place by 500apps. Save your captured content to cloud storage or save it directly to your device. You can also edit the screenshot right away with our super-easy editor that includes crop, blur, text, arrow, and any other editing tool you might need. Use it to record a video tutorial, product reviews, capture screenshots of the entire webpage, or take a quick picture of some online purchase - NinjaCapture makes it all possible.
Benefits of NinjaCapture
When communicating the material, there are several advantages to using video. It's much simpler to demonstrate than to describe and explain some things. With so many individuals working from home, this tool has become even more critical in your daily routine. You may occasionally desire more "facetime" with clients and consumers. Using recordings with extra camera features gives the interactions a personal touch and demonstrates your willingness to assist, converse, and so on. When it comes to gaining and keeping consumers, this feature of the screen capture tool is crucial.
So Why Wait? Get Started Today and Make the Most of Your Chrome Browsing Experience! Sign Up 14 Day Trial
NinjaCapture lets you record yourself, your screen, or both simultaneously. The app not only makes recording videos underneath your screen simple, but it also makes sharing them simple. When individuals want to share videos, the most typical problem they run into is the large file sizes that they usually come with. Most email services, such as Gmail, have attachment size restrictions, and videos frequently end up in spam bins. The recording and transmission process using Ninjacapture, on the other hand, is straightforward. It's as simple as copying and pasting the text into an email, text message, social media site, or CRM tool.
Features of NinjaCapture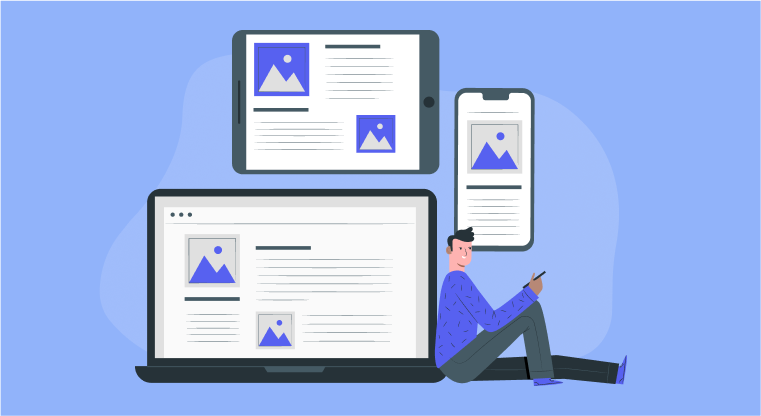 All in one Capture
Do away with the hassle of switching from one browser to another or from one app to another; get the job done. Whether it's taking a quick full page screen capture or a selected section, whether you're using Google Chrome, Microsoft Edge, Mozilla Firefox, or any other browser, All in One Capture will help you grab all your screenshots on the same screen.
It is one of the best features that can capture an entire web page, full page or a selected part. You can opt from various alternatives like visible page, full page, select area, and grab all. Learn more about All in one Capture
Screen Recording
Anyone who wants to create tutorials, training videos, demos, or presentations should utilise the Screen Recoder feature. Record your entire screen, a specific window or tab of your screen, or record both your screen and webcam is possible with the Screen Recorder.
The screen recording feature allows you to record the screen of a device in real-time. It is available on Chrome, Firefox, and Other browsers. The user has additional control to change the resolution and frame rate according to their needs by choosing suitable options in the settings. Use the Microphone option to include your voice in the recording and embed your webcam in your video to include your face.Choose between 240p, 340p, 480p, 720p video dimensions and 1fps 5fps, 10fps, 30fps, or 60fps for your video frame rate. Instantly save and share with anyone.
Webcam Recorder
Webcam recorder provides you with a quick and easy way to record high-quality videos and voice clips. You can use it to create video clips with your voice or record presentations to share online. It's an ideal tool for recording videos.
Instant Share and Save
Share your screen capture and recordings instantly with cloud storage apps like Google Drive, Dropbox, Box. Get access to all your devices via web, mobile, and desktop. With a single click, you may copy the link to the clipboard, download and send it to anybody through email or text message securely with friends, family members, colleagues, and others.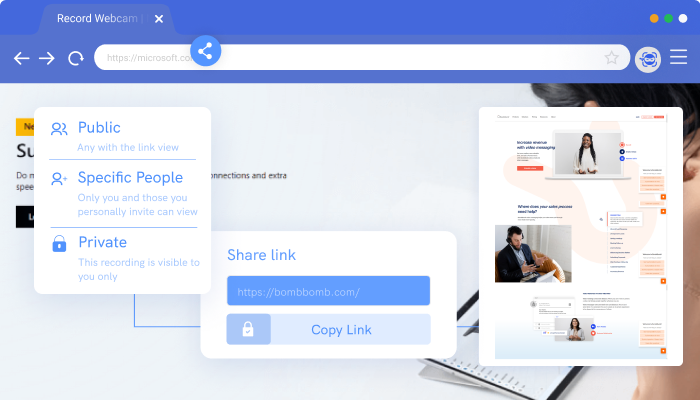 Annotations
Professional markup tools can be used to Annotate screen captures. With Annotations, you can give your screenshots more individuality and professionalism. Highlight parts of an image. You can crop an image or resize it to the desired size, then add any type of annotations to it. Whether you want to annotate a screenshot, draw an arrow on it or just highlight some information, do it with ease using this feature.
Manage Privacy or Password Protect Your Shared Recording
This feature allows you to share your recordings with others. The invitation link will be sent to you in the form of an email message, which you can send to anyone with Password protected.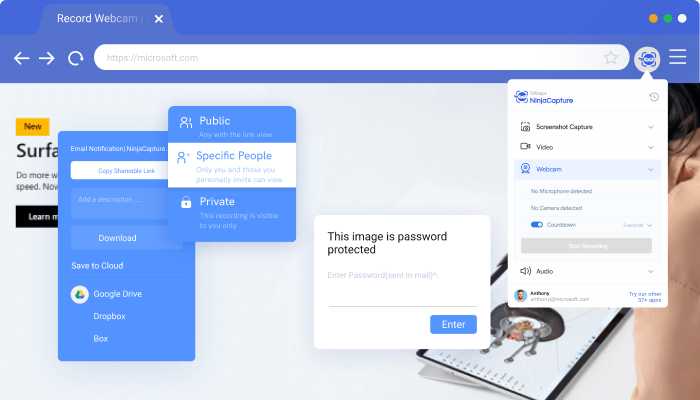 Manage the privacy settings for the shareable URL - public, specific people, or private - and use an auto-generated password to prevent piracy.
Pricing
NinjaCapture is a free Screenshot Chrome Extension and a part of the 500apps business suite, created by Agile CRM experts. 500apps is an all-in-one solution with over 37+ apps at price tag of just $14.99/per month (Signup and get free access for 10 users) to fulfil the needs of your business. More than 30,000 clients trust it because it is straightforward, transparent, and productive.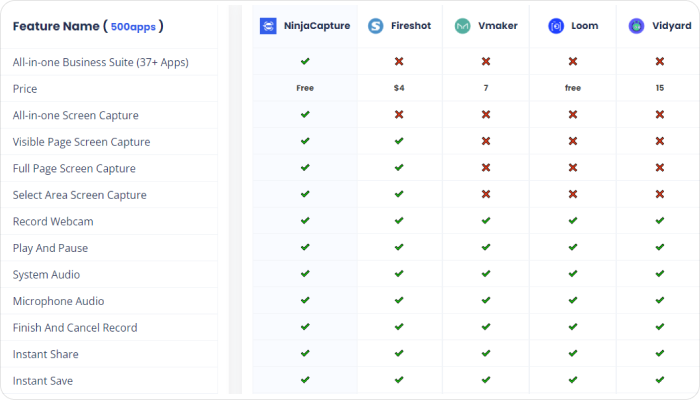 Conclusion
You should check Ninjacapture by 500apps right now to observe how much our team's involvement and productivity has increased.Ninjacapture makes the whole procedure go smooth while helping you over come the traditional text and non visual communication. Because visual material is more familiar and engaging, you can be sure that your employees or clients will appreciate your efforts to make them feel more at ease and involved.
Why Choose 500apps?
#1
All-in-One Suite with more than 50 apps
#2
Everything you need today and in the future for all departments
#3
Unbelievable value - the lowest pricing you will ever find
#4
Hosted in 6 locations for compliance and blazing speeds
#5
24/5 Support - FREE chat, email and phone
#6
Uncapped features - limits you will never reach humanly
#7
Managed and maintained everyday by a dedicated team
#8
No downtime - comes with a 99.9% uptime guarantee
#9
Supports a number of international languages
#10
We've everything covered - 90k+ trust us with their business
Join the SaaS Revolution
All-in-One Suite of 50 apps

Unbelievable pricing - $14.99/user

24/5 Chat, Phone and Email Support