11 Best Video Chat Apps for Small Businesses in 2023
In today's digital world, small business owners must stay connected with their team and customers more than ever before. Video chat apps are a great way to keep in touch and get work done from afar - but which ones offer the best features for businesses? We've compiled a list of 11 best video chat apps designed specifically for small businesses to help you collaborate with your team and efficiently communicate with your customers in 2023.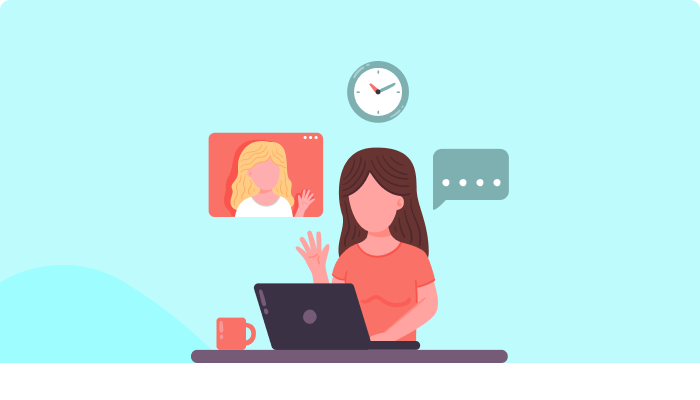 The future of communication is here! For busy entrepreneurs managing remote teams or connecting with faraway clients, using the most efficient technology available can make all the difference. That's why we're highlighting some of the top video chat apps out there that provide high-quality audio/video calls AND extra tools like file sharing, task management, and online whiteboards. Read on to discover which app could transform how you do business this year!
Advantages of Video Chat Apps
Video chat apps have revolutionised the way businesses communicate in 2023. These applications are a great way for teams to collaborate and connect with one another, no matter where they're located. They provide an easy-to-use platform that enables teams to stay connected and productive.
Advantages of Video Chat Apps for Small Businesses:
Allow for team collaboration without physical meetings or phone calls, saving time and money on travel costs and being more environmentally friendly.
Enable team members from all over the world to join conversations quickly and easily.
Offer features such as file sharing, group messaging and audio conferencing to enhance team collaboration and productivity.
Make it easier to share ideas and documents within a team setting.
Essential tool for any modern business looking to grow in 2023.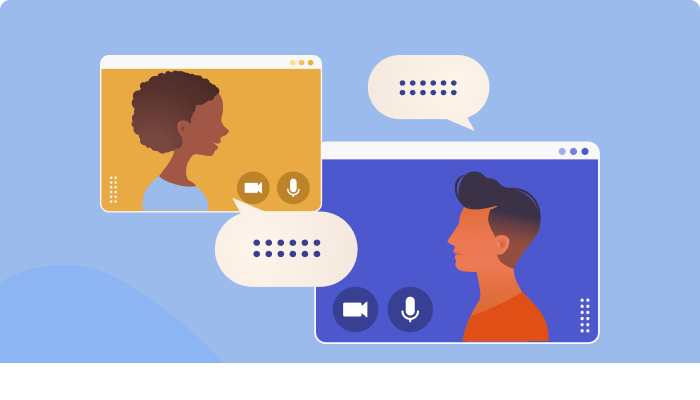 Key Features to Look for in the Video Chat Apps
Choosing the right video chat app for your small business is an important decision. It's essential to research and find one that has all of the features you need. Key considerations include free video chat, online video chat, and random video chat capabilities. Here are some key features to look out for when selecting a suitable video chat app:
Ensure the app offers free video chats with no limits on duration or participants.
Provide high-quality online video chats with reliable connections.
Check if the app supports random video chats.
Look into network speed requirements.
Consider file sharing options, password protection, and compatibility across platforms.
When researching various apps, take time to read customer reviews and user feedbacks regarding their experiences using them before making a decision about which one is best suited for your needs. Doing so will give you an idea of how easy it is to use each platform and its reliability over time.
11 Best Video Chat Apps for Small Businesses
Choosing the right video chat app for your small business is important. Good team communication apps will help you stay connected and collaborate efficiently with coworkers. With so many options out there, it can be difficult to decide which one fits your needs best. Here are 11 of the top video chat apps that small businesses should consider in 2023:
Zoom
Zoom is a powerful tool for small businesses in 2023. It provides high-quality video chat, with its HD video and audio guaranteeing crystal clear conversations between participants. Plus, it's easy to use; even if you have no experience of the software, you can set up your Zoom call quickly and without hassle.
What really sets Zoom apart from other options is its scalability; whether you're having a meeting with two people or two hundred, Zoom offers an array of features that make hosting large meetings straightforward. You can enable breakout rooms so teams can hold their own discussions away from the main group, as well as enhancing collaboration by allowing users to share screens and documents during calls.
Skype
Skype is one of the most popular video chat apps for small businesses, allowing up to 250 people to join a call at once. This makes it ideal for companies who need to communicate with large groups, or those that have multiple offices across different locations. It's easy to use and can be accessed on both desktop and mobile devices, meaning users can stay connected wherever they are. Skype also has a range of features such as HD video calling, screen sharing and file transfers which make it great for collaboration between teams.
In addition to this, Skype offers integrations with other apps like Office 365 and Outlook so information can easily be shared between colleagues. There's also an option to record meetings in case you miss something important or want to go back over it later. This feature is particularly useful when managing remote teams since everyone can access the same recordings regardless of their location.
Microsoft Teams
Microsoft Teams is a great video chat app for small businesses in 2023. It's reliable, secure, and easy to use - making it an ideal choice for teams looking to stay connected while working remotely. With its wide range of features such as message boards, file sharing, audio/video conferencing, task lists and more, Microsoft Teams provides all the tools necessary for collaboration without having to switch applications.
What makes this app stand out from other options on the market is that it can be used across multiple devices - desktop computers, laptops or even mobile phones. This means employees don't have to worry about their device compatibility when connecting with colleagues. Additionally, there are no limits on how many people can join a call at once so everyone within the organization can easily participate in meetings or discussions.
Google Meet
Google Meet is a powerful video chat platform designed for small businesses in 2023. It offers an easy-to-use interface that makes it simple to connect with colleagues and customers, no matter where they are. The app also has several features that help create a more professional look, such as background blurring, custom branding options, and the ability to record meetings.
One of Google Meet's most attractive benefits is its security capabilities. All conversations are protected by encryption technology so only those invited can join the call. In addition, there's an administrative dashboard allowing users to control who gets access and when. This helps organizations maintain privacy while still meeting their collaboration needs.
Webex
Webex is a cloud-based video conferencing service providing the perfect platform for small businesses to communicate and collaborate in real time. It offers a range of features such as HD video, screen sharing, file transfer, whiteboard collaboration tools and more. Webex also integrates with various third-party applications like Outlook, Slack, Dropbox and Salesforce to ensure smooth functioning across different platforms.
The app provides users with an array of options for customizing their meetings such as scheduling notifications, mute or unmute participants' audio and video feeds, record sessions and assign roles based on user permissions. Moreover, it allows up to 100 people per meeting which makes it highly suitable for larger teams who need to coordinate remotely. Additionally, its security protocols help protect your data from unauthorized access by encrypting all communication channels with advanced encryption technology.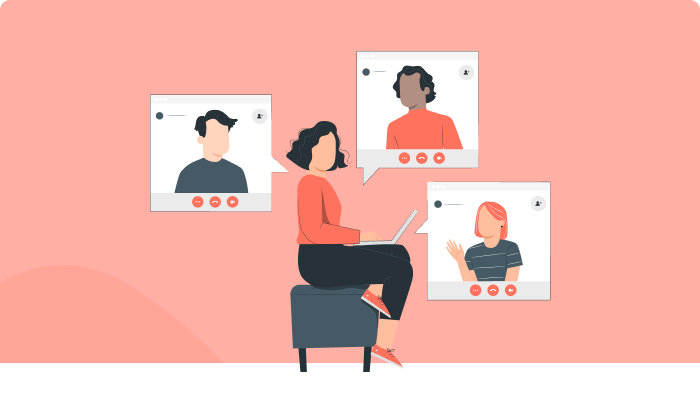 Slack
Slack is a popular communication platform that can be used by small businesses to facilitate video chat. It allows users to create separate channels for each team, project, or topic and have conversations within those channels. This makes it easy to stay organized and up-to-date on the latest topics of discussion. Plus, Slack also supports file sharing, which simplifies collaboration between teammates.
One great feature of Slack is its integration with other tools and services like Google Drive, Dropbox, Zoom, and more. This means you can quickly access files from different sources without having to leave your chat window. You can also make voice or video calls directly in the app if needed.
Houseparty
Houseparty is one of the most popular video chat apps for small businesses in 2023. It's a great way to stay connected with coworkers and collaborate on projects, especially during this time of remote work. The app allows users to create group chats with up to eight people at once, without any limits on call length or number of calls. Plus, it offers features such as game-play and private conversations.
As an added bonus, Houseparty is free to use - there are no premium plans available. This means that everyone can join in quickly and easily, making it ideal for quick meetings or casual check-ins. And since the app uses end-to-end encryption technology, you can be sure your data stays secure while using Houseparty.
Jitsi Meet
Jitsi Meet is a great video chat app for small businesses looking to connect with their teams in 2023. It offers an easy-to-use, secure platform that's available on any device. Here are some of the features that make Jitsi Meet stand out:
Secure communication: all conversations and data transfers are encrypted so only participants have access to them.
Customizable rooms: create custom meeting rooms with unique URLs for each team or client
Screen sharing capabilities: share what's on your screen during meetings.
High-quality audio/video streaming: enjoy crystal clear sound and visuals even when there's a lot of people involved.
Cross-platform support: works on multiple devices including desktop computers, laptops, tablets, and smartphones.
Using Jitsi Meet makes it easier than ever before for small businesses to stay connected regardless of location or time zone. This means no more missed deadlines due to miscommunications! It also allows you to keep track of who was present during important discussions, as well as provide better customer service by quickly connecting a customer with the right person from within your organization.
Discord
Discord is a well-known and reliable platform for small business video chat applications. It offers an impressive suite of features that make it an ideal choice in 2023. Here are 3 reasons why Discord should be your go-to app:
First, it has low latency connection capabilities which ensure minimal lag time during calls. This makes conversations smoother than ever before and allows people to have more productive meetings without worrying about connectivity issues. Secondly, the user interface is intuitive and easy to use, making it perfect for newcomers to video conferencing technology. Thirdly, there's plenty of customization options allowing businesses to tailor their experience according to their needs.
The popularity of Discord means that you can easily find other users who may be interested in joining your conversation or brainstorming session. You can also create private channels for team members only, enabling greater security and privacy when discussing sensitive topics.
Whereby
Whereby is an increasingly popular video chat app for small businesses in 2023. It allows users to host meetings and virtual conferences, with features such as screen sharing, file storage, group chats, and more. Its main advantage is its affordability; it's free for up to 4 participants at a time, making it ideal for smaller teams with limited resources.
What sets Whereby apart from other video chat apps is its intuitive user interface. The platform is easy to set up and use - even those unfamiliar with technology can quickly get the hang of it. Plus, by using a personal link or meeting room ID, admins can grant access only to invited members. This helps promote security while keeping conversations confidential at all times.
All these features make Whereby an excellent choice for small businesses looking for an affordable yet secure way to hold online meetings and collaborate remotely. With its range of customization options and the ability to easily add more people over time (upgrading plans when needed), this video chat app provides everything entrepreneurs need to stay connected with their team in 2023.
Teams.cc
Teams.cc is a great choice for small businesses looking to establish video chat in 2023. It offers an array of features that make it a worthy consideration when selecting the best app for their needs.
First, Teams.cc allows up to 100 participants per call, so larger groups can connect easily without sacrificing audio or visual clarity. Additionally, users can lock meetings and control who has access with password protection capabilities. Calls are also encrypted for added security.
For those needing more customization options, Teams.cc supports custom backgrounds as well as advanced settings like adjustable bandwidth and resolution adjustments for smooth performance on any device:
Up to 100 participants per call.
Password protected meetings & end-to-end encryption support.
Customizable background images available.
Adjustable bandwidth and resolution settings.
Conference recordings stored online or downloaded locally.
Plus, conference recordings can be saved online or downloaded locally after each meeting concludes - making collaboration easier than ever before! Whether you're connecting with clients across the globe or simply facilitating internal team chats, Teams.cc provides a reliable platform designed specifically for business use.


Get started with the leading Video Chat App today!
Sign Up 14 Day Trial
Conclusion
In conclusion, video chat apps are an essential tool for small businesses in 2023. With the right app, you can easily communicate with colleagues and customers across distances without having to be physically present. Not all video chat apps offer the same features or suit all business needs, so it's important to find one that suits your requirements. The 11 best video chat apps for small businesses in 2023 include Zoom, Skype, Jitsi Meet, Discord, Whereby, Teams.cc and more. Each of these applications offers different features such as screen sharing capabilities, group calls and meeting scheduling tools that make communication easier and smoother between team members. Investing in a reliable video chat platform allows you to quickly bridge gaps between remote employees while ensuring effective collaboration across teams.
Why Choose 500apps?
#1
All-in-One Suite with more than 50 apps
#2
Everything you need today and in the future for all departments
#3
Unbelievable value - the lowest pricing you will ever find
#4
Hosted in 6 locations for compliance and blazing speeds
#5
24/5 Support - FREE chat, email and phone
#6
Uncapped features - limits you will never reach humanly
#7
Managed and maintained everyday by a dedicated team
#8
No downtime - comes with a 99.9% uptime guarantee
#9
Supports a number of international languages
#10
We've everything covered - 90k+ trust us with their business
Join the SaaS Revolution
All-in-One Suite of 50 apps

Unbelievable pricing - $14.99/user

24/5 Chat, Phone and Email Support