10 Simple Website Templates for Professional Sites
You can start your professional design from scratch with this simple and customizable website templates.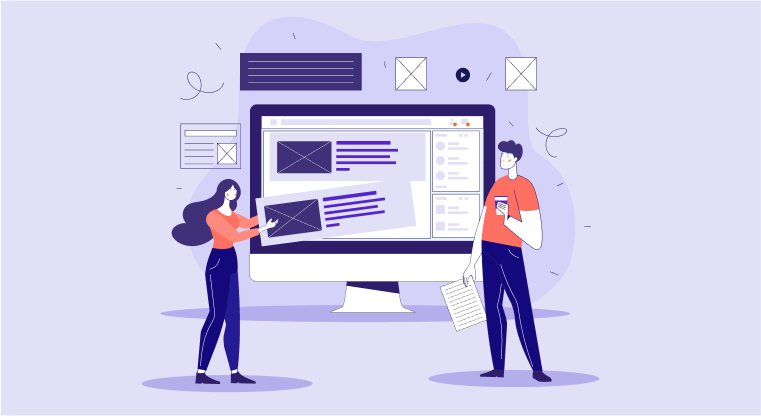 So, you're ready to take the next big leap for your business by venturing into the digital world. Perhaps you've realized that you need to have an online presence. Well, we'll provide you with the guidance you need to set up a simple and professional website for your business needs. One of the most confusing aspects of designing a professional website is its overall look. Most people get confused since there is so much to consider. With the vast possibilities available, you may give up altogether thinking that designing your website is complicated. But this shouldn't be the case if you're using a reliable website builder solution.
Why Use a Website Template?
You might be wondering why you should use a website template? Let's be honest here – not all of us have the required web design skills. Thinking about the CSS, PHP, and HTML codes can be something else to most of us who aren't technically skilled. But the reality still remains that we need an appealing web design to give our businesses the online presence it deserves. One of the main reasons why a website template is crucial for your business needs is because it's a great way of developing a website from scratch without any technical expertise. However, there is more to gain from these templates as discussed below.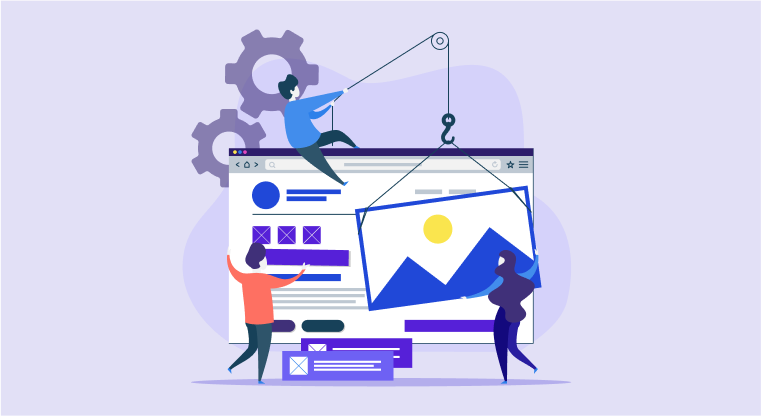 Convenient Functionality
The idea of using website creator (website templates) like the ones offered by Ninjasites allows you to take advantage of the many built-in features that software has. Besides making it easy for you to edit your business website, you can quickly optimize your page to meet your company's expectations. Therefore, in a way, templates are specifically designed to help you save time and money. Most templates' flexibility can't be overlooked since even the less technically skilled folks can easily develop their websites from scratch.
Simple Setup
When you turn to best website builder softwares like Ninjasites, you can be sure that you will find it easy to create your company's website. Usually, the process of designing a website demands some technical expertise, especially if you will be doing this without using any tool. But this shouldn't be the case if you rely on a website builder solution. Templates have everything you need. You can take advantage of the different designs and widgets they offer. This takes away the hassle of figuring out which design is suitable for your business.
Variety to Choose From
Perhaps it's also worth mentioning that the idea of using website templates sounds enticing simply because you have a wide array of different designs to pick from. However, it might take some time for you to brainstorm the perfect design for your business page. With the help of Ninjasites templates, you can try out the designs offered and determine which one is ideal for you. Remember, you don't have to pay anything to try one design after the other. Once you subscribe to the Ninjasites plan of $14.99 per month, you have access to tons of premium templates.
Web Design Template: Key Considerations
Before listing the best website design templates for your business, you should know that there are specific features you should be looking for. In addition, not all templates are worth your time and money. To ensure you settle for the best template, evaluate the templates based on the following factors:
Header Design
Think about the first thing your website visitors look at when they visit your webpage. Of course, the header is what captures their attention. Your header should explain what your brand is all about. This should be kept simple. Suitable headers capture your company's logo and the brand image you will be using. Always ensure that you use a captivating image to engage your audience.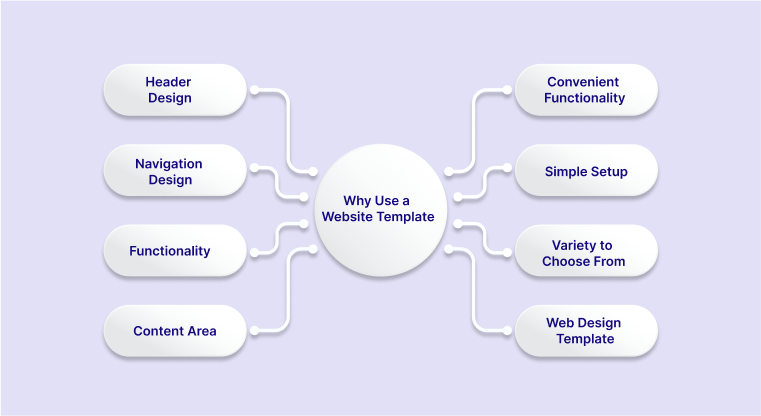 Navigation Design
Another important aspect of your website is its navigation design. Essentially, this is how easy it is for your visitors to find their way home. It should be easy for your visitors to find what they want on your website. For instance, if you provide online classes, the navigation design should allow your audience to search for the specific class they want. In addition, the navigation of your page gives your visitors direction on how to move from one end to the other.
Content Area
Your website template should also consider the type of content you will be sharing with your audience. For example, you may have to choose a different template if you post more videos than text. The issue here is that you should decide on a suitable template that works for the specific type of content you will have on your website.
Get Started Build a beautiful website in minutes with the easy-to-use templates. Sign Up 14 Day Trial
There's a lot that should be considered when choosing a good website template for your site. You must settle for a template that helps you meet your business goals. Luckily, 500apps' Ninjasites makes this easy for you due to the software's diverse templates. Remember, the software goes beyond merely giving your website a professional look. You can also manage all your sites and content in a single dashboard. Plus, you can quickly optimize content to ensure they rank well on search engines. These are just a few of the many impressive aspects of Ninjasites you wouldn't find in other website builder software.
Functionality
The beauty of your website isn't everything that counts to make it functional. Therefore, having funky colors and cool pictures isn't enough. The template you use should give your website some functionality. For example, it should be easy for them to buy from you or subscribe to your services.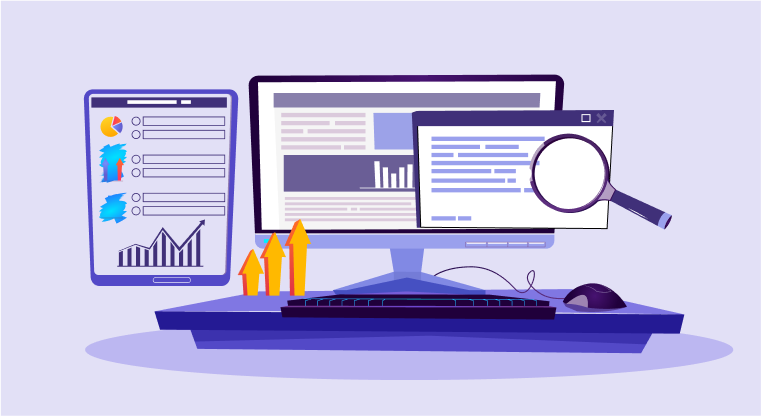 Now let's look at 10 of the best website templates you can use in your website.
Best Website Templates for Professional Sites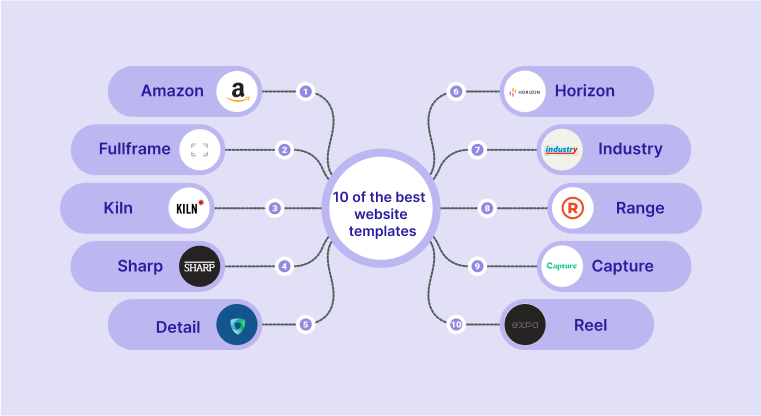 Amazon If you're looking for a more youthful and fun website template, then Amazon is an excellent choice for you. In addition, you will be impressed with its highly customizable layouts.

Fullframe Fullframe template stands out among the many photography templates. It features one single image that covers the entire screen.

Kiln For a more artistic appeal on your website, the Kiln template is a great choice. It gives you more control over how images appear on your website. The best part is its customizable spacing.

Sharp The Sharp website template allows you to choose how your gallery pages will appear. This is a perfect choice for businesses looking to display a gallery of their online products.

Detail The detail website template is also a nice pick, especially for businesses looking to simplify the look of their online shops. Your users won't be distracted when you opt for this design.

Horizon Horizon is also inclined toward simplicity. As a result, the navigation of this website template is quite impressive. You can use this template if you want to showcase interesting products that will capture your audience's attention.

Industry With Industry website template, you'll find it appealing when displaying full-size pictures on your website. It scrolls vertically, giving your audience an easier time navigating through your page.

Range For videographers, Range is a great pick. Its optional slideshow feature and vertical scrolling galleries will give your site a top-class appeal. You can also integrate the idea of using landscape videos in this website template.

Capture Capture template brings together the idea of using two-column images alongside floating text. This is a good template for businesses that will have both images and text on their website.

Reel At the bottom of this list, we have Reel. This is a recommended template for websites intended for students. The template is fully customizable. It's purely based on creating a simple look to your business page without causing a lot of distractions.
So, what next?
Irrespective of the website template you intend to use for your website, it's always essential to choose the best webpage builder software. This guarantees that you use the best solution that has been tried and tested by the experts.
Why Choose 500apps?
#1
All-in-One Suite with more than 50 apps
#2
Everything you need today and in the future for all departments
#3
Unbelievable value - the lowest pricing you will ever find
#4
Hosted in 6 locations for compliance and blazing speeds
#5
24/5 Support - FREE chat, email and phone
#6
Uncapped features - limits you will never reach humanly
#7
Managed and maintained everyday by a dedicated team
#8
No downtime - comes with a 99.9% uptime guarantee
#9
Supports a number of international languages
#10
We've everything covered - 90k+ trust us with their business
Join the SaaS Revolution
All-in-One Suite of 50 apps

Unbelievable pricing - $14.99/user

24/5 Chat, Phone and Email Support