Video Interviews - Best 11 Interviewing Platforms in 2023
Discover the top 11 video interview platforms for efficient and effective recruiting in 2023. Find the perfect fit for your company's needs.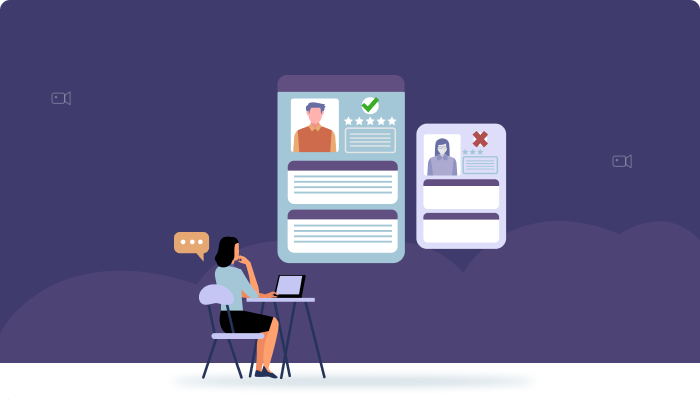 Finding the perfect assessment tool for your business can be overwhelming, especially in the constantly changing digital recruitment landscape. With the increase in video interviews, it's essential to know the best video interviewing platforms available in 2023. As a business, you want to use a reliable and secure platform that can offer the best features without breaking the bank.
In this blog post, we'll highlight what you should be looking for when choosing a video interviewing platform and the best 11 platforms available in 2023. We'll also provide insights into each platform's features, benefits, and challenges so that you can find the right fit for your business. So, let's get started and find the right video interviewing platform.
Live vs Pre-Recorded Video Interviews: A Quick Comparison
The job market has grown rapidly in the last two decades due to the advancement of technology. As a result, video interviews have become increasingly popular for employers to use in the hiring process. Regarding video interviewing, two types can be done: live or pre-recorded. Live video interviews are conducted in real-time, allowing employers and applicants to communicate with each other interactively. Pre-recorded video interviews are conducted beforehand, and employers can review applicants' answers at their convenience.
Both live and pre-recorded video interviews have their advantages. Live video interviews allow employers to observe communication and body language cues, while pre-recorded interviews are convenient and can be conducted quickly. On the other hand, pre-recorded video interviews can sometimes seem sterile and unengaging, with no interaction with the applicant or way for employers to gauge the applicant's true personality.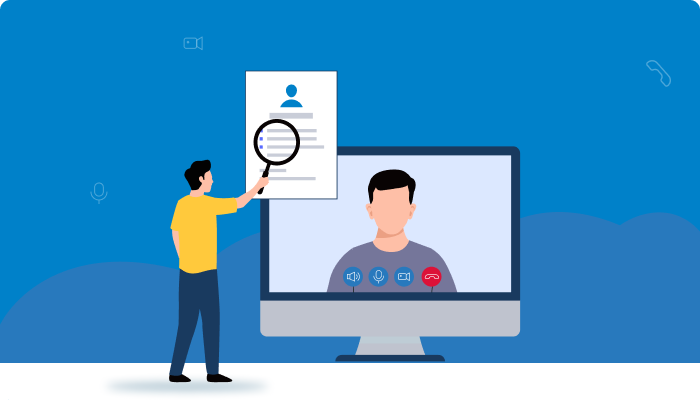 5 Pros and Cons of Using Video Interviews for Recruiting
Video interviews are becoming increasingly popular for recruiting potential employees due to their convenience and cost-effectiveness. Here are 5 pros and cons of using video interviews for recruiting:
Pros of using video interviews for recruiting:
1. Time-saving: Video interviews can greatly reduce the time spent on the initial screening process, as multiple candidates can be interviewed in a shorter time.
2. Convenience: Video interviews allow for remote interviewing, making it more convenient for both the interviewer and the candidate.
3. Automated assessments: NinjaInterview provides automated assessments to grade and shortlist candidates, speeding up the screening process.
4. Coding assessments: NinjaInterview also offers built-in coding assessments in various languages, making assessing a candidate's technical skills easy.
5. Integration with ATS: NinjaInterview can be integrated with Applicant Tracking Systems (ATS) for a streamlined recruiting process.
Cons of using video interviews for recruiting:
1. Limited nonverbal cues: Video interviews can lack the nonverbal cues that in-person interviews provide, making it harder to assess a candidate's personality and fit for the company culture.
2. Technical difficulties: Video interviews can be affected by technical difficulties, such as poor internet connection or equipment malfunction.
3. Limited accessibility: Video interviews may not be accessible for candidates without the necessary technology or internet connection.
4. Lack of collaboration: Video interviews may not facilitate collaboration between team members as quickly as in-person interviews.
5. Limited accessibility to candidates in specific regions: Video interviews may limit accessibility to candidates in certain areas due to time zone differences and language barriers.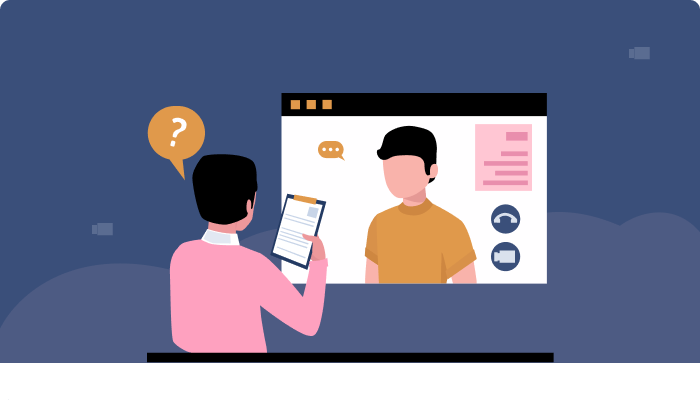 Best 11 Video Interviewing Platforms in 2023
As the job market becomes increasingly competitive, being well-prepared for interviews is more important than ever. One of the best ways to practice for interviews is to use a video interviewing platform. Video interviews are becoming increasingly popular and are a great way to practice for an upcoming interview. In this blog, we will be discussing the best 11 video interviewing platforms for 2023.
Spark Hire
Spark Hire will be one of the leading video interviewing platforms in 2023. It offers features such as one-way, live and automated interviews and collaboration tools, such as notes and annotations, to help employers make better hiring decisions. Spark Hire also offers a library of pre-recorded questions and allows employers to design customized questions. The platform provides a library of best practices and tips to help employers get the most out of their video interviews and make their hiring process more efficient. Spark Hire is easy to use and is trusted by thousands of organizations worldwide. It offers a wide range of features and capabilities, making it a great choice for those looking to hire the best talent.
Sonru
Sonru is a cutting-edge video interviewing platform that has revolutionized the way recruitment teams hire new talent. It has been in the market since 2009 and consistently delivers the best video interviews to its customers. The platform can conduct video interviews in a secure environment, with features like automated scheduling, analytics and detailed reporting. Sonru also offers custom-built virtual interview rooms tailored to client's specific requirements. Sonru also offers a number of tools, such as automated ratings and scoring, questions personalization, instant feedback, and detailed candidate reports, making the entire recruitment process seamless and smoother. With Sonru, recruitment teams can save time, money and effort, while making decisions quickly and accurately.
HireVue
HireVue is an interview platform that helps recruiters and hiring managers assess job candidates quickly and securely. It offers video interviewing tools, including one-way interviews, automated screenings, AI-powered evaluations, and more. It also provides resources to help employers prepare for successful interviews. HireVue makes interviewing more efficient and streamlined, allowing employers to make informed decisions faster while getting a comprehensive view of each candidate. It integrates with various other recruitment technologies, so it's easy to use with existing systems. With a range of features and customization options, HireVue is great for those looking for an advanced interviewing solution.
Montage Talent
Montage Talent is one of the best interviewing platforms in 2023. The platform offers virtual interviewing solutions that are user-friendly and secure. Montage Talent provides a range of features, including automated scheduling, a customizable candidate experience, and AI-powered analytics. It also supports live video interviews with up to 10 candidates and automated video interviews with up to 50 candidates. Additionally, Montage Talent enables employers to review and rate candidate video recordings and integrate them with other HR systems. Lastly, the platform offers comprehensive analytics to help employers track engagement and other metrics related to the interviewing process.
Chime
Chime is one of the best interviewing platforms available in 2021. It is a virtual meeting platform that allows hiring teams to easily schedule, manage, and record video interviews. With Chime, you can access pre-recorded video questions, easily evaluate candidate responses, and quickly add feedback. Additionally, Chime provides an AI-driven interface that enables users to search and sort candidates easily and quickly to find the right fit for their specific position. Chime also features a real-time interview transcript, allowing hiring teams to review and analyze the candidate's responses. With Chime, companies can quickly and easily find the perfect candidate for their team.
InterviewStream
Interview Stream is an online video interviewing platform designed to help employers hire the best candidates quickly and efficiently with technology. Interview Stream allows employers to conduct face-to-face interviews with candidates in a virtual environment, using audio and video. Candidates can be interviewed from anywhere worldwide, reducing the cost and time associated with in-person interviews. Interview Stream also offers automated assessments that comprehensively evaluate each candidate's skills and abilities. The platform's user-friendly dashboard makes reviewing video recordings and reports easy. Additionally, employers can manage their entire recruiting process from a single platform. With Interview Stream, employers can easily find, engage and hire the best candidates for their job openings in a short time frame.
VidCruiter
VidCruiter is a leading name in the video interviewing industry. It is an all-in-one video interviewing platform designed to make the hiring process faster and more efficient. It provides users with an easy-to-use and feature-rich interface, allowing recruiters to customize the interview process and capture candidate feedback. Its powerful scheduling and assessment tools help streamline the hiring process, while its analytics and reporting capabilities provide insights into each candidate's performance. Its live-recording feature allows video interviews to be recorded and shared with other team members for review. VidCruiter is an ideal solution for companies looking to make their recruitment process more efficient and effective.
Jobvite
Jobvite is an all-in-one recruiting platform that incorporates video interviews. It is an intuitive, user-friendly platform that makes video interviewing easy and reliable. It offers a wide range of features for video interviewing, including automated scheduling, automated email reminders, video recording, and an integrated video interview editor. It also includes analytics to measure and track video interview performance. Jobvite makes video interviewing quick, easy, and efficient for employers and candidates. With its user-friendly interface and powerful features, Jobvite will be one of the best video interviewing platforms in 2023.
Workable
Workable is one of the best interviewing platforms of 2023. It allows recruiters to organize, streamline and manage their interviews from start to finish. Workable provides a smooth and intuitive user experience with fast navigation and allows users to set up interview slots with the click of a button. It also offers automated scheduling for mass interviews and includes tools for evaluating candidates. Workable also enables users to share interview notes with the entire team and keep track of all the feedback from each interviewer. In addition, users can customize their interview questions and evaluate candidates based on various criteria. Workable is a great platform for streamlining the recruitment process and finding the best candidates.
NinjaInterview
NinjaInterview is an innovative and user-friendly tool that helps optimize the hiring process for businesses of all sizes. The platform offers virtual one-way video interviews, allowing for a more efficient screening process that can reduce hiring time by 50%. It also includes automated assessments to grade and shortlist candidates, making it easy to identify the most qualified people for the job.
One of the standout features of NinjaInterview is its built-in coding assessments in various languages such as Python, Java, JavaScript, .NET, and 60 other languages. This feature allows businesses to easily assess a candidate's technical skills, ensuring they have the necessary qualifications for the job. It also offers unlimited responses to assess candidates for multiple job profiles collectively, making it an ideal solution for businesses with multiple open positions.
NinjaInterview is also part of the 500apps Infinity suite at $14.99, which includes 50+ apps for growing businesses to grow like fortune 500, providing more value to the users.
The tool can also be integrated with your Applicant Tracking System (ATS) or built-in RecruitHire, making the hiring process more seamless and streamlined. With NinjaInterview, businesses can make recruiting choices more quickly, easily, and without prejudice.
Get started with the leading Video Interviews Software today! Sign Up 14 Day Trial
Luma
Luma is a powerful video interviewing platform that offers a great way to conduct virtual interviews in 2023. With an intuitive interface and advanced features, Luma allows you to screen and assess candidates without the need to travel quickly. It also offers a wide range of automated tools to streamline the process and evaluate candidates faster. Furthermore, Luma allows you to record the interview, which can be a great way to review your candidates and their responses. In addition, it offers easy integration with other HR and recruitment systems for easy tracking and management. Overall, Luma is an excellent platform for conducting virtual interviews in 2023.
Conclusion
In conclusion, video interviews are an effective assessment tool and an invaluable resource for any recruitment process. With the best 11 interviewing platforms in 2023, recruiters and hiring managers can find comprehensive online interview software and recruitment tools to efficiently and effectively hire the right candidate.
Why Choose 500apps?
#1
All-in-One Suite with more than 50 apps
#2
Everything you need today and in the future for all departments
#3
Unbelievable value - the lowest pricing you will ever find
#4
Hosted in 6 locations for compliance and blazing speeds
#5
24/5 Support - FREE chat, email and phone
#6
Uncapped features - limits you will never reach humanly
#7
Managed and maintained everyday by a dedicated team
#8
No downtime - comes with a 99.9% uptime guarantee
#9
Supports a number of international languages
#10
We've everything covered - 90k+ trust us with their business
Join the SaaS Revolution
All-in-One Suite of 50 apps

Unbelievable pricing - $14.99/user

24/5 Chat, Phone and Email Support