How To Buy Business Management Software in 6 Steps
This article gives you the essential steps to own an effective business management software that supports your business objectives effeciently.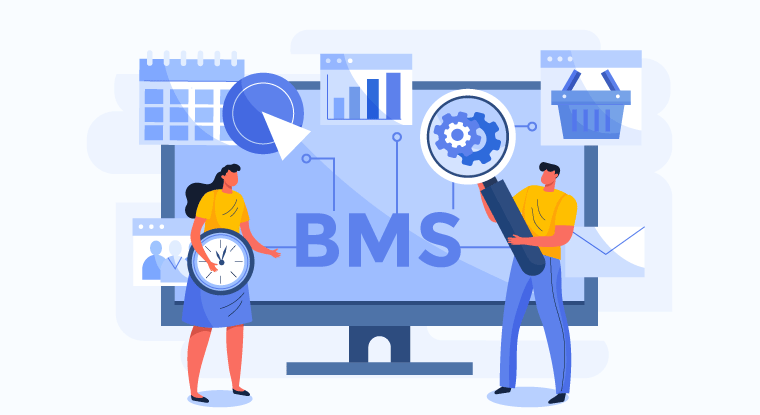 Business Management Software is an innovative tool that assists companies in automating fundamental tasks like administration, procurement, marketing, and sales. Customer relationship management (CRM), brand development, and sales activity tracking are some important functions of this type of software.
This software integrates and stores data from multiple departments on a single platform. It allows for smooth data sharing between departments, resulting in more transparent decision-making and speedier workflow execution. Using a single solution rather than many stand-alone tools eliminates the hassle of purchasing, installing, and maintaining multiple programs.
Six Key Steps for Finding the Right Business Management Software
Every business's primary goal is to make money, so any software designed to solve tasks that have an impact on profits in some way qualifies as business software. The top Business Management Software applications provide a long-term return on investment and help your company expand faster. Listed below are six steps to finding the Right Business Management Software.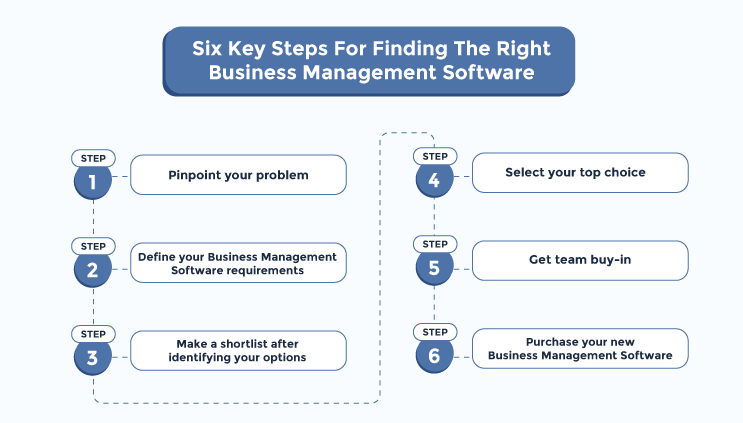 Step 1: Pinpoint Your Problem
It is necessary to realize that there are no systems capable of doing everything at once. After pinpointing your company's issues, you can address them appropriately by choosing from various applications like collaboration software, productivity software, marketing software, sales software, all-in-one crm software, extensions, HR and operations software, or development software. You should try to define the problem in detail, wherever possible. Finding the correct software to help you work with those aspects can be the solution to your business needs.
Step 2: Define Your Business Management Software Requirements
Different jobs require diverse Business Management Software, such as sales automation, production management, inventory accounting system, billing, etc. For increasing client interactions, you can use a CRM application. On the other hand, the accounting department requires an accounting software system for cash flow and report automation. Therefore, understanding your business requirements can help you narrow down the software options and choose the most suitable one for your needs.
To further define your software requirements, you can start by making a list of all the activities in your workflow and get feedback on how your employees think their daily tasks can be streamlined. Companies focus on presenting facts that demonstrate their purpose and concisely define their aims when listing business management solution requirements.
Step 3: Make a Shortlist after Identifying Your Options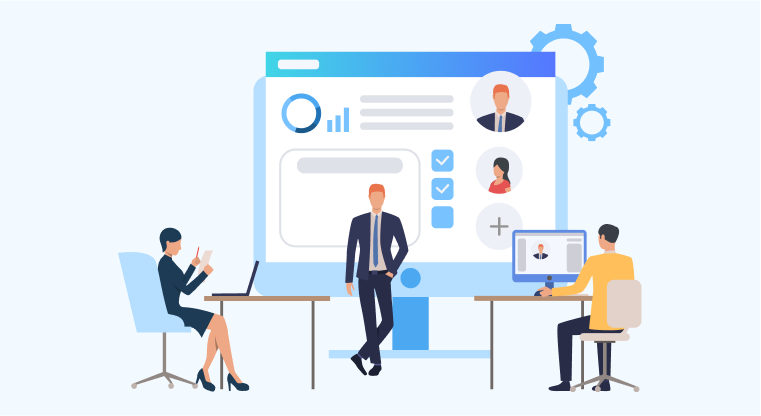 After compiling a comprehensive software list, you can reduce it to a reasonable shortlist of viable alternatives. This list should ideally contain three to seven products; any more than that, and the choosing process risks becoming overly lengthy and confusing. It is essential to examine whether the solution solves your main issue and helps you achieve your business objectives while meeting your feature needs. You should also check if the Business Management Software you have chosen is user-friendly and has good ratings and a reasonable price.
Step 4: Select Your Top Choice
After thorough research, you should shortlist and check the final list before firmly deciding on the right software for your company. Afterward, you should read testimonials from current customers who purchased the software for similar requirements. After reviewing the evaluations, you should make a list of questions for providers based on any issues you may have regarding the compatibility of the software with your business. It is advisable to try out the free versions or sign up for a trial period to compare and choose the best option. After completing these tests, you can select the most optimal business management software for your business.
Make your decision. Choose the software that best meets your needs and budget. Sign Up 14 Day Trail
Step 5: Get Team Buy-in
You will most likely need buy-in from others on your team before purchasing a new software. Since incorporating Business Management Software can impact daily work routine, it is essential to share your findings and explain your ultimate decision to people who work in different departments of your business.
Opening up to employees about the purchasing process could be as basic as outlining the company's difficulties and soliciting feedback. It could also include a quick survey to determine the most important factors for choosing a suitable Business Management Software. If your staff is not sold on the notion of a new business management solution, you can explain the benefits of purchasing one and give them some time to make up their mind.
Step 6: Purchase Your New Business Management Software
There are a few things to keep in mind before finalizing the software. It is important to make sure you have discussed the terms of your contract with the provider ahead of time. In addition, you should inquire about available discounts and look for alternative payment options to ensure a smooth transaction. Lastly, it is crucial to look into the software's customer support and post-purchase responsibilities. Before purchasing software, it is vital to consider every component. You should consider additional factors, such as user interface and design, integrations with other software, cloud solution, data importing, available languages, and customer support options once you've examined your business's difficulties, workflow, and best solutions. It is an excellent method to have clear expectations about the software's capabilities and good user experience.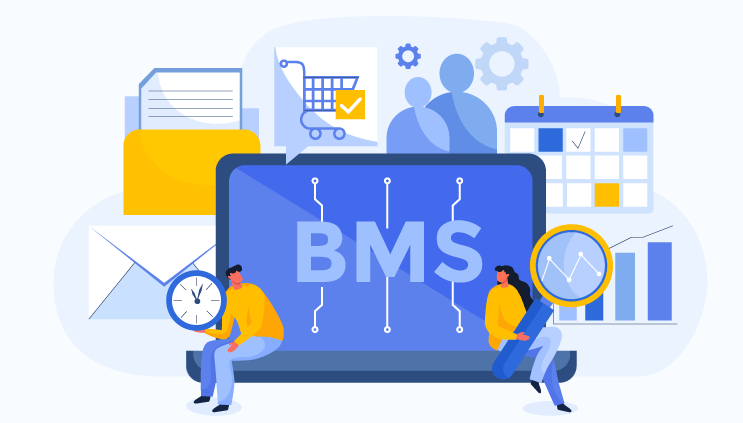 500apps is an all-in-one 50+ suite of apps for increasing team efficiency and running a firm like a Fortune 500 company. It enables firms of all sizes to compete with their competitors in the industry and become one of the Fortune 500 companies. It provides activity tracking, project budgeting, time tracking, CRM integration, meeting scheduling, multi-media brand management, project management software, and more to fulfill your business needs and a superior customer experience at a reasonable price.
Summing It Up
Whether you want to optimize your project process, amaze your clients or require a good inventory management system, business management software is the right fit for you. Not only does it significantly reduce manual inputs by automating a large percentage of business activities, but it also provides easy access to vital business data, decreasing working time, and increasing staff productivity. Furthermore, it tracks and measures workplace productivity and reduces costs by reducing paperwork.
And on that note, we recommended one of the best business management software on the market.
500apps provides business solutions for a broad range of tasks that occur in a company on a daily basis. From project management tools to a live chatbot, you can pick among the 50+ applications available or choose all of them and begin your journey to become the next fortune 500 company.
Why Choose 500apps?
#1
All-in-One Suite with more than 50 apps
#2
Everything you need today and in the future for all departments
#3
Unbelievable value - the lowest pricing you will ever find
#4
Hosted in 6 locations for compliance and blazing speeds
#5
24/5 Support - FREE chat, email and phone
#6
Uncapped features - limits you will never reach humanly
#7
Managed and maintained everyday by a dedicated team
#8
No downtime - comes with a 99.9% uptime guarantee
#9
Supports a number of international languages
#10
We've everything covered - 90k+ trust us with their business
Join the SaaS Revolution
All-in-One Suite of 50 apps

Unbelievable pricing - $14.99/user

24/5 Chat, Phone and Email Support