Cloud File Storage: Introductory Guide
Are you overwhelmed by the sheer amount of data that needs to be stored? Do you need help keeping track of all your documents, photos and videos across multiple devices? Cloud file storage is the answer for you!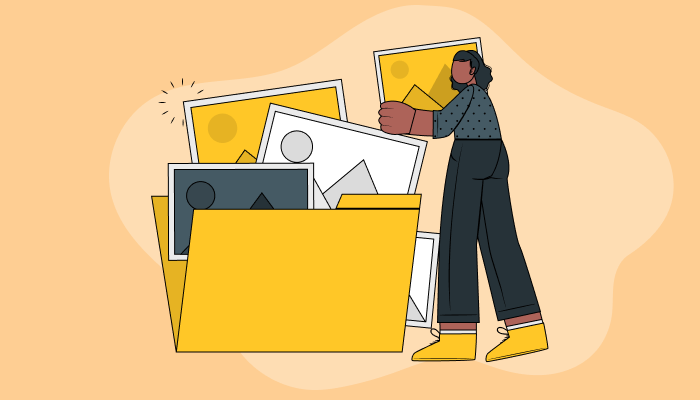 Cloud file storage is a revolutionary way to store digital content in an organized, secure and accessible manner. This introductory guide will help explain cloud file storage, how it works, and why it's such a great choice.
Let's start understanding this powerful technology with cloud file storage. You can access your files anywhere without worrying about running out of space or having them lost forever. Keep reading to learn more about this game-changing technology!
What Is Cloud File Storage?
Cloud file storage is online data storage that allows users to store and access digital files from any remote device connected to the internet. This technology enables you to safely store documents, photos, videos, music, and other files in an off-site location instead of on your computer's hard drive or other media storage device. With cloud file storage, you don't have to worry about storing large amounts of data because it can be accessed from anywhere at any time with an internet connection.
The main benefits of cloud file storage are convenience and reliability. You can upload files quickly and easily since there isn't a need for physical hardware or software installation. The service provides advanced security features such as encryption, authentication protocols, secure backups, and disaster recovery options. So your important files remain safe even if something happens to your local computer. Furthermore, cloud file storage offers scalability, which means you can increase capacity without purchasing additional equipment or hiring new staff members. This makes it ideal for businesses that want more flexibility when dealing with their data needs.
Using cloud file storage services eliminates the need for expensive IT infrastructure while still allowing companies to manage their information assets cost-effectively and effectively. Additionally, all versions of uploaded documents are stored automatically, which helps reduce accidental loss due to human error. Whether you're looking for added protection against natural disasters or simply want the ability to access your documents no matter where you are, cloud file storage has got you covered!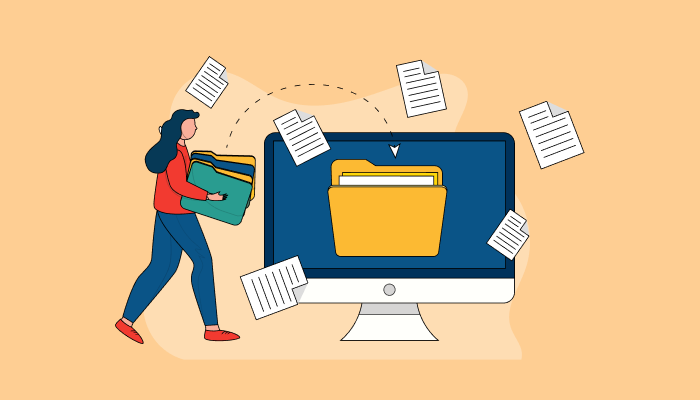 How Does File Storage Work?
File storage is an essential part of modern computing. It involves storing files on a remote server instead of the hard drive of your computer. But how does file storage work?
Cloud file storage works by uploading digital content to a secure server or network that's maintained and managed by a hosting service provider. You can access this data anytime, anywhere, and there's an internet connection available. The hosting service will also maintain backups in case you need to restore any lost data. Different file storage systems are based on the user needs and requirements, ranging from public networks to private clouds with customizable levels of security. Some services provide features like encryption, authentication, and even sharing capabilities so users can easily collaborate on projects with others.
For businesses especially, cloud-based solutions offer significant benefits such as scalability and cost savings since they don't have to pay for extra hardware resources or personnel management when the demand increases. Furthermore, it reduces complexity by allowing IT teams to focus more time on core business operations rather than managing servers and software updates.
Features to Consider in a Cloud File Storage Solution
When it comes to cloud file storage, several features need to be considered. Businesses and individuals need to understand the benefits of this kind of data storage management before they make any decisions. Online file storage allows users to store documents and other files securely on remote servers over the internet.
Security: Encryption and privacy features, data remains private and secure.

Performance: Quick loading speeds and easy access to stored files from anywhere in the world at any time.

Reliability: Regular backups of data and redundancy measures in case something goes wrong.
It's worth taking some time to explore all these different aspects of cloud file storage to find one that meets your individual needs or organization's requirements properly. When done right, you can enjoy peace of mind knowing that your valuable information is safe while benefiting from enhanced efficiency and productivity gains.
Different Types of Cloud File Storage
When choosing a cloud file storage solution, it's important to understand the available types. Mega file storage is one option that offers unlimited storage space with no bandwidth limits. This service allows users to store and access files from anywhere with an internet connection. It also allows for easy sharing of large files, so people don't have to wait until they're in the same room or email each other huge attachments.
Amazon S3
Amazon S3 is a cloud file storage system offered by Amazon Web Services. It allows users to store and retrieve data from anywhere on the web with an internet connection. With this, businesses can securely store their files in the cloud and access them whenever they need it.
Amazon S3 offers scalability, durability, availability, security, performance monitoring and automation that appeal to developers and business owners alike. Its scalability feature ensures that customers can scale up or down as needed without worrying about running out of capacity. Furthermore, its durability guarantees high levels of fault tolerance so that stored data remains secure even if there's an unexpected outage or failure at any point during its use. Thanks to its low latency service delivery model, users can quickly access their data using Amazon S3.
Google Cloud Storage
Google Cloud Storage is a cloud file storage service offered by Google. It allows users to store and access data on the internet in a secure location that can be accessed from any device with an internet connection. The platform provides a high level of scalability and flexibility for businesses, allowing them to manage their data storage needs easily.
The main benefit of using Google Cloud Storage is its reliability: it offers 99.9% availability for stored files, meaning that your business will have consistent access to all of its important documents at any time. Additionally, Google Cloud Storage has low latency rates, which help reduce loading times when accessing files. Furthermore, security features like encryption and multi-factor authentication protect against malicious activity or unauthorized access to sensitive information.
Microsoft Azure Storage
Microsoft Azure Storage is a cloud storage service offered by Microsoft. It allows users to store data, back up files, and access them from any device or location. Using this service means keeping your files secure and always accessible.
Azure Storage offers several features such as Blob Storage, Table Storage, Queue Storage, File Storage, and Disk Storage which are designed to help make managing data easier. With these options, you can find what best fits your needs and customize how it works.
500Box
500Box is one of the best file storage solutions out there. It's a cloud-based service that allows you to store, access, and share files quickly and easily. With 500Box, you don't need to worry about hardware or software. Everything runs in the cloud. Plus, it works on any device with an internet connection.
Here are some of its features:
You can sync your files across multiple devices for easy access anytime.

Share large files without attachments.

Collaborate on projects with others in real-time.

Easily search for specific images or documents.
Overall, 500Box makes it simple to manage your digital life from anywhere. Getting started is as easy as signing up and downloading the app. Whether you're looking for a business solution or just want to back up personal data, 500Box has something to offer everyone.
Get started with the leading File Storage Software today! Sign Up 14 Day Trial
Dropbox
Dropbox is a cloud file storage platform that provides users with an easy and secure way to store, access, and share important documents. It offers features such as automatic backup of all files, so you don't have to worry about losing them if something goes wrong with the device they're stored on. Dropbox also has advanced security measures to protect your data from unauthorized access or malicious attacks. Encryption and two-factor authentication, it ensures that only those who are authorized can view any of your sensitive information.
In addition to its strong security protocols, Dropbox lets you easily manage large amounts of data with its intuitive interface. You can create folders for different projects, assign tasks or deadlines to team members, and quickly search through all the files within a folder. This makes collaboration much easier since everyone involved can quickly find what they need without wasting time manually sifting through hundreds of documents.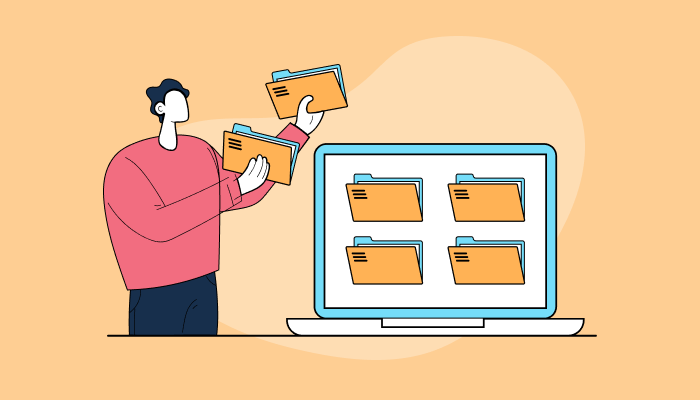 What Are the Benefits of Cloud File Storage?
Cloud file storage offers a range of benefits that make it an attractive option for extra file storage. It's convenient, secure and cost-effective, making it the perfect choice if you need to store large files on the cloud. Here are four major benefits of cloud file storage:
Convenience: Cloud file storage is incredibly easy to use. You can access your files from anywhere worldwide as long as you have an internet connection. Plus, you don't even need any special software or hardware. All you need is a web browser.

Security: With cloud file storage, your data is kept safe in multiple locations with encrypted servers and authentication protocols. This means your data will always remain secure without having to worry about potential hackers gaining access to it. 500Box also provides granular control over who has access to what files and folders, allowing you to set different permission levels for each user.

Cost-effectiveness: Cloud file storage is much more affordable than buying additional hard drives or other physical storage solutions since there are no upfront costs. 500Box comes with a 14-day free trial and $14.99 per user per month.

Scalability: If you ever need more space for your files, cloud file storage has got you covered! It's easily scalable, so adding new users or increasing capacity isn't a problem.
As we've seen, cloud file storage provides many advantages over traditional physical solutions when storing extra files securely and conveniently. So why not give it a try?
Conclusion
Cloud file storage is a great way to keep your data safe and secure while allowing for increased collaboration with colleagues. The features available in a cloud file storage solution provide an efficient way to store and access files from anywhere. Using services like 500Box, you can securely upload, manage and backup files without worrying about losing crucial documents or information. Not only does this help increase productivity, but it also allows you to collaborate with others more easily than ever before.
Overall, cloud file storage is the perfect tool for businesses that need a reliable system for storing their data. With additional features such as data redundancy, automated backups and top-level security protocols, businesses can rest assured knowing their important files are safe and accessible at all times. Whether running a small business or managing sensitive corporate information, utilizing cloud file storage will ensure that your data remains protected and accessible when needed.
Why Choose 500apps?
#1
All-in-One Suite with more than 50 apps
#2
Everything you need today and in the future for all departments
#3
Unbelievable value - the lowest pricing you will ever find
#4
Hosted in 6 locations for compliance and blazing speeds
#5
24/5 Support - FREE chat, email and phone
#6
Uncapped features - limits you will never reach humanly
#7
Managed and maintained everyday by a dedicated team
#8
No downtime - comes with a 99.9% uptime guarantee
#9
Supports a number of international languages
#10
We've everything covered - 90k+ trust us with their business
Join the SaaS Revolution
All-in-One Suite of 50 apps

Unbelievable pricing - $14.99/user

24/5 Chat, Phone and Email Support