12 Best Digital Signature Software in 2023
The digital age has revolutionized the way we do business. From communication to document sharing, technology plays an increasingly large role in our daily lives. As such, having access to reliable and secure digital signature software is essential for businesses that want to stay competitive. But with so many options available on the market today, it can take time to choose which one best fits your needs. That's why we've compiled a list of the 12 best digital signature solutions of 2023 that are sure to keep you and your data safe!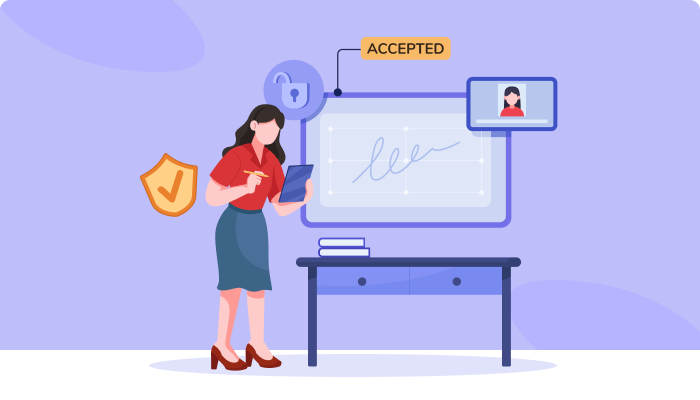 With this guide, you'll get detailed insight into each product's features, pros & cons, pricing plans and more, all designed to help you decide which solution will work best for your unique situation. At the end of the article, there will also be helpful tips on maximizing security when using these eSignature services. So if you're ready to learn more about modernizing your business processes with digital signatures, read on!
What Is a Digital Signature?
A digital signature is an electronic form of a physical signature that provides proof and assurance of the authenticity and integrity of data. It is used to validate the identity of individuals or organizations and the accuracy of documents exchanged online. Digital signatures are created using special software called digital signature software. This type of software uses public-key cryptography to generate unique cryptographic codes for each document signed electronically. These codes can be authenticated by anyone with access to the internet, making it secure and reliable for exchanging sensitive information online.
Digital signature software enables users to digitally sign contracts, forms, and other documents without having to print them out or scan them into a computer system. With this technology, businesses can save time and money by skipping tedious paperwork while maintaining legal compliance standards such as GDPR (General Data Protection Regulation). Furthermore, they can ensure that all parties have agreed upon the terms of any agreement in writing through their use of an online signature.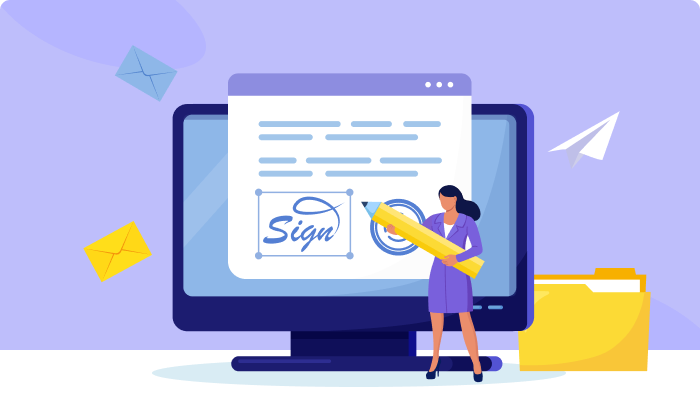 How Digital Signatures Work?
A digital signature is a cryptographic tool that helps authenticate and validate an individual's identity. It encodes documents with an embedded code, allowing them to be securely signed online or on paper. This means that any changes made to the document are recorded and traceable, providing more security than traditional signatures. Here's how digital signatures work:
The first step in creating a secure digital signature is for the signer to create or upload their unique identifying information into a secure database. Once entered, this data will act as proof of identity when signing documents digitally.
Digital certificates must be generated with public key encryption technology used to validate the user's identity and link them with the document they're signing. These can then be used to create digital signatures for PDFs and other types of files such as Word, Excel, PowerPoint and image formats like JPEGs and PNGs.
After generating these certificates, users can digitally sign documents using their digital signature free software or mobile app simply by clicking "sign" while providing their credentials (user name/password). This action creates a secure hash-based message authentication code (HMAC), which ensures that no one can tamper with the document after it has been signed.
Once all parties have completed signing the document, it is certified through timestamps and stored in a secure repository where its contents remain unchanged over time. Digital signature online services also allow you to verify the authenticity of any document without needing access to original copies – making them great for remote contracts and agreements between two parties who may not even know each other personally!
Digital signatures provide an extra layer of protection when conducting business transactions electronically, ensuring accuracy and integrity throughout every stage of communication from creation to completion. Plus, since several different types are available, including digital signature pdf options, companies can choose what best fits their needs depending on why they need it and how much they're willing to invest in it.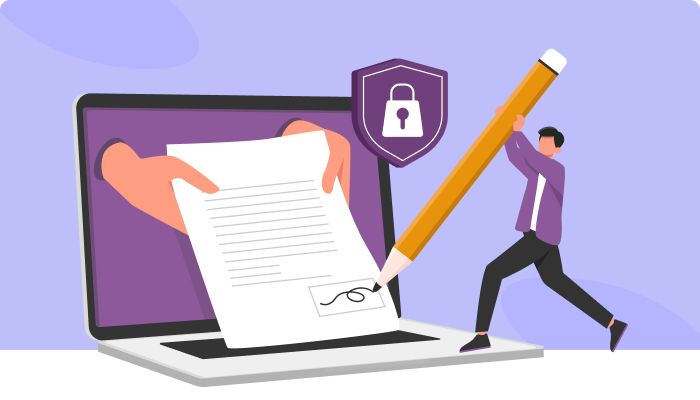 12 Best Digital Signature Software in 2023
In the modern world, digital signature software is a must-have for any business. With so many options, it can take time to determine which is best suited for your needs. We have put together this list of 12 of the best digital signature software in 2023. We've narrowed down our selection based on factors such as ease of use, cost-effectiveness and reliability, so you can decide which signature creator is right for you.
Adobe Acrobat DC
Adobe Acrobat DC is a powerful digital signature solution for businesses and individuals alike. It provides an easy-to-use interface with various features that make signing documents quick and secure. The software offers advanced security measures such as SSL encryption, two-factor authentication, and document watermarking to protect documents from unauthorized access. Additionally, Adobe's cloud storage allows users to store all their signed documents in one place for easy retrieval.
With its intuitive design and robust customization options, Adobe Acrobat DC makes it simple for anyone to create professional looking digital signatures. Its integration with other popular services like Dropbox and Google Drive ensures that you can easily share your signed documents with others without having to download them manually each time.
HelloSign
Hellosign is a digital signature software that provides numerous benefits for businesses and individuals alike. It's secure, simple to use and compliant with industry regulations such as HIPAA, GDPR, and eIDAS. Its main features include one-click signing, two-factor authentication, audit trails and customizable branding options. Additionally, it offers cloud storage so users can access their documents anywhere they have an internet connection; this makes it ideal for remote teams or those who travel frequently.
What sets Hellosign apart from its competitors is the fact that it allows users to easily integrate with other popular applications such as Dropbox, Google Drive, Microsoft Office 365 and Salesforce, making it easier than ever to manage workflows across multiple platforms. Plus, since all of your documents are stored in the cloud, you don't need to worry about losing them if your computer crashes or gets stolen.
DocuSign
DocuSign is a reliable and secure digital signature software that's been trusted by millions of users since 2003. It provides an easy-to-use platform for businesses to create, manage, sign and track documents online. With DocuSign, you can quickly send out legally binding eSignatures within minutes, saving time and money on traditional paper processes.
What makes Docusign stand out from the competition? Here are just some of its features:
Security & Compliance: You'll enjoy compliance with international standards such as ESIGN Act in the US, GDPR in Europe and other legal frameworks worldwide. Plus, all your documents will be encrypted end-to-end, so they're safe while being shared digitally.
Ease of Use: The interface has been designed to ensure maximum usability across any device or browser, meaning no training is required! And simple drag & drop functionality allows users to easily add fields like names, dates, places and more onto their document templates.
Automation Tools: Streamline complex workflows with automated tasks powered by triggers and conditions set up based on data entered into the form or files uploaded. This way, you can make sure everything is done accurately without manual intervention.
With these user-friendly tools at hand, it's clear why Docusign remains one of the top choices for digital signature software in 2023 and beyond.
Signeasy
Signeasy will be popular among those looking for digital signature software in 2023. It offers multi-language support, the ability to customize branding, and secure document storage. The platform is easy to use on any device and requires no specialized hardware or setup time. Signatures can be added quickly using drag-and-drop tools that make signing documents a breeze.
The security of Signeasy's software is also robust, with a range of encryption protocols ensuring customer data remains safe from external threats. Additionally, signers are authenticated through two-factor authentication processes as an extra layer of protection against fraudsters attempting to access sensitive information. As such, it's no surprise that Signeasy has become one of the leading services available for creating digital signatures this year.
eSign Genie
Esign Genie is a digital signature software that allows businesses to create, send and manage legally binding e-signatures quickly. It allows users to sign documents from anywhere in the world and securely store them for future reference. Here's what makes it unique:
It offers an intuitive user interface, making it easy to use even if you need to be tech-savvy.
It has integrated document storage, so all your signed documents are kept safe and secure.
It supports multiple electronic signatures such as PINs, passwords and biometrics.
It also integrates with Google Drive and Dropbox, making it simpler than ever before to share documents online.
Esign Genie simplifies e-signature processes by providing automated reminders and notifications of upcoming deadlines or expiring contracts with customizable emails or SMS alerts. This ensures that no important agreements slip through the cracks – enabling users to stay on top of their contract management tasks.
Sign.cc
Regarding digital signature software in 2023, there's no better choice than OneSpan Sign. It offers powerful tools that enable users to sign documents faster and more securely than ever before. Plus, its cloud-based platform allows for streamlined collaboration between multiple parties, all from the convenience of their own devices.
Here's Why You Should Choose Sign.cc::
Security: Its advanced encryption technology ensures your documents remain safe and secure during each step of the signing process.
Ease of Use: With a user-friendly interface, anyone can start using this software with minimal training or technical know-how.
Mobile Capabilities: Whether you're on a laptop or mobile device, you'll be able to access your documents anytime and anywhere.
Sign.cc is setting the standard for digital signatures in 2023. From its robust security features to its easy setup and use, it provides an efficient way for businesses and individuals to quickly get things done without sacrificing any safety protocols.
Get started with the leading Digital Signature Software today! Sign Up 14 Day Trial
Nitro Pro
Nitro Pro is a popular digital signature software used by businesses and individuals since its inception in 2016. It's an all-in-one solution for document security, offering features like eSignature, encryption, digital IDs, and more. The user interface is intuitive and easy to use, making it ideal for those who want to quickly get up and running with their digital signatures.
One of the key benefits of using Nitro Pro over other solutions is its affordability; users can purchase a one-time license or a subscription plan, depending on their needs. Additionally, Nitro Pro provides support for multiple platforms, including Windows, Mac OS X, Android, iOS, and Linux. This makes it perfect for those who need compatibility across different devices. Nitro Pro offers an excellent choice for anyone looking for reliable digital signature software in 2023.
RightSignature
RighSignature is an innovation in digital signature software. It makes signing documents online easier and more secure than ever before. One of the best features of Rightsignature is that it allows users to sign in from anywhere, on any device. This means you can securely manage contracts and other important documents without waiting for a physical document to arrive in the mail or at your office. Plus, it offers full encryption with two-factor authentication, so all documents are safe and secure.
To top it off, Rightsignature also provides customizable templates, making it easy to create new signatures quickly and accurately every time. You'll be able to create multiple custom fields with text boxes, checkboxes, date stamps, and more, giving you maximum control over how your documents are signed.
SIGNiX
Signix is an online e-signature solution that provides a simple and secure way to sign documents. It offers advanced features such as document template creation, electronic signature authentication, and digital signing of contracts, forms, and agreements. Signix also allows users to easily manage their documents in the cloud with its easy-to-use drag-and-drop interface. Additionally, it enables organizations to create customized templates for business transactions or processes.
The platform supports multiple languages, including English, Spanish, French and German, making it suitable for international businesses. Its user-friendly dashboard helps customers track transaction progress quickly while providing real-time signature status updates. Furthermore, Signix's security measures ensure data privacy and integrity through encryption technology and multi-factor authentication protocols.
AssureSign
Assuresign is a digital signature software designed with efficiency and ease-of-use in mind. It features an intuitive drag-and-drop user interface, allowing users to quickly create documents without the need for coding knowledge. It also offers several levels of security, including two-factor authentication and encryption technology to help keep your data safe. Additionally, it integrates seamlessly with existing applications such as Microsoft Office products and Salesforce.
Assuresign provides a range of benefits that make it ideal for businesses looking for a reliable solution for signing documents electronically. Its cloud storage allows companies to securely store all their signed documents, along with its advanced tracking capabilities, enabling users to track document status from one centralized dashboard easily. Moreover, customers have access to 24/7 customer support to resolve any issues quickly and efficiently.
SignRequest
Signrequest is a popular digital signature software that has recently gained traction among businesses and entrepreneurs. It offers an easy-to-use platform to create, send and manage documents with legally binding signatures. SignRequest eliminates manual document signing processes, enabling users to quickly sign contracts online from anywhere on any device.
The service also provides advanced security features such as encryption, authentication, audit trails and access control, ensuring that only authorized personnel can view or modify documents. Additionally, it allows you to customize your templates with branding elements like logos, colors and fonts.
OneSpan Sign
Onespan Sign is a leading digital signature software provider that has been in the market for over eight years and counting. It offers an easy-to-use platform, allowing users to quickly create legally binding documents with automated workflows regardless of their technical expertise level. The company's cloud-based system allows organizations to securely sign contracts, agreements, waivers, releases, and other important documents online from any device or location.
What truly sets Onespan Sign apart is its flexibility in providing different plans that can be tailored according to individual needs and budget constraints. This includes a free plan which comes with basic features like unlimited document sending and secure storage, along with advanced paid plans that offer additional benefits such as custom branding, audit trails, third-party integrations etc.
Conclusion
In conclusion, digital signatures are important for businesses to protect their documents and transactions. With the right digital signature software, companies can reduce their risk of fraud and ensure that all documents they send out or receive are authentic. With a wide range of options available in 2023, it is important to choose a solution that meets your business needs while also being cost-effective. Some of the best solutions include Adobe Acrobat DC, HelloSign, Signix, AssureSign, SignRequest, and Sign.cc. Each solution provides strong security features and user-friendly interfaces so you can easily manage your digital signature processes. By investing in one of these top-rated digital signature solutions now, you'll be able to save time and money in the future.
Why Choose 500apps?
#1
All-in-One Suite with more than 50 apps
#2
Everything you need today and in the future for all departments
#3
Unbelievable value - the lowest pricing you will ever find
#4
Hosted in 6 locations for compliance and blazing speeds
#5
24/5 Support - FREE chat, email and phone
#6
Uncapped features - limits you will never reach humanly
#7
Managed and maintained everyday by a dedicated team
#8
No downtime - comes with a 99.9% uptime guarantee
#9
Supports a number of international languages
#10
We've everything covered - 90k+ trust us with their business
Join the SaaS Revolution
All-in-One Suite of 50 apps

Unbelievable pricing - $14.99/user

24/5 Chat, Phone and Email Support