10 Tips to Maximize Your Efficiency with a Time Tracker
Do you want to make your workday more productive? Are you looking for ways to maximize efficiency and get the most out of your time? Time management is key in any job, but it can be especially challenging if you don't have a system in place. That's where a time tracker comes into play. A time tracker gives you an overview of how much time you're spending on each task, allowing you to identify which tasks are taking up too much of your valuable hours. In this article, we'll discuss 10 tips that will help you maximize your efficiency with a time tracker.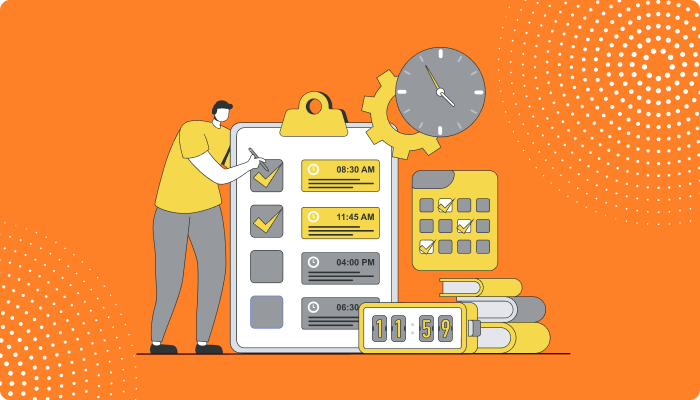 We all know that life moves quickly, and the same goes for our jobs. Having a good handle on how long certain tasks take us helps us plan our days better and avoid wasting precious time searching through emails or re-reading documents. With a time tracker, we can easily see where our working day is going, allowing us to prioritize accordingly and streamline processes so that we can get things done faster.
What Is a Time Tracker?
A time tracker is a tool used to help manage and track the amount of time spent on tasks or projects. It's often referred to as time tracking software, and it can be incredibly helpful for anyone who needs to stay organized and maximize their efficiency. With a time tracker, you'll be able to easily keep track of how much time you're spending on different activities so that you are better equipped to adjust your schedule accordingly.
Time tracking software generally allows users to enter detailed information about their tasks and then visualize this data in an easy-to-understand format. This feature makes it easy to identify which areas need more attention or where adjustments could be made in order to save time. Additionally, many programs offer features such as setting deadlines, reminders, and alerts for when certain goals have been achieved; these extra tools can ensure that productivity levels remain high throughout any given project.
By taking advantage of all the benefits that come with using a time tracker, individuals will find themselves better prepared for tackling their daily tasks efficiently while still having plenty of free time left over at the end of the day.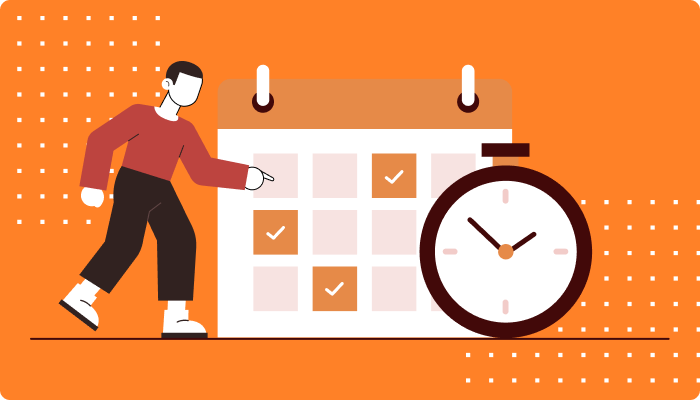 Why Use a Time Tracker?
Time tracking is a powerful tool for keeping on top of your workload. By using a time tracker, you can easily keep track of how much time you spend on different tasks or projects. This helps to maximize your efficiency and make sure that you're working as effectively as possible.
Record the amount of time spent on any job with a time tracker.
Use data collected from the time tracker to adjust workflow.
Streamline tasks to save yourself time in future.
Monitor how long jobs take to complete.
Plan ahead and set realistic deadlines.
Have an accurate picture of where working hours are being spent.
Become more productive with fewer wasted minutes.
By leveraging the insights gained from a time tracker, you can identify areas for improvement and boost your overall productivity levels, all while making sure that every minute counts!
10 Tips Help to Maximize Your Efficiency with a Time Tracker
Using a time tracker is an invaluable tool for managing your day-to-day activities. Having the right time management tool, like Clockly, can help you maximize your efficiency and make sure all tasks are completed on time. Here are 10 tips to get the most out of your time tracking experience.
Set Clear Goals
If you're looking to optimize your efficiency with a time tracker, goal-setting is essential. Start by setting clear objectives and tasks that will help you achieve them in the most efficient way possible. This could include using online timesheets to keep track of how much time you spend on each task and project. Doing this makes it easier to identify where improvements can be made, such as focusing more on certain activities or delegating to others.
Once you have set these goals for yourself, create an action plan with specific steps that need to be taken in order to complete all of your tasks in a timely manner. Make sure to prioritize urgent tasks first and factor in any unexpected roadblocks or challenges. With Clockly, you are able to track exactly how long it takes you to complete each activity so that it can be managed correctly; meaning no unnecessary stress when deadlines approach!
Break Tasks Down
When it comes to maximizing your efficiency with a time tracker, breaking tasks down is key. A time tracker like Clockly can help you keep track of each task and how much time has been spent on them. By having an employee monitoring software that puts all the pieces together, it's easy to break larger projects into smaller tasks and monitor progress over time.
This way, if you're feeling overwhelmed by the large project in front of you, simply open up Clockly and start chipping away at the different components instead. This not only helps you stay organized but also keeps motivation high as you can easily see what part needs attention next and measure your accomplishments along the way. Plus, knowing exactly how long each task takes allows for more accurate estimates when scheduling future assignments or planning ahead.
Having a clear idea of which tasks are important right now will ensure that no energy is wasted on unnecessary activities - saving both money and effort in the long run. With an efficient tracking system like Clockly, employees can focus their energy where it matters most while getting helpful insights about their performance throughout the process.
Use A Tool
Using a tool is one of the best ways to maximize your efficiency with time tracking. In particular, Clockly offers an excellent chrome extension that makes it easier for users to keep track of their tasks and manage their time more efficiently. This chrome extension integrates seamlessly into your daily workflow, allowing you to easily monitor and adjust your productivity levels throughout the day.
Track Regularly
Tracking your work regularly is key to maximizing efficiency with a time tracker. Setting up regular tracking intervals gives you an accurate picture of how much effort and progress you're making on projects over time. Clockly, for instance, makes it easy to set up reminders that will prompt you at certain times throughout the day so that you never miss an opportunity to track your productivity.
You can customize these intervals as needed, depending on the tasks or project goals you are trying to achieve. You could even use Clockly's reporting feature to generate summaries of your tracked activities and make sure that no detail goes unnoticed. This way, you'll always have a clear view of what needs to be done to reach each goal efficiently.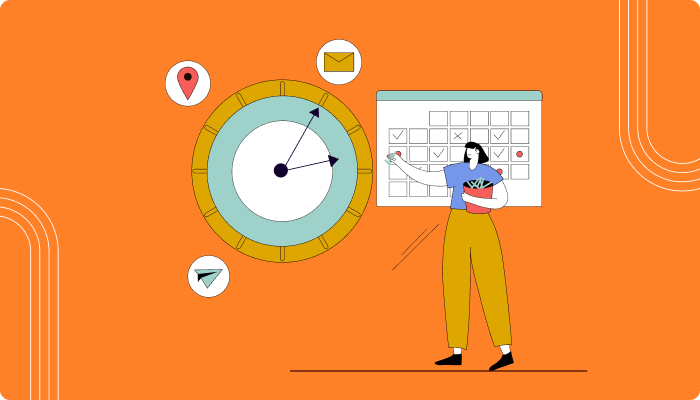 Set Deadlines
Setting deadlines is a great way to maximize your efficiency with a time tracker. It can help you focus on specific tasks and prioritize them accordingly. This helps keep your work organized and gives you an idea of what needs to be done first. Deadlines also force you to stay focused; they create urgency and drive motivation, ensuring that tasks are completed in a timely manner.
Using Clockly can make setting deadlines even easier. Clockly has automation capabilities, so you can set up repeating events or series of tasks for yourself at certain times. You can also use the app's built-in timer feature to track how much time each task takes, helping you save time and plan ahead better next time around. Its reminders and notifications ensure that no deadline goes missed or forgotten about! All these features combined will surely take your productivity to the next level.
Take Breaks
Taking regular breaks is essential for your productivity and efficiency when using a time tracker. Properly spaced out, these breaks can help you re-energize and refocus on the task at hand. With Clockly, it's easy to set up reminders that will alert you when it's time to take a break - whether it's after 30 minutes of work or an hour.
These pauses don't have to be long, even 10 or 15 minutes away from your computer screen can do wonders for both your mental state and overall performance. During this short respite, try stretching, taking a walk outside, enjoying a cup of tea or reaching out to someone in your network for some light conversation. Anything that helps you step away from the project temporarily should be incorporated into your daily routine as part of maximizing your effectiveness with Clockly.
Using Clockly's timer feature also allows users to keep track of how much rest they are getting throughout their day so that they stay energized and productive for longer periods of time. So if you want to increase your efficiency while working with a time tracking tool like Clockly, make sure to factor in regular breaks in order to refresh yourself before continuing on with whatever tasks lie ahead!
Record Everything
Recording everything is a great way to maximize your efficiency with a time tracker. This includes activities that are easy and difficult, mundane or exciting, they all add up! Noting down every task, you carry out will help you gain insight into how much time it takes to complete each activity.
Here's why recording everything is such an important part of maximizing your efficiency:
It helps you keep track of the amount of time spent on different tasks.
You'll know exactly how long it took for you to finish something so that if needed, you can use that information in future projects.
You'll also get better at estimating how long certain types of tasks take and plan accordingly.
With Clockly's timeline feature, you can clearly view what was worked on throughout the day and understand your productivity levels more effectively.
Moreover, taking regular breaks while using a timer allows you to stay focused when tackling longer tasks. Breaks give yourself a chance to reset mentally so that when returning back to work, you're feeling refreshed and ready to go again. That's why Clockly has built-in break reminders which are customizable according to personal preferences. This ensures that users don't overwork themselves and still maintain their focus whilst working efficiently towards their goals.
Monitor Your Progress
Monitoring progress is one of the keys to maximizing your efficiency with a time tracker. By keeping track of how much you have accomplished, it helps to motivate and enables you to adjust your schedule if necessary. Clockly can help you do this in several ways: tracking task duration, setting goals for yourself, and visualizing your activity over time.
For example, when using Clockly's task timer feature, you'll be able to see exactly how long each task takes so that you can plan accordingly. Likewise, the goal-setting feature will allow you to set targets and measure your success against them.
Analyze Your Data
Analyzing data is key to ensuring you get the most out of your time tracking activities. With Clockly, you can easily review and understand how you used your time throughout the day or week. This allows for more clarity on where improvements may be made to maximize efficiency in various aspects of life. Here are three ways Clockly helps you analyze your data:
Data Visualization: Through easy-to-read charts, graphs, and tables, you can quickly assess which tasks take up most of your time and make adjustments accordingly.
Time Tracking Reports: By running reports with Clockly, you gain insight into areas like task completion rate and productivity levels that would otherwise remain unknown.
Automated Insights: You'll get personalized tips based on your historical usage patterns, so each day brings new opportunities to optimize workflows.
Overall, analyzing data gives valuable perspective when it comes to increasing efficiency with a time tracker like Clockly. It's an essential tool to help identify trends and improve performance over long-term goals. Taking advantage of this feature will give deeper understanding into how much progress has been made, what needs improvement, and how best to use available resources going forward.
Get started with the leading Time Tracker today! Sign Up 14 Day Trial
Be Flexible
It's important to be flexible when using a time tracker, like Clockly. You should try different methods and approaches to maximize your efficiency. This way you can find what works best for you and helps you stay focused on the task at hand. A great place to start is by setting realistic expectations of yourself within each day or week. Break down bigger tasks into smaller chunks, so that they're easier to manage and complete quickly. Then set up reminders or notifications if necessary; this will help keep your motivation high throughout the day. Additionally, if something unexpected comes up during the course of the day, don't hesitate to adjust your schedule accordingly:
Establishing Goals: Set daily goals for yourself based on your available time and prioritize those goals according to importance.
Breaking Them Down: Break big tasks into more manageable pieces so that it's easier to track progress throughout the day.
Setting Reminders: Use reminders or notifications as needed to ensure that you're staying on track with your plan of action throughout the workday.
Being Flexible: If an unexpected issue arises during the course of the day, don't hesitate to adjust your schedule accordingly - Clockly makes this easy!
Time tracking tools are designed to make life easier, not harder and being flexible with them can really help boost productivity levels over time. Utilize features such as goal-setting, breaking down tasks into more manageable pieces, setting reminders/notifications where applicable and adjusting plans as required; all these things combined will give you a better understanding of where most of your valuable hours are spent each day which can then help inform future planning efforts going forward!
Conclusion
Time tracking can be a great tool for achieving maximum efficiency in your work. By taking the time to set clear goals, break tasks down into manageable pieces and record your progress, you will have an easier time staying on top of your workload. Additionally, by analyzing your data regularly you can identify areas where improvements could be made or issues that need immediate attention. Finally, being flexible is important as well since it allows you to adjust when needed rather than getting overwhelmed with too many tasks at once.
By following these tips and utilizing the features offered through Clockly's time tracker, you are sure to increase both accuracy and productivity throughout your day-to-day operations. With its easy setup process and user friendly interface, Clockly makes it simple to get started right away so that you can quickly reap the benefits of using this invaluable resource.
Why Choose 500apps?
#1
All-in-One Suite with more than 50 apps
#2
Everything you need today and in the future for all departments
#3
Unbelievable value - the lowest pricing you will ever find
#4
Hosted in 6 locations for compliance and blazing speeds
#5
24/5 Support - FREE chat, email and phone
#6
Uncapped features - limits you will never reach humanly
#7
Managed and maintained everyday by a dedicated team
#8
No downtime - comes with a 99.9% uptime guarantee
#9
Supports a number of international languages
#10
We've everything covered - 90k+ trust us with their business
Join the SaaS Revolution
All-in-One Suite of 50 apps

Unbelievable pricing - $14.99/user

24/5 Chat, Phone and Email Support