Selecting the Right Help Desk Support Software - an Overview
The right help desk support software can make all the difference in effectively managing customer service operations. This guide provides an overview of what you should be looking for in a help desk support system and how to ensure that you select one that meets your specific needs. Whether you're just starting out or completely overhauling your existing system, selecting the right help desk support software requires careful consideration. Read on to learn more about how to choose the best option for your business!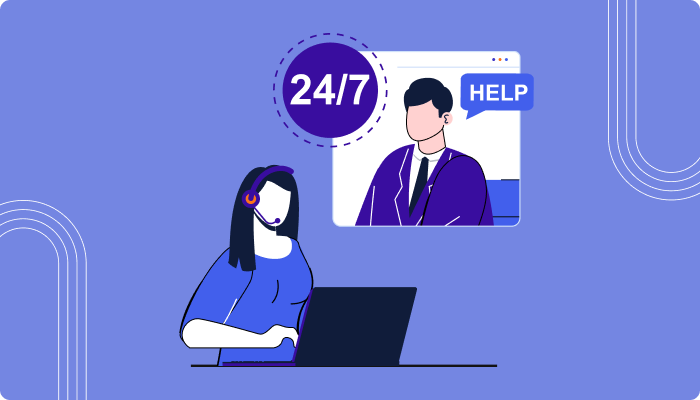 Implementing a help desk solution is no small task, but with so many options available on the market today, it's important to do your research before making any decisions. It's important to consider features, scalability, integration capabilities, pricing structure, and more. With the correct combination of factors, you can find the perfect tool for improving customer service and streamlining processes.
5 Benefits of Helpdesk Support Software
Helpdesk software is great for any organization that wants to provide customers with the best possible support. This type of software provides an automated help desk ticketing system, which can be used by both employees and customers alike. It streamlines communication between customers and staff, ensuring each issue is tracked and resolved efficiently. Here are five benefits of using helpdesk support software:
Automated Ticketing
When it comes to helpdesk support software, automated ticketing is a must. Automated ticketing systems are essential for helping companies streamline their customer service processes and provide superior services to customers. Support.cc is a popular example of this type of software that helps organizations quickly respond to customer inquiries in an efficient manner.
With automation capabilities like these, helpdesk support software such as Support.cc provides tremendous value to businesses looking to maximize their customer experience while maintaining operational efficiencies. Companies can trust this powerful tool to easily and confidently manage their customer service needs. Hence, they focus on more important tasks without worrying about how well their team handles customer requests.
Improved Customer Service
Utilizing an efficient helpdesk support system can be a key factor in ensuring improved customer service. A customer service ticketing system is designed to streamline communication and improve the speed of resolution for customers' inquiries. This type of software, such as Support.cc, offers a range of features aimed at providing better customer experiences, including automated ticketing and tracking capabilities.
Support.cc allows companies to create custom views of their tickets with advanced filters which gives them flexibility when finding specific requests or pieces of information quickly and easily. It also includes features like Knowledgebase, where users can store answers to common questions allowing agents to focus on more complex tasks; built-in analytics tools allowing you to get real-time feedback from your customers. Integration capabilities so you can connect other applications to your existing workflows and many others that allow teams to handle all types of customer interactions efficiently without compromising the quality of service provided. All these features combined make Support.cc an ideal choice when looking for a help desk support solution that will provide a great customer service experience while still being cost-effective.
Reduced Costs
When it comes to reducing costs, implementing an open-source helpdesk system like Support.cc can be invaluable. Not only does the platform provide a comprehensive and cost-effective solution for businesses seeking HR helpdesk solutions, but its use of automation also helps reduce the manual labor associated with support requests. This way, companies can save money using fewer resources while still delivering top-notch customer service.
What's more, Support.cc is designed around scalability and meets all needs from small startups to larger enterprises looking for an efficient HR helpdesk management solution.
Increased Efficiency
Increased efficiency is one of the most important benefits of incorporating help desk support software into an organization. It allows for better customer service with fewer resources while still maintaining quality control. Here are three ways that Support.cc helps to increase efficiency:
Automation: With automated workflows and processes, tasks can be completed faster without compromising accuracy or customer experience.
Self-service portal: Customers have a range of self-help options at their fingertips, such as FAQs, knowledge bases, and ticketing systems that allow them to get answers quickly.
Streamlined communication: Teams can collaborate more easily and respond to queries on time through unified channels like chatbots and group messaging tools.
Support.cc provides the necessary tools to improve operational performance and empower organizations to deliver better services more easily than ever.
Flexible Reporting
Reporting is critical for any help desk support software. With flexible reporting options, businesses can understand customer behaviour and find ways to serve them better. Support.cc provides a range of valuable insights that can take your service delivery to the next level:
Get detailed performance metrics like response time and resolution rates.
Track customer satisfaction scores to identify areas of improvement.
Create custom reports with specific filters and criteria. These features let you track progress over different periods so that you can make data-driven decisions about your help desk operations. Plus, they provide the ability to share actionable insights across teams quickly and easily, enabling everyone in an organization to stay informed on important updates.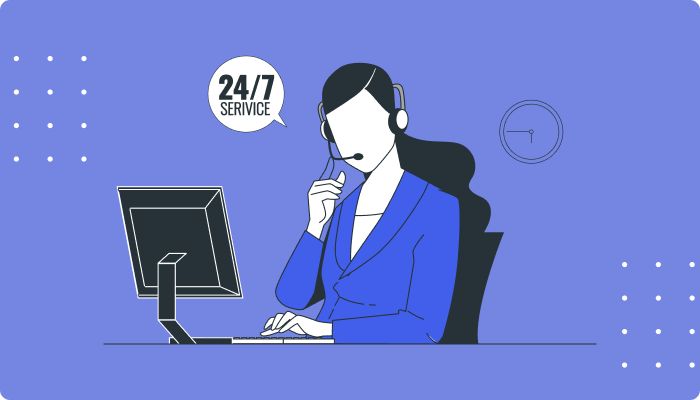 7 Features of Helpdesk Support Software
Flexible reporting is important for any help desk support software, but other features must be considered. One of the most crucial aspects is ensuring that your chosen solution has all seven key elements necessary for successful customer service and technical assistance.
Ticket Management
Ticket management is an important part of help desk support software. It helps organize customer inquiries, assign tasks to team members and track progress. Here's a list of features that make ticket management efficient:
Automated notifications: Teams are alerted when customers submit tickets or when there's any update on the status of existing tickets.
Easy collaboration: Multiple agents can access one ticket simultaneously and communicate with each other in real-time through notes and comments.
Integration with third-party tools: Support teams can integrate their helpdesk systems with popular CRM platforms like Salesforce, Zapier, Zendesk, etc., as well as social media channels such as Facebook, Twitter and Instagram.
Support.cc makes it easy for organizations to manage customer tickets from one place. The platform allows you to create custom fields for specific information requests and prioritize high-priority cases automatically based on set criteria like response times or number of interactions required for resolution. You can also view customer profiles in detail to know exactly who needs assistance immediately.
Automation Tools
Automation tools are becoming increasingly popular in the help desk support software space. They not only make it easier to manage tickets, but they also enable your team to boost productivity and reduce manual effort. Support.cc is a great example of an automation tool that can greatly improve customer service by streamlining processes such as request handling and onboarding new customers.
Support.cc has features like automated ticket routing, which routes customers to the right operator or department based on their query; rules-based workflows, which allow you to configure automatic responses for common queries quickly; messaging integrations with popular chat apps like Slack and WhatsApp and more. It's easy to set up and use, making it ideal for teams who want a reliable yet cost-effective solution for managing customer requests efficiently.
Knowledge Base
Regarding knowledge base support, the right platform can make a world of difference. An effective knowledge base system should be easy to use and offer users access to important information quickly and easily. Support.cc is an excellent option for a streamlined yet powerful solution.
Support.cc's intuitive interface makes it simple for agents to find and add content, while its built-in analytics allow customers to track usage patterns and identify areas where improvements can be made. It also has features like automated ticket routing and customer segmentation that helps streamline operations even further.
Customer Portal
The customer portal is an important part of any help desk support software. It allows customers to access information easily, find answers in a self-service format, and submit tickets for issues that require further assistance. Support.cc's customer portals are designed to meet the needs of all users, with features like customizable branding, easy ticket submission forms and integration with external services.
Using Support.cc's customer portal means customers can quickly and conveniently get the help they need without contacting the support team directly, saving time and effort on both sides. Plus, its comprehensive reporting tools allow admin staff to track usage metrics over time to identify user behaviour trends and make adjustments as needed. All this makes it easier to provide better service while streamlining operations simultaneously.
Analytics and Reporting
Analytics and reporting are crucial for tracking the performance of your help desk support software. It can give you an insight into customer service levels, response times and more. Support.cc offers a comprehensive analytics package which allows teams to monitor key metrics and make adjustments as needed easily.
The system provides detailed reports on all aspects of your operations, from tickets broken down by category to satisfaction ratings over time. You'll also be able to identify areas where additional training or resources might be necessary, helping ensure that customers have the best possible experience with your team. Plus, you'll receive real-time notifications if any issue needs immediate attention. All this data is presented in an easy-to-understand format, so it's simple to get up and run quickly with Support.cc's analytics suite.
Multi-Channel Support
Multi-channel support is an important aspect of help desk software. It allows customer service teams to manage conversations across multiple channels, such as email, phone and social media. Using multi-channel support allows agents to easily switch between different communication methods without having to log out or open another app. Support.cc is a great example of this type of system. It offers one seamless dashboard for all customer service activities, letting users quickly respond to inquiries no matter what channel they come in on.
Support systems like Support.cc give companies peace of mind knowing that their customers will receive top-notch service regardless of how they reach out for help. Agents also benefit from these solutions because they don't need to worry about missing messages or to juggle multiple apps simultaneously. Everything is conveniently located in one place, so they can focus solely on helping people get back on track faster.
Integration
Integration is important when selecting the right help desk software for your business. Allowing users to get support from various sources, such as email and social media platforms, can make it easier for them to contact you. With integration capabilities, information from these channels can be collected in one place, making it simpler for agents to respond quickly and consistently.
Support.cc makes integrating multiple channels even easier with their unified platform, allowing customers and employees to connect through chatbots, emails, SMSs or phone calls. This helps businesses provide a comprehensive customer experience by providing more options of how customers can reach out and improving response times too! Not only does this enhance customer service, but it also enables companies to offer better solutions faster due to its advanced automation features.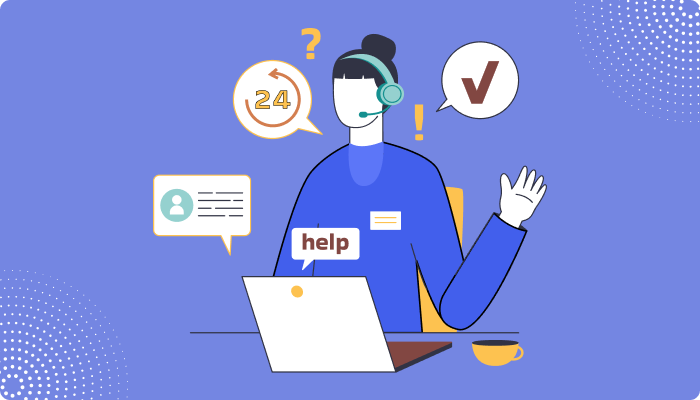 Selecting the Right Help Desk Support Software - 5 Tips
Are you looking for the right help desk support software but not sure where to start? With so many options available, it can take time to decide. The wrong choice could cost your business time and money in the long run. That's why selecting the right help desk support software is an important step that should not be taken lightly.
Determine Your Needs
The first step in selecting a help desk support software is determining your needs. Identifying what features you need and how they'll be used can help narrow down available options. There are many different types of helpdesk software on the market, so researching each can take time. Knowing what you want from the software will make this process much easier.
Comparing various programs side by side can also provide helpful information that'll guide you in making a decision. For instance, if having an intuitive interface for both users and agents is important, then comparing those features in different programs should be at the top of your list. Additionally, Support.cc provides comparison tables with detailed information about different products, which may save time when narrowing down choices.
Consider Your Budget
When selecting the right help desk support software, your budget is a major factor. You need to consider how much you're willing to invest in a customer service ticketing system and what features are worth that investment.
Here are 4 things to keep in mind when considering your budget: • Evaluate different options: Look at all the available ticketing software on the market, compare prices, and decide which one best fits your needs.
Estimate usage costs: Calculate how much the helpdesk support will cost over its lifespan and ensure it's within your budget range.
Look for discounts or deals: Many companies offer discounts or special offers on their products, so check out some websites for potential savings.
Consider subscription plans: If you don't want to buy outright, consider subscription payment plans, as they can be more affordable long-term.
It's important to remember that investing in quality help desk support software now will save time and money down the line by providing customers with prompt answers and improved customer satisfaction ratings. So take time to analyze your budget before making any decisions, it'll pay off in the end!
Look for Flexibility
When choosing the right help desk support software, flexibility is key. It's important to find a package that meets your needs today and can grow with you in the future. Here are 4 tips for looking for this kind of flexibility:
Look for automation capabilities: Helpdesk automation allows agents to respond to customer inquiries and drastically reduce wait times quickly. Automation also helps ensure consistent service across multiple channels, so customers get the same experience no matter how they contact you.
Consider scalability options: Your team's size will likely change over time due to growth or seasonal fluctuations. Make sure any help desk software you consider has enough flexibility to accommodate these changes without investing in expensive upgrades or additional licenses.
Evaluate customization possibilities: No two companies are exactly alike, which means you need a solution that lets you customize it according to your unique requirements. Many packages offer APIs and integrations with other services like CRMs which allow even more customizations than just out-of-the box features.
Check out reviews: Don't forget to read up on what others have experienced when using the help desk software you're considering, both good and bad! This can be an invaluable resource when making such an important decision.
In short, selecting the right help desk support software requires careful consideration, especially regarding its ability to meet your current needs while being flexible enough for future changes. With some expert research and guidance, finding a great fit should be within reach!
Get started with the leading Helpdesk Support Software today! Sign Up 14 Day Trial
Customer Support
Customer support should be top of mind when selecting the right help desk support software. Businesses need to find a system that will provide clients with quick and reliable assistance whenever they need it. Here are three key ways companies can ensure their customers receive excellent service:
Seek out customizable options: Companies looking for help desk solutions should opt for one that is flexible enough to accommodate specific needs or preferences. For example, Support.cc allows users to customize ticket fields based on user preference and business objectives.
Prioritize scalability: Businesses may require more capacity as their operations expand over time, so it's best to look for a solution that offers an easy-to-use platform which enables teams to scale quickly if needed. Fortunately, this is something Support.cc provides easily.
Look at features carefully: Ensure any solution you choose includes features such as reporting tools, automated messaging capabilities and dashboards that give managers visibility into team performance metrics in real-time, all of which are offered by Support.cc.
When choosing the right help desk support software, assessing customer support needs should be paramount throughout the selection process, from customization options through scalability requirements and feature offerings too!
Test It Out
Testing help desk support software is a great way to determine if it's the right choice for you and your team. It allows you to experience firsthand how the system works and see whether it meets all your needs. Here are some tips on testing:
Start small: don't jump into using the whole system at once. Try out a few key features first and take note of any issues that arise. If they can be fixed easily, then go ahead with implementation.
Ask questions: pose queries to the customer service staff about the program's capabilities, limitations, and potential areas for improvement. This will give you an idea of how knowledgeable they are about their product and how well they answer customer inquiries like yours.
Look for User Feedback: read reviews online from people who have used similar products in the past, as these can provide valuable insights into what kind of support you might expect when using this system. Additionally, ask around among colleagues and friends who may have had experiences with different help desk software options so that you can get an unbiased opinion on which one would best suit your business needs.
Ensure adequate training is available: check out tutorials or other forms of guidance to ensure users understand how to use the platform before deploying it across your organization. Also, look into if there are any additional fees associated with accessing training materials or getting assistance setting up the system correctly. Support.cc provides professional services such as demonstration setup and customizing programs according to specific requirements.
Testing out help desk support software before purchase is essential to ensure that it fits your particular workflow demands, aligns with employee expectations, and, most importantly offers excellent customer service responses, which could make all the difference between success and failure when utilizing a new tech solution!
Conclusion
In conclusion, selecting the right help desk support software is essential to improve customer service, reduce costs and increase efficiency. While there are many different types of help desk solutions on the market today, Include Support.cc stands out as one of the best options available due to its automated ticketing system, customer portal, analytics and reporting capabilities, multi-channel support offerings, and integrations with other systems. All these features combined make it an ideal choice for businesses that want to provide their customers with efficient and effective support while staying within budget. With a reliable help desk solution like Include Support.cc at your disposal, you can rest assured that your business will be able to handle any customer inquiries quickly and efficiently.
Why Choose 500apps?
#1
All-in-One Suite with more than 50 apps
#2
Everything you need today and in the future for all departments
#3
Unbelievable value - the lowest pricing you will ever find
#4
Hosted in 6 locations for compliance and blazing speeds
#5
24/5 Support - FREE chat, email and phone
#6
Uncapped features - limits you will never reach humanly
#7
Managed and maintained everyday by a dedicated team
#8
No downtime - comes with a 99.9% uptime guarantee
#9
Supports a number of international languages
#10
We've everything covered - 90k+ trust us with their business
Join the SaaS Revolution
All-in-One Suite of 50 apps

Unbelievable pricing - $14.99/user

24/5 Chat, Phone and Email Support