9 Tips and Tricks to Get the Most Out of Your Instagram Post Scheduler
From optimizing posting times to understanding analytics, these simple steps will have you using a post scheduler like an expert in no time. So don't wait any longer. Let's jump into how you can easily maximize your Instagram presence with the help of a post scheduler.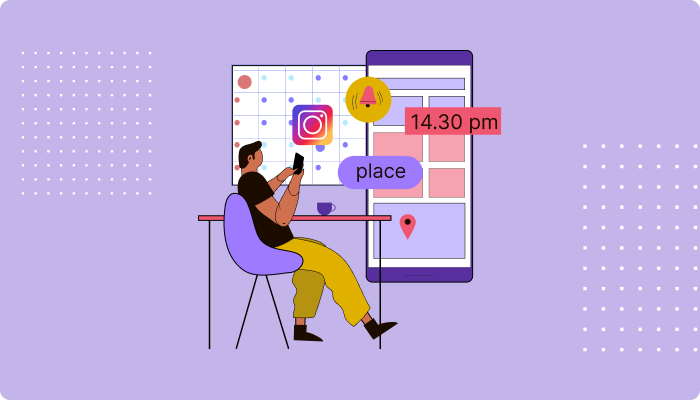 This article discusses why having a well-planned approach to scheduling posts is essential for success on social media platforms. We also provide nine actionable pieces of advice that will show you exactly what steps to be taken when setting up and managing an effective post scheduler plan. Keep reading if you want to learn more about getting the most value from your Instagram experience!
What Is an Instagram Post Scheduler?
An Instagram post scheduler is a tool that allows you to create and schedule posts for your Instagram account. It enables users to plan out their content in advance, set reminders and track the performance metrics of their posts. This way, they can stay up-to-date on the latest trends and ensure their posts reach the right audience at the right time. Convert into points
An Instagram post scheduler helps users save time by automating scheduling tasks.

Content queues can be set up to be posted throughout the day or week.

Manual posting is no longer necessary.

Content can be customized with captions and hashtags to look professional and consistent across platforms.
Using an Instagram post scheduler can help optimize your reach on social media while ensuring your brand stays true to its core values. By taking advantage of all its features, you'll get more followers' engagement, ultimately leading to higher conversions.
Benefits of Using an Instagram Post Scheduler
Using an Instagram post scheduler has many benefits. It saves time, effort and stress from manually scheduling posts every day. With a social media post scheduler, it's possible to plan out content weeks in advance without worrying about forgetting or missing any important postings on your timeline.
Free Instagram post scheduler increases engagement rates by ensuring more followers will see what you share at its peak performance times.

Platforms with multiple accounts can benefit from using the best Instagram post scheduler to manage multiple platforms in one place.

Having everything organized means fewer mistakes and more efficient scheduling overall.
Post scheduling tools offer users complete control over their timelines, allowing them to choose exactly when each piece of content is published. Also, this method is convenient because once you've set up the scheduled posts, there's nothing left for you to do but enjoy the results! Automated posting ensures that even if you forget or don't have enough time to create new content, your account won't suffer from a lack of activity.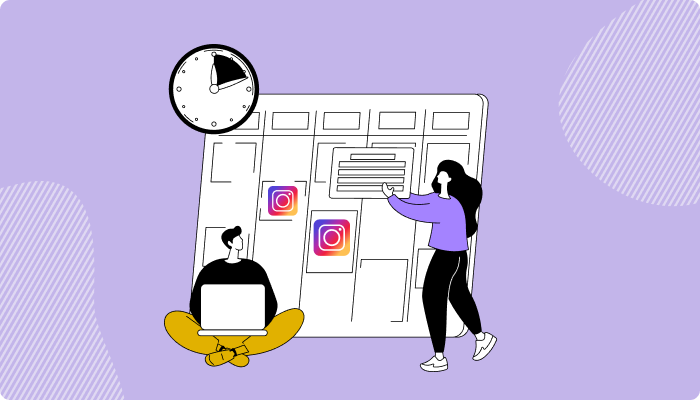 9 Tips and Tricks to Get Most of Your Instagram Post Scheduler
Are you looking to get the most out of your Instagram post scheduler? If so, these nine tips and tricks can help optimize your social media scheduling.
Choose a Captivating Visual
Visuals are key when it comes to making the most out of your Instagram post scheduler. Choosing a captivating visual is essential for grabbing people's attention and getting them to interact with your social media postings. It can be difficult to create an eye-catching photo or video that stands out from the millions of other posts on Instagram daily. That's why HipSocial has made it easy for you.
These templates cover all topics, including fashion, travel, lifestyle, food, business and more - so there's something for everyone. Plus, their editing tools make it simple to customize each template to fit your brand image perfectly. And if you need help finding photos or videos outside of what's provided by HipSocial? There are plenty of stock sites available where you can find images and footage at low prices (or even free!).
Create a Catchy Headline
Creating a catchy headline for your social media post is essential to ensure it stands out and grabs the attention of potential followers. You must use words that will make people stop scrolling, click on your post and engage with it. With HipSocial's Instagram Post Scheduler, crafting an effective caption has never been easier.
Craft a Compelling Description
In social media handling, crafting a compelling description for your Instagram post scheduler is key. This will help draw in viewers and ensure they stay engaged with your content. To make sure you get the most out of your post scheduler, here are some top tips:
Use keywords relevant to the topic of the post

Include hashtags.

Mention any accounts that inspired the content.

Always include 'HipSocial' in the headline and description.

Ensure maximum visibility for both you and HipSocial.
Include Relevant Hashtags
Hashtags are one of the most important elements when crafting an Instagram post. Not only do they make it easier for users to find your content, but they also ensure that you reach a broader audience and increase engagement on your posts. When using hashtags, choose ones relevant to your topic or industry so you can attract viewers who may be interested in what you have to offer. Additionally, if you're using HipSocial's Instagram Post Scheduler, don't forget to add HipSocial! This will help other users discover our tool's great features.
Get started with the leading Instagram Post Scheduler today! Sign Up 14 Day Trial
Utilize Geotagging
When scheduling Instagram posts, it's important to consider geotagging. Geotags can help you reach people in a specific location or demographic. This makes your post more visible and increases the chances of engagement from viewers who are interested in the topics being discussed.
Geotagging is easy to do with HipSocial's scheduler. You simply enter an address into the box provided, which will automatically pull up related locations from which you can choose. All you have to do is select one! Doing this ensures that anyone searching for content related to a particular place or topic can find yours easily.
Schedule Your Posts for the Best Times
When it comes to scheduling your posts, timing is everything. By selecting the most optimal times for posting, you can maximize engagement and increase the visibility of your content. Here's how you can use HipSocial to schedule posts at the best possible time:
Get an understanding of when your followers are active on Instagram.

Studies show the best days to post are Wednesdays through Sundays.

Set reminders for upcoming events or holidays related to your brand identity.

Create campaigns around special occasions like national holidays or festivals.

Experiment with different types of content, such as short videos or polls.
By following these tips and leveraging the features available within HipSocial's scheduler system, you'll be able to ensure that each post reaches its intended target audience at just the right moment!
Tag Relevant People and Businesses
Tagging relevant people and businesses is an effective way to ensure your post reaches the right audience. Including individuals or companies related to your posting can vastly increase engagement from users with a vested interest in the topic. This strategy also helps encourage further sharing of your content, which can help boost visibility even more.
If you use HipSocial for scheduling posts, tagging is easy with its built-in search feature. Simply type in the keywords associated with the person or company you want to tag and select from their profile options. You don't need to worry about typing out every username. HipSocial takes care of it automatically! With this helpful tool, you can quickly reach more potential viewers without having to insert tags each time manually.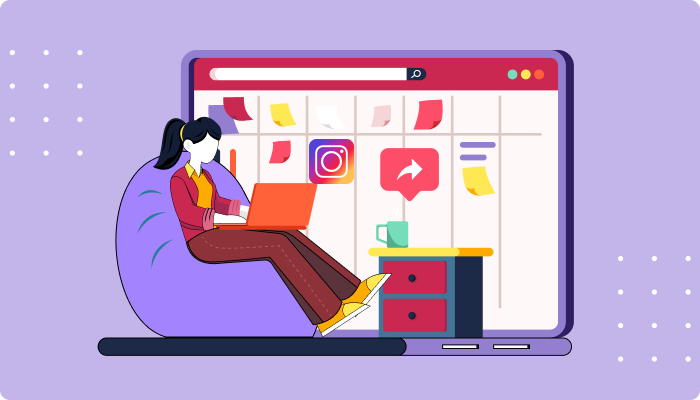 Respond to Comments
Responding to comments is a great way to get the most out of your Instagram post scheduler. It not only boosts engagement, but it also shows people that you care about their feedback and opinions. Plus, with an automated scheduling tool such as HipSocial, you can ensure that responses are sent in a timely manner.
Analyze Your Post Performance
Analyzing your past performance is key to getting the most out of an Instagram post scheduler. This means looking at how each piece of content performs in terms of engagement, likes and shares. Doing this lets you make informed decisions about what type of content works best for your brand. With a tool like HipSocial's analytics dashboard, it's easy to review your posts' metrics and gain valuable insights into which types of content resonate with your audience. In addition to helping you track down the best performing posts, HipSocial also provides users with detailed reports on their campaigns' success over time. You can view stats such as total impressions, reach, clicks, and followers gained or lost - all broken down by day or week so that you can see exactly which days are driving results for you.
Conclusion
Using an Instagram post scheduler can help you maximize the potential of your posts and reach a wider audience. It is important to use the right strategies when scheduling posts with your chosen scheduler, such as selecting captivating visuals, writing catchy headlines, scheduling for optimal times, tagging relevant people and businesses, responding to comments and analyzing post-performance. With these nine tips and tricks in mind, you have all the tools to ensure every post reaches its full potential on Instagram.
By following these guidelines and using an Instagram post scheduler like HipSocial, you can streamline your workflow while still getting great results from each post. You'll also save time by being able to schedule multiple posts at once without having to upload them one-by-one during peak hours manually.
Why Choose 500apps?
#1
All-in-One Suite with more than 50 apps
#2
Everything you need today and in the future for all departments
#3
Unbelievable value - the lowest pricing you will ever find
#4
Hosted in 6 locations for compliance and blazing speeds
#5
24/5 Support - FREE chat, email and phone
#6
Uncapped features - limits you will never reach humanly
#7
Managed and maintained everyday by a dedicated team
#8
No downtime - comes with a 99.9% uptime guarantee
#9
Supports a number of international languages
#10
We've everything covered - 90k+ trust us with their business
Join the SaaS Revolution
All-in-One Suite of 50 apps

Unbelievable pricing - $14.99/user

24/5 Chat, Phone and Email Support