Use Instant Messaging in the Workplace: Benefits, Guidelines, Best Practices
We will discuss why instant messaging benefits businesses, what rules should be followed when using IM at work, and which tools can help enhance productivity while keeping everyone connected. We will also look at specific examples from various industries where IM has helped streamline processes and improve customer service. By understanding these advantages and following appropriate protocols, companies can take advantage of all that instant messaging offers without compromising professionalism or security.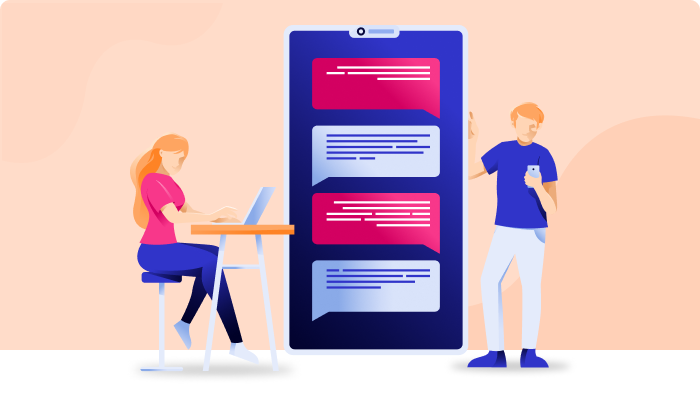 In today's fast-paced business world, a reliable communication method is essential. Instant messaging (IM) has become an increasingly popular way for employers and employees to communicate in the workplace. With IM being so widely used, it can be difficult to know how best to use this technology while ensuring that professional standards are met. In this article, we'll explore the benefits and guidelines associated with using IM in the workplace and provide some tips on best practices when utilizing this form of communication.
What are the Benefits of Instant Messaging for Business?
Instant messaging has become an invaluable tool for businesses, allowing teams to collaborate and communicate quickly. Unsurprisingly, using instant messaging software such as Teams.cc can bring multiple advantages to any workplace.
Increased Collaboration
Using instant messaging in the workplace has significantly increased collaboration among teams. This is especially true for group chats, where members can be quickly added or removed from a conversation without having to organize meetings and conferences with all parties present. With instant messaging, companies can easily share important information with groups of employees that would otherwise take much longer using traditional methods such as emails.
In addition to increased collaboration, there are many other benefits of using instant messaging platforms like Teams.cc; this includes creating a more efficient workflow by streamlining conversations between departments and providing quick access to data across multiple devices. Furthermore, it allows users to share files and documents securely while keeping track of changes made over time, which is particularly useful when working on big projects together.
Improved Productivity
The use of instant messaging in the workplace can have a positive impact on productivity. Business chat applications such as Teams.cc make it easy to collaborate with colleagues quickly, allowing for better efficiency and less time wasted on ineffective communication methods. With an intuitive interface that allows users to send messages and share files instantly, these tools are becoming increasingly popular in business settings.
Using a communication app like Teams.cc also helps to streamline processes within teams and organizations by making it easier to coordinate tasks across multiple departments and individuals. It gives everyone access to real-time updates so they can stay up-to-date with what their co-workers are doing without wasting time waiting for emails or phone calls. Additionally, team members can quickly check on conversations from earlier in the day if needed. This is especially useful when working on larger projects where details may need to be noticed.
Increased Communication
Increased communication is an important benefit of using instant messaging in the workplace. With programs such as Teams.cc, employees can easily connect with each other and collaborate on projects more quickly than ever before. Video chat options allow face-to-face communication without requiring everyone to be physically present in one place, saving time and money while still allowing teams to work together effectively.
Using a platform like Teams.cc also creates opportunities for increased collaboration between departments, enabling remote and local workers to stay connected from any location worldwide. This allows team members to share ideas, discuss progress or ask questions at any time that works best for them, so everything is clear in translation. Additionally, it's easy for managers to provide feedback on work quickly and efficiently via text message notifications or video calls when needed.
Cost Savings
Using Teams.cc or other chatting apps can save your business money in a number of ways. Firstly, not having to host physical meetings and conferences due to the ability to communicate easily with anyone across multiple devices can reduce travel costs significantly. Secondly, you are reducing printing expenses by removing the need for paper records, such as memos, documents, reports and forms. Thirdly, utilizing one platform like Teams.cc over many different ones eliminates unnecessary subscription fees and allows businesses to focus their budget on more pressing matters. Lastly, if users only access resources they need via the app, it reduces wasted storage space both online and offline, which again helps cut costs.
Teams.cc is an excellent way for any company looking to help manage their budgets while still communicating effectively with employees or colleagues worldwide. The platform also offers features that allow users to customize access levels for certain files ensuring security is always maintained when sharing sensitive information between parties. With all these advantages combined into one package, companies should consider using Teams.cc or another chatting app as part of their communication strategy going forward.
Get started with the leading Instant Messaging today! Sign Up 14 Day Trial
Improved Customer Support
Using instant messaging in the workplace can provide a great opportunity to improve customer service. An instant messaging app like Teams.cc, for example, allows employees and customers to stay connected quickly and easily. It enables faster customer communication, allowing businesses to respond more efficiently and resolve issues promptly. This helps build trust between companies and their customers, improving relationships over time.
In addition to improving customer support, using an IM platform such as Teams.cc also saves money. Since it eliminates long-distance charges or other costly methods of communication, there are financial benefits associated with its use that should be noticed. The cost savings from implementing an effective instant messaging system can add up quickly compared to traditional communication methods.
Guidelines For Using Instant Messaging At Work
Instant messaging has become a valuable tool in the workplace because it can communicate information quickly and provide support. It is important, however, to ensure that employees are aware of guidelines when using an instant messaging service such as Teams.cc. By following these tips, organizations can maximize their use of this communication platform while minimizing potential risks.
Establish clear policies about acceptable behaviour on the IM system.
Make supervisors available to offer guidance and feedback.
Provide training on how best to utilize the features of Teams.cc.
Enforce established guidelines and encourage proper use by each employee through education and feedback mechanisms.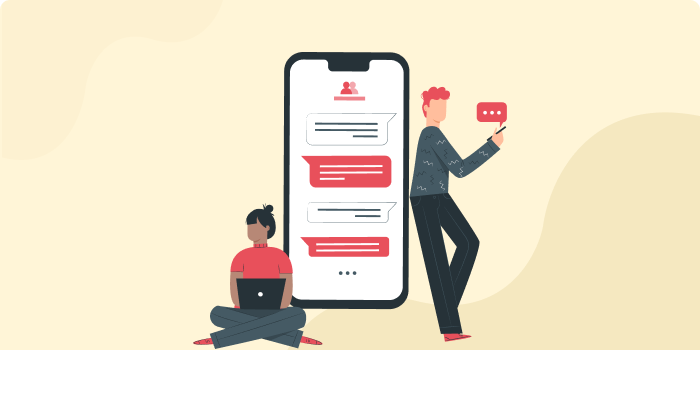 Best Practices for Implementing Instant Messaging in the Workplace
Using instant messaging (IM) in the workplace offers many benefits, such as increased employee collaboration and communication. However, to maximize these advantages while avoiding potential pitfalls, it's important to establish guidelines and best practices for implementing IM. This article outlines some key tips on how to implement IM effectively at work with Teams.cc.
Employers should ensure that all workers are aware of protocols when using IM.
Employees should be familiarized with the platform's features and taught about the company policies regarding its use.
Set up an out-of-office message so that users know not expect a response if they contact someone after working hours.
Determine who will have access to the IM system and which channels/groups should exist within.
Properly organize members into specified channels/groups according to their roles or job functions.
Create private channels to ensure confidential conversations remain secure from other users outside the organization.
Conclusion
Overall, instant messaging can be a great tool for businesses to use in the workplace. It has many benefits that can help improve collaboration, productivity, communication and customer support. However, it is important to set up guidelines and best practices for using instant messaging at work so that everyone understands the expectations and how to interact properly with team members. When implemented correctly, IM can provide significant advantages for any business looking to streamline its operations and increase efficiency. With its real-time capabilities and improved collaboration tools, IM applications are becoming increasingly popular among companies of all sizes as they look for ways to better connect their teams from anywhere in the world. Businesses should take advantage of these solutions if they want to stay competitive in today's digital age.
Why Choose 500apps?
#1
All-in-One Suite with more than 50 apps
#2
Everything you need today and in the future for all departments
#3
Unbelievable value - the lowest pricing you will ever find
#4
Hosted in 6 locations for compliance and blazing speeds
#5
24/5 Support - FREE chat, email and phone
#6
Uncapped features - limits you will never reach humanly
#7
Managed and maintained everyday by a dedicated team
#8
No downtime - comes with a 99.9% uptime guarantee
#9
Supports a number of international languages
#10
We've everything covered - 90k+ trust us with their business
Join the SaaS Revolution
All-in-One Suite of 50 apps

Unbelievable pricing - $14.99/user

24/5 Chat, Phone and Email Support