The Key to Drive Successful Digital Transformation
With the right technology, you can transform your business to meet new demands. Digital transformation isn't an event or project, it's a continuous process that you have to nurture.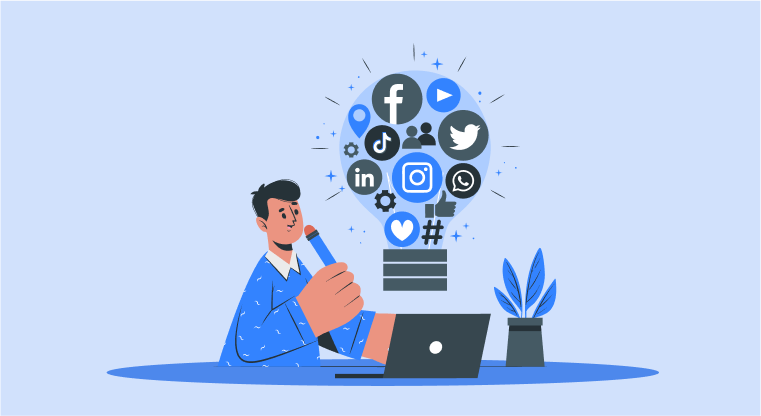 A digital transformation is a herculean undertaking for an organization, especially at scale. It requires meticulous planning, patience, immense discipline and most importantly, co-operation. Once an organization commits itself to make the shift, there is no looking back, as it involves a significant amount of investment, both in terms of money as well as effort and talent.
Hence, in order to successfully implement a digital transformation, an organization needs to be completely prepared and ready to embrace change.
According to a survey conducted by McKinsey, more than eight out of ten organizations have taken efforts to make such a change over the past five years. However, when it comes to results, only a third of these companies have been able to successfully implement the shift. To make matters worse, the most recent statistics suggest that this rate is even lower, and we probably have nothing else to blame for that except the COVID – 19 pandemic.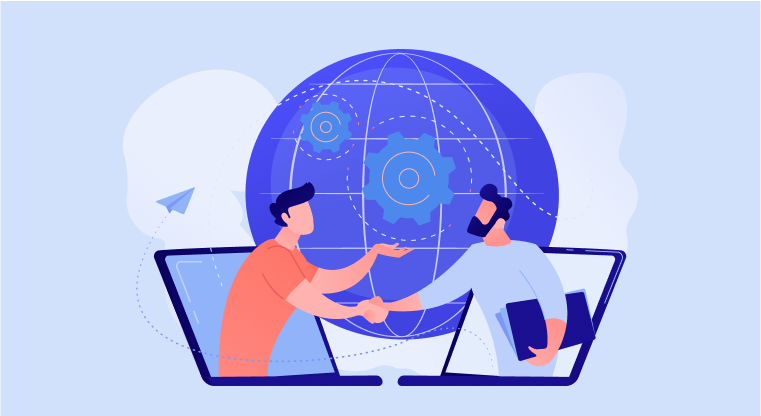 Suffice it to say, the ambition to embrace technological disruption absolutely drives the initiative to plan a digital transformation, but that is far from enough to successfully complete it.
The companies that did manage to pull off the elephant of a task consistently kept up with certain best practices. And that's what we will be discussing here.
Before we get into that, it would be worthwhile to start from the ground up. Here's a brief on what exactly a total digital transformation entails.
What is Digital Transformation?
A digital transformation involves the cultural, operational and structural shift of an organization or industry, facilitated by smart and complementary integration of advanced technologies and processes across all levels of operation implemented in a systematic and strategic manner. In other words, it is an enormous shift undertaken to improve the cultural and operational efficacy of an organization or industry, with an aim to provide better value and better quality of outcomes to various stakeholders including customers and investors. It makes use of advanced technology to aid the process of change and improvement and thereby allows the organization to stay dynamic in the uncertain business world as well.
Clearly, it is not a regular business strategy that can be implemented with a few pieces of the latest technology lined up with the workforce. It requires years of planning and careful execution, failing which the company stands to go out of business.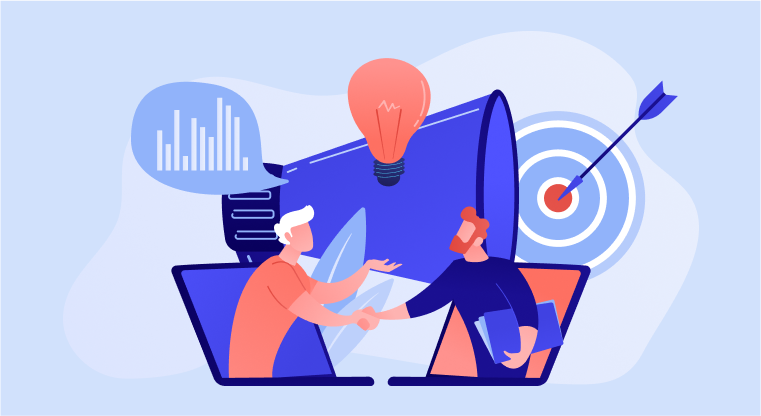 The Right Technology is the Key to Driving a Successful Transformation
Considering the fact that technology is at the heart of a forward-facing change in any organization, it goes without saying that investing in the right business management tool or SaaS apps, holds the key to a successful transformation.
A lot of the times companies make the mistake of purchasing digital SaaS products that are popular and commonly used across their industry. More often than not, these products are rigid, restrictive to premises and unfit for special needs. In other words, these SaaS applications, although come packed with features for different organizational needs, are mostly only effective from a broad perspective. They may come with top-notch capabilities for the industry, but these capabilities cannot be fine-tuned to suit the unique needs of a particular organization.
As a matter of fact, most highly popular SaaS applications are offered as on-premise solutions, which limit the efficiency of the software as well as the entire organization to a great extent. Especially during trying times like now, on-premise software solutions can become hassles, hindering timely communication and workflow across teams.
This is why, when looking for the right technology for your organization you must choose one that is flexible and customisable to your specific team needs. Cloud-based SaaS applications find their relevance in this respect as they are not limited by the physical boundaries of an office. Being hosted on the cloud they are accessible by team members from just about anywhere in the world, which allows the flexibility for seamless workflows even during challenging times.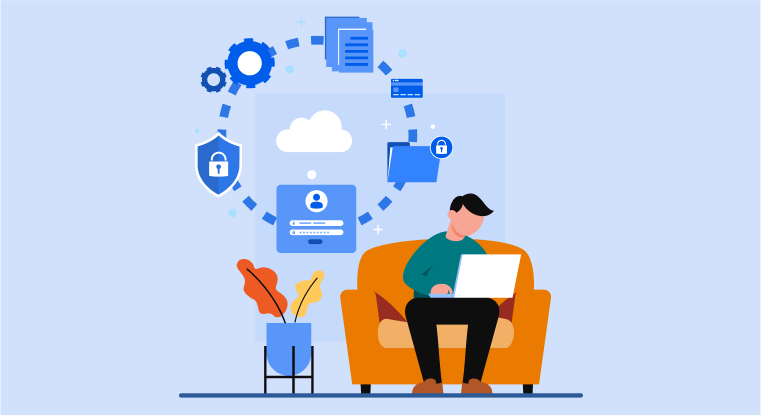 500 Apps is the perfect example of a cloud-based SaaS application that not only comes with a myriad of features to support sales, marketing, HR, customer service and development functions but also allows customizations for companies to be able to fine-tune the solution and align it with their structure. It allows you to add or remove features in order to have the system perform functions that your team members specifically need help with. From workflow management to automation and analytics, 500 Apps provides integrations to seamlessly combine the efforts of different departments within an organization and work towards the end goal.
Moreover, as it is cloud-hosted, it is regularly updated with the latest launches in terms of technology and it allows accessibility from anywhere in the world – some of the most attractive aspects of a cloud-based solution when compared to an on-premise one.
A customized platform, flexible and easily deployable SaaS application will go hand in hand with the digital transformation strategy of your business. It will not require you to change your organizational structure or communication structure in order to implement automation. Instead, it will align itself to the workflow systems and processes of your organization and complement the process of transformation through the years. Now here are a few other best practices that you can make use of when starting your journey to achieve successful transformation.
8 Best Practices for a Successful Digital Transformation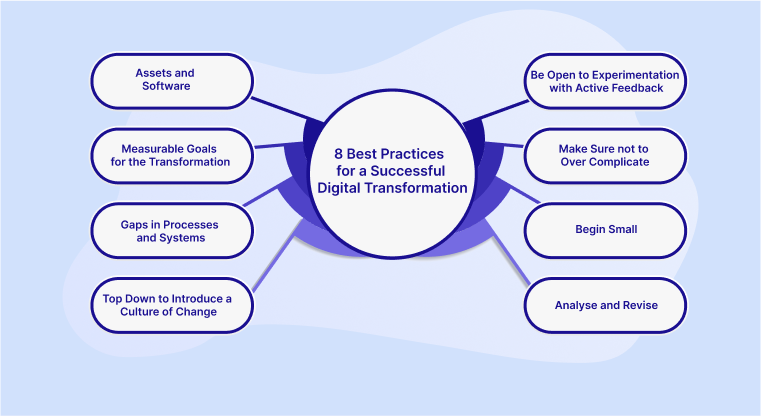 1. Have a Clear Idea of Current Tools, Assets and Software
This may seem like a no-brainer, but surprisingly enough, this is one of the most overlooked aspects when it comes to technological change.
What systems and solutions do we currently possess, what are the challenges that we face with these systems, what areas do we need extra help with, which tools are widely used and unused by team members, what level of efficiency do we need to achieve and where are we at now? These are some questions that you can start off with in order to identify and take inventory of the resources you already have and the resources that you need. It will in turn help you analyse why you need the transformation itself. It will also help you find the right technology for your business.
2. Set Realistic and Measurable Goals for the Transformation
Apart from choosing rigid software, another mistake that companies make is setting unattainable goals for the transformation. You need to acquire an almost accurate idea of what exactly you need for your company first so that you can calculate the level of efficiency and productivity that you can achieve with the new systems in place. You must take account of your team members' needs, strengths and weaknesses as well in order to arrive at an attainable and realistic level of performance.
3. Define Gaps in Processes and Systems
This comes as an extension of the first point. Identifying your existing capabilities also reveals what you lack. You need to carefully analyse what's working for you and what isn't so that you can see where you need a technological upgrade or improvement. At the same time, you can also attain a clearer idea of what kind of talent you need for the company. Identifying these gaps will further allow you to narrow down on the kind of solution you need for your company and help you find the right SaaS fit.
4. Work From the Top Down to Introduce a Culture of Change
According to a Gartner study, 64% of CIOs stated that the organization culture by itself was one of the biggest barriers to digital transformation. The BCG has also revealed that companies that paid keen attention to their culture were up to five times more likely to achieve better performance than the ones that did not.
Get started with digital transformation today! Sign Up 14 Day Trial
Needless to say, the company culture is of prime importance when it comes to introducing any kind of change, let alone an enormous one. Hence managers need to gradually but surely introduce a culture of change from the top down. Top tiers of management must actively acknowledge the needs and concerns of the employees and inspire enthusiasm to improve. They must make sure that leadership is more inclusive and supportive of the lower tiers as well. We all know that resistance is the biggest hindrance to change, which is why you must make a conscious effort to ease the disruption into the culture and not slap on a piece of technology in the name of transformation.
5. Be Open to Experimentation with Active Feedback
In order to figure out some of the best pieces, processes and workflows you must remain open to experimentation with active and timely feedback of course. It is only through trial and error that you will be able to identify some of the best methodologies to implement in your structure. With an active and open communication channel in place, hiccups and problem areas can be discussed and worked on well before the actual deployment of the SaaS applications. This will further help ensure a smooth transition throughout the process of transformation.
6. Make Sure not to Over Complicate
A big change does not translate to complex processes. In fact, when implementing a significant change involving all-pervasive technology, it is always better to follow a simple framework or strategy. As discussed earlier, you must by all means get your people involved in the transformation from the moment you envision it for your company. Right from finding out your employees' needs and concerns to hunting for the best technology, you must follow an inclusive and panned out technique of bringing in change.
Similarly, when deciding on which SaaS applications to use from the ones available in the market, focus on simplicity and flexibility more than anything else. It helps simplify the process of transformation as it will perfectly adapt to your business processes and organizational structure.
7. Begin Small
As mentioned before, it is always a good idea to test the waters and start with baby steps when implementing any kind of major change. A digital transformation is one such change that will likely be met with resistance, which is why it is all the more important to start small and implement the process on a step by step basis.
8. Analyse and Revise
It is important to constantly analyse progress with facts and figures and check in with your stakeholders to see if the goals are being met once you've implemented the transformation. Advanced SaaS applications like 500 Apps come with dedicated analytics and reporting features to help you track progress and performance. You can utilise these features to gauge your performance and see where you stand in regard to your set goals. You can also take regular feedback to see what's working and what is not. Based on the feedback you can anticipate possible setbacks, and proactively address issues to improve performance.
Bottom Line
As is evidently achieving a successful and smooth digital transformation is no piece of cake. However, using the right piece of technology can make the process a lot smoother. In fact, transforming the entire culture and operational capacity of an organization augmented by efficient SaaS applications by 500apps is something that should be carefully planned, strategized and executed. To avoid any further hassles, it is important that you pay due attention to the technology that you're planning to use. A cloud-hosted software solution would be your best bet in every way.
Why Choose 500apps?
#1
All-in-One Suite with more than 50 apps
#2
Everything you need today and in the future for all departments
#3
Unbelievable value - the lowest pricing you will ever find
#4
Hosted in 6 locations for compliance and blazing speeds
#5
24/5 Support - FREE chat, email and phone
#6
Uncapped features - limits you will never reach humanly
#7
Managed and maintained everyday by a dedicated team
#8
No downtime - comes with a 99.9% uptime guarantee
#9
Supports a number of international languages
#10
We've everything covered - 90k+ trust us with their business
Join the SaaS Revolution
All-in-One Suite of 50 apps

Unbelievable pricing - $14.99/user

24/5 Chat, Phone and Email Support