10 Key Features of Live Support Software
Are you looking for a way to improve the customer service experience of your business? Live support software is an excellent option that can help you provide better and faster support. From automated bots to video chat, live support software offers 10 key features that can greatly benefit businesses of all sizes. In this article, we will look at these features in detail so you can decide if live support software is right for your company.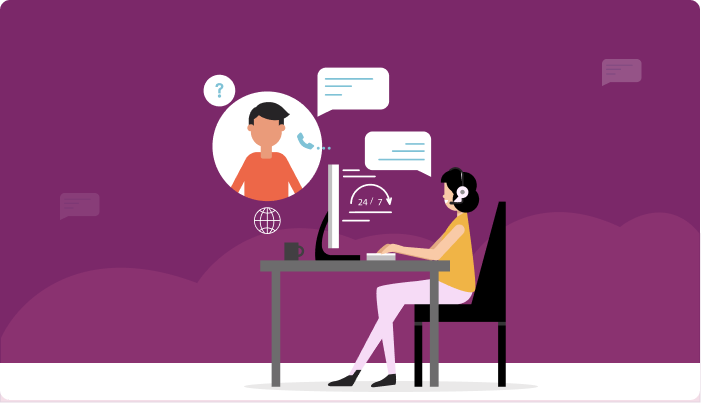 The best solutions are designed with customers in mind and feature intuitive interfaces that make it easy to use no matter what level of technical expertise or computer literacy they have. Additionally, the software should be able to integrate seamlessly into existing systems so there's no need for additional training or costly investments in new infrastructure.
What is Live Support Software?
Live support software, also known as live chat support software or a live support chat for a website, is an incredibly useful tool that allows businesses to provide real-time customer service and technical assistance. This technology has become increasingly popular over the last few years due to its ability to create better customer experiences while increasing efficiency.
At its core, live support software allows customers to connect with a customer service representative online via text messaging or voice call. This instant communication makes it easier for companies to answer questions quickly and troubleshoot problems efficiently. Furthermore, by using this software, companies can save time by providing faster resolutions than traditional methods like phone calls or emails.
The benefits of having access to immediate customer service are immense; customers feel heard and valued since their issues are addressed right away. Companies can benefit from improved customer loyalty which helps drive greater satisfaction levels and potentially increased revenue. By leveraging the power of live support software, businesses can ensure they have satisfied customers who keep coming back for more products and services.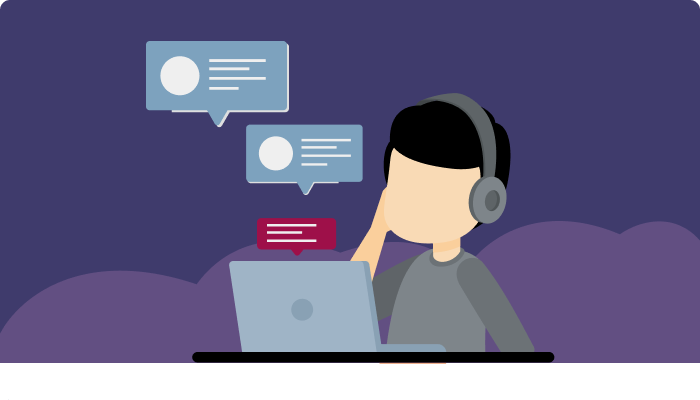 Why do you Need Live Chat Software?
Live chat software, also known as live support software or website live chat app, is an increasingly popular tool for businesses. It allows customers to communicate directly with a business in real-time, without having to wait on hold or send emails that may not be responded to immediately. But why do you need this type of software?
Benefits of having access to a live chat app:
Allows customer service agents to respond and resolve customer inquiries efficiently and effectively quickly.
Helps create a positive experience that leads to increased satisfaction and loyalty from customers.
Allows companies to proactively engage visitors while they are browsing their websites.
Offers better insights into customer preferences and trends.
Saves time and money by eliminating long phone queues.
Reduces costs associated with email responses.
Creates an advantageous situation for both the company and its customers.
Factors to Consider While Buying Live Support Software
When looking for the right live support software, there are many factors that need to be considered. WordPress Live Support is an option that should be given serious consideration. It offers a range of features designed to ensure customer satisfaction and enhance the user experience. Here are the factors to consider:
Consider the level of integration with existing systems.
Seamless compatibility of WordPress Live Support.
Easy to accommodate any website without disruption.
Cost will often depend on the amount of functionality required from the live chat service provider.
Options such as custom branding, automated bots and analytics reports can be included to ensure customers get a personalized experience.
WordPress Live Support offers affordable packages so budget need not be an issue.
Considering all these points should give you a good idea as what kind of solution best suits your needs when it comes to choosing live support software. Whether it's Windows Live Support or another alternative, taking into account everything discussed here should help guide your decision-making process towards selecting the most appropriate solution for your company's requirements.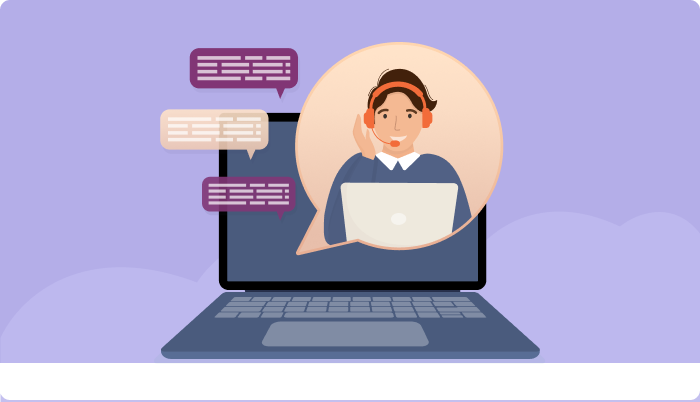 9 Key Features of Live Support Software
Choosing the right live support software can be a daunting task. It's important to look for key features that will best suit your customer service needs. Here, we take a look at nine of the essential features of live support software.
Real-Time Chat And Messaging
Real-time chat and messaging is one of the key features of live support software. This feature allows customers to get answers to their questions, comments, or concerns in a timely manner. It also enables agents to give fast and personalized customer service with minimal effort. Customers appreciate being able to communicate directly with an agent rather than having to call in for assistance or wait for email replies.
The real-time chat and messaging feature makes it easy for businesses to offer efficient customer service that keeps customers happy. Agents can quickly respond to existing chats from any device as long as they have internet access. They can even transfer conversations between different devices without losing context so customers don't need to repeat themselves multiple times if their conversation needs to be moved elsewhere. Additionally, this feature provides detailed analytics which gives businesses insight into how well they are meeting customer needs and expectations.
Multi-Channel Support (E.G. Email, Phone, Chat)
Live support software offers a variety of channels for customers to get help quickly and easily. Multi-channel support such as email, phone, or chat can give users the flexibility they need when it comes to getting assistance from customer service agents. Here are some advantages that multi-channel support provides:
Customers have more options: Rather than waiting on hold through a call center line with long wait times, customers can connect via an online chat session right away.
Customer service agents can respond faster: Using multiple communication methods gives companies the ability to provide fast responses regardless of how busy their staff is at any given time.
Agents can handle multiple requests simultaneously: Having access to more than one channel allows customer service reps to handle several customer inquiries all at once.
Companies gain better insights into customer needs: By analyzing data across various channels, companies can gain valuable insight into what kind of help customers need most frequently.
Providing customers with multiple ways to reach out for help not only increases satisfaction levels but also streamlines operations for businesses. By offering seamless experiences across different touchpoints, live support software helps both customers and employees alike stay connected in real-time.
Automated Ticket Management
One of the key features of live support software is automated ticket management. This feature automates many aspects of customer service, making it easier for teams to manage large volumes of inquiries quickly and efficiently. Additionally, this can help ensure customers receive timely responses to their questions or concerns.
Automated ticket management also increases accuracy in tracking tickets throughout their lifecycle. By providing built-in tools that allow staff to track tickets as they move through different stages, businesses are able to gain a better understanding of how long each inquiry takes to resolve and where additional resources may be required. Furthermore, this helps staff prioritize tasks more effectively so that customers get faster resolution times.
Customer Relationship Management (CRM) Integration
Live support software often includes customer relationship management (CRM) integration, enabling companies to better manage their relationships with customers. This functionality allows businesses to store and access all customer data in one place, helping them track past conversations and interactions to provide a more personalized experience for each individual consumer. With CRM integration, live support software can also analyze the data it collects from customers so that companies can make smart decisions about how to improve their products or services.
Live support software with integrated CRM capabilities is an invaluable tool for any business looking to create improved experiences for their customers while increasing efficiency across operations. Not only does it make it easier for company representatives to keep up-to-date records of customer interactions but it also helps organizations develop meaningful connections with consumers through tailored outreach initiatives.
Knowledge Base And FAQ Management
Knowledge base and FAQ management is a key feature of live support software. It allows businesses to store frequently asked questions in an organized manner, so that customers can easily find answers to their queries. This helps reduce the time it takes for customer service reps to answer common inquiries, as well as providing customers with access to self-service solutions. Furthermore, having this information stored centrally enables better collaboration between teams when dealing with more complex problems.
Live support software also gives businesses the ability to customize their knowledge base content based on product lines or different segments of customers. This ensures that users are only presented with relevant information tailored towards their needs, making interactions smoother and faster. Additionally, companies can create categories within their knowledge bases for easy navigation and searchability - allowing customers to quickly locate what they need without wasting time going through unrelated topics.
Reporting And Analytics
Reporting and analytics are a key feature of live support software. This capability enables businesses to better understand their customer service performance, as well as gain insights into how customers interact with their product or service. Furthermore, reporting and analytics allow for greater optimization of customer service operations.
The ability to track customer data in real-time makes reporting and analytics an essential tool when it comes to improving the effectiveness of any business's customer service strategy:
Monitor response times and identify trends over time.
Track resolution rates for different types of inquiries.
Examine agent performance across various metrics.
Evaluate overall customer satisfaction ratings.
By accurately tracking these metrics on a regular basis, businesses can make informed decisions that will help them optimize their team's workflow while simultaneously optimizing the customer experience.
Customizable Branding And Interface
Customizable branding and interface is an important feature of live support software. It allows businesses to tailor the look and feel of their customer service experience to match their brand identity. This helps create a unified, consistent image that customers can associate with. Having this type of control over your customer's first impression gives you a competitive edge in gaining trust and creating loyalty.
The ability to customize also extends beyond just visual aspects. Live support software should be able to provide options for customizing its features as well, such as adding shortcuts or automating certain tasks. This makes it easier for agents to work efficiently without sacrificing quality. Plus, having customizable settings enables companies to make changes quickly when needed, ensuring they remain up-to-date with industry standards.
Mobile App Access
Accessing live support software from a mobile app has become a key feature for many businesses. It allows customers to seek help on the go, making it convenient and efficient. With this solution, companies can provide quick customer service that brings added value to their business operations. Here are three reasons why mobile app access should be included in your live support software:
Having an easy-to-use mobile app makes it simpler for customers to get assistance when they need it most.
Offering mobile app access gives you more control over how users interact with your brand.
Providing simple ways to contact your staff from any location increases customer satisfaction and builds trust in your brand.
By incorporating mobile app access into your live support software, you'll not only increase user engagement but also improve overall customer satisfaction levels — something essential for long-term success in today's competitive market.
Integration With Other Business Tools (E.G. Salesforce, NinjaChat)
Integrating live support software with other business tools is a great way to streamline customer service operations and make them more efficient. By connecting the software with existing programs like NinjaChat or Zendesk, companies can ensure their staff have access to all relevant information in one place. This allows for faster response times and an improved customer experience overall.
The benefits of this integration are far-reaching:
For customers, it offers peace of mind that help will be available when they need it most, as well as quicker resolution time on issues raised.
Staff can quickly access customer records, allowing them to provide a tailored solution based on past interactions.
Increased visibility into customer trends enables teams to proactively identify areas where improvements could be made.
On the back end, businesses gain insight into how customers interact with their products or services which helps inform strategic decision making.
They get greater control over how resources are allocated so they can focus on providing better experiences across channels.
Automating processes saves time and money by removing manual tasks from staff workloads.
All these factors come together to create a stronger relationship between buyer and seller, while also driving higher levels of engagement and loyalty – something every organization should strive for.
Get started with the leading Live Support software today! Sign Up 14 Day Trial
Secure And Encrypted Communication
Secure and encrypted communication is an essential part of live support software. It ensures that sensitive customer data remains protected from unauthorized access, thus providing peace of mind for both customers and businesses. This type of security also prevents malicious actors from intercepting the conversation or using it to target customers with phishing attacks.
Live support software should always use industry-standard encryption protocols to ensure maximum protection while maintaining a high level of performance. In addition, companies should consider additional measures such as two-factor authentication to further protect their communications. By taking these steps, they can provide their customers with secure conversations without compromising on quality or convenience.
Companies who want to make sure their live support system is up-to-date and secure need to regularly review and update its encryption protocols, enabling them to keep one step ahead when it comes to protecting customer data at all times. With this in mind, they can continue offering a reliable service while safeguarding confidential information.
Conclusion
Live support software is a powerful tool for businesses of all sizes, offering an efficient and cost-effective way to provide customer service. With the right live chat software, companies can deliver fast responses to inquiries from customers, boosting their satisfaction levels and ultimately increasing revenue.
When choosing the best live support software for your business, there are many factors to consider such as affordability, ease of use, scalability, security features and more. Additionally, it's important to look out for key features like real-time chat & messaging capabilities; customizable branding & interface; mobile app access; integration with other tools; and secure & encrypted communication.
Overall, having the right live support software in place will help drive better customer experiences while also improving operational efficiency – two essential components that contribute towards overall success in today's highly competitive market environment.
Why Choose 500apps?
#1
All-in-One Suite with more than 50 apps
#2
Everything you need today and in the future for all departments
#3
Unbelievable value - the lowest pricing you will ever find
#4
Hosted in 6 locations for compliance and blazing speeds
#5
24/5 Support - FREE chat, email and phone
#6
Uncapped features - limits you will never reach humanly
#7
Managed and maintained everyday by a dedicated team
#8
No downtime - comes with a 99.9% uptime guarantee
#9
Supports a number of international languages
#10
We've everything covered - 90k+ trust us with their business
Join the SaaS Revolution
All-in-One Suite of 50 apps

Unbelievable pricing - $14.99/user

24/5 Chat, Phone and Email Support