Getting Started With OKRs: A Beginner's Guide
Are you looking for a new way to define and track goals within your organization? OKRs, or Objectives and Key Results, offer an effective method of accomplishing this. They are increasingly popular with businesses because they provide structure without stifling creativity or collaboration. But how do you get started using them? In this article, we will cover the basics of getting started with OKRs so that you can utilise this powerful goal-setting system in your business. We'll explain what OKRs are, discuss why they work well, and give tips on implementing them in your company culture. By the end of the guide, you should have a solid understanding of the fundamentals of setting up OKRs.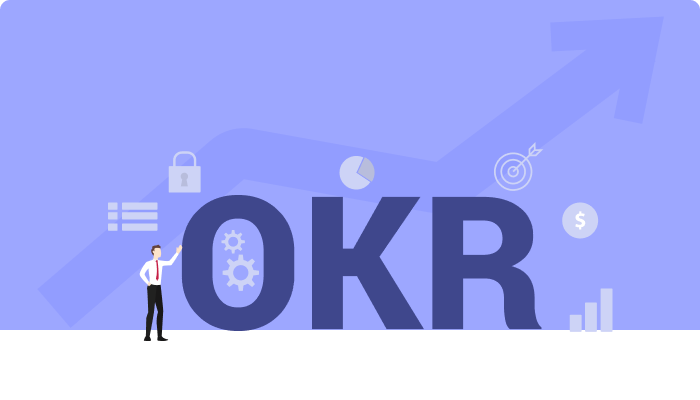 So if you're ready to learn more about how Objectives and Key Results can help improve team performance at any level, and want to get started with OKRs or need some advice on making existing ones more impactful, read on for our expert tips on setting measurable and attainable goals.
Why OKRs Are Important for Achieving Success and Growth
OKRs, or Objectives and Key Results, are a powerful tool for companies looking to achieve success and growth. By using OKR templates, organizations can create an effective framework that is tailored to their individual goals and objectives. This system helps track progress towards those goals in real-time and measure performance against the organization's overall strategy.
When it comes to implementing OKRs, there are many different options available depending on the size of your business and industry needs. Companies should weigh all their options carefully before deciding which method works best for them. For example, some businesses find more value in setting up quarterly OKRs while others may have specific projects or initiatives they need to manage with monthly or weekly targets. Ultimately, no matter what type of OKRs you choose, having a comprehensive OKR framework will help keep everyone focused on the big picture and ensure that everyone is working towards the same goal.
It's important for teams to focus on short-term wins but also establish long-term key results that will get them closer to achieving strategic objectives. This allows team members to remain aligned with company values while helping build momentum over time so they can continue driving success and growth within their organization.
Tips for Setting Measurable and Attainable OKRs
As the saying goes, "If you can't measure it, you can't manage it." This is especially true when setting objectives and key results (OKRs), a goal-setting framework that's becoming popular among organizations of all sizes. If done correctly, OKRs provide clarity and focus for teams to work towards ambitious goals in an effective way. But how do you ensure your OKRs are both measurable and attainable?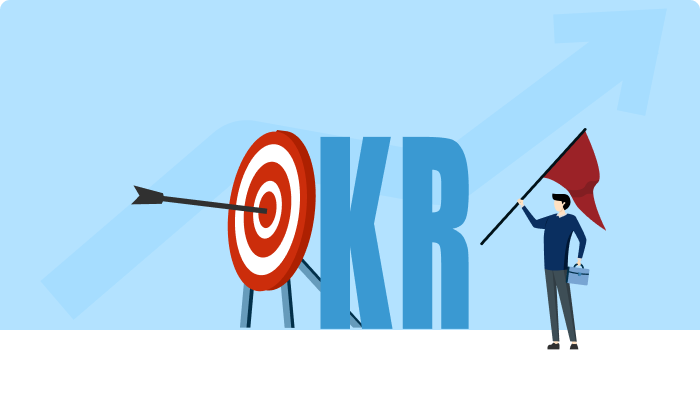 Let's discuss best practices for creating meaningful OKRs that will help drive progress toward achieving strategic business objectives. Specifically, we'll look at examples of tangible metrics to track performance against each objective as well as ways to set realistic expectations that make success achievable. With these tips, you'll be able to define clear objectives with measurable outcomes that keep your team motivated on their mission!
Understand Your Goals
When setting measurable and attainable OKRs, it's important to understand your goals. This includes being clear on what performance you're trying to improve or maintain as well as the specific areas of growth you want to focus on. To ensure everyone is on the same page, a template or framework can help with this process. For example, there are plenty of OKR templates online which guide identifying objectives and key results so that teams can get started quickly. Additionally, by looking at some existing OKR examples from other organizations, leaders can gain an understanding of how different types of goals fit into the overall structure.
Moreover, when crafting your own objectives and key results for each goal, it's crucial to include measures such as timelines and milestones in order to track progress effectively over time. This will also ensure that all stakeholders involved are aware of their responsibilities and roles within the team while providing clarity around expectations. Furthermore, regular check-ins should be scheduled among team members throughout the duration of each objective in order to identify any gaps between where they currently stand and where they need to be in terms of achieving success.
In short, having a good grasp on setting measurable and attainable OKRs requires knowing your goals upfront. Utilizing templates or frameworks along with OKR examples from other businesses can serve as useful resources during this process while making sure that concrete metrics are included along with periodic updates helps measure progress accurately and keep people accountable towards reaching their end targets.
Set Specific, Measurable Objectives
When setting measurable and attainable OKRs, it's important to set specific objectives. This means breaking down the larger goal into smaller, achievable steps that can be tracked over time. Using an OKR software or performance management system such as PerformanceUp can help with this process since these tools allow you to measure progress towards each objective.
Monitoring and reviewing employee progress is key when setting measurable goals because it allows managers to adjust plans and strategies if needed. With a performance reviews system like PerformanceUp, employees can provide feedback on their own performance and discuss any issues they may have encountered along the way. It also provides visibility for both sides so everyone is aware of what needs to be done in order for them to reach their desired outcomes.
An effective way of ensuring objectives are attainable is by creating SMART (Specific, Measurable, Attainable, Relevant, Time-bound) goals which will make it easier for teams to track their progress against those goals throughout the year without having to reset expectations constantly. By using an OKR Software or Performance Management System like PerformanceUp, businesses can ensure they reach their desired results while keeping employees motivated and focused on achieving success.
Break Down Objectives Into Key Results
It's essential to break down objectives into key results when setting measurable and attainable OKRs. This helps ensure that each goal is specific, making it easier to track progress throughout its duration.
To help ensure goals are achievable, start by considering the resources available to you and what steps will need to be taken for success. Include performanceup as part of this process; It can provide valuable insights into targets and practical advice on how to reach them. Here are some tips for breaking down objectives:
Prioritize tasks: Which ones are most important? What needs to happen first for other tasks to follow?

Plan ahead: Consider any deadlines or milestones affecting progress and plan accordingly.

Track your progress: Use tools like performanceup to measure how close you are to achieving each objective at any given time.

Be realistic: Set challenging but feasible goals with the available resources.

Seek feedback: Ask colleagues or supervisors if they have helpful input about a particular task or target before moving forward.
By breaking down larger objectives into smaller, more manageable chunks, it's possible to focus attention on one task at a time while still working towards an overall goal. Such an approach also makes it easier to build momentum over time and stay motivated along the way!
Make Objectives Attainable
Making objectives attainable is a key part of setting measurable and achievable OKRs. It requires an individual to think strategically about the goals they hope to achieve and what steps can be taken to make them possible. When crafting attainable objectives, it's also important to consider performance metrics such as KPIs (key performance indicators). These will provide insight into whether or not progress has been made towards achieving set goals. PerformanceUP can help you easily track your team's achievements in relation to these objectives, giving you real-time insights into their accomplishments.
Attainability should factor heavily when deciding on the scope of an objective. Objectives need to have reasonable expectations for success; if these aren't met, then it could lead to discouragement amongst those trying to reach them. Therefore, breaking down objectives into smaller pieces can really help with this process. This way each component goal becomes easier to manage and measure - leading up to the overall ambition of the initial objective without feeling too overwhelming or impossible. Additionally, using tools like PerformanceUP means that teams can stay on top of their targets throughout their journey by tracking progress along the way.
Giving yourself realistic timelines is another great way to ensure that your objectives are both measurable and attainable. Having deadlines helps people focus more intently on getting results quickly while staying organized throughout the process. Checking in regularly with your team through Performance Up allows you to see how far everyone has come since day one! This kind of feedback loop makes sure that no one falls behind or loses motivation due to lack of accountability or support from leadership figures within an organization , thus creating an environment of trust and collaboration.
Establish Clear Timelines for Objectives
When setting measurable and attainable OKRs, establishing clear timelines is key. Scheduling objectives with a sense of urgency helps ensure they are completed in time. It's important to include performanceup when creating these deadlines; this offers real-time data on progress and can help keep team members accountable for their work.
A timeline should be realistic but challenging enough to motivate employees towards success. This way, everyone knows what needs to be done and how long it will take them to complete the task. Setting parameters like this also allows employees to prioritize tasks according to importance or urgency so that nothing slips through the cracks.
Clear and achievable goals make it easier for teams to stay focused and motivated throughout an entire project. Performanceup provides visibility into how much effort goes into each goal - allowing managers to quickly identify areas where extra guidance may be needed or reward those who have exceeded expectations. All in all, including performanceup as part of your objective-setting process can lead to better results and more successful projects overall.
Involve The Right People In The Process
When it comes to setting measurable and attainable OKRs, involving the right people in the process is essential. After all, these objectives will be driving the team's performance - so ensuring that everyone understands and can contribute meaningfully is key. This means identifying stakeholders within your organization who are interested in different aspects of each goal, such as those responsible for managing budgets or resources related to the objective. Additionally, PerformanceUp can provide additional insight into how well a team has been performing against their set goals throughout the year.
Involving specialists from other departments also helps create better-informed objectives across multiple teams. With a clearer understanding of what needs to be done, individuals involved may feel more invested in achieving success since they are part of creating solutions which resonate with them; this leads to greater engagement and accountability on both sides. Plus, having access to data analytics provided by PerformanceUp allows you to understand where teams need help to maximize results.
Making sure that all relevant parties are included during planning sessions ensures that there is open knowledge sharing between members. This streamlines communication processes and encourages collaboration between teams working towards common objectives – ultimately leading to faster progress on projects and higher overall satisfaction among employees. By using PerformanceUp's powerful analytics tools, organizations can avoid any issues before they arise while ensuring their people are always engaged in their work.
Ensure Alignment Of OKRs With Company Strategy
Aligning your OKRs with the company's strategy is crucial in setting measurable and attainable goals. This ensures that everyone involved has the same understanding of what needs to be achieved and why it needs to be done. Team members can then work towards achieving their individual objectives while contributing to the organization's bigger vision.
To successfully align OKRs with company strategy, involve key stakeholders such as leadership teams and employees who will be executing on these objectives. They should understand how their individual efforts contribute to the larger objective, and this engagement encourages them to actively participate in realizing those goals. PerformanceUp provides an engaging platform for people to stay connected during the process, enabling collaboration across various departments or groups.
By considering these steps when defining OKRs, you create clarity around expectations and strengthen team commitment towards reaching set targets. Additionally, having specific milestones helps track progress against long-term strategic outcomes so that course corrections can be made if needed.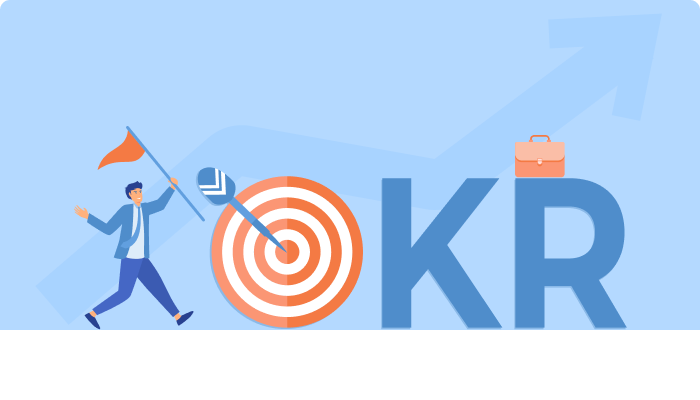 How To Track And Evaluate Progress On OKRs
Tracking and evaluating progress on OKRs is an essential part of the process. It helps you understand how well your team or company is performing, what areas need improvement, and where to focus future objectives. But it's not always easy – especially if you're new to setting up OKRs. Luckily, there are several tools available that can help make the tracking and evaluation process easier and more efficient.
PerformanceUp is one such tool that provides a comprehensive platform for creating and managing OKRs and tracking performance over time. With PerformanceUp, users can set specific goals with measurable outcomes in order to track progress easily. The platform also offers customizable dashboards with real-time data insights so that users can quickly identify trends and problems within their organization's objective setting. Additionally, users can create reports with detailed analysis of individual performance and overall organizational performance against each goal.
By leveraging these features in PerformanceUp, companies can accurately measure their success against key objectives while keeping employees informed about their personal achievements. All this information allows organizations to monitor employees' performance better and make necessary adjustments when needed in order to remain competitive in the ever-changing market landscape.


Get started with the leading OKR Software today!
Sign Up 14 Day Trial
Conclusion
Setting OKRs is essential for any organization that wants to achieve success and growth. It's a great way to set measurable goals, track progress, and ensure everyone in the team is working towards shared objectives. While it may seem daunting at first, with some practice and guidance, setting up an effective system of OKRs will become second nature.
PerformanceUp provides step-by-step advice on how to get started with OKRs, covering everything from tips for setting attainable goals to tracking and evaluating progress. This beginner's guide is designed specifically to make the process as easy as possible so that teams can quickly start seeing results while learning all they need to know about managing successful objectives and key results.
Implementing OKRs within your business or project is an investment rather than a burden, one which will bring tangible rewards in terms of efficiency, productivity and improved morale over time. With the help of PerformanceUp, you'll soon have the confidence to take control of your own performance management journey – no matter what stage you're starting from!
Why Choose 500apps?
#1
All-in-One Suite with more than 50 apps
#2
Everything you need today and in the future for all departments
#3
Unbelievable value - the lowest pricing you will ever find
#4
Hosted in 6 locations for compliance and blazing speeds
#5
24/5 Support - FREE chat, email and phone
#6
Uncapped features - limits you will never reach humanly
#7
Managed and maintained everyday by a dedicated team
#8
No downtime - comes with a 99.9% uptime guarantee
#9
Supports a number of international languages
#10
We've everything covered - 90k+ trust us with their business
Join the SaaS Revolution
All-in-One Suite of 50 apps

Unbelievable pricing - $14.99/user

24/5 Chat, Phone and Email Support