12 Popular Chatting Apps for Personal and Business Use
We live in an age of digital communication where it has become easier than ever to stay connected with friends, family and even colleagues. As such, various messaging apps have been developed that allow us to chat instantly, share files and photos, and video call one another from wherever we are located around the world.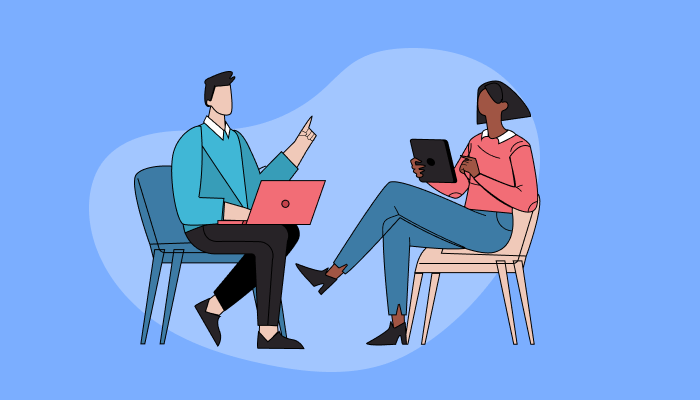 With so many chatting applications available for personal and business use, deciding which ones are best suited for your purposes can take time. This article will look at 12 popular chatting apps that you should consider incorporating into your everyday life. We'll discuss their various features and how they can benefit personal and professional users.
So whether you're looking for something super simple or a platform packed with additional features, there is sure to be something on this list that suits all needs! Read on to learn more about these amazing chatting apps and how they could help improve your communications today!
How Businesses Can Leverage Chatting Apps?
Businesses now have access to a wide range of chatting apps that can help increase productivity and communication. These tools provide an efficient way for teams to communicate, share files, connect with customers and collaborate remotely on projects. Business chat has become increasingly popular due to its convenience and cost-effectiveness.
Organizations are leveraging platforms to make workflows more efficient and improve department collaboration. The right app can streamline tasks such as scheduling meetings, organizing documents, coordinating multi-person projects, and responding quickly to customer inquiries. Many services offer features like secure message retrieval or end-to-end encryption for added security when sharing sensitive information, making them especially valuable for organizations that need privacy compliance.
Chatting apps offer plenty of benefits for businesses looking to get ahead of the competition. The ability to streamline workflow processes, improve team collaboration and securely store data provides endless possibilities for companies aspiring towards success. They enable better communication and add value by increasing overall productivity levels within any organization.
Advantages and Disadvantages of Using Chatting Apps
Chatting apps have become increasingly popular for both personal and business use. But before committing to using them, it's important to weigh the advantages and disadvantages of these applications. Here are some of the advantages and disadvantages of chatting apps.
Provide an easy way to communicate with others over private messaging, which benefits businesses.

Offer features such as file-sharing capabilities or video conferencing for group collaborations.

Lead to risk of leaked sensitive data due to some platforms' lack of security measures.

Might have compatibility issues when trying to connect different devices.

Users may experience frequent lags while sending messages due to slow connection speeds or poor network coverage.
Overall, while chatting apps offer plenty of useful benefits that can help businesses thrive, there are still some potential pitfalls that need to be considered beforehand. It's important that companies carefully consider all elements involved before investing in any type of chat program to ensure everything runs smoothly and securely going forward.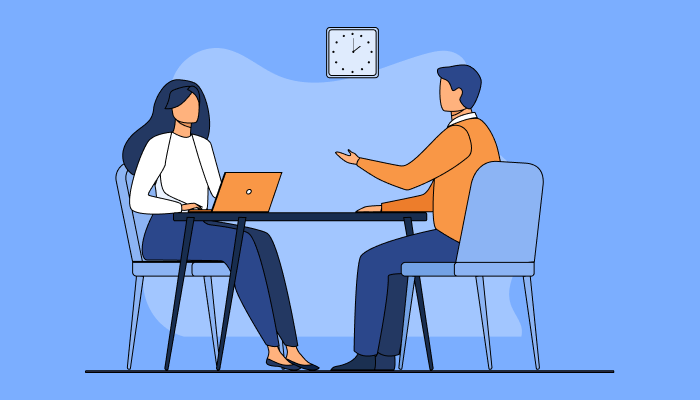 12 Popular Chatting Apps for Personal and Business Use
Chatting apps have become a popular way to communicate for personal and business use. With so many options available, deciding which is right for you can take time and effort. This article will provide a list of 12 popular chatting apps used by individuals and businesses.
Skype
Skype is a popular chatting app available for personal and business use. It allows users to communicate with their friends, family, and colleagues in real-time via text messages, video calls, and audio chats. Skype also has screen sharing and file transfer features that enable people to collaborate on projects from different locations.
The platform works across all devices, including laptops, tablets, smartphones, TVs, etc., making it convenient for everyone to stay connected no matter where they are located or what device they use. Additionally, Skype offers features like voice mail and call forwarding, allowing users to get organized easily. Furthermore, its intuitive user interface makes it easy for anyone to set up an account in minutes without any technical knowledge required.
Microsoft Teams
Microsoft Teams is a popular chatting app for personal and business use. It enables users to communicate with each other through group chat, audio calls, and video chats. Microsoft Teams also allows you to store documents in the cloud and access them from any device.
With this powerful collaboration tool, teams can easily work together both inside and outside their organization. Microsoft Teams provides an array of features that facilitate communication between members, such as activity feeds that allow team members to stay informed on progress, conversation threads for quick responses to ideas or questions, and scheduling options within the platform. Additionally, it supports various integrations like PowerPoint presentations and Zoom meetings so users can fully use its capabilities. All these features ensure smooth collaboration between teammates regardless of their location or time zone.
Ryver
Ryver is a popular chatting app used for both personal and business purposes. It offers many features, making it ideal for users who need to collaborate in real-time with colleagues or friends. The app's main feature is the ability to create 'teams', which are groups of people that can be managed by team members and easily communicated with. This makes Ryver great for business use and keeping up with family and friends.
In terms of features, Ryver boasts private messaging, file sharing, task management, video conferencing, polls/surveys, live chat rooms, and more. All these tools make Ryver extremely user-friendly and powerful enough to handle complex conversations between multiple parties.
Mattermost
Mattermost is an innovative chatting app that has recently gained traction. It provides users with the ability to engage in live chat, and it can be used both for personal use as well as business applications. This makes Mattermost one of the most versatile online chatting apps available today.
The features offered by this application are numerous:
Chatting Apps: Users can create their public or private groups for messaging and file sharing, making it easy to stay connected with colleagues, friends and family members worldwide.

Live Chat: With its built-in live chat capabilities, users never have to worry about being disconnected from conversations they're having on other platforms.

Online Chatting Apps: Mattermost also allows users to access their chats while away from their computer or phone using any internet-connected device such as a laptop or tablet.

Free Use: The best part? It's completely free! There are no hidden fees associated with using Mattermost - just download and start chatting without worrying about extra costs.

Global Reach: Whether you're located in India or elsewhere, Mattermost offers global reach when it comes to staying connected via chat applications.
Overall, Mattermost offers a comprehensive package of features that make it a great choice for anyone looking for an effective platform for communicating with others across different countries and time zones.
Chatwork
Chatwork is a popular chatting app that can be used for both personal and business use. It has an easy-to-use interface, making it quick to set up and start using immediately. Chatwork also allows users to securely exchange messages, photos, videos, documents, and other files with colleagues or friends. Plus, many features such as task management and audio/video calls make it ideal for business collaboration.
The chatroom feature in Chatwork makes it perfect for group conversations so businesses can easily communicate with their teams on projects and updates. Furthermore, the app is free to download from all major platforms including iOS, Android and Windows devices which adds convenience when staying connected no matter where you are.
Slack
Slack is a popular chatting app for both personal and business use. It offers an intuitive platform that allows users to communicate quickly, easily, and more efficiently than ever before. Slack helps bring teams together by allowing members to share messages, files, videos, audio recordings, and other content in real-time.
It's great for businesses because it makes collaboration simple with features such as shared channels between different organizations or departments. Furthermore, its customization options make it suitable for any type of company. With Slack's mobile apps, you can stay connected on the go! Its user-friendly design ensures that everyone can get up to speed quickly without spending too much time learning how to use the app.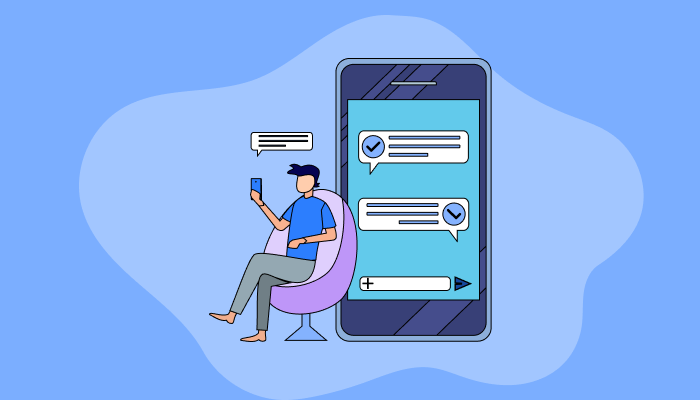 Teams.cc
Teams.cc is an innovative app that facilitates communication and collaboration between colleagues. It combines the features of popular messaging apps with powerful tools to help businesses stay organized, up-to-date, and productive. Here are some of its standout features:
Group chats: Create group conversations for specific topics or teams, so you can easily keep track of progress and assign tasks without sending multiple emails.

Video calling: Get together virtually with one-on-one calls or team meetings. You can also host live streaming events like town halls or company announcements.

File sharing: Easily share documents, spreadsheets, presentations, and other important files in a secure environment where everyone has access. Plus, you don't have to worry about losing anything since all versions are stored in the cloud.

Customizable interface: Customize your workspace by adding widgets that show upcoming deadlines and notifications for assigned tasks. This keeps everything visible on one page, so everything is remembered.
Teams.cc provides an efficient platform for business communication and organization while still being easy to use. It makes staying connected easier than ever before, helping employees collaborate more effectively across all departments regardless of location. With this app at their fingertips, companies large and small can improve efficiency and productivity in no time!
Get started with the leading Chatting App today! Sign Up 14 Day Trial
Amazon Chime
Amazon Chime is a popular chatting app for personal and business use. It stands out from other apps because it provides team-building features like audio conferencing, video meetings, screen sharing, and virtual whiteboards. Additionally, Amazon Chime boasts an intuitive user interface and top-notch security protocols to ensure your conversations remain secure.
The best part about Amazon Chime is its unique collaboration tools. This app allows you to chat with colleagues or create group chats for larger projects. You can also set up online meeting rooms, allowing multiple users to join the conversation at once. Plus, there's no need to worry about data usage since all content shared on the platform is securely stored in the cloud. This makes it easy for teams worldwide to collaborate in real-time without disruption or difficulty connecting.
Webex
Webex is an app that can be used for personal and business purposes. It allows users to communicate from any location at any time. The app allows you to join video meetings, share documents, create engaging presentations, and collaborate on projects in real-time. You can also use Webex to set up conference calls, record audio or video sessions, and host webinars.
The user interface of Webex is designed for efficiency. Features such as the ability to join conference rooms with one click make it easy for people to get started quickly without worrying about technical details. Additionally, the platform offers file sharing, group chat options, and task management tools so teams can stay organized while working remotely.
Discord
Discord is a popular chatting app growing for personal and business use. With its easy-to-use interface, Discord provides an efficient way to quickly communicate with others. Here are three reasons why it's become so widely used:
High-quality sound and video communication.

Text chat rooms.

One-on-one messaging options.

Easily create separate channels or groups within your organization for different departments or teams.
Zoho Cliq
Zoho Cliq is a popular chatting app that has become very popular for both personal and business use. It's designed as an all-in-one communications solution for teams, offering features like group and private chats, video conferencing, file sharing, and more. Its intuitive interface and comprehensive set of tools make it easy to see why Zoho Cliq is so widely used.
What makes this application stand out from the others? For businesses specifically, Zoho Cliq offers a range of features tailored toward professional collaboration. Task assignments help keep everyone on track with their projects and tasks.
Workplace from Meta
Workplace from Meta is an instant messaging app for personal and business use. It allows users to easily create groups and assign tasks while enabling them to message each other in real-time, making conversations easy and efficient. With the ability to integrate third-party services like Dropbox, Workplace from Meta ensures that all documents are accessible from any device or browser, thus providing a powerful platform for collaboration between teams.
What makes Workplace from Meta even more attractive is its user-friendly interface; with just one click of a button, you can quickly set up group chats or voice/video calls on mobile devices and desktop computers. Additionally, it offers access control features which enable administrators to manage who has access to confidential information stored within their company's network, helping keep data secure at all times.
Conclusion
Chatting apps are an important tool for businesses and individuals alike. They can help increase collaboration, efficiency, and communication with colleagues, customers and friends. The 12 popular chatting apps discussed in this article give users various options ranging from more general applications such as Skype to specialized tools like Teams.cc. Each app offers something different, so choosing the one that best fits your needs is important.
When selecting a chatting app, be sure to consider the advantages and disadvantages associated with each option. While most offer free versions or trial periods, some may require payment for access to additional features or services. Additionally, security is another factor to keep in mind since any application you use will handle sensitive information.
Why Choose 500apps?
#1
All-in-One Suite with more than 50 apps
#2
Everything you need today and in the future for all departments
#3
Unbelievable value - the lowest pricing you will ever find
#4
Hosted in 6 locations for compliance and blazing speeds
#5
24/5 Support - FREE chat, email and phone
#6
Uncapped features - limits you will never reach humanly
#7
Managed and maintained everyday by a dedicated team
#8
No downtime - comes with a 99.9% uptime guarantee
#9
Supports a number of international languages
#10
We've everything covered - 90k+ trust us with their business
Join the SaaS Revolution
All-in-One Suite of 50 apps

Unbelievable pricing - $14.99/user

24/5 Chat, Phone and Email Support