Secure Storage Solution for Your Business - Features and Tips
In the digital age, businesses must be more vigilant than ever when keeping their data secure. With a reliable storage solution, you can rest assured that your business's sensitive information is safe and sound. This article will take an in-depth look at what makes for a secure storage solution for any business, along with some tips on ensuring your data remains protected.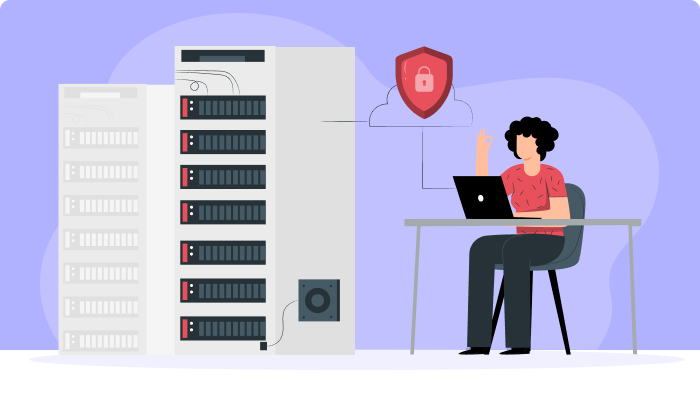 Whether running a small operation or managing large teams of employees, having access to secure storage solutions is essential. It allows you to store vital records and documents without fear of them being compromised or corrupted by malicious actors. Not only does this ensure that crucial materials remain untouched, but it also gives peace of mind knowing that your data is safe from potential harm.
By understanding the features and benefits associated with various types of secure storage solutions available today, you can make informed decisions about which system best fits your organisation's needs. Read on as we break down these important details so that you can choose the right option for your business's data protection needs!
Why Data Security Is Important for Businesses?
Data security is an essential consideration for any business, large or small. Without secure solutions and data storage management, businesses are vulnerable to malicious threats such as hackers, cybercrime, and other unauthorized access. Such risks can lead to serious repercussions, including financial losses, reputational damage, legal action and more.
Investing in a secure storage service is the best way to protect your business from these potential hazards. By using secure storage technology, you'll be able to encrypt sensitive information and restrict access according to user roles within the organization. This ensures that only authorized personnel can access confidential data while preventing third-party intrusion into your digital assets. Regular backups should also be taken so that any lost data can be quickly recovered if necessary.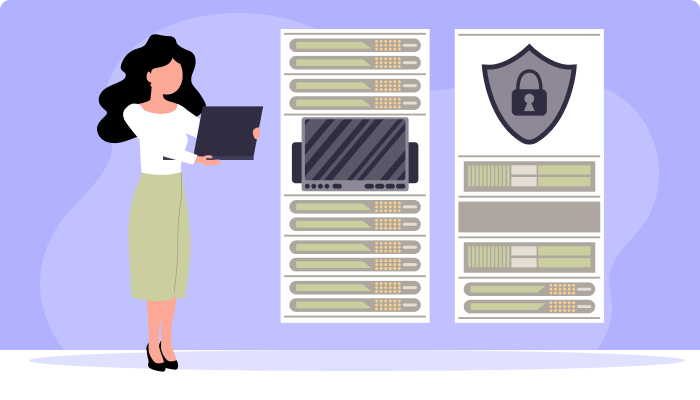 Features to Look for in a Storage Solution
When it comes to protecting your business's data, finding the right secure storage solution is essential. That's why you should consider what features are important for a comprehensive data protection strategy. Knowing what to look for when evaluating potential solutions can help you choose one that meets all your security needs.
Here are some key features and tips for choosing a secure storage solution:
Security Features: Look for services that offer encryption capabilities, authentication protocols, access control measures, and other tools which protect against unauthorized access or use of stored information. Additionally, pay attention to compliance requirements such as GDPR or HIPAA and ensure any storage service you select meets them.

Data Backup & Recovery Services: Ensure your chosen provider offers backup options so that if anything happens to the original files can be restored quickly with minimal disruption to operations. Also, verify whether their recovery processes allow you to retrieve specific versions of backed-up files in case an older copy is needed.

User Access Control: Make sure users can set permissions on who has access to certain files and folders within the system; this will help keep sensitive documents from getting into the wrong hands. It's also wise to check if audit logs are available so you can track user activity to identify any suspicious behavior early on before it causes damage.
Choosing a secure storage solution requires considering various factors related not only to cost but, more importantly, data security, ensuring no unauthorized person gains access, and critical details remain safe at all times. Therefore, carefully evaluate each option based on its features and decide which fits your business needs best.
Ways to Keep Your Data Secure
When it comes to secure storage for your business, there are a few important features you should look out for. A good place to store files should be secure and reliable so that your data is safe from unauthorized access or corruption. But what other tips can help ensure the security of your stored data?
One way to keep your data safe is by using 500box, an innovative cloud-based storage solution designed with security. With 500box, all uploaded files are encrypted before being transferred over the public internet to their servers, meaning only authorized users can access them. Additionally, they offer two-factor authentication options to enhance your stored files' safety further. This means that even if someone manages to gain access to one of your accounts, they won't be able to get into any other account without the second piece of verification.
No matter which system you choose, always remember that having proper backup strategies in place is key when it comes to protecting sensitive information. Keeping multiple copies of your data on different systems (such as flash drives or external hard drives) will also help protect against potential disasters such as cyberattacks or hardware malfunctions. Regularly checking for updates and security patches for software and hardware components used in your storage solutions will go a long way towards keeping everything running smoothly and securely.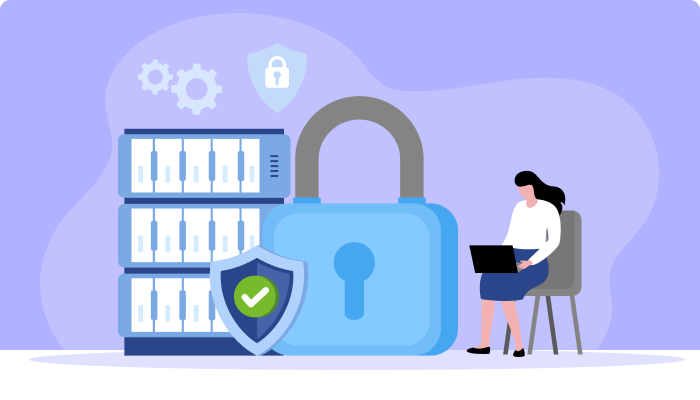 Tips for Choosing the Secure Storage Solution for Your Business
Choosing the right secure storage solution for your business is important, as it will affect how safe and secure your data remains. A few key features to consider when selecting a storage option include file storage capabilities and encryption technology. Here we'll look at tips for choosing the ideal secure storage solution for your business.
Investigate Security Regulations
Investigating security regulations is an important step in finding a secure storage solution for your business. Regulations like the 500box provide information on best practices and high-security standards that must be met when selecting a storage provider. This guarantees that confidential data will remain safe and protected in the cloud.
It's essential to consider any restrictions or compliance requirements relevant to your industry and ensure your chosen secure storage service addresses them. Make sure you verify their encryption methods, authentication protocols, access control measures, backup capabilities and other features related to the physical security of their premises. Investigating these safety guidelines will help ensure that the company providing secure storage meets all necessary regulatory standards while keeping your data safe with advanced technologies such as biometric scanning, two-factor authentication, etc.
Consider Accessibility
When investing in a secure storage solution for your business, it's important to consider if it meets accessibility requirements. The best secure storage solutions must be accessible and easy-to-use while providing effective security protocols. 500box offers an excellent option that allows users to access their data securely but with ease.
500box provides two-factor authentication, granular permission settings, and encryption of all stored data. Furthermore, you can easily scale up or down within the platform depending on your needs. This makes 500box highly customizable and perfect for businesses of any size. Additionally, its user interface is simple yet powerful, enabling even less tech-savvy users to manage their accounts quickly without needing much guidance from IT staff.
Evaluate Security Features
When evaluating the security features of a secure storage solution for your business, it's important to consider what type of data you're trying to protect and how much access different users should have. 500box offers tailored solutions that can be customized according to the needs of each user or organization, giving everyone peace-of-mind when their sensitive information is stored securely in the cloud.
500box also offers an array of security protocols such as encryption, two-factor authentication, IP whitelisting and more. All these measures are designed to protect confidential data from malicious third parties and unauthorized access from within an organization itself. Furthermore, 500box provides data monitoring services which alert administrators whenever suspicious activity has been detected, allowing them to take immediate action if necessary.
Consider Scalability
When evaluating a secure storage solution for your business, scalability should be one of the primary considerations. A scalable system will allow you to quickly and easily adjust as your organization grows or requires additional features. 500box offers powerful scalability options that make it easier to keep up with changing demands.
Here are five tips to help ensure scalability when choosing a secure storage system:
Consider solutions that offer flexible pricing plans so they can be adjusted as needed.
Look into systems with automated scaling capabilities, allowing them to expand or contract independently when necessary.
Choose something that can integrate seamlessly with other applications and services to create an efficient workflow process.
Seek products with integrated backup solutions that provide real-time data protection against cyber threats like ransomware attacks.
Prioritize vendors who guarantee high-performance levels even during peak demand.
A scalable solution is essential for any business looking for reliable security measures - especially those dealing with sensitive information or valuable assets. A robust, flexible system like 500box allows organizations to avoid potential risks while ensuring their operations remain agile and responsive.
Get started with the leading Secure Storage Solution today! Sign Up 14 Day Trial
Research Backup Solutions
When securing storage solutions for your business, researching backup options is paramount. As you may already know, 500box offers a variety of cloud and on-premise backup solutions that can help keep your data safe from loss or corruption. Here are some features and tips to consider when looking into the best backups for your business:
Automated Backup Scheduling: Set up automatic backups at different intervals to save all changes regularly and securely.
Cloud Storage: Store files in the cloud with automated synchronization, allowing employees to access them whenever needed.
Encryption: Use encryption technology to ensure only authorized personnel can access sensitive data.
Onsite Backups: Keep an offline copy of important files stored locally in emergencies such as power outages or internet disruption.
It's also worth noting that all 500box plans come with unlimited file version history, meaning any accidental deletions or modifications can be quickly restored without worrying about manual recovery processes taking too long.
Analyze Cost
When looking for a secure storage solution for your business, it's important to analyze the costs associated with various backup solutions. This includes assessing 500box's features and benefits to determine whether or not they offer the best value for your specific needs.
500box offers on-premise and cloud-based storage options that can be tailored to fit most businesses' requirements. On top of this, their flexible pricing structure ensures you get maximum bang for your buck. Furthermore, their robust security measures provide peace of mind regarding safeguarding your data from unauthorized access and potential theft. Test the Solution When choosing a secure storage solution for your business, it's essential to test it. Testing will help you verify that the product is reliable and meets your needs before purchasing. 500box provides various testing options, so you can determine if the security features fit your expectations.
The first step in testing is to create an account on 500box and log in. Once logged in, you'll have access to all the standard tools with their platform. This includes creating virtual machines (VMs), running tests, and setting up user authentication measures. With these tools, you'll be able to simulate real-world scenarios and ensure the system works as expected.
Conclusion
Data security is an essential component of any business. Without it, your company can be vulnerable to cyber-attacks and data theft. Investing in a secure storage solution for your business should be one of the top priorities when considering IT investments. With so many options available, choosing a solution that offers encryption, backup capabilities, scalability, and cost-effectiveness are important. Utilizing 500Box's suite of tools and services can help you find the perfect secure storage solution for your business by providing industry-leading security regulations, scalability options, and automated backup solutions.
Why Choose 500apps?
#1
All-in-One Suite with more than 50 apps
#2
Everything you need today and in the future for all departments
#3
Unbelievable value - the lowest pricing you will ever find
#4
Hosted in 6 locations for compliance and blazing speeds
#5
24/5 Support - FREE chat, email and phone
#6
Uncapped features - limits you will never reach humanly
#7
Managed and maintained everyday by a dedicated team
#8
No downtime - comes with a 99.9% uptime guarantee
#9
Supports a number of international languages
#10
We've everything covered - 90k+ trust us with their business
Join the SaaS Revolution
All-in-One Suite of 50 apps

Unbelievable pricing - $14.99/user

24/5 Chat, Phone and Email Support