SaaS Business Model Facts - You Should Know About
SaaS solutions are one of the fastest-growing sectors of the IT industry. Software as a service (SaaS) models, which operate on a subscription basis and are usually placed on a virtual cloud network, are gaining popularity among many businesses for a myriad of purposes, including flexibility and convenience.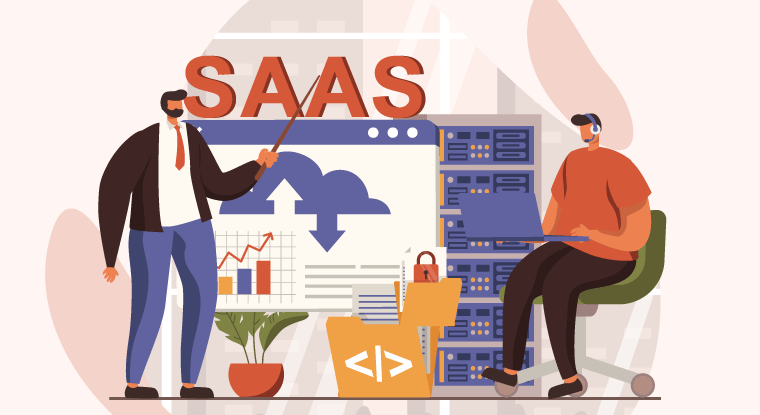 The SaaS business model that drives all of this activity is strikingly innovative, relatively new, and linked to the power of cloud technology. Understanding the principles of how SaaS works is essential to developing a strategy for your company's future growth.
There are several reasons why SaaS business model facts essential in today's industry. Most importantly, SaaS makes the process of choosing and implementing business applications easier and faster than ever before.
Since most companies embrace cloud solutions, it is imperative to understand the fundamental tenets of a successful SaaS business model before developing your product.
Create Informative Content for Your Audience
The most common way many SaaS businesses start is by building software that their audience wants. In simple words, it means making software that helps their businesses expand and retain customers. The first step is to look for what customers are saying about your product's use, incentives, features, and the overall experience they had with your services. Many successful businesses with a vast loyal following will tell you the same thing.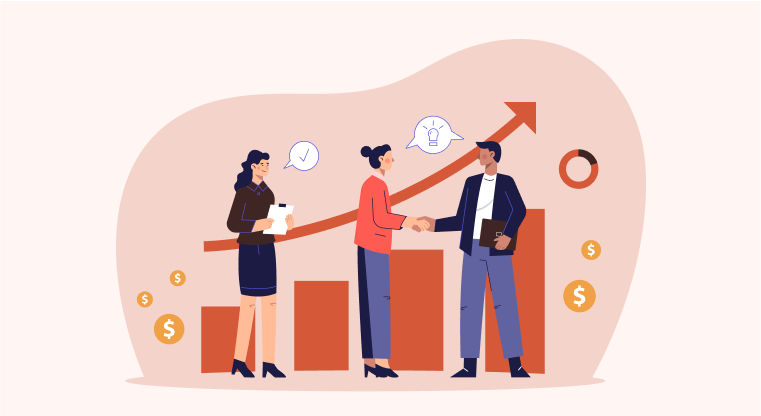 This is why software teams usually concentrate on developing software that provides a unique solution or capitalizes on an overlooked prospect. Listening to your audience's criticisms, reading their messages, and searching for the common source of technical issues or opportunities is a great place to start.
Increase the Value of Purchases Made by Customers
The SaaS apps model works on a pay-as-you-go strategy that allows customers to pay subscription costs over time depending on usage. Since renting software on a subscription basis carries less financial risk than purchasing pricey software altogether, SaaS business products are generally more affordable and viable for clients.
The freemium model provides clients with indefinite access to a basic version of a product. They must, however, upgrade and pay to get over the limits. The "try-before-you-buy" option allows clients to acquire an impression of the product before deciding whether or not to upgrade or pay for it.
Want to Lead the Industry? Get in Touch Today! Sign Up 14 Day Trial
In addition, since SaaS solutions are shared and multi-tenant, all customers share the cost of maintenance and upgrades, collaborating to pay for high-quality software. Even giant corporations can profit from SaaS technology since they can rent it on a short-term basis if they only need it for a brief duration.
Understand the Science of Metrics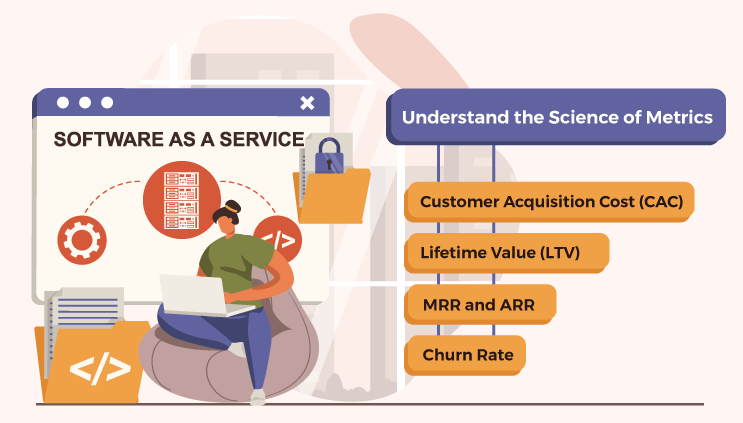 Data is the lifeblood of SaaS businesses, and success depends on how well you keep track of important metrics, how they interact, and how you can improve them. The following are some of the key metrics that a SaaS company employs to measure its effectiveness and optimize its operations.
Customer Acquisition Cost (CAC)
This is the price of gaining new customers. To acquire a customer, a whole lot of marketing and sales activities are required. Being overcautious about how much you may freely spend on CAC might result in missed revenue possibilities from new customers. On the other side, being overly careless might result in a catastrophically poor return on investment. The goal should be to lower this cost per customer while maximizing returns.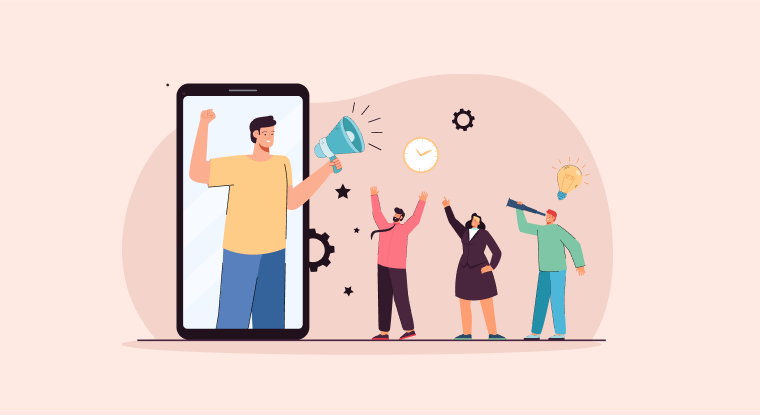 It is the entire amount a customer may spend on your product or service during their partnership with you. This is an important indicator for any SaaS company since it provides a detailed insight into how much profit existing customers generate each month. LTV can assist you in shifting your thinking away from transactional thinking and toward the long-term significance of recurring business.
Monthly recurring revenue (MRR) and annual recurring revenue (ARR) are the lifelines of a SaaS company. They calculate the entire sum of predictable revenue that a company anticipates generating on a monthly or annual basis. Monitoring the two indicators correctly benefits in assessing the status of your company and is vital in calculating your overall growth.
The churn rate is the percentage of customers that abandon your service in a given period. Even a small number can be tremendously destructive to a company's aspirations of maintaining its growth momentum. A client may churn for various reasons, such as discovering a superior product at a lower price or an internal rearrangement.
Set Prices Based on Your Audience
Various types of SaaS companies implement multiple pricing techniques. The best approach is to investigate the different pricing strategies that are usually adopted by others to position your pricing framework to attract your target audience.
With usage-based pricing, you can track your customers' subscription usage and charge them correspondingly.
Many SaaS companies are finding profitability in charging per unit for subscriptions. Here, the SaaS cost increases with each additional user that the customer adds.
Many SaaS companies embrace the most popular method of offering multiple pricing plans with access to more advanced features. They employ a behavioral tactic to encourage potential customers to choose the most lucrative option.
Easily Integrated with a Variety of Apps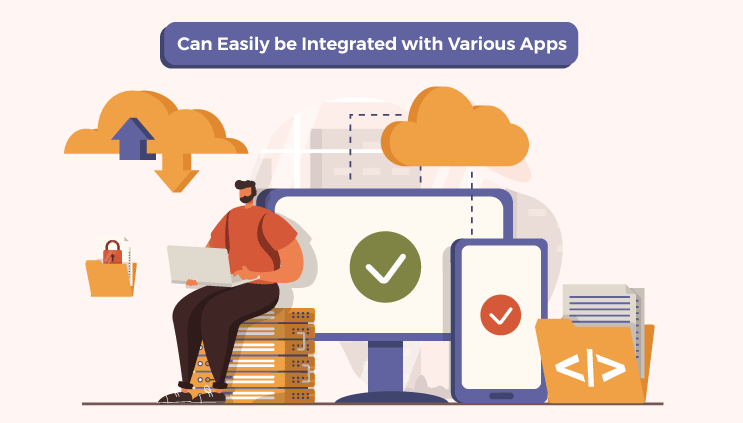 SaaS integrations have emerged as a solution to the problem of data stores. Simply put, a SaaS integration connects a SaaS-based application to another cloud-based service or on-premise software via an application programming interface (API). Once this integration is done, both apps can effortlessly request and share data. Although SaaS integrations merely offer the framework for linking apps, it is a critical component of every company's growth plan.
Conclusion
The SaaS business model by 500apps offers limitless market potential. It is widely acknowledged, and its popularity is still on the rise. You must be aware of the SaaS industry dynamics, as well as market demand and competition, to give unique solutions and value to your clients.
Nonetheless, many of the most successful software-as-a-service businesses base their success on a few SaaS business model fundamentals: an emphasis on reliable statistics and the use of the relevant tools and solutions. Applying the very same concepts to your business can potentially lead you in the same way.
Why Choose 500apps?
#1
All-in-One Suite with more than 50 apps
#2
Everything you need today and in the future for all departments
#3
Unbelievable value - the lowest pricing you will ever find
#4
Hosted in 6 locations for compliance and blazing speeds
#5
24/5 Support - FREE chat, email and phone
#6
Uncapped features - limits you will never reach humanly
#7
Managed and maintained everyday by a dedicated team
#8
No downtime - comes with a 99.9% uptime guarantee
#9
Supports a number of international languages
#10
We've everything covered - 90k+ trust us with their business
Join the SaaS Revolution
All-in-One Suite of 50 apps

Unbelievable pricing - $14.99/user

24/5 Chat, Phone and Email Support