Top 7 Marketing CRM Software for Small Businesses
Small businesses are constantly looking for ways to optimize their marketing efforts, reach new customers, and drive sales. Marketing CRM software can help them achieve these goals by providing them with the tools and insights they need to optimize their campaigns. We will look at the top 7 Marketing CRM software options for small businesses and provide a detailed analysis of their features, pricing, and pros and cons. Whether you're looking for a CRM to manage your email campaigns, social media, or advertising, this article will help you find the perfect fit for your business.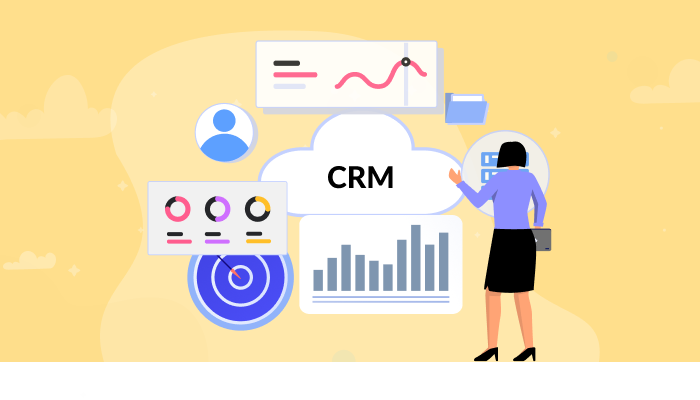 Marketing plays a vital role in the success of small businesses. It helps them reach new customers, build brand awareness, and drive sales. However, managing marketing campaigns and tracking customer interactions can be daunting, especially for small businesses with limited resources. This is where Marketing CRM (Customer Relationship Management) software comes in, it helps small businesses streamline their marketing efforts, automate repetitive tasks, and gain valuable insights into customer behaviour.
Why Every Business Needs a Marketing CRM Software?
Every business needs marketing CRM software to gain a competitive edge. CRM software allows businesses to manage customer relationships and automate marketing activities like email campaigns and customer segmentation. CRM software helps businesses understand customer behaviour and preferences to personalize their interactions and deliver a more tailored customer experience. With the help of CRM software, businesses can increase their efficiency, improve communication, and generate more leads. These benefits can ultimately lead to better ROI and increased customer loyalty. Marketing CRM software can help businesses get ahead of the competition and stay ahead.
Tips for Choosing the Right Marketing CRM Software for Your Business
Choosing the right marketing CRM software for your small business can be overwhelming. Here are a few tips to help you make an informed decision:
Start by considering your business needs: What features do you need to streamline and automate marketing tasks?
Think about scalability: What kind of growth do you expect in the near future?
Ensure the software is user-friendly: You want to ensure you and your team can easily use the system.
Consider the price: Typically, CRM software has a monthly or annual subscription cost.
Compare different software options: Read reviews and trial the software to ensure it meets your requirements.
Request a free demo: If available, request a free demo to better understand the features and benefits.
Consider customer service: Customer service is an important factor when choosing software.
Top 7 Marketing CRM Software for Small Businesses
As we move forward, it's important to consider implementing a CRM system to streamline our marketing efforts and better manage our customer relationships. Here are the top 7 marketing CRM software options for small businesses to consider.
CRM.io
CRM.io is a modern, cloud-based CRM software solution that helps small businesses stay organized, drive sales, and improve customer relationships. It offers an easy-to-use interface, powerful customization options, and real-time insights into customer behaviour. With CRM.io, you can create customized forms, access customer data from any device, and track conversations and sales in one place. It includes automated emails and notifications, leads scoring, and contact segmentation.
Pricing starts at $14.99 per user per month and scales up depending on your needed features. CRM.io is a great choice for small businesses looking for a CRM solution that is both flexible and affordable.
Get started with the leading Marketing CRM Tool today! Sign Up 14 Day Trial
Zoho CRM
Zoho CRM is an ideal platform for small businesses looking to organize their sales, marketing, and customer support. With lead capture, automated workflow management, and data segmentation features, Zoho CRM helps businesses gain visibility and streamline their processes. Zoho CRM also offers deep integration with other Zoho products, making it easy to manage customer data across all Zoho applications. Additionally, Zoho CRM provides users with detailed reports and analytics, allowing them to track their progress and make data-driven decisions. With its intuitive user interface and comprehensive feature set, Zoho CRM is an excellent option for businesses seeking an effective, affordable CRM solution.
HubSpot CRM
HubSpot CRM is one of the top marketing CRM software for small businesses. It is a free and easy-to-use CRM platform that helps business owners and teams track customer data, automate manual tasks, and collaborate in real-time. It has a range of features, such as customizable reports, contact management, and task management, that make it a great tool for small businesses. With HubSpot CRM, businesses can engage customers more effectively and build better customer relationships. The platform also provides insights into customer behaviour, allowing businesses to identify trends and adjust their marketing tactics accordingly. HubSpot CRM is a powerful and user-friendly CRM solution that can help small businesses grow and succeed.
Pipedrive
Pipedrive is a fantastic CRM software offering everything a small business needs to manage customer relationships. Pipedrive is incredibly user-friendly and easy to set up as a cloud-based platform. It offers a range of features to help businesses segment their customers, organize their sales pipeline, and track key performance metrics. With comprehensive reporting, customizable dashboards, and integration, along with other tools, Pipedrive is an effective way to manage your business's marketing activities. Pipedrive also offers an app marketplace, allowing you to customize the platform to meet your business's specific needs. With its intuitive interface and powerful features, Pipedrive is an excellent choice for small businesses looking to optimize their customer relationships.
Freshsales
Freshsales is a great CRM software for small businesses. It offers an easy-to-use platform with great automation capabilities. It allows businesses to track leads and close deals faster. Its sales pipeline feature helps to take the guesswork out of sales forecasting. It also provides insights into customer behaviour to understand better what drives purchases. Its automated workflows and segmentation tools help you target your leads better. Freshsales is also integrated with popular apps like MailChimp, Zoho, Google Docs, Slack, and more. With a straightforward setup, it's easy to get started with Freshsales. It also has great customer support, so you can get help if you need it.
Insightly
Insightly is a popular CRM software designed for small businesses. It is a cloud-based tool that offers an intuitive interface and excellent customer support. It provides various features, such as contact and lead management, project management, task management, collaboration, and more. Insightly is also easy to learn, with a simple drag-and-drop interface allowing you to create reports and dashboards quickly. With Insightly, you can track and manage customer relationships and streamline customer communication. Furthermore, Insightly offers integration with other popular applications, such as Outlook and Google Apps. This makes it easier to manage contacts and quickly respond to customer inquiries. With its simple yet powerful features, Insightly is an excellent choice for small businesses looking to improve their customer relations.
Agile CRM
Agile CRM is an integrated customer relationship management (CRM) software system designed to help small businesses build better customer relationships. Its features include contact management, lead conversion, customer segmentation, email tracking, and analytics. The software is cloud-based, so it can be accessed from any device, making it easy to stay connected with customers. Agile CRM offers a range of automation tools to help businesses streamline their customer outreach and save time. Its drag-and-drop workflow builder allows businesses to create custom automated campaigns to ensure customer engagement. Additionally, businesses can build customer journeys with targeted messages, surveys, and offers. Agile CRM also offers tools for customer segmentation, lead scoring, and email tracking to better understand customer needs.
Conclusion
In conclusion, regardless of the size of your business, having a strong CRM system in place is essential. It helps build customer relationships, manage sales pipelines, and generate leads. The Top 7 Marketing CRM Software for Small Businesses are great choices for those looking to get started with their CRM system. Each of these CRMs has its own strength and features that can help your business grow and thrive.
Why Choose 500apps?
#1
All-in-One Suite with more than 50 apps
#2
Everything you need today and in the future for all departments
#3
Unbelievable value - the lowest pricing you will ever find
#4
Hosted in 6 locations for compliance and blazing speeds
#5
24/5 Support - FREE chat, email and phone
#6
Uncapped features - limits you will never reach humanly
#7
Managed and maintained everyday by a dedicated team
#8
No downtime - comes with a 99.9% uptime guarantee
#9
Supports a number of international languages
#10
We've everything covered - 90k+ trust us with their business
Join the SaaS Revolution
All-in-One Suite of 50 apps

Unbelievable pricing - $14.99/user

24/5 Chat, Phone and Email Support