Finder.io- All You Need to Find Best Business Emails
To meet your business sales and marketing goals, you need a long list of emails to ensure you launch the perfect campaign strategy. Getting your message to your target market is the best way to sell what you are offering. An email finder software can help you stay on track with your customers' contacts and other crucial information your business needs.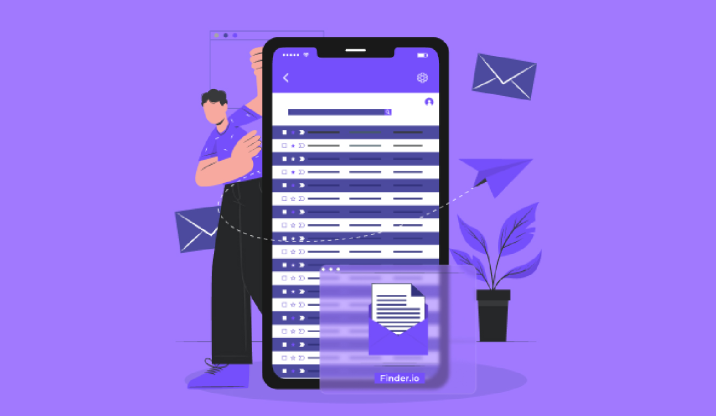 There are a plethora of tools that marketers and salespeople use to reach their target audience. Be that as it may, email marketing leads the pack and so when sending an email, you need it to reach in front of the right person, which will improve your chances of getting a response. To remove the guesswork from your email marketing campaigns, then you need to employ the use of email search tools that will help you not only find, but also connect with your audience.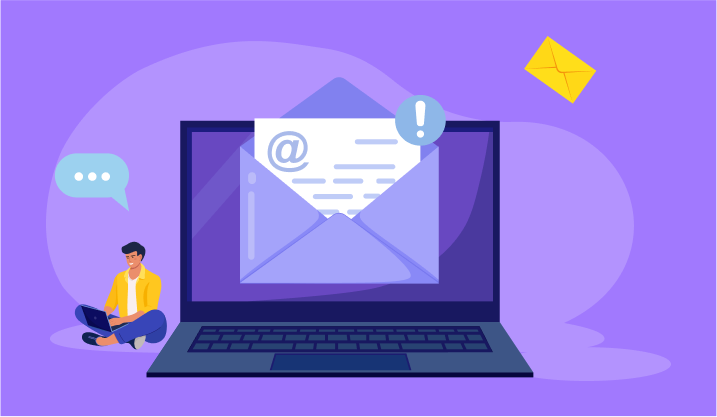 Since the inception of emails, several tools, messenger, and chat apps have been developed but very few come close to toppling email when it comes to sales and marketing.
Businesses collect loads of email addresses using various tools that streamline customer relationships. However, not all emails are useful and you may thus end up spending lots of resources on false or even non-existent leads. It is thus advisable for companies to regularly conduct an email search and verify whether they are live. And we cannot emphasize enough the need of having the right emails.
Why Use Finder.io? (Top Benefits of Email Finder)
There are tons of email finder solutions online. However, this doesn't mean that choosing one is easy. In most cases, finding a reliable tool is a challenging task because you have to evaluate software based on features, price, and other essential factors. We understand the hassle you might go through. Therefore, we recommend using 500apps' email finder software 'Finder.io' which has been proven and tested by experts.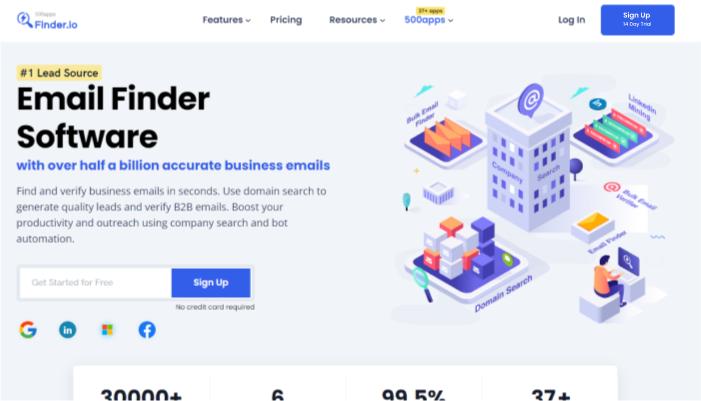 It is one of the many powerful applications of 500Apps. This is a tool that allows you to quickly find and verify email addresses depending on your business communication needs. You can also use this tool to generate quality leads and track your prospects or customers. Plus, you can easily integrate this email finder with top CRM solutions like CRM.io, AgileCRM, Salesforce, and more. Other features of this tool include:
1. Helpful for Link Building and Outreach: To promote your personal and business website, you also need to reach out to influencers, marketers, and bloggers. An email-finding tool can simplify the process of reaching out to these people. You can quickly find the email information you need to communicate your goals and objectives. A reliable email finder tool will give you more than the email address you are looking for. It will also provide you with an ideal follow-up schedule to guarantee you track communication with your team.
2. Versatile Functionality: From a broader perspective, the best email hunter in the market has various functionalities. Apart from locating and extracting emails, you can use an email finder to generate and track new leads. The insights you get from this software can also be used to improve your marketing and sales campaigns.
3. Quick Access: It's also worth mentioning that quick access to email addresses is a huge benefit that will lead to increased efficiency in the organization. When using an email finder tool in your company, your team can quickly retrieve the information they need to reach your clients and prospects.
Find the Emails you Need and Get More Done With the Best Email Finder for Gmail in 2022! Sign Up 14 Day Trial
Your team doesn't have to waste time browsing through a given page only to find the required contact information. An email finder does this in less time, which is a huge advantage when efficiency is required in a fast-paced digitized environment.
4. Integrated API: Developers can also gain from the integrated API that comes with the email-finding software. You can effectively integrate the email tool into your SaaS. You also get to exploit other perks of email finder software, including a robust email verification API, history API for better control of your history, and so much more.
Top Features of Email Finder
Lead Mining: Generate custom leads with smart bots designed to scrape data from Google and LinkedIn based on your search terms using email extractor.

Domain Search: Domain Search provides a list of employees by their names and email addresses once you have entered a company name or domain name into the search box. This program identifies email addresses and includes filter options to quickly select an email address and connect with the people you want.

Manage Lists: Lists can be created from leads to save resources, time, and are useful in successful campaigns. This feature allows you to create an email list for any number of campaigns you want to run. It keeps your verified leads organized and allows you to send this listing to your favorite CRM software.

Email Verifier: This function assists you in cleaning up your database and removing invalid email addresses. After you've found someone's email by name, email verifier performs a thorough email address validation check to confirm that every email in your database is authentic, allowing you to send bounce-free emails with confidence.

Bot Automation: Using the email finder's bot automation to scrape through the internet, gain useful information, and generate multiple leads that help you close more sales. Find smart and accurate business leads, get emails, and use the google chrome extension to find leads along the way.

Company Search: The Company Search feature from Finder allows you to get accurate information about any company that uses smart filters. Compile a list of company domains that can be used to test bulk domains and find emails that are associated with all your target companies.
Conclusion
Perhaps you've assumed that 500apps email finder app is a costly software. But, surprisingly, the software goes for just $14.99. Signing up for the software's premium features allows you to reap the maximum benefits of this amazing tool.
Why Choose 500apps?
#1
All-in-One Suite with more than 50 apps
#2
Everything you need today and in the future for all departments
#3
Unbelievable value - the lowest pricing you will ever find
#4
Hosted in 6 locations for compliance and blazing speeds
#5
24/5 Support - FREE chat, email and phone
#6
Uncapped features - limits you will never reach humanly
#7
Managed and maintained everyday by a dedicated team
#8
No downtime - comes with a 99.9% uptime guarantee
#9
Supports a number of international languages
#10
We've everything covered - 90k+ trust us with their business
Join the SaaS Revolution
All-in-One Suite of 50 apps

Unbelievable pricing - $14.99/user

24/5 Chat, Phone and Email Support